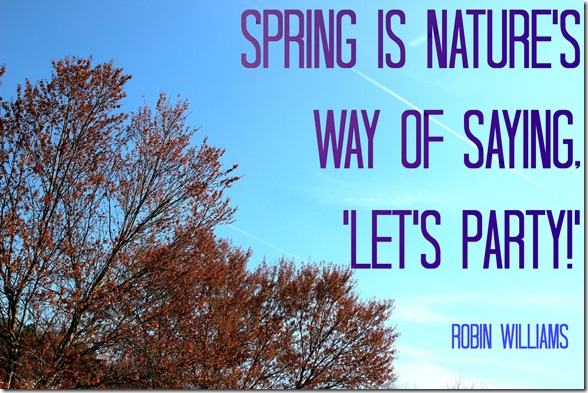 Our yard was dead and barren all winter, and then – all the sudden – it's exploding with weeds.  Wish we had planted some tulip bulbs or something pretty.  But no – just weeds.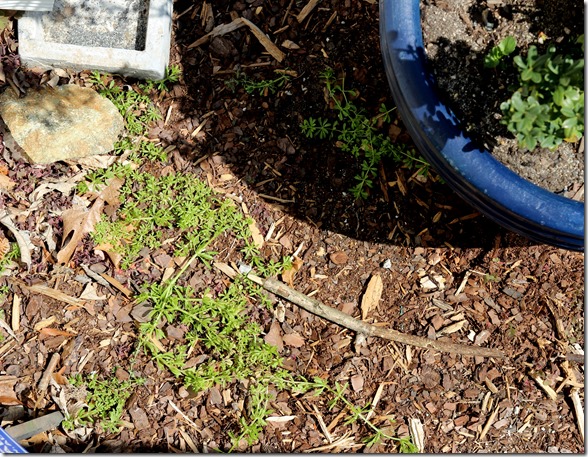 So I've been trying to clean up our front garden for a few days. The process is taking forever because I do it during Claire's naptimes and only get like, 20 minutes at a time.  I barely have enough time to get dirty before I have to come in!  Huge mess.  Hopefully, it will be worth it though – I'd love to see some colorful flowers in there.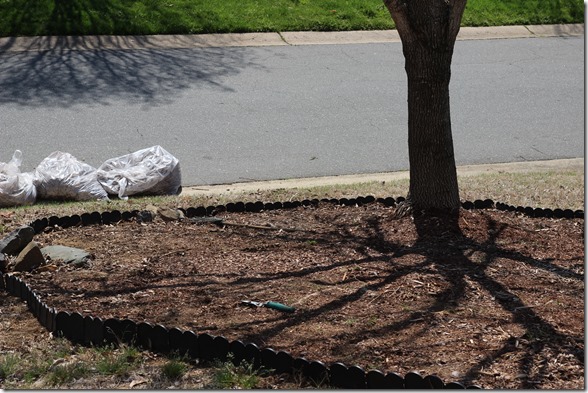 So in addition to a little weeding, yesterday was full of fun.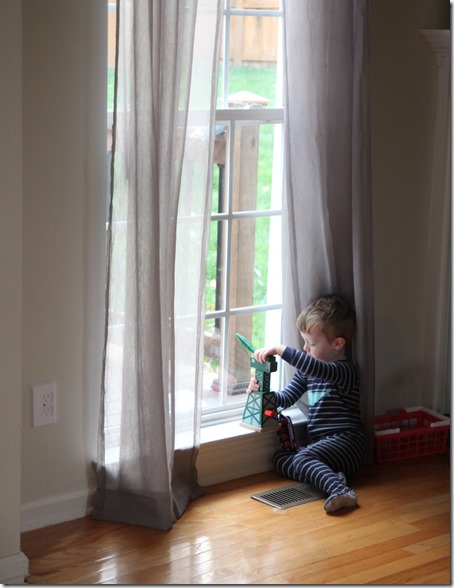 I got my workout of the way in the morning.  Brandi and I met for a swim and a bike ride.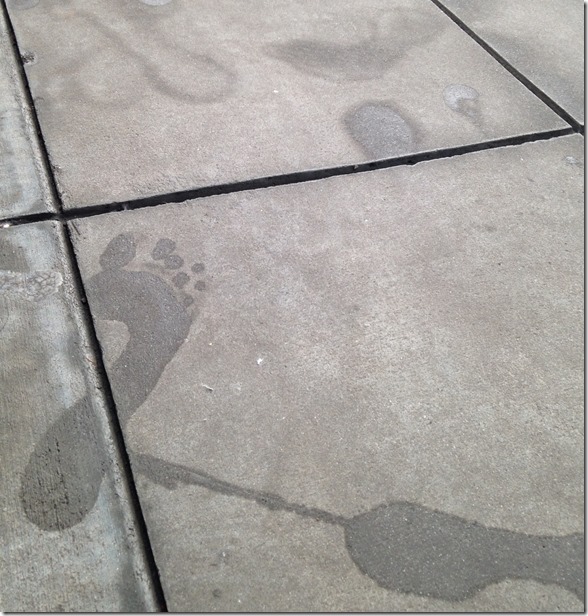 I'm committing to making most of my non-boot camp workouts a double (such as a swim/bike or a bike/run) because I really, really need to get ready for triathlon season.  My first is in May!  Eck.  It'll be here before I know it…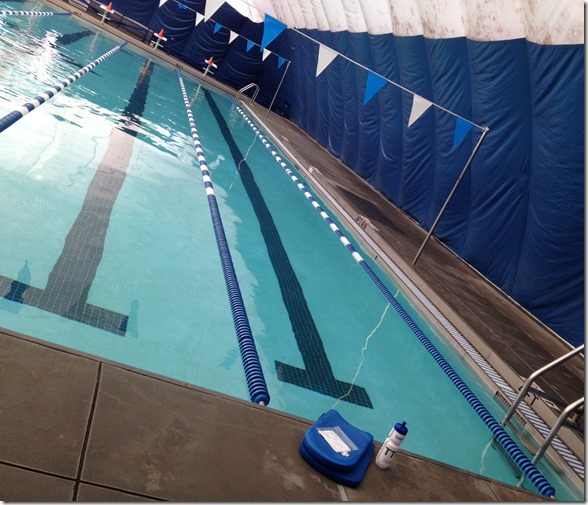 We did this 1500 yard workout, but I nixed one of the speed sets and the cool down because my arms were soooooo tired from boot camp.  As I said to Brandi, I kind of feel like I'm in an awkward place physically.  It's like a plateau that I need to push through – I'm constantly tired/sore workouts but feel like I need to push through to get stronger and fitter so I'm NOT constantly tired/sore.  Does that make sense?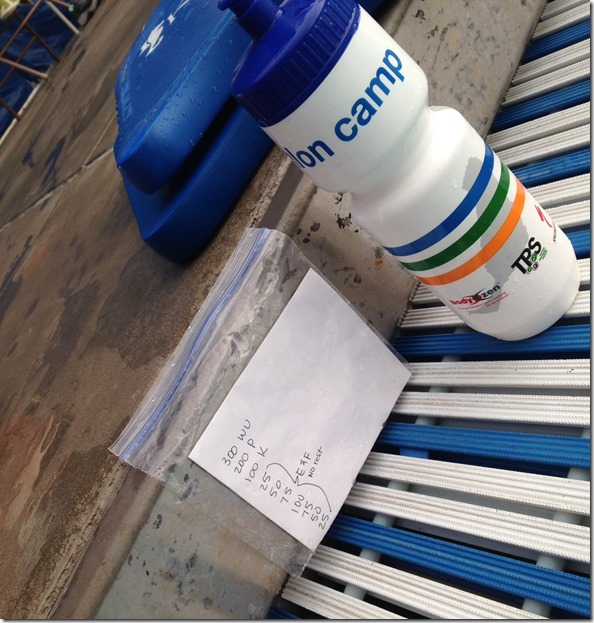 We biked for 10 minutes after.  Later in the afternoon, I went back to the pool – but this time it was with Henry!
Ah, you know what's changing my life?  Well, just my mornings, I guess. Getting really consistent about putting all my smoothie ingredients in the blender the night before.  It makes breakfast go even faster.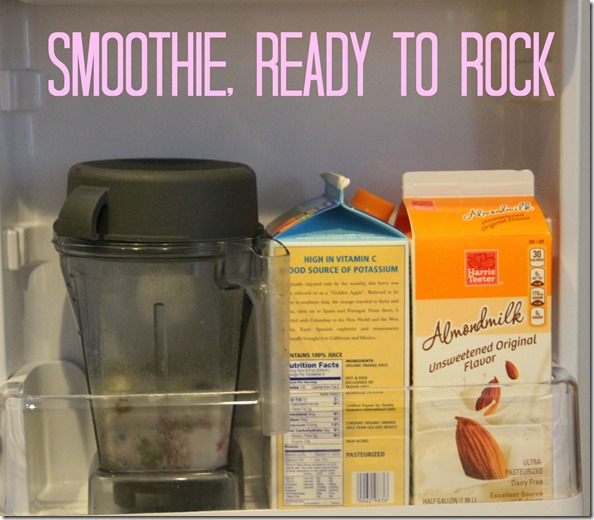 We bought a reconditioned (and thus cheaper but it still comes with a mega warranty) Vitamix a few years ago, and I have to say, I love my Vitamix so much.  It is the ultimate blender.  I use it multiple times a day – and for a variety of different types of foods – and can't imagine cooking without it.
A Claire Update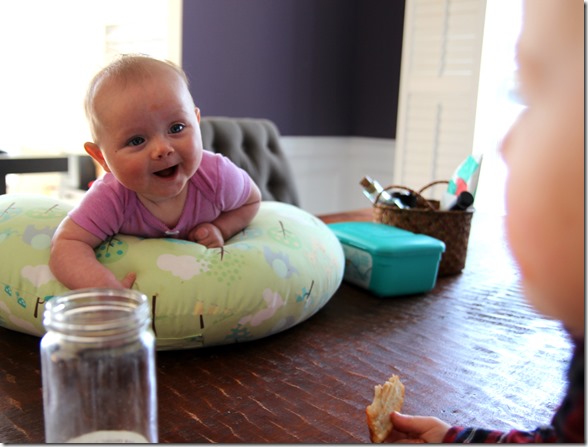 I wanted to give you guys a Claire update because I'm seeing some pretty cool stuff happen with my baby girl.  In the last few days, she's started to LAUGH.  I mean – really, really LAUGH.  It's so cute!  She thinks it's super funny when you say "Moo" like a cow.  And man – she loves to crack up at Henry's antics.  She looks at him with such adoration in her eyes… She also loves the Husband.  She sees him and just BEAMS.  It's super sweet.
She's so chunky, too.  Love her heft!  Her thigh rolls are the most beautiful thing I've ever seen; she's soft and squishy.  I just want to squeeze her all the time. 
Her little baby personality is coming out more and more.  If I had one word to describe Claire, it would be "agreeable." She's always willing to go with the flow.  She smiles at everyone she interacts with and is just generally a jolly girl.  The only time she is not happy is when someone else tries to put her down at nighttime – she gets super upset until I come in and rock her.  This makes bedtime difficult, but I secretly like how much she wants me…
She's getting more and more active, too.  Her head control is great, and I find myself carrying her on my hip more and more (as opposed to like a football).  She's gone into the jumper at childcare a few times and loved it.  I loaned my friend Henry's jumper (my mom friends and I swap baby gear constantly) but I'm going to get it back this week so she can rock the jumper out at home, too.
Here's Henry in the Rainforest Jumperoo when he was a little older than Claire is now. Can't wait to see her in it!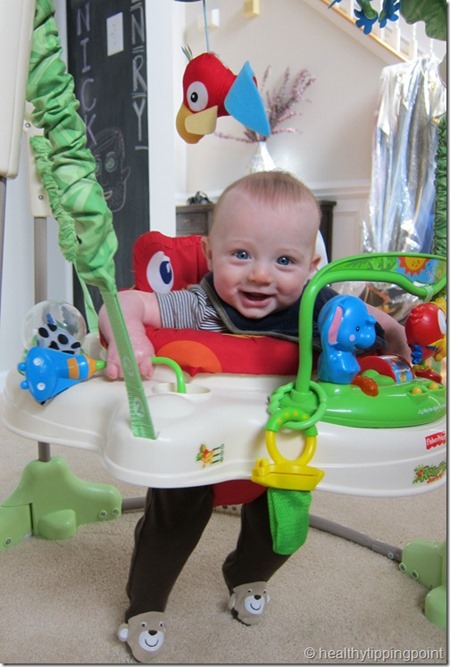 She's also figured out the purpose of toys, and she's loving Henry's old favorites like Freddie the Firefly, Sophie, and the Winkel Rattle (which I call "the atom bomb" because it looks like an atom to me).
Now, I owe you a Henry update.  He's doing so well; I'll try to write a bit about his awesome toddler life soon (I love the stage he's at!).
Have a good one!