This weekend, I packed up the car, dropped the doggies off at camp, and the Husband, Henry, Claire and I drove to Savannah, Georgia for the Publix Savannah Women's Half Marathon and 5K. I was signed on to do the 5K as a blog ambassador. I am so excited that I had a chance to check out this race because it was REALLY special and unique.  It was an awesome weekend getaway race!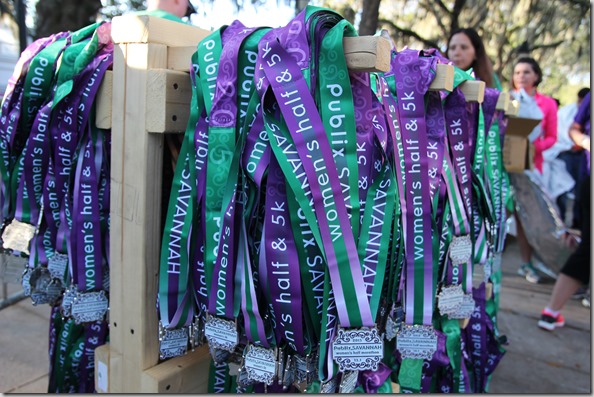 First up – let's talk my race goals.  So, I gave birth to Claire around 4 months ago, and for the past 3 months or so, I've been working hard at regaining fitness, building muscle, and working on speed. But let's be honest – it's hard to juggle the kids PLUS the associated sleep deprivation PLUS work and the rest of life PLUS training.  I wasn't too sure how I would do, but I was willing to go all out for a speedy race.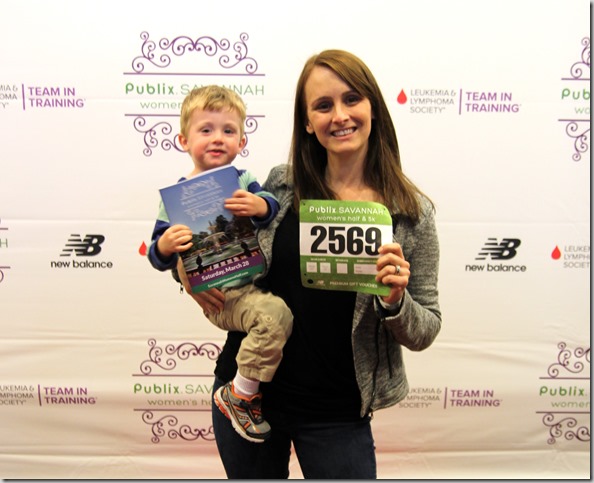 Spoiler – I ran it in 26:41, which is my post-babies personal record!  I've ran three faster 5Ks, but they were all before 2010.
I credit my fast race to the beautiful course!  You guys – Savannah is such a pretty place.  I've never been before and really enjoyed visiting.  I have a post planned for tomorrow that details where we stayed and what we did.  But just check out these course pictures – the 5K wound through the central park and down the historic cobblestone streets.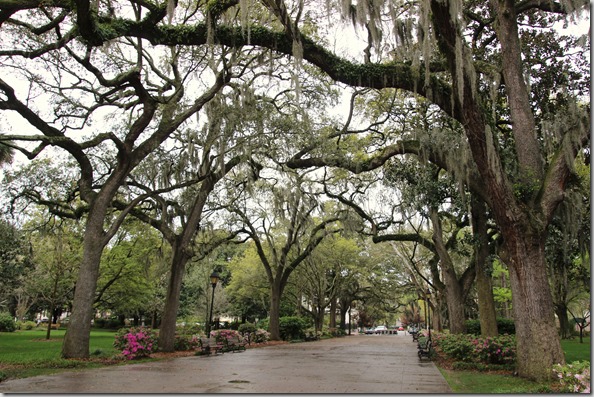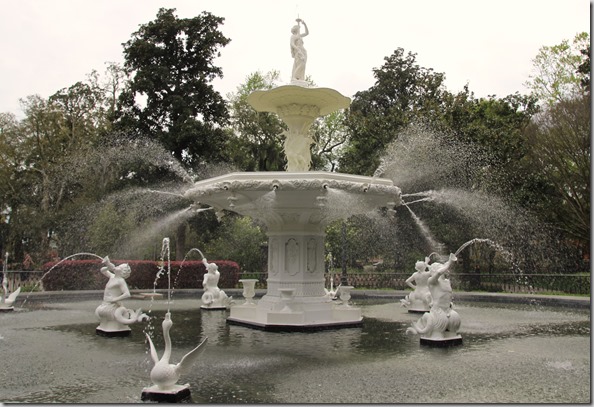 Okay, but let's backtrack a bit to the race expo.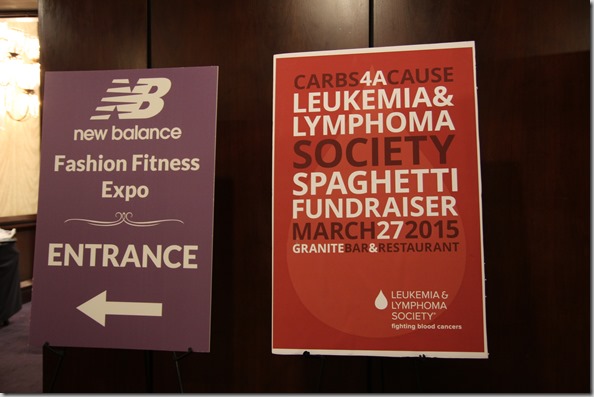 I've been to a lot of expos, but this was – by far – the nicest and most upscale one that I've attended.  Also – it was small, which was a nice thing because it was very navigable and not overwhelming in the slightest.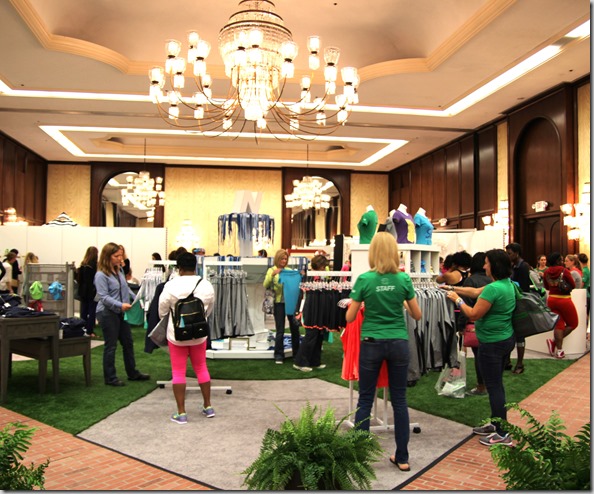 One of the race sponsors was New Balance, so there were a ton of branded NB shirts and other gear.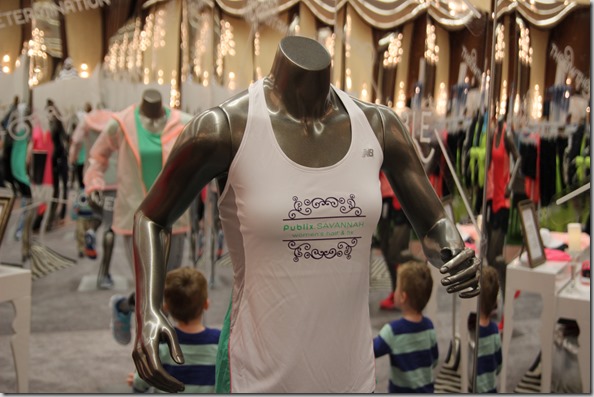 But the other cool part of the expo was the small, upscale businesses – not necessarily running-related, but stuff like fine chocolate, gourmet salts, purses, and beauty products.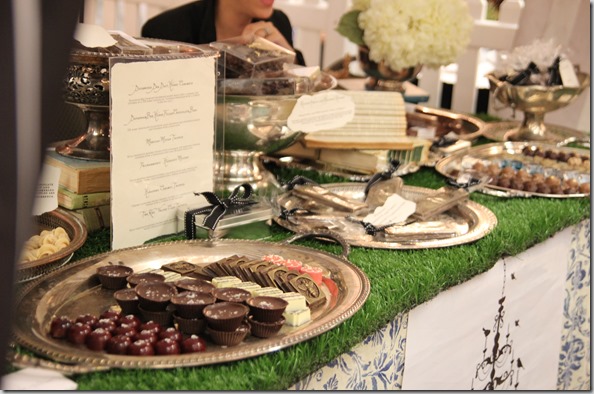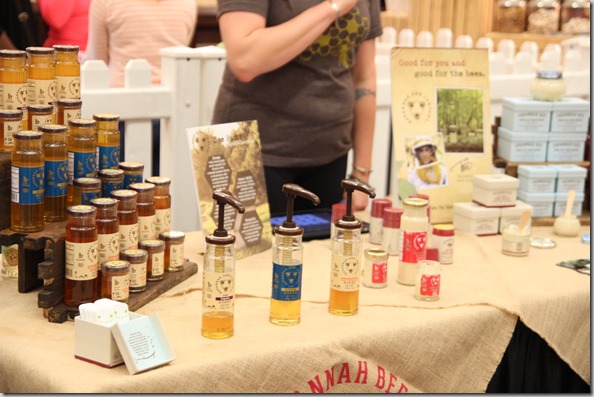 Oh, speaking of purses, check out the race freebie! Instead of shirts (because, seriously, who needs another race shirt?), they gave away really, really nice New Balance gym bags!  I was SO pumped to receive this at check-in.  I currently use a beach bag as a gym bag – this is a major upgrade!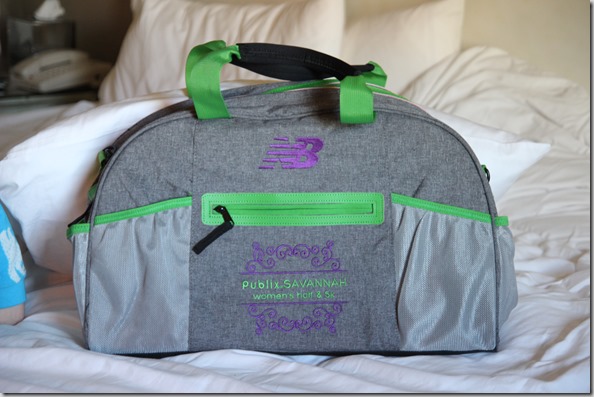 As you can tell, this race was very, very well organized.  The organizers really put a lot of thought into what women runners would want out of a race location, expo, freebies, and post-race party.  It's harder to organize a well-run race that you'd think, so I really appreciated all the attention to detail.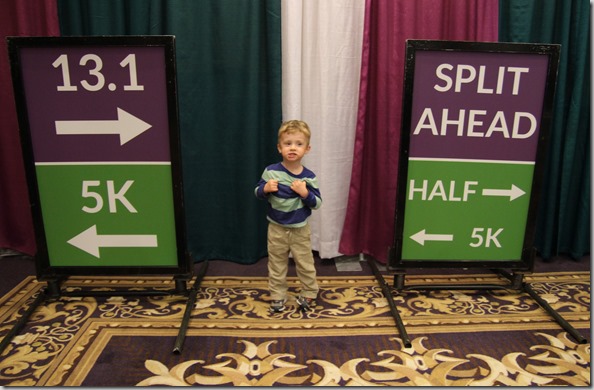 Onto the race itself!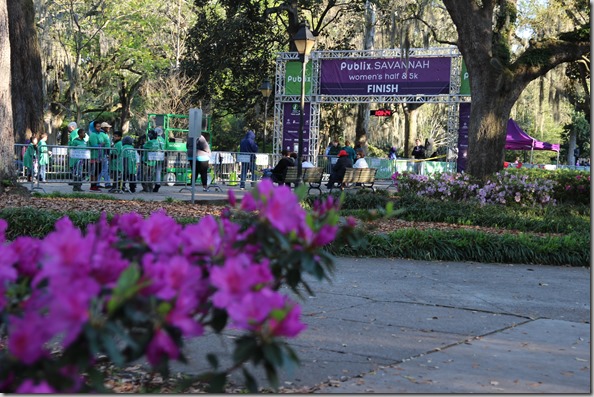 We stayed at an amazing hotel that was right outside the race starting line.  Truly – I could look our our window and see people lining up.  We didn't leave my hotel room until 5 minutes before the gun went off!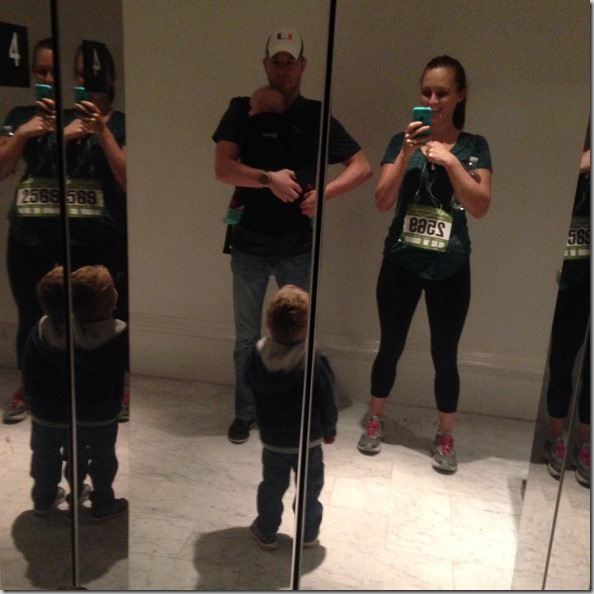 It's always fun to do women's races – I love lining up with everyone in their fun and colorful outfits and feeling that supportive, powerful atmosphere.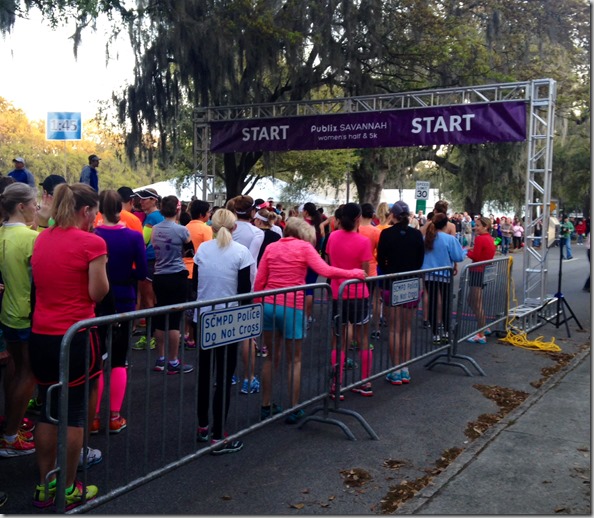 My plan for this race was to run as fast as I could the entire time, but to hold off a bit in the beginning.  I had originally intended to train for this race as I normally would for a 5K – 8 weeks of focused running – but last month, I decided to focus more on boot camp (which is mostly high intensity interval strength training) and speedwork on the treadmill.  We also do speedwork in bootcamp.  But when I was running, I usually maxed out at 2 miles (with a bunch of speedwork thrown in).  As I toed the start, I wasn't sure if my plan would work.  I was a bit concerned that I would crash and burn at Mile 2.5!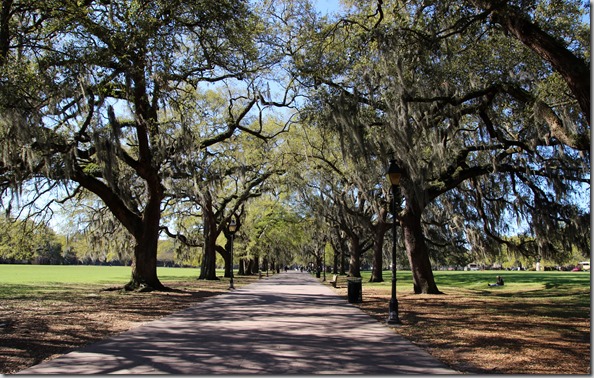 But I didn't!  I managed to hold a pretty consistent pace of 8:30/mile the entire time.  I had planned to walk through the water station, but there was a bottleneck of runners and I didn't want to stop and mess someone else up – so I kept going without my intended walking break. When the Half Marathoners split away from the 5Kers, I could tell I was towards the front of the pack (I finished in 30th place or so) and really put the pedal to the metal.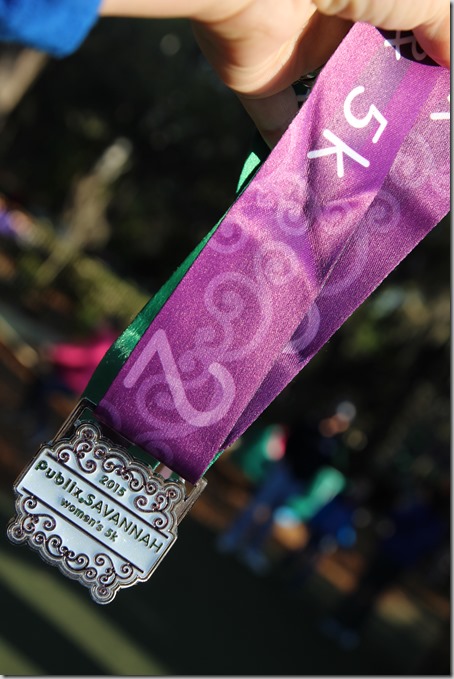 Finished strong at 26:41 – I was so thrilled to see the Husband, Henry, and Claire at the finish line! 
After I was done, we attended the post-race party.  Every runner got two free drinks – either a beer or a mimosa.  Heck yes.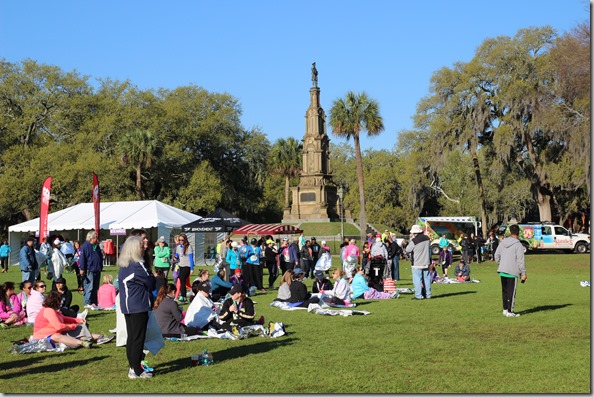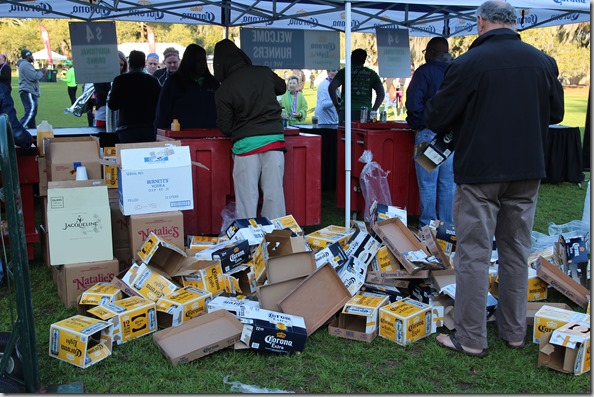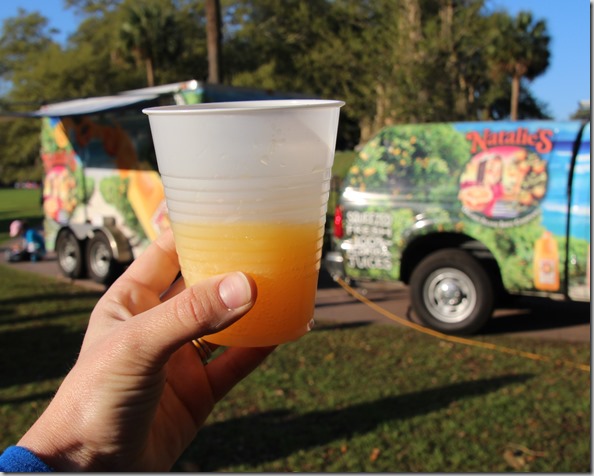 Cheers!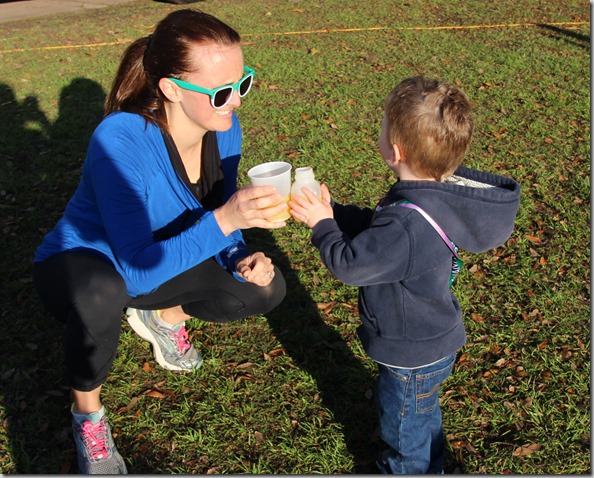 Afterwards, we hung out in our space blankets (kudos to the race for having blankets for running and spectators, too!) and watched the first few finishers from the Half Marathon.  Man – those ladies were fast.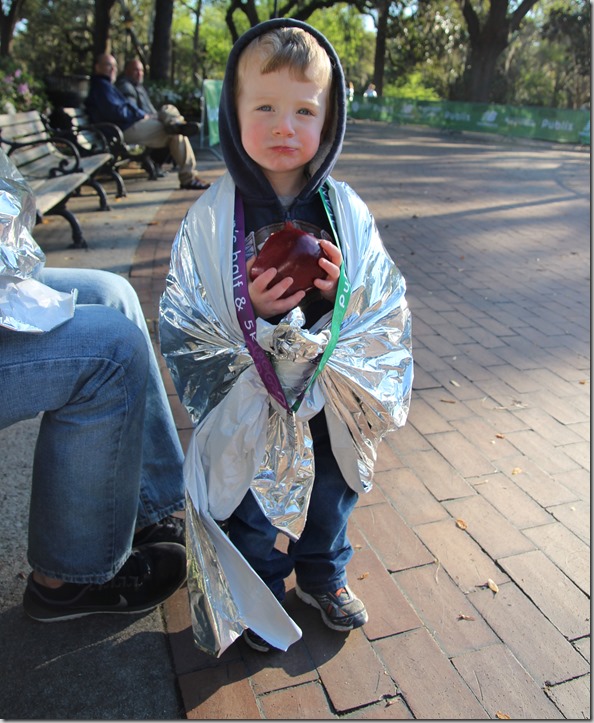 Go, go, go!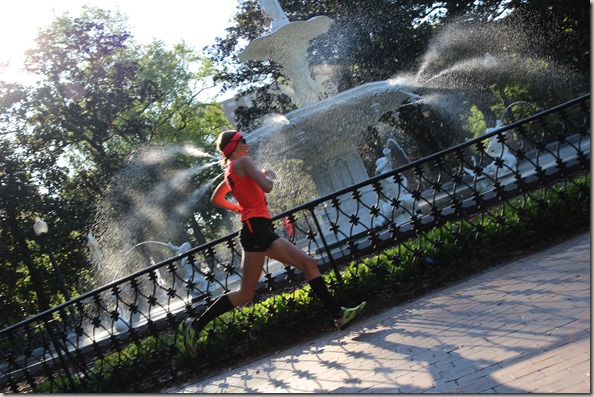 All in all – a fabulous race, a fun family trip, and a great reminder that speedwork pays off.  My next 5K will be part of a sprint triathlon, and I'm REALLY looking forward to that.
My entry and attendance at the Publix Savannah's Women Half Marathon and 5K was compensated. As always, thanks for reading sponsored posts.