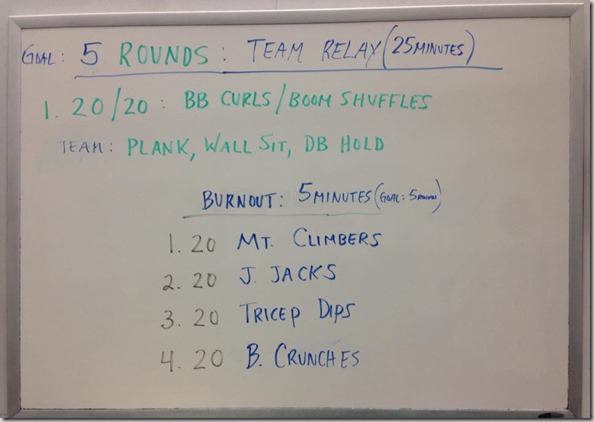 I'm two weeks into my boot camp commitment.  If you've been reading for a long time, you know that I have always struggled to do any type of strength training regularly.  Cardio?  Give me cardio!  I can do it all day long (metaphorically speaking, of course).  But lifting weights? Crunches? Squats?  UGH.  I would rather run another mile.
That's why I'm so excited about this boot camp.  I LOVE IT.  For the first time ever, I'm actually looking forward to strength training.  We do a mix of activities – body-weight workouts like push-ups and squats but also dynamic power moves that require weights and sand balls and other fun pieces of equipment. The classes are so hard, and I'm always left dripping sweat. Plus, the atmosphere is great. I was really hesitant to try this boot camp; for years, I've watched the classes from the sidelines and (for some reason) assumed it would be super cliquish and that the instructors would be unfriendly hard asses.  But it's anything but!  The people are all so nice; everyone introduces themselves to people they don't recognize, and we all cheer each other on.  It is great!
I am really excited about becoming stronger, too.  "Stronger every day" is my current mantra, and I try to use it to guide everything I do, both fitness-, diet-, and life-wise.  What makes me stronger?  What helps me get to my goals?  Even if I can only do something small, what positive efforts can I make?  I really enjoy this mindset because it keeps me focused without feeling overwhelmed.
Anyway – on Wednesday's class, I asked the instructor, "How long does it take to see results?"  If I'm going to do 100 weighted squats, I want to know when I'm going to start seeing – and feeling – the benefits!  She paused, thought about it, and said, "It takes most people 3 – 6 months to see a real transformation." She wasn't just talking about weight loss; she was talking about strength and power, too.
Ever since then, I've been thinking about how long it takes to see results using a lot of different measurements.  Here are different ways to measure progress – which have you tried?
Weight loss
How your clothes fit – pants around the waist, arms of sweaters, whether your rings get loose
How many modifications you have to do to get through a workout class
How many sit-ups, push-ups, or squats you can do in a row
How heavy your weights are
How many miles you can run / laps you can swim / etc
How fast you can run / swim / etc
Whether you need to take breaks during your cardio or not
How hard every day activities feel – going up the stairs, unloading groceries, picking up your kids
I'm currently using the "how hard every day activities feel" and "how many modifications do I need" gauges.  I can't get through an entire boot camp without some changes, especially when doing ab work.  I'd love to be able to rock out the moves just like our instructors do!  Maybe in a few months…
What other measurements are there to track workout progress?  Why do you like using that measurement technique?