I feel the need… the need for speed.  In everything I do lately, but especially in my workouts!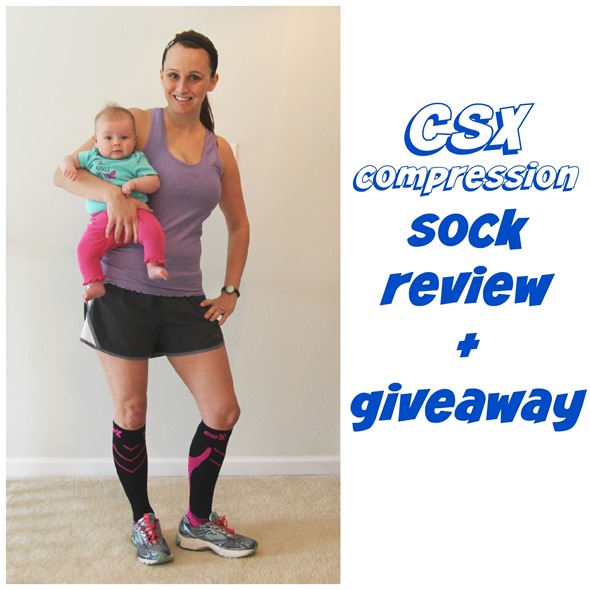 With two small kiddos, it is SO not easy to get to the gym.  Or out the door for a run.  But it's really important to me, so I try to find the time to exercise.  Unfortunately, more often than not, the available window is pretty small right now – I've got half an hour to get in and out.  That's why I'm really loving intensity intervals right now and have been trying to incorporate more of that into all my workouts.
Here's a fun 20 minute stairmaster workout that I did last week – it includes big bursts of speed that left me breathless and sweaty!
The levels may vary from machine to machine, but for me, Level 5 is a "I can have a conversation with you" effort, Level 7 is getting pretty challenging, and Level 9 is "OMG this is the longest minute EVER!"
And now – a fun giveaway for you.  If you've been training hard, I think you'll love this!  I'm giving away two pairs of CSX compression socks. I really liked these socks – they seem more "breathable" than my other compression socks yet just as, well, compressing.  You can also feel how they fit differently on different parts of your leg and foot – it's not just one tight tube compressing your entire foot.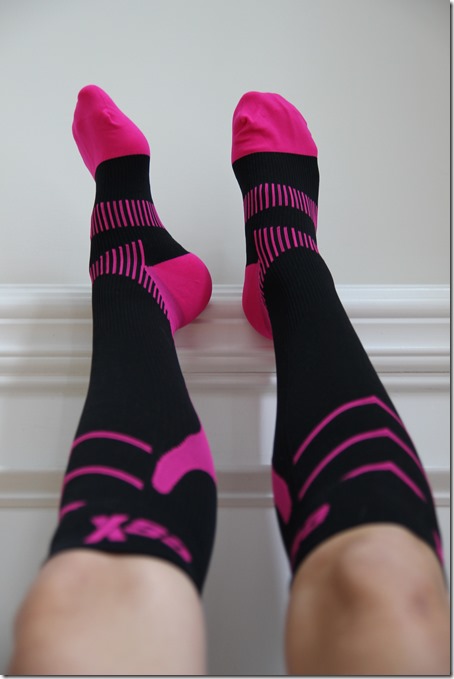 I was super pumped to review these socks because I *believe* in the power of compression socks.  After my Half Ironman, I wore a pair in the car for the long (LONG) drive home and really think it helped speed along my recovery.  But compression socks can be used in so many other ways (during workouts, on long airplane flights, to help reduce shin splints, etc). I interviewed a member of the CSX team to learn more.
Caitlin: Why wear compression socks? What's the reasoning behind compression?
CSX: Compression socks are typically well known in medical markets for those suffering with specific medical conditions such as varicose veins, swelling due to poor circulation, etc. However, many are now discovering the benefits of wearing compression socks daily to promote general leg health. Those that are standing on their feet all day, sitting for extended periods or especially exercising will notice a difference in how their legs feel when wearing graduated compression socks.
Many professional athletes have discovered that wearing compression socks can have an extremely positive affect on their athletic performance and in post-activity recovery. Here's how the CSX compression socks work:
TRUE Graduated Compression (15-20 mmHg or 20- 30 mmHg): 15-20mmHg is suited for most users, however for those serious athletes that want a higher degree of compression, 20-30mmHg is available.

Extra Wide Self-Adjusting Top Band: This design element keeps the compression intervals in the ideal place, comfortably, to maximize the efficiently of the sock as it increases leg circulation.

V-Guard Shin Protection: Special weaving done to the front of the sock help reduce vibration which can cause shin splints. Ideal for those that suffer with shin splints or as a preventative measure.

Calf Cradle: Helps prevent calf muscle oscillation, reducing strain and decreasing recovery time.

Seamless (hand-linked), Extra Wide Toe Box: Allows for a supreme fit and does not restrain toes from fanning out naturally. No seam virtually eliminates the chance of blisters forming.

Achilles Tendon Protection: Especially Ideal when using new footwear.

Arch Support Band: Supports arches and also increases air flow around bottom of foot.

Built-in Ankle Support: Provides an extra layer of ankle compression adding extra stability and confidence during exercise. Ideal for those exercising on instable terrain or snow and ice where ankle injuries are more likely to occur.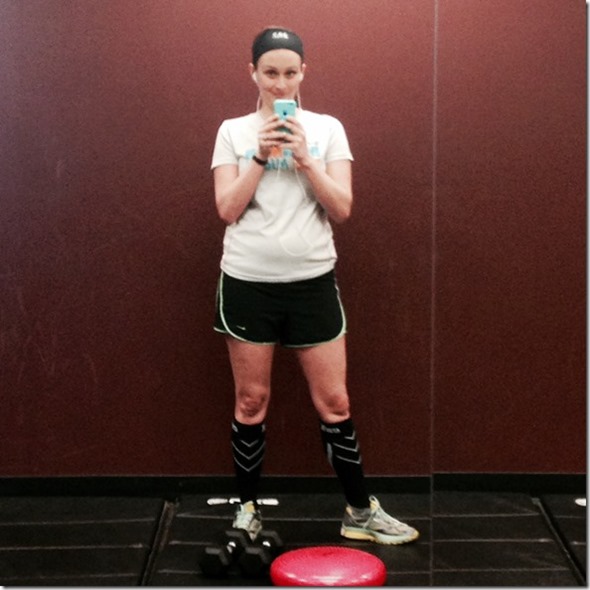 Caitlin: Should you wear compression socks WHILE exercising or just AFTER? Why?
CSX: It will vary from person to person, but compression socks are great for wearing during exercise – to encourage better circulation and minimize leg fatigue – as well as for recovery purposes.
Caitlin: What makes CSX different than other compression socks?
CSX: When we were developing these socks we really wanted to offer more than just basic compression. In the end we were able to design an athletic sock that's rather unique; compression encourages increased blood flow/circulation and reduces leg fatigue, and built-in supports offer unparalleled ankle, arch and tendon protection. A major distinction is our years of experience developing TRUE medical grade compression products under our sister brand, Truform Leg Health. That's what gives us a real edge over other compression sock styles.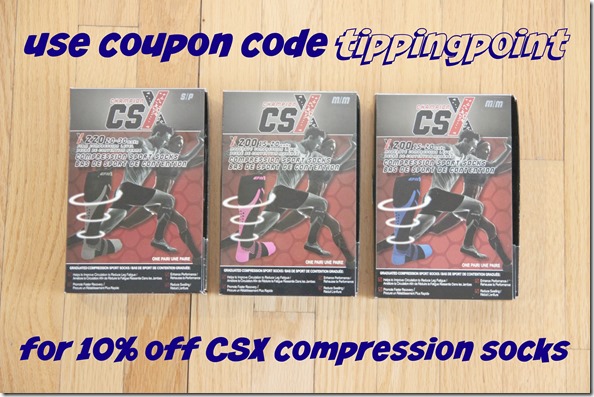 Caitlin: How should you wash and care for your compression socks?
CSX: To obtain months of comfortable wear, wash gently in lukewarm or cold water (never hot) with mild soap or detergent.  Rinse until the water is clear.  Do not wring out or twist.  Roll in a soft, absorbent towel to remove excess water, then air-dry flat.  Keep socks out of contact with oils, petroleum-based ointments and direct sunlight.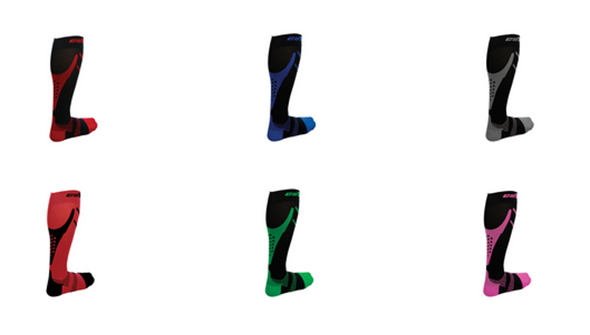 It's giveaway time!  Enter to win a pair of CSX socks using the widget below. As usual, I'm closing comments on this post so there's no confusion on how to enter.
If you'd like to purchase a pair of CSX compression socks, head over to their website and use the coupon code tippingpoint for 10% off your purchase.
This post is sponsored by CSX.  Thanks for reading sponsored content and for supporting my blog!