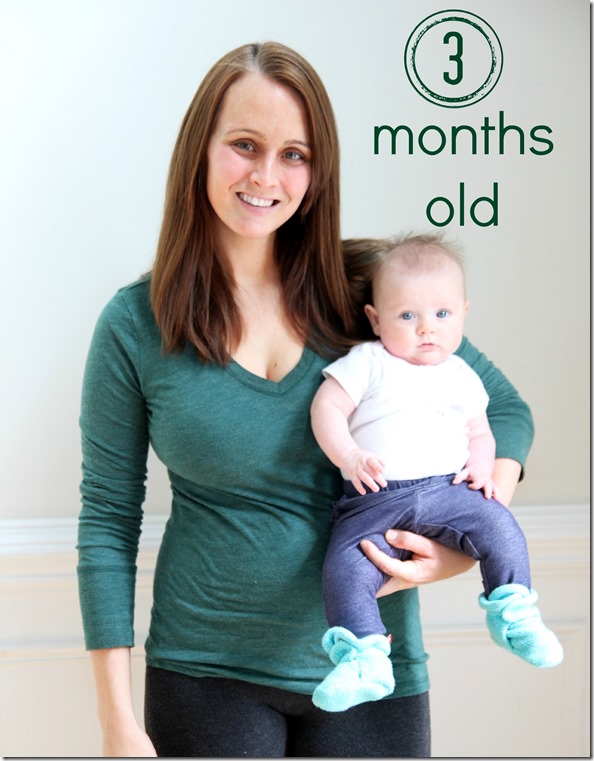 Ahh! She's three months old.  I can't believe.  Time flies when you have a baby, but a SECOND baby?!  Time goes even faster (you must fall into a black hole after the birth of a third or fourth!).
As Claire turns three months, we mark the end of the so-called "Fourth Trimester." And she's hitting so many milestones that indicate to me she's no longer a newborn – she's laughing (it's this funny coughing noise with lots of big smiles), sleeping in her own room, trying so hard to sit up, eating her hand like it's her last meal, and tracking people with her eyes.  Guess who is her favorite person?  Yup.  Big Brother Henry.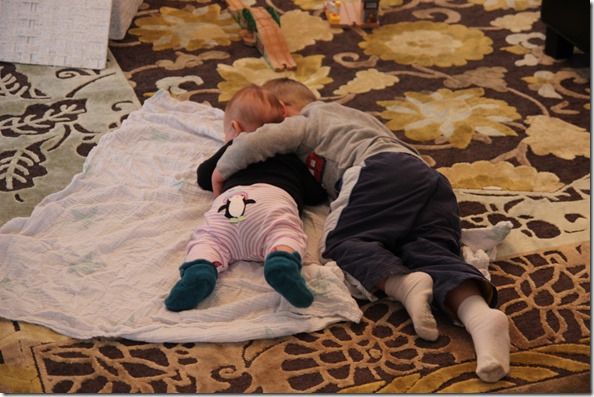 Progress Report – look at how she's grown!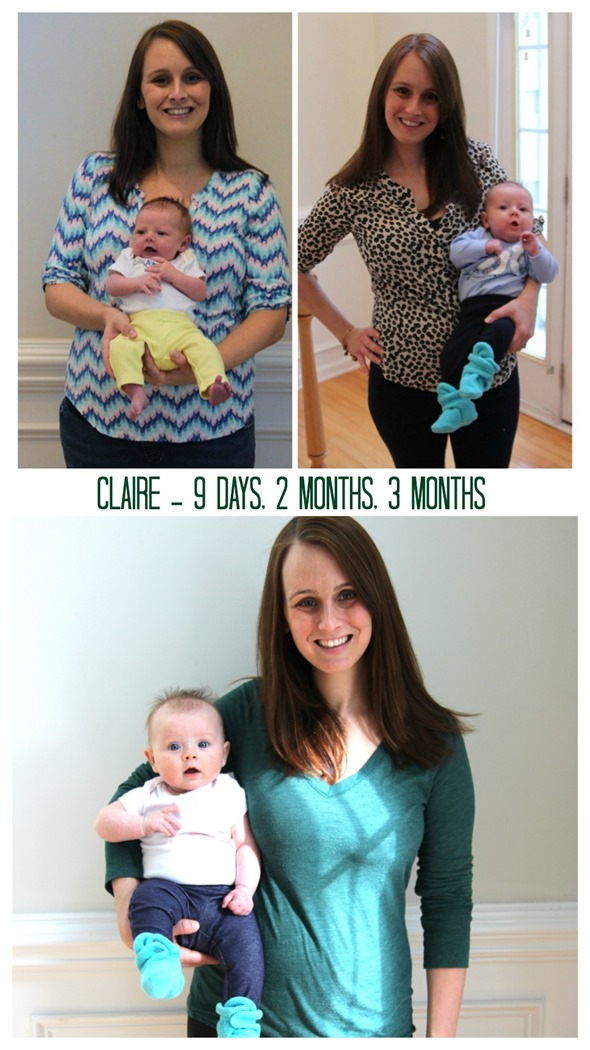 And, just to compare, let's check out Henry's 3 month photo and Claire's…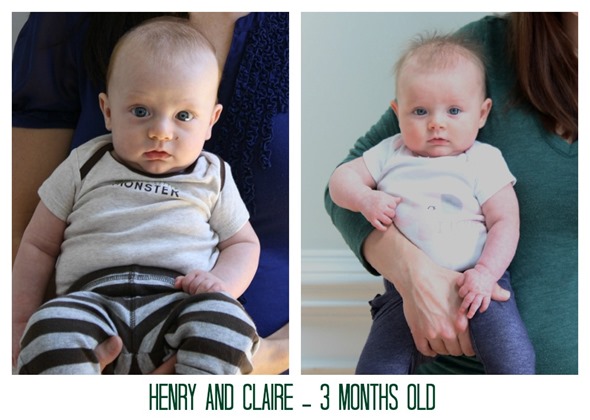 You can definitely tell they are related, huh? As someone who doesn't have a sibling, I especially love that my kiddos look alike.  It's so cute.  They have the same blue eyes and the same cheeks.  The biggest difference is their face shape – Henry was long and lean, even as a baby, and Claire's is this perfect little circle. 
Mind After Baby
Truthfully, I get super stressed out with trying to juggle it all. I think that's probably natural.  On really busy days, I feel like I'm just FLYING from one task to the next and barely have time to breathe.  I get this heavy feeling in my chest – it feels like I will never get everything done and keep everyone happy.  The bottom line is that, no matter whether you work or stay at home or do a combination, raising children in a lot of hard work.  There are lunches to pack, bottoms to wipe, mouths to feed, tantrums to be soothed… Over and over and over again.  And then there's work, taking care of the house, being a wife and friend, and taking time for myself.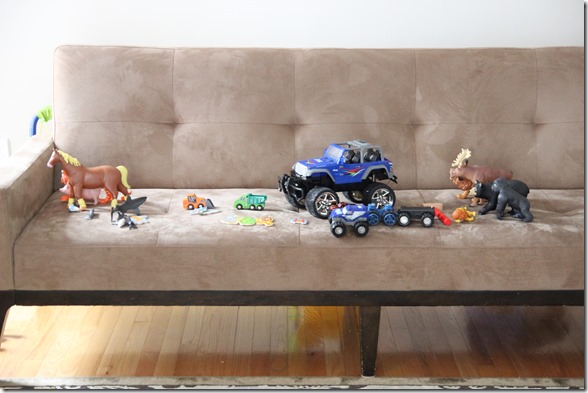 But parenting is so fun and lovely.  You know that book I read – All Fun and No Joy? I think about the chapters on the joyful aspect of parenting so much.  The dance parties in the living room at 7 PM, the wonder when Henry makes a joke (an actual  joke!) or Claire cracks a grin, the adventures building snowman, the sound of a baby cooing from a crib… So much joy.  My heart sings when I look at my kids.  It's so worth it.  It's SO much work, but I can't imagine my life without these children.  
So it's great, but it's challenging, and I guess that's what life is all about, huh?  I've been de-stressing with lots of this: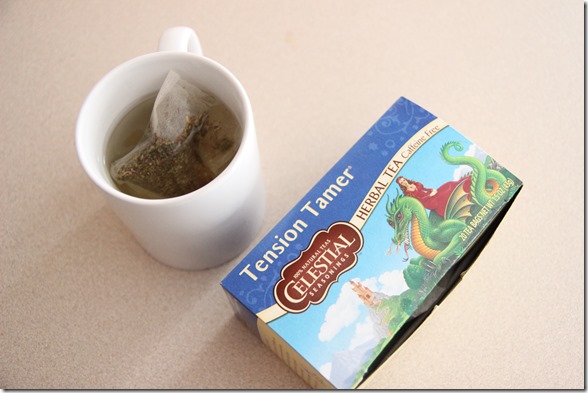 And this: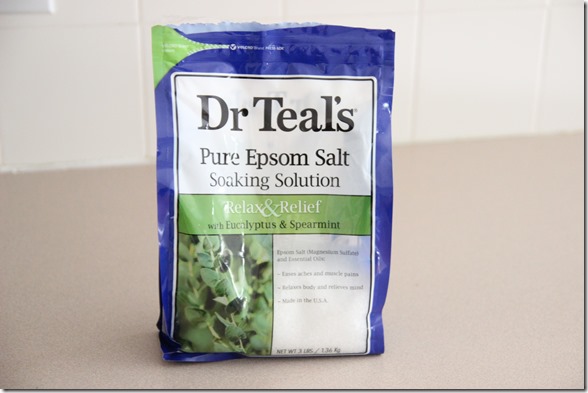 I'm also getting better at delegating tasks.  I think this is going to be huge for me.  There are tasks I can't delegate and ones that I can – why not delegate what I can?  I hired a cleaning service to come once a month (HUGE!) and I have decided to pay someone to complete a big blog task that's been on my To Do List for months and months (okay – years), which is to organize all my recipes into one easy-to-search widget. 
Body After Baby
I have a post sitting in my Drafts folder about loving my post-partum body, and I really need to finish it and share my thoughts.  I love my body.  It's the only one I will ever have! 
I've been thinking a lot about how so many of us end up unhappy with our bodies simply because they change.  We get pregnant, we gain weight, our breasts sag, we age, we get wrinkles, etc.  Our society wants us to stay the same forever and ever.  Even when I get back to my pre-pregnancy weight, shit is going to look different (and function differently) – know what I mean?  Hah.  I've realized that it's not realistic to fight the changes – I think I'd just end up unhappy.  Hi, I'm not 22 anymore.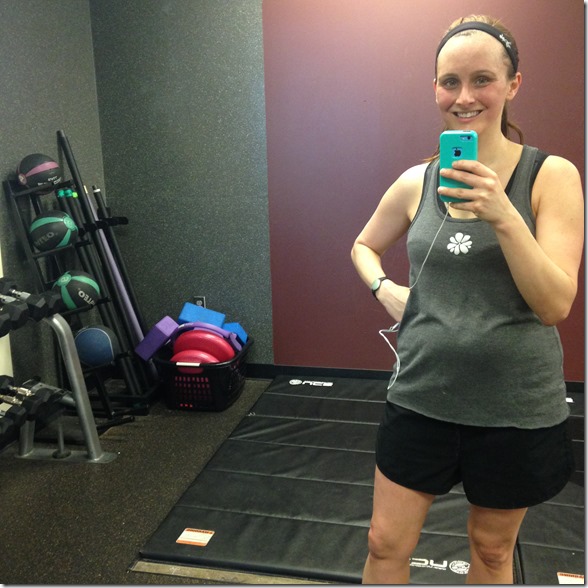 I'm embracing where I am at, and looking forward to where I am going, no matter what that looks like.  I'm trying to get stronger and lose the baby weight – I only have ten pounds to go! – because I would sure love to be able to wear my closet full of clothes and kick ass during my summer triathlons.  But on a day-to-day basis, I work out because it makes me feel SO MUCH BETTER when I am stressed or sleep deprived.  I try to focus on that, and it really motivates me to get to the gym.
So that's where I'm at.  It's a good place to be, mentally and physically.  <3 <3