I really loved putting together the Sweet Santa Photo Contest post.  Now more than ever, I so appreciated seeing all the sweet babes with their wonderful holiday smiles.  That being said… there is something really, really funny about Scary Santa photos.  I'm sure Scary Santa pics aren't everyone's cup of tea, but it's kind of a childhood right of passage, isn't it? 
I'm not sure why wee ones are so freaked out by Santa – maybe it's the beard, maybe it's the red suit, maybe it's just the pressure of being 'on' in front of the camera.  But man, oh man – does Santa elicit some major freak outs. 
Per the usual, the Scary Santa photos were judged based on the following categories:  the overall creepiness of Santa; Santa's own freaked out expression; and the oh-so-dramatic expression on the kiddo's face.
First up… The Scary Honorable Mentions
Hilary wrote, "Our daughter Ainsley is 13 months and was not too thrilled to see Santa last week!"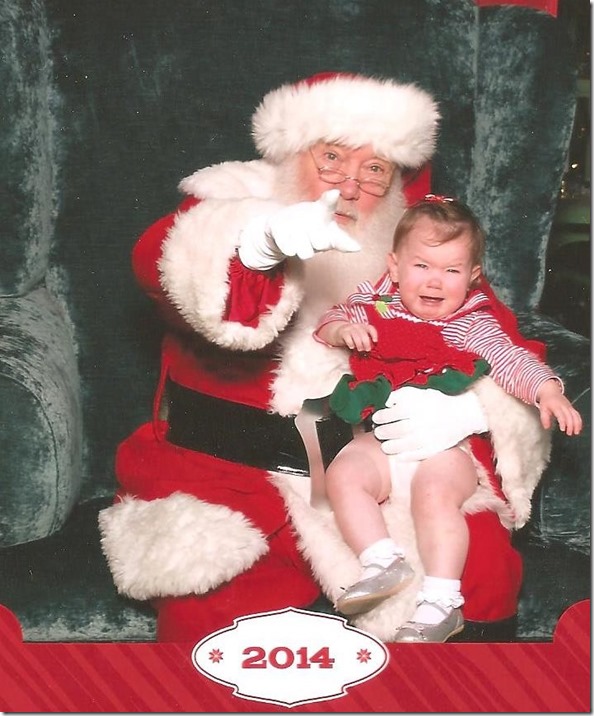 Erin wrote, "This is Gavin.  He was so excited to go see Santa, we waited in a very long line, got to the front, and he quickly changed his mind about sitting with him!"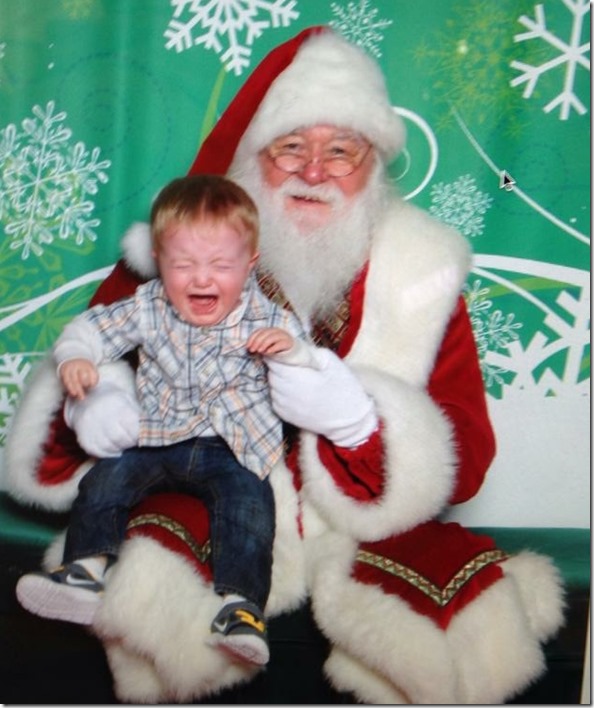 Jamie wrote, "My daughter, Ona, was so excited to see Santa until we actually got up close! Santa cracks me up in the background!"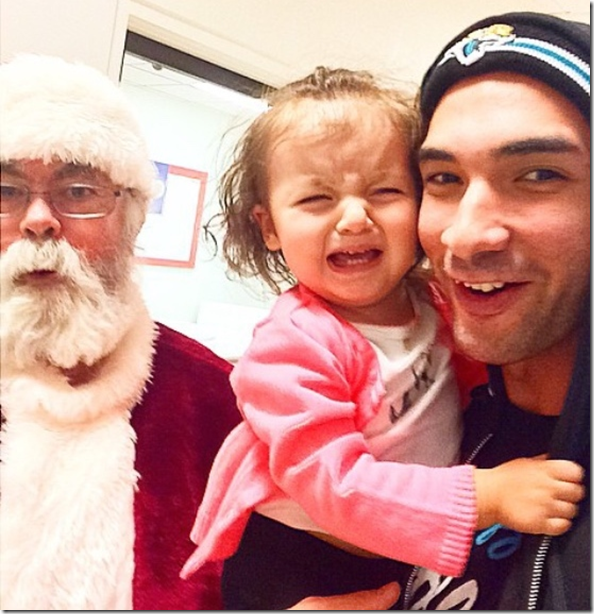 Cynthia wrote, "This is my December baby, D, and her first encounter with Santa (slightly vacant Santa, if you ask me). This girl is happy 98% of the time and is generally fearless when she meets new people, but Santa obviously rubbed her the wrong way. Classic picture that I will cherish forever!"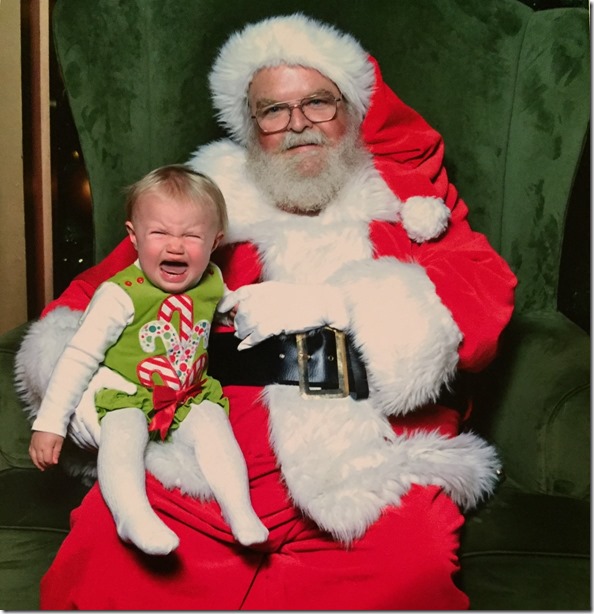 Lauren said, "Hunter and Holland had different experiences…"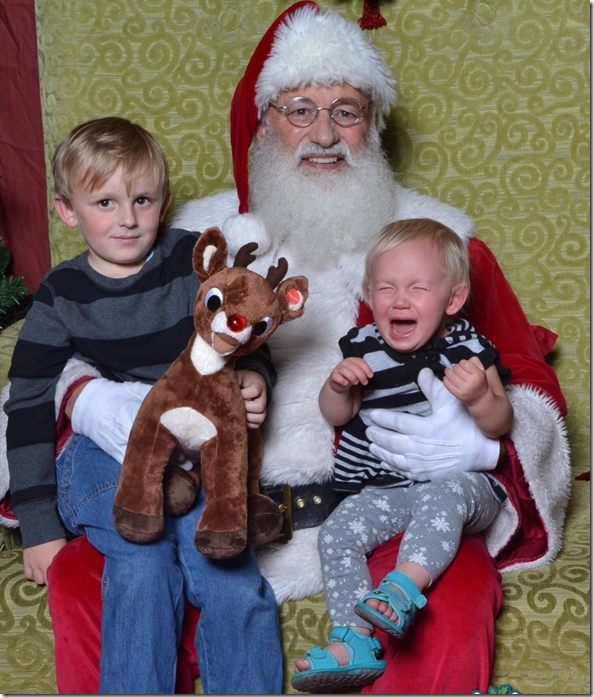 Kristy wrote, "This is Claire, age 15 months."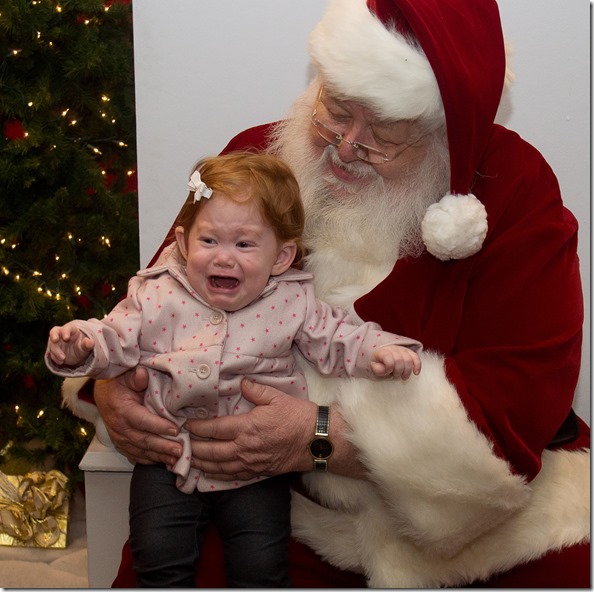 Sarah said, "This is Colton!"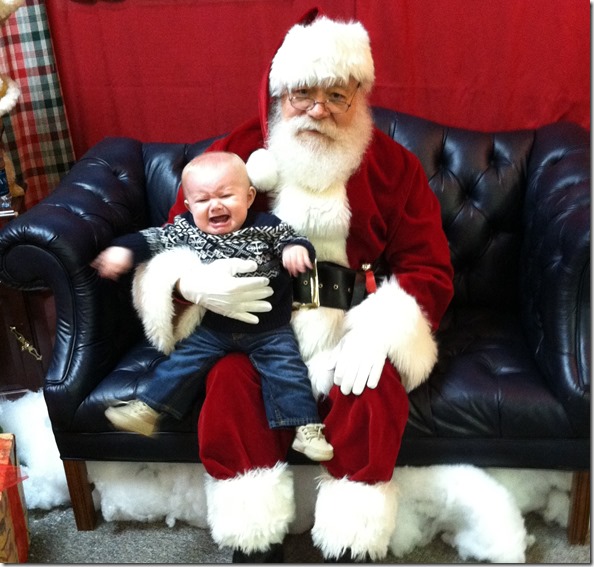 Jessica wrote, "Sissy was ok. Little brother not so much… This is Weston and Shane Leigh."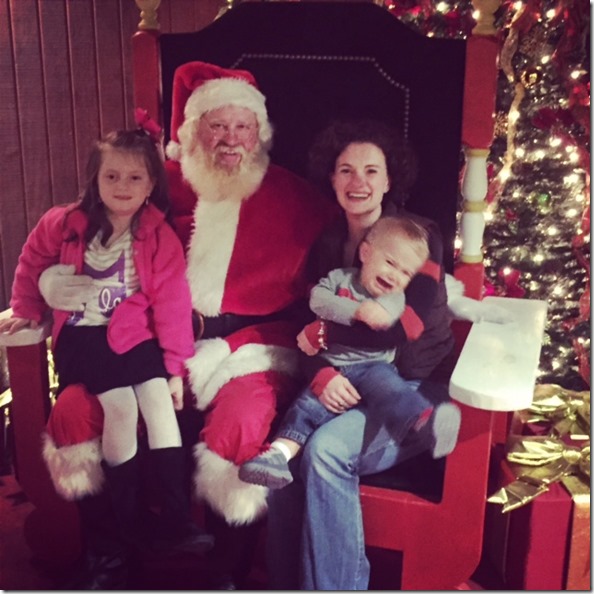 Sara said, "Here are my 4 and poor Santa.  The three older ones (G, A and J) were so excited to talk to Santa but I think when C(clearly not happy) got so upset they weren't sure what to think.  Makes me laugh every time I look at this.  And A(red dress) has that look on her face in every picture!  Can't wait to see what the teen years bring when I'm sure there will be comments that accompany that look."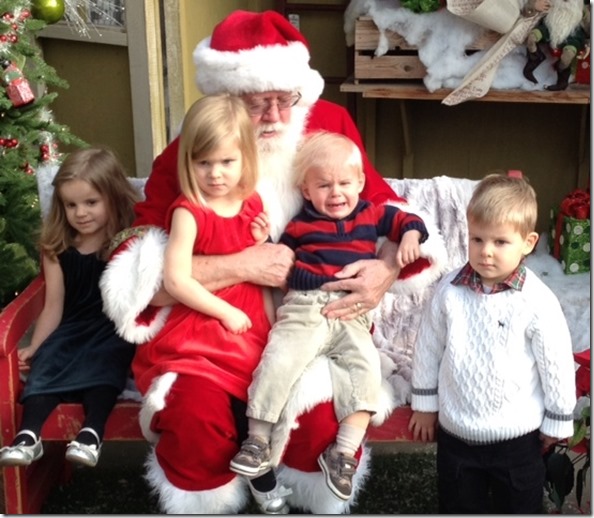 Kristen said, "This was the first Santa experience for Brayden as he is only 8 months. My husband and I were so excited and anxious to see how Brayden would react. He was smiley the entire time we were in line (2 hours!) and as soon as he left my arms he instantly broke out in crocodile tears! Let's just say this is a picture we will always treasure!"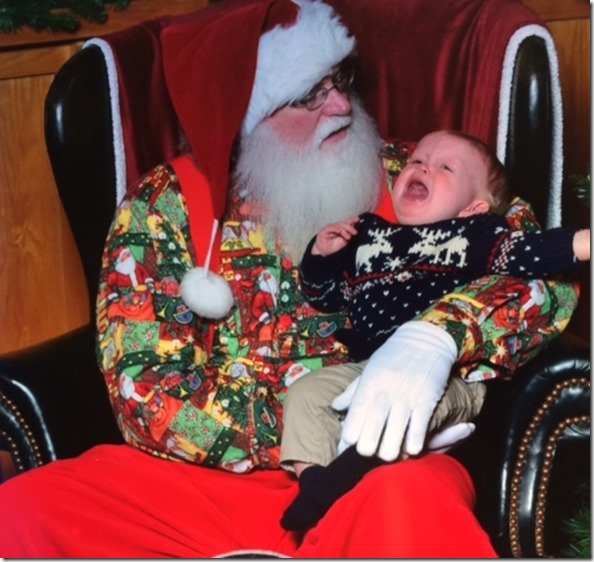 Trisha said, "This week I took my 18- month-old son Jack to meet Santa for the first time and it went just as I expected — he totally freaked, so I scooted in the pic to try and calm him down. What I didn't expect was for Santa to be doing some eye rubbing. I guess it's a classic photo all around."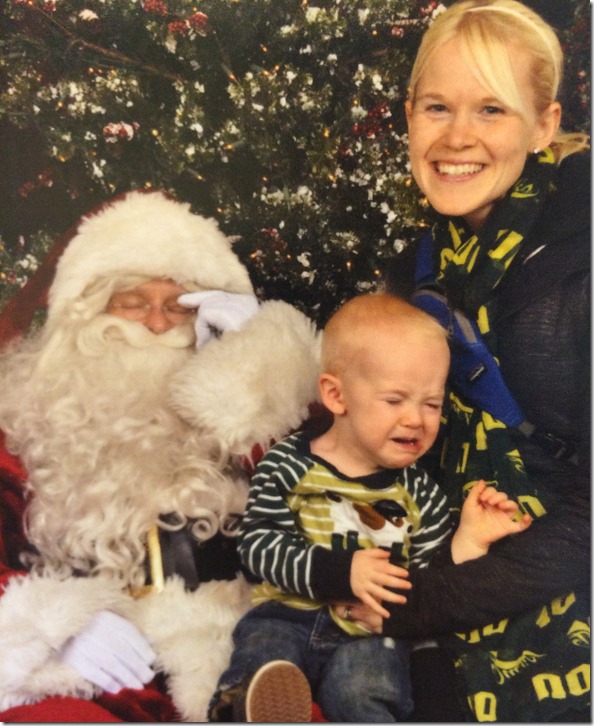 Kassie said, "Here is 7 month old Evan meeting Santa. It took me 15 minutes to calm him back down!"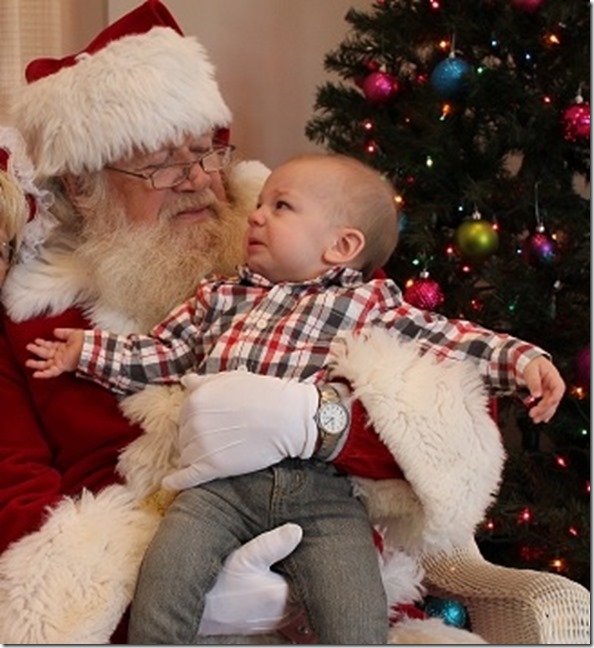 Ashley wrote, "Here is a picture of my 11 month old son, Jack.  This was taken the week of Thanksgiving this year and he obviously was not ready to get into the Christmas spirit!"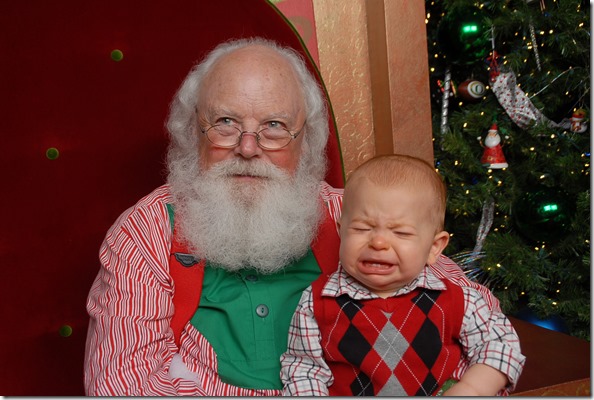 Liz said, "This is Trey's third year visiting Santa. He was really excited about meeting him and was all smiles walking up with his daddy. He even high fived santa but then wanted no part of getting any closer. Finally we said "just take him Santa" and Santa grabbed him. Trey got so mad he threw down his candy cane which resulted in an eruption of laughter not only from us but from all the families behind us in line! Here's to next year!"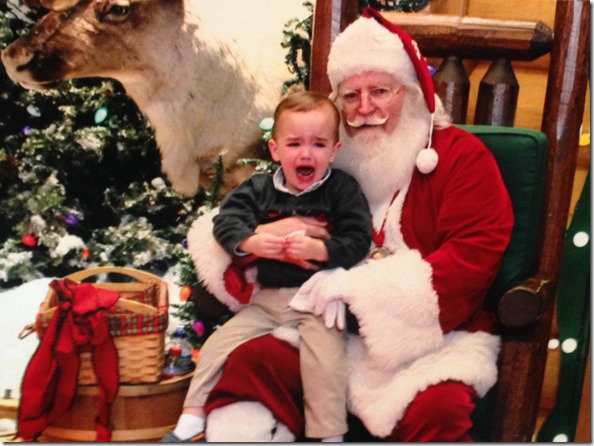 Sarah said, "Give Santa a straw and little Olivia might be slurped up! She looks like she knows this isn't right."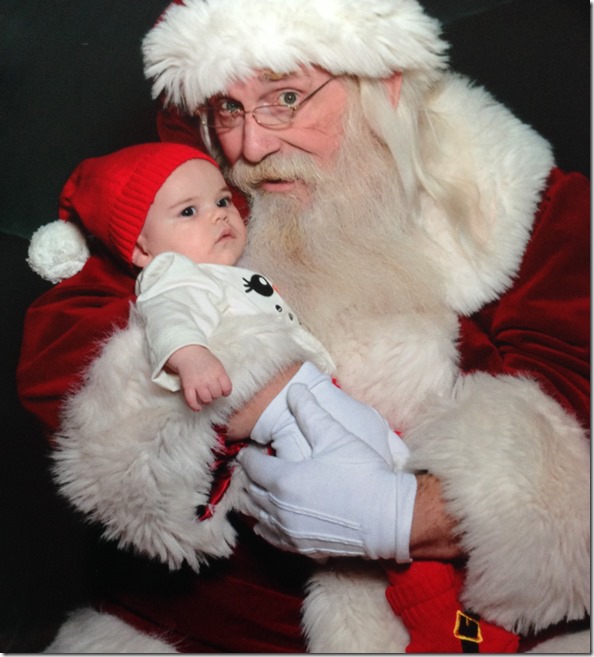 Molly said, "Milena & Mason – another successful Santa picture!"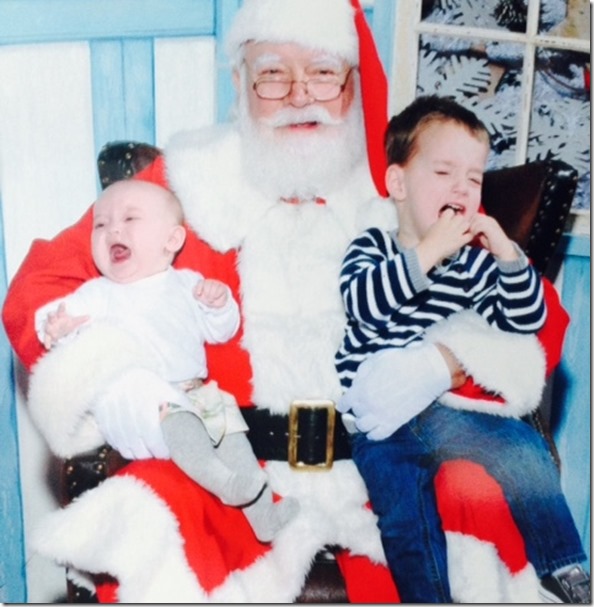 Tara said, "My one year old daughter, Bailey, was NOT a fan of Santa!"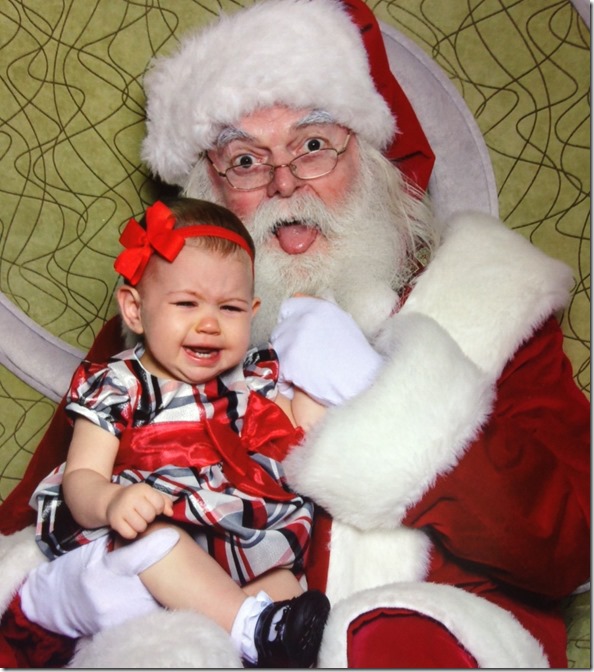 Yvonne wrote, "This is Jackson… Sssh little boy, I'm Santa Claus!"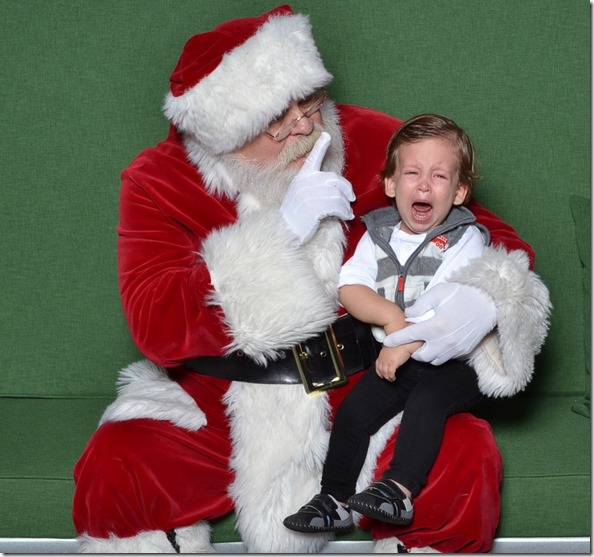 K wrote, "This is T and B. T has historically not liked Santa so I was surprised he would even sit on his lap. This was B's first experience and let's just say she was not having it. The camera woman was not paying attention at all and I ended up almost screaming at her to take the photo! B was having an utter meltdown.  Plus, Santa is kind of creepy…"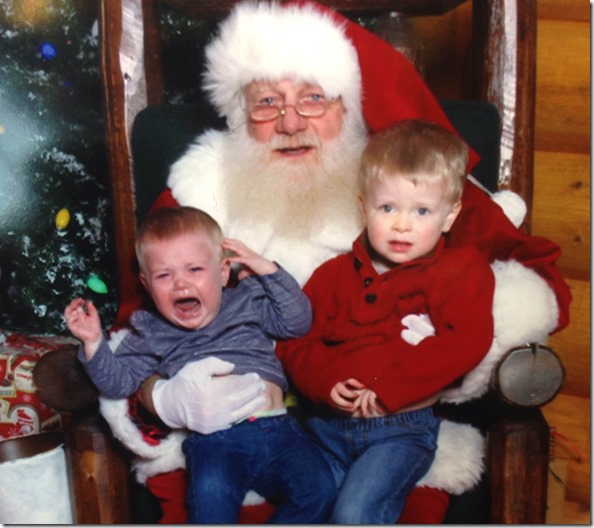 Erin said, "This is my son Brendan with this creepy Santa.  My brother says it looks like Santa had a little too much eggnog."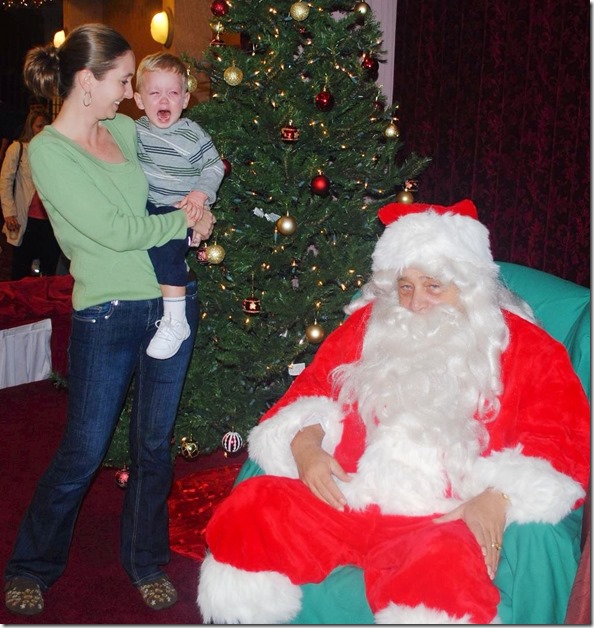 Caitlin sent in this picture of her Little One!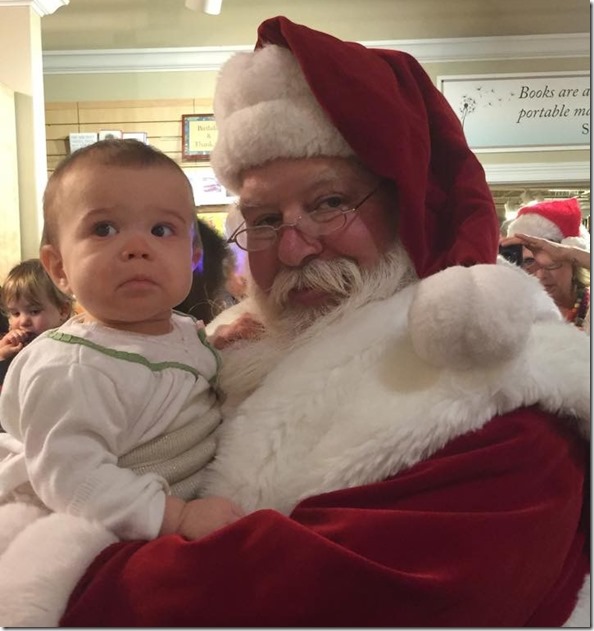 Jaime said, "This is John W (20 months)."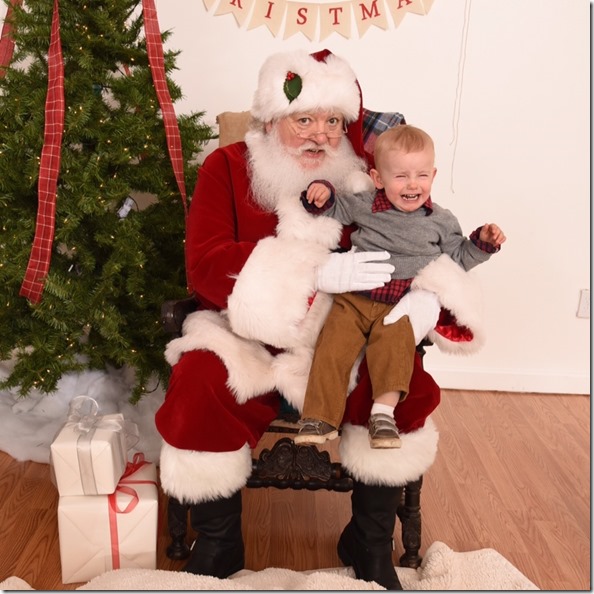 Joni wrote, "My daughter's name is Aubrey, but she was terrified from the moment she saw him. So sad but she was only on his lap approximately 3 seconds before I grabbed her back 🙂 I can't wait to show her these years from now."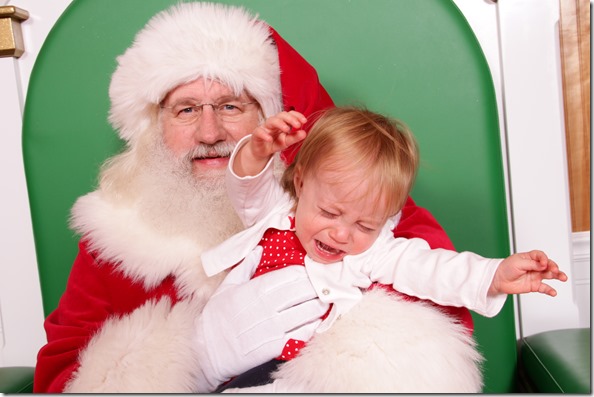 Christine wrote, "Sierra is usually SUPER happy but as soon as she was placed on Santa's lap she pouted as I've never seen her pout before!"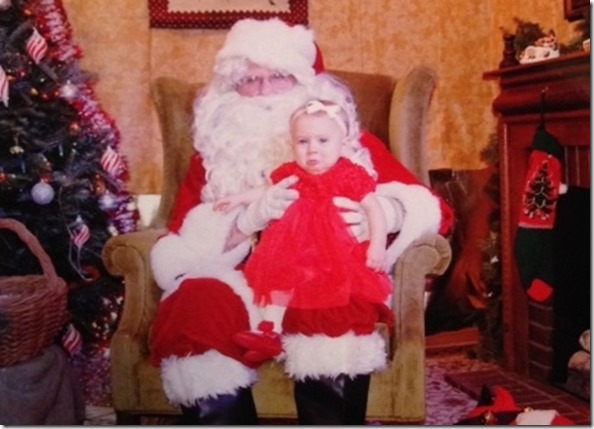 Jennifer wrote, "Elly won the HTP Sweet Santa contest in 2013, but has had a big change of heart since last year!"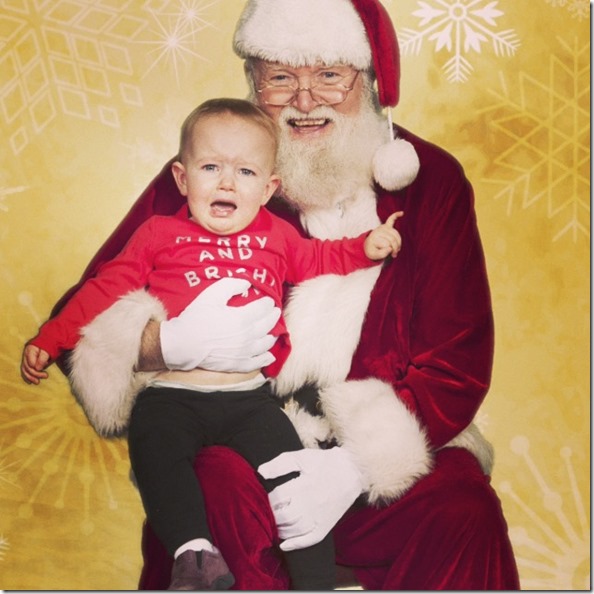 Katie wrote, "This is Joshua, age 16 months.  I plan to save this for blackmail one day!"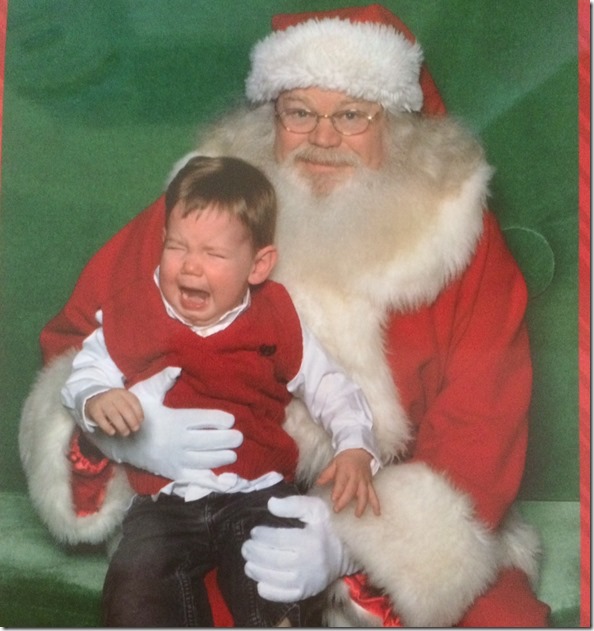 Jess said, "This is Saye (17 mos) and her visit to Santa… which apparently got really scary!"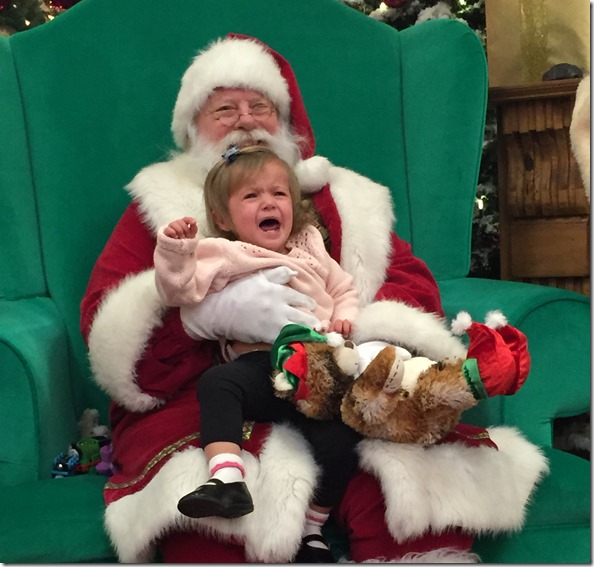 Allison wrote, "Here is Scarlett 6 month hating Santa while her sister Serena 3 years looks completely indifferent."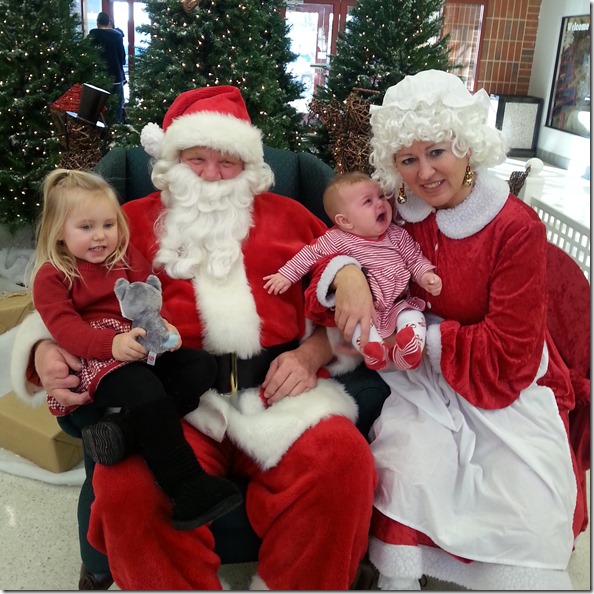 Karamie wrote, "This is Kase's first Christmas.  I thought we would be safe this year and get a happy picture…not so much!  Santa doesn't look too excited either."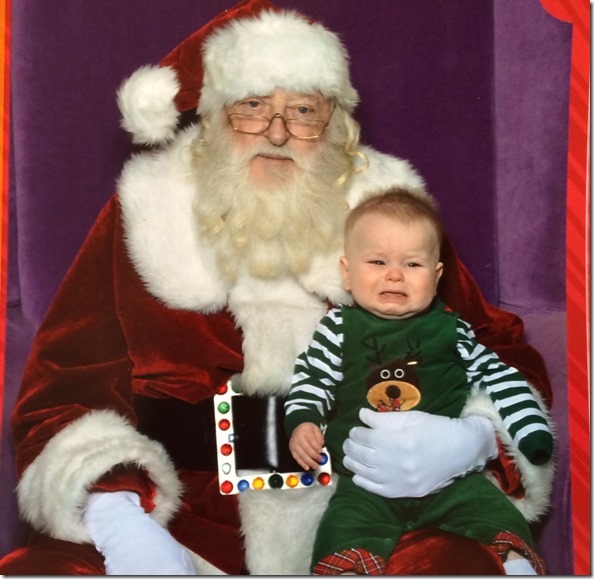 Alex wrote, "This is my 17 month old daughter, Audrey. She was clearly not impressed… oh well, maybe next year!"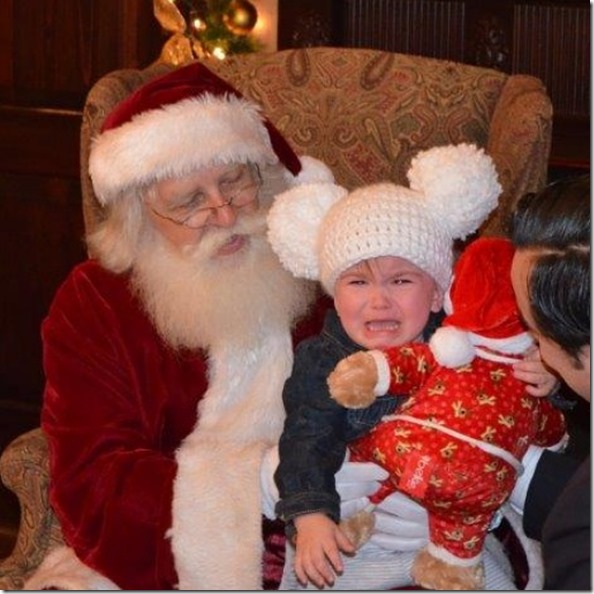 Alex wrote, "Our son "S" and the Macy's Santa."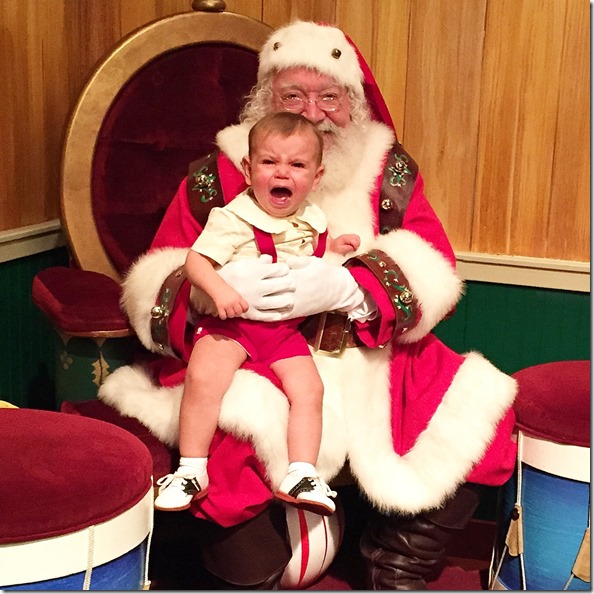 Kelly wrote, "My three month old June, would not smile!! She just sat there with this scared expression on her face. It was hilarious!"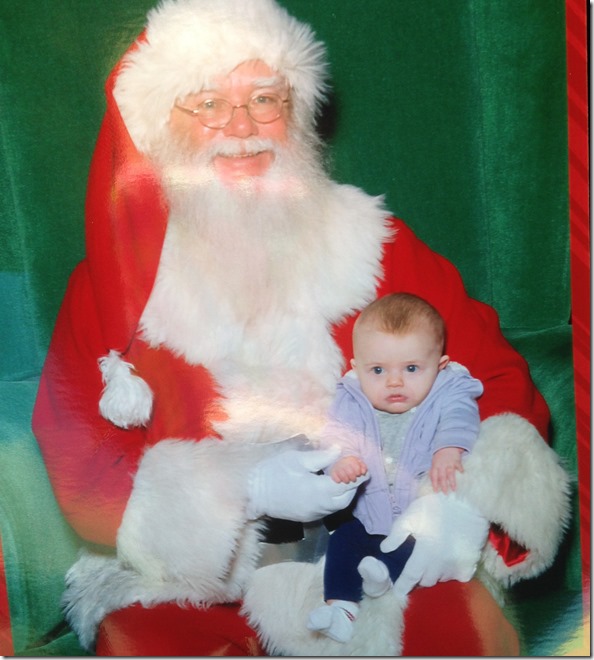 Ashleigh wrote, "This is Ian… He was not a fan of Santa."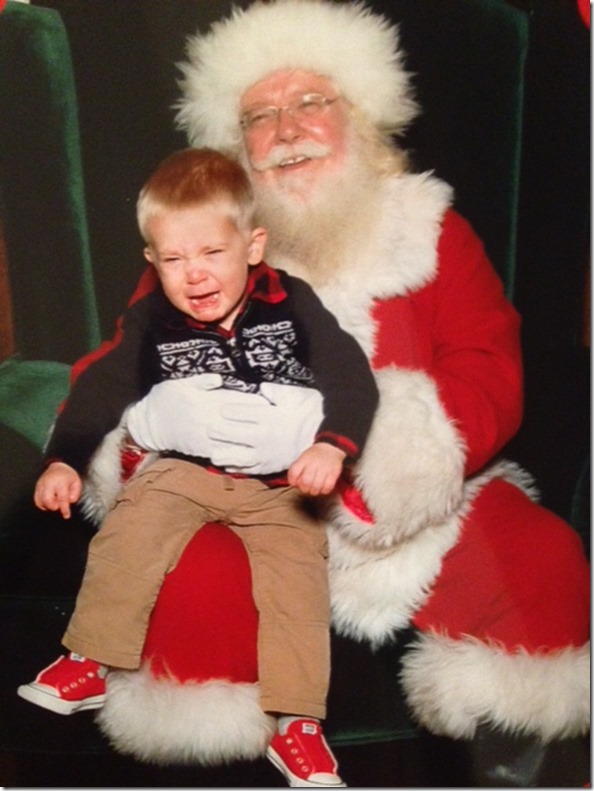 Lindsey wrote, "This is my son "C" and he obviously wasn't too happy with his visit. The guy taking the picture was scarier than Santa himself though."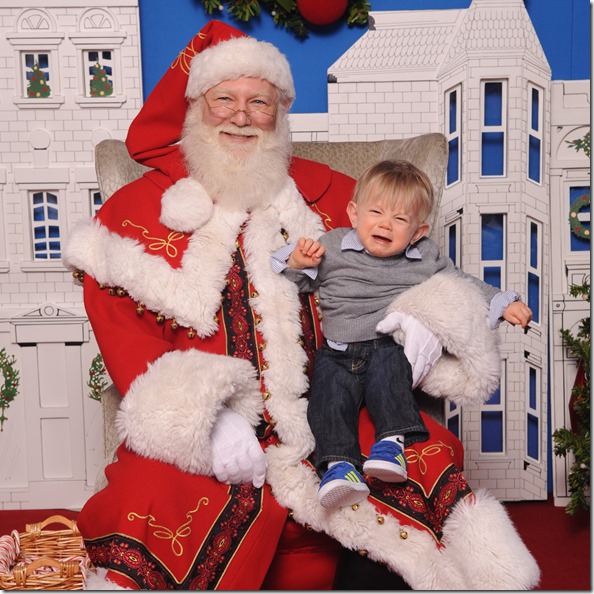 Stephanie wrote, "Lillian was all smiles before and after the photo…. Just not a fan of being held by Santa as mom and dad walk away to take pic!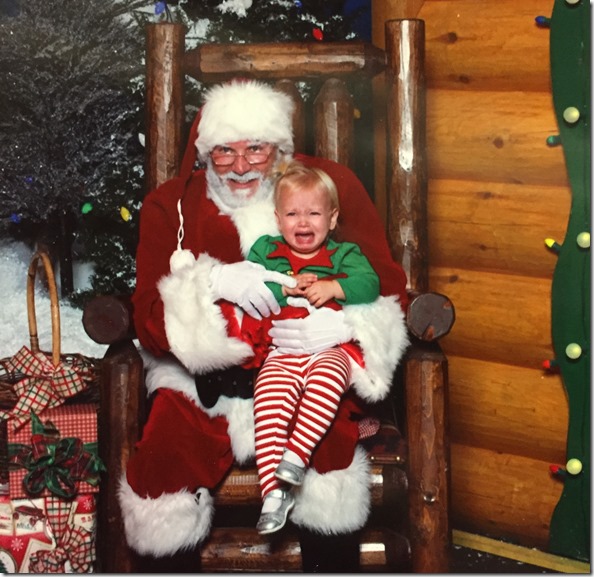 Elizabeth wrote, "This is a picture of my first two children with Santa.  This picture was taken two years ago; Megan is 3 and Tyler is almost 2. As you can see, Megan looks skeptical, Tyler is scared out of his mind and Santa is not amused.  I love this picture for so many reasons."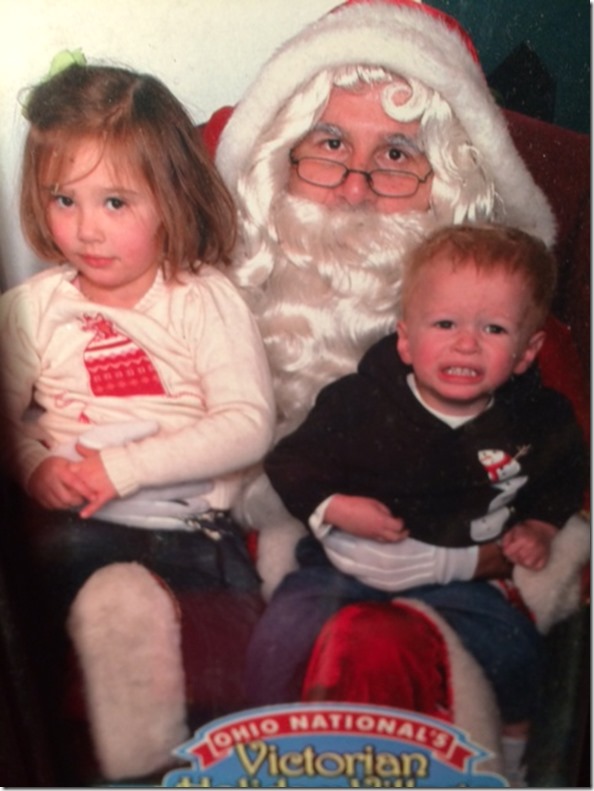 Shannon wrote, "Here is a picture of my 15 month old, Alev, with Santa."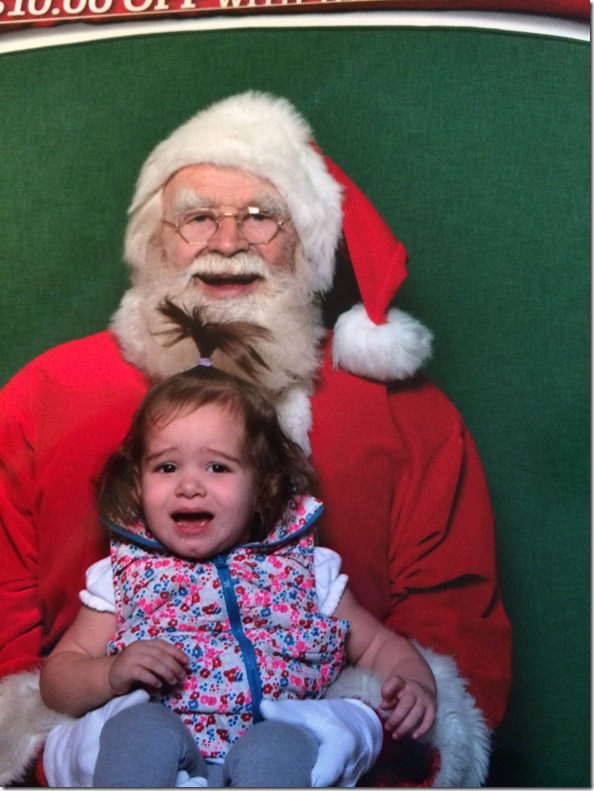 Leanne wrote, "Here's a picture of my husband and I with our kiddos- Delaney, 27 months, and Jack, 10 months- at Breakfast With Santa at my grandfather's hunting and fishing club.  As you can see, Delaney and Jack are less than thrilled with the Big Guy. They were two of the last kids to see him and the ONLY ones who cried! This is so typical of my life with "two under two". Haha!"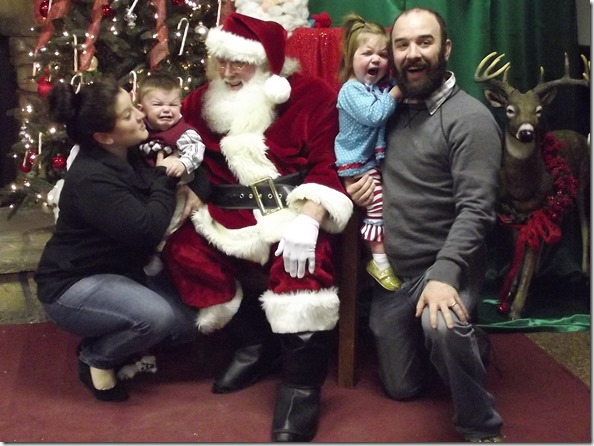 Tricia wrote, "Here is Nolan (13 months) during his very first encounter with Santa. It's safe to say he was not a fan."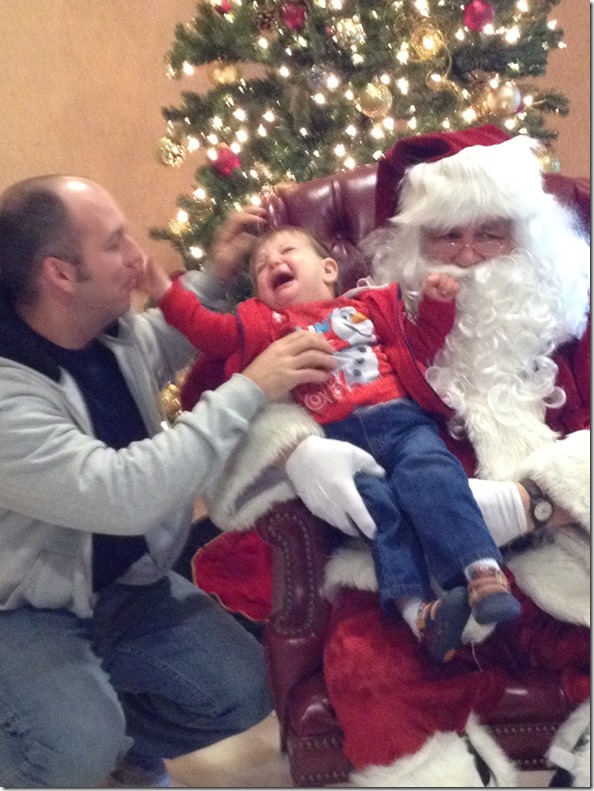 Kristin wrote, "Clearly loved it."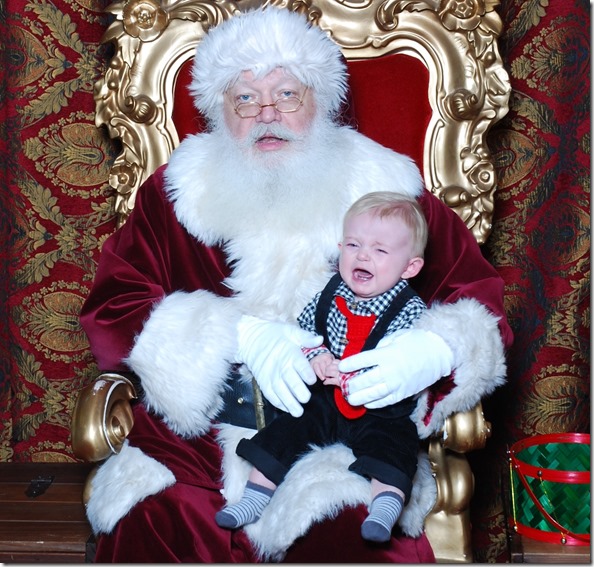 Alaina said, "The terrified toddler is my 20-month-old, Brandon.  I was so proud to make it to the mall as a family – and then I realized that in the darkness of our mud room I had put on two different boots. Figured no one would notice – until Brandon refused to go near Santa without mommy and daddy. So there was my zombie mommy mistake, front and center, immortalized for all to see. One brown boot, one black boot. The picture doesn't capture the level of mayhem we caused — there was a Christmas concert letting out next to the Santa station, so quite a crowd got to see Brandon put on a show. Santa doesn't look too happy with us either. Apparently it runs in the family — my in laws have a photo of my husband, Michael, at the same age, hurling a candy cane at the photographer in protest."
Christy wrote, "My 17 mo daughter had a visit from Santa at her daycare which i came in to capture. This is the one and only picture I had time to get! The terror in her face, the grimace on Santa and the daycare provider's concern all add up to one scary Santa moment!!"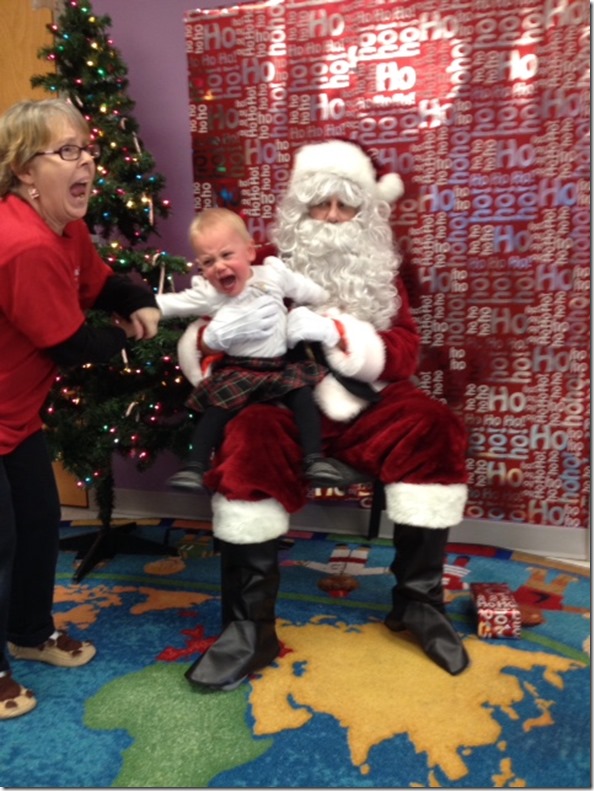 Nicole wrote, "Gavyn my 3 month old on the left and Calan (20 months) on the right. His personality is very hit or miss. He was already in a foul mood. Dad said, "let's skip Santa, he's going to scream." I said, "and it will be hilarious" and so he screamed, and it was great. #momknowsbest"
Danielle wrote, "Max was not a fan of Santa this year and his big brother Dominic couldn't understand why…"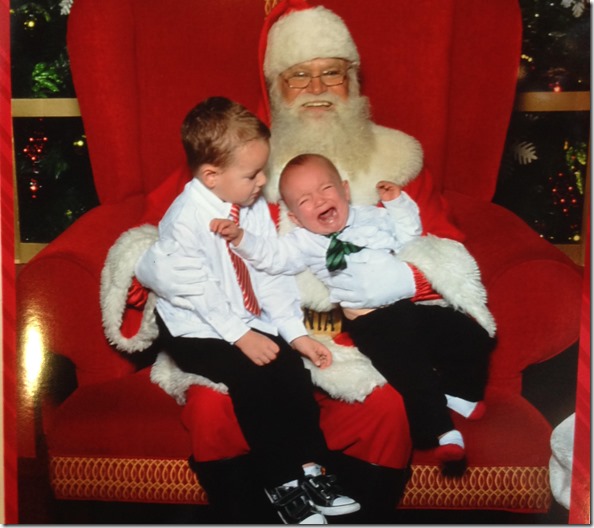 Allison wrote, "Well, more like Grumpy Santa. This is my daughter Avonlea from this year. She only fussed for about 5 seconds (the photographer pulled out a Minnie Mouse doll, and she was fine), but apparently the Grumpy Santa thought it was going to go on a lot longer. The funny (sad) thing is that we got these pictures taken on December THIRD–that Santa had a LONG season of screaming kids ahead of him!"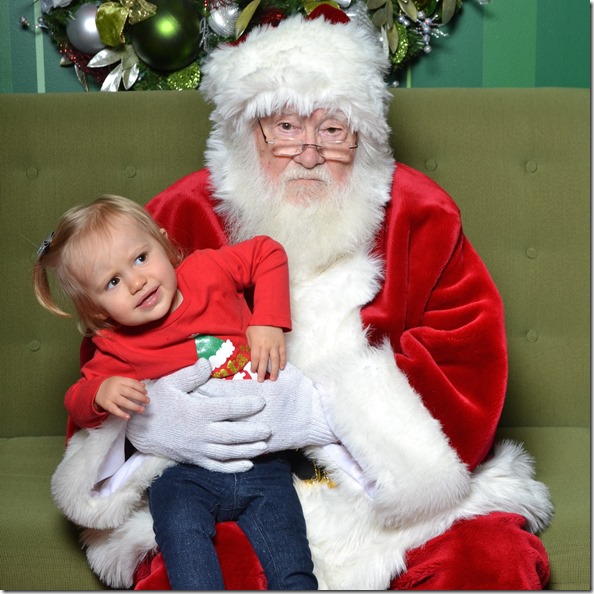 And…
Here are the finalists!
FINALIST #1 – Amanda wrote, "Zoe wouldn't let Santa anywhere near her.  Santa had to "go feed his reindeer" and sneak back in behind her…"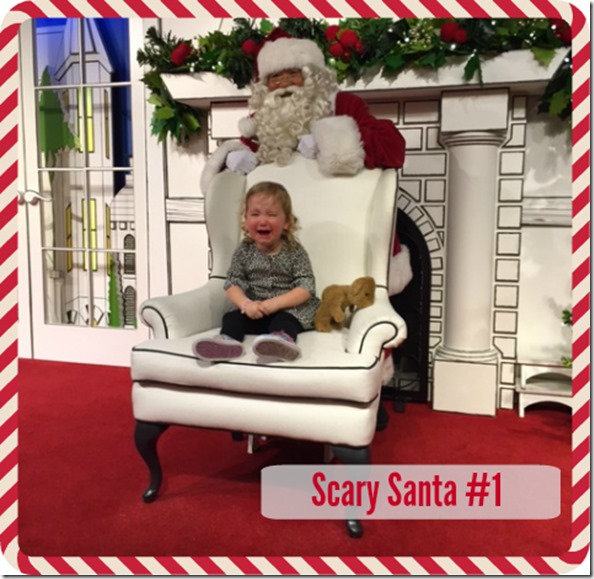 FINALIST #2 – Jacquelynn wrote, "This is my 1.5 year old son Ashton.  We knew it wouldn't go well, but the picture turned out priceless!"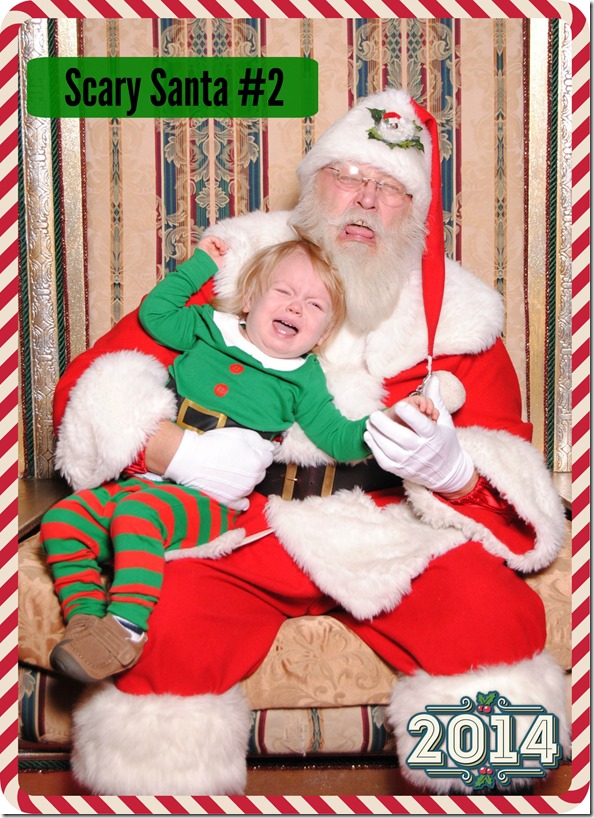 FINALIST #3 – Kate says, "This is Brody and Stella!"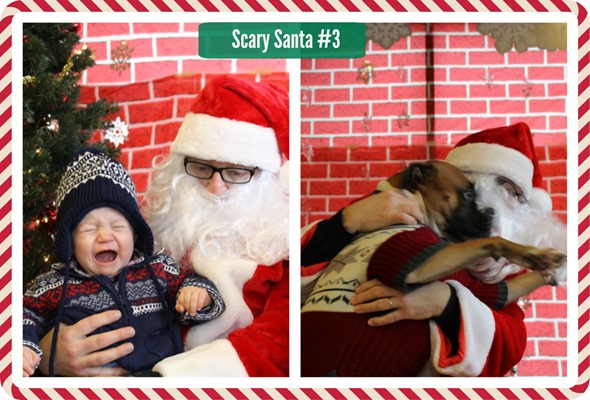 FINALIST #4 – Lindsay wrote, "This is my daughter, Savannah Lee, 17 months old. She wasn't too fond of her new friend but Santa sure was having a jolly good time!"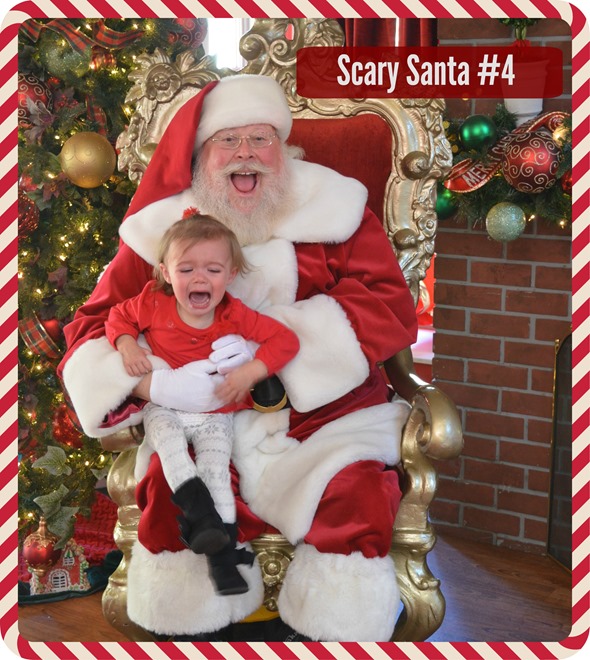 FINALIST #5 – Sarah wrote, "Eloise was pretty happy and laid back when we got there… We sat in the photos with her and then I plopped her on Santa's lap and ran out of the pic for this epically terrifying look. Santa deserves a raise, he was so sweet and patient."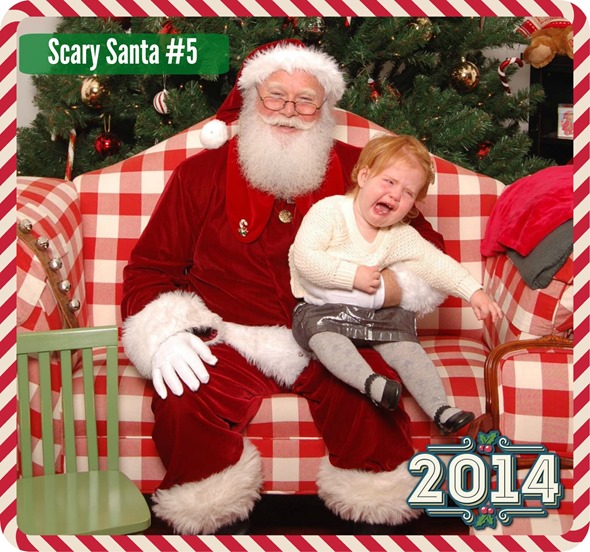 So – who's the winner of Scary Santa 2014?  Sweet Santa 1, 2, 3, 4 or 5?  Leave a comment with the number, and I'll tally up the votes and crown the winner after Christmas.