This weekend was Henry's birthday bonanza PLUS my sister-in-law's birthday PLUS Father's Day PLUS the beginning of the World Cup.  So you can imagine that it was a crazy few days in the Boyle household!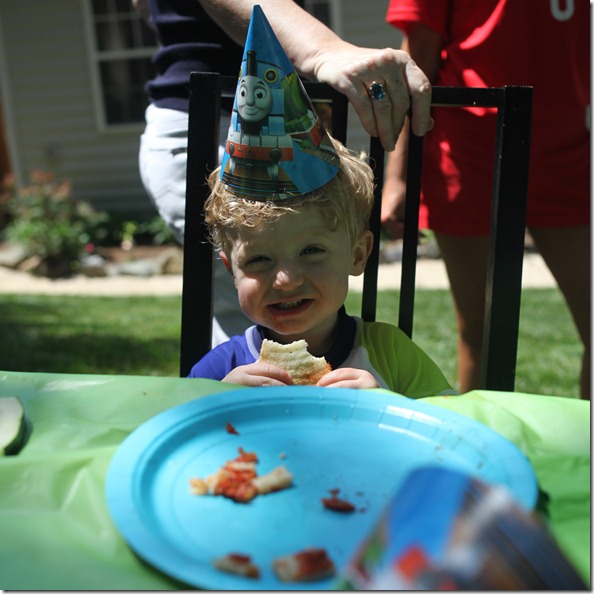 Unfortunately, the only event that I managed to document was Henry's party.  That's because I spent most of the weekend running to the grocery store for last-minute supplies, cooking meals, tidying up messes, and generally enjoying being around my family and friends.  I love to host people, so although it was busy, it was a lot of fun.
So – Henry's party.  I had this urge to throw a BIG KIDDIE PARTY.  For his first birthday, we did a low-key event with our family and four of our close friends, but this time around, I invited pretty much everyone Henry knows.  It was one of those "it would be cool if everyone comes, but I bet everyone won't be able to make it" things – and then nearly EVERYONE CAME!  It was wild.  I had a bit of a panic attack when I counted up the RSVPs the week before the party and realized that I'd have close to 35 kids and adults in my backyard.  Haha!  But in all seriousness, it was amazing that so many people made the effort… lots of people drove a long way to come.  Even Kath and Mazen made it!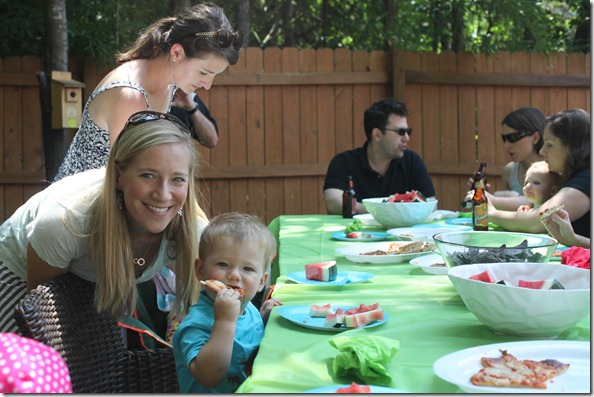 Anyway, I had an epiphany when I realized that I didn't have to do this HUGE spread of complicated food and desserts for the party.  I headed to the store, bought eight frozen pizzas, a bunch of chips and dip, and a box cake mix.  It took longer to set up the backyard than it did to cook the food!
Oh, and did we ever set up the backyard!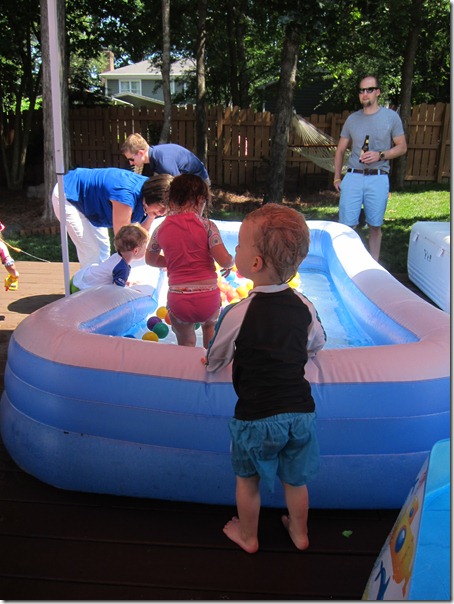 Probably the coolest part of the party was the swimming pool area – I asked a few of my friends to bring baby pools, and we ended up with a ton of giant pools set up; I wish I got a pretty shot of the deck, but it was pretty much FILLED with pools.  I added some plastic balls, cups, and toys to the water and put a tailgating tent over the entire thing, and the kiddies went to town.
I also made all these water balloons, which were a nightmare to make and were popped in two seconds flat.  Never again!  LOL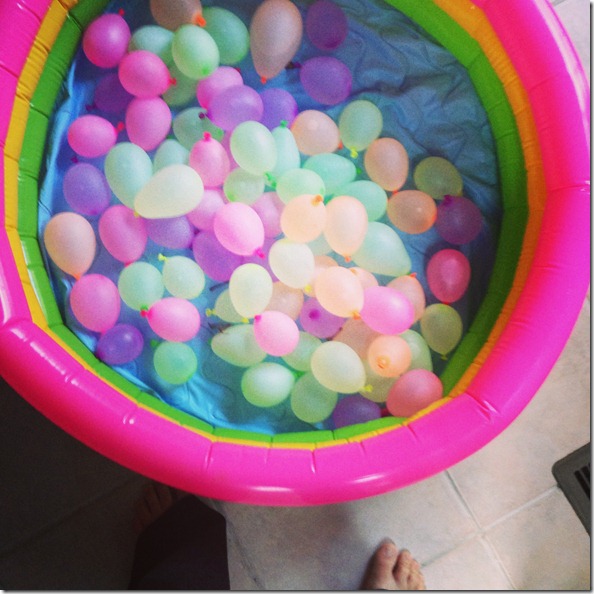 The food ended up being just perfect.  It was super easy to unwrap the pizzas and toss them into the oven after guests started to arrive.  And then I plopped it all on the table, and people went to town!  Perfection.  So low-stress.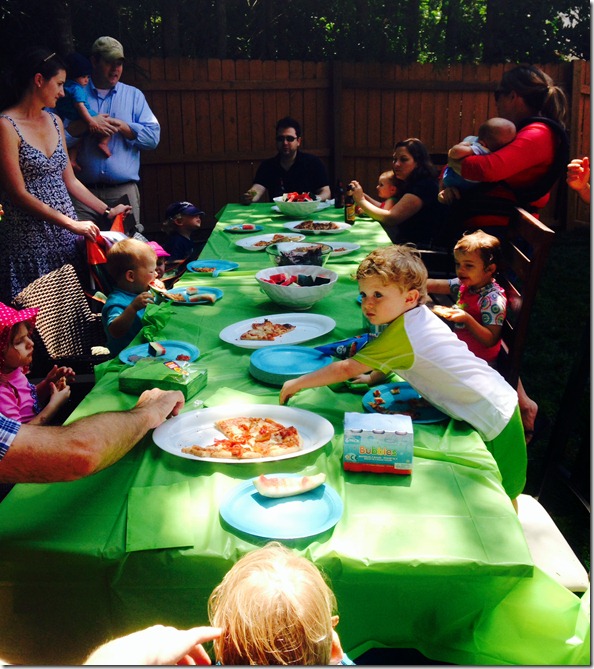 And people were nice enough to bring Henry some lovely gifts… Best wrapped gift award goes to my BFF Nicole.  Seriously, look at this wrap job.  It was so pretty and perfect that I had to photograph it before Henry opened it just to share with you guys!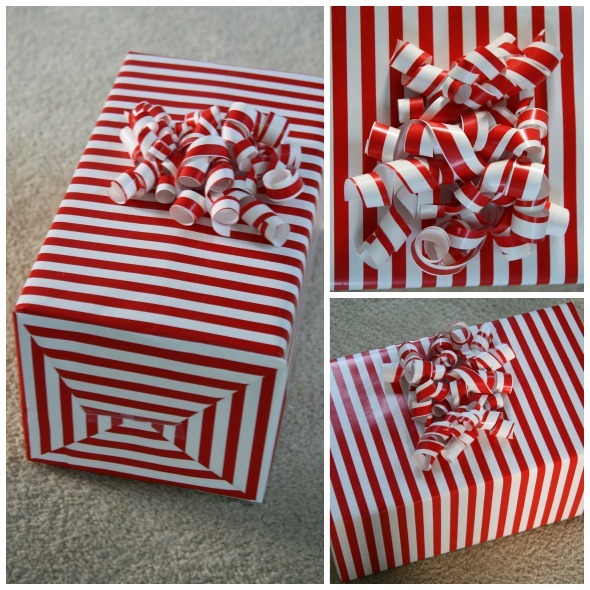 Inside was a Thomas the Tank Engine pillow!
And my mother-in-law really knocked it out of the park with her gift.  She gave Henry a wooden Thomas train set.  He has truly not stopped playing with it since we assembled the tracks.  He cried hysterically when I separated him from the set for nap time.  I timed him – he actually played with it for 3 hours without stopping, which is pretty much forever in toddler land.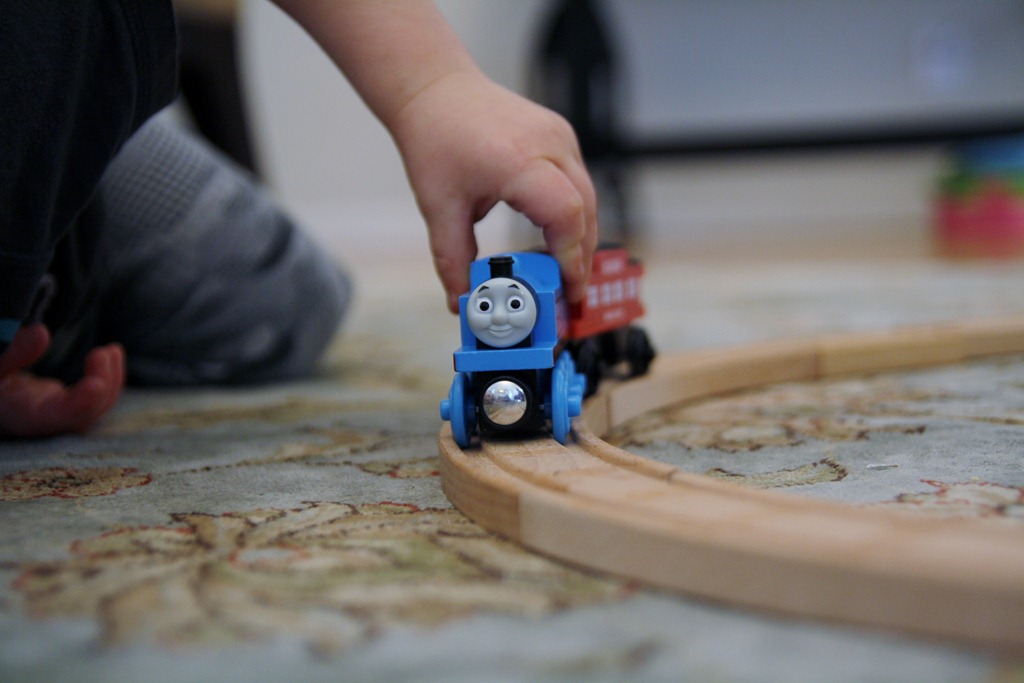 Oh – and last, but certainly not least, I wanted to show you the invitation to Henry's party.  And there's a chance to win your own packet of 55 birthday invitations if you feel inspired to throw your own shebang, too!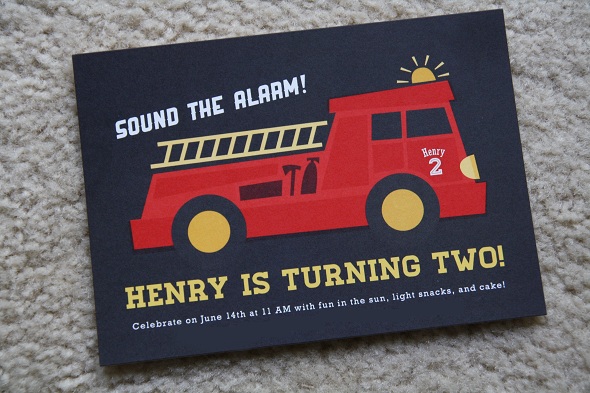 Click through for a chance to win from Minted.com!
This giveaway is sponsored by Minted.com.
Minted.com is an awesome site that features indie stationary, wall art, and home décor from designers all over the world.  This is the second Minted.com product that I've received, and the quality is top-notch.  While, sure, I could've sent out e-vites to Henry's party, it felt more special to send out real paper invites!  I think paper invitations can really make a party.
Here's the back of Henry's card – cute, huh?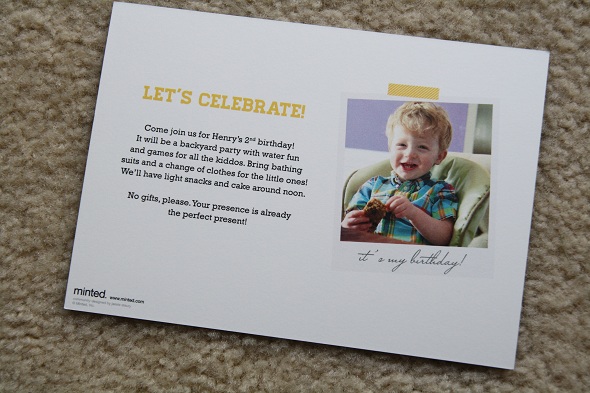 I'm giving away TWO Minted.com prize packs of 55 birthday invitations (for kiddies or adults).  Use the widget below to enter.  As usual, I'm closing the comments section so there's no confusion on how to enter.
Good luck!