So Monica did a TMI video blog, and Tina answered the same questions in a blog post, and I thought it was so fun to listen and read that I wanted to play along, too.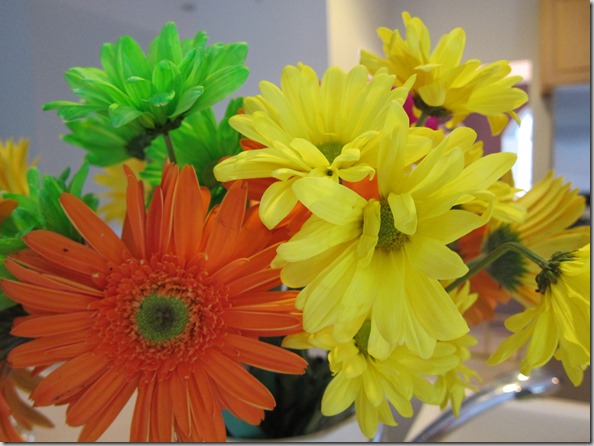 1. What are you wearing?
A beige faux leather jacket, grey and black striped shirt, black jeans, and beige ballets.
2. Ever been in love?
Yes!
3. Ever had a terrible breakup?
Yes. I kind of wrote about it in this old post.
4. How tall are you?
5 feet, 4 inches.
5. How much do you weigh?
125 pounds.
6. Any tattoos?
Yes – two!  I got one when I was 19 and the other about a year ago.
7.  Any piercings?
Yes, double earrings and double belly button (one on top and another on bottom), although I removed my belly button rings when I was preggers.
8. Favorite song?
Probably Snow Patrol's "Chasing Cars," as this was the song we danced to at our wedding.
9. Quality you'd look for in a partner?
Loyalty.
10.  Favorite quote?
"Love should come first, it should be the reason for and the beginning of everything."
11. Favorite actor?
Hmm, that's a hard one. I don't think I have one!
12. Loud music or soft?
Soft.  I hate loud noises.
13. Where do you go when you're sad?
To our man cave to watch TV.  It's my happy place.
14.  How long does it take for you to get ready in the morning?
About 20 minutes, assuming that I'm showering.
15. Every been in a physical fight?
No, but when I was a bartender, I actually got caught up in a sorority brawl and got clocked in the shoulder.  And then I called the cops, obviously!
16. Turn on?
Being nice to children and animals.
17.  Turn off?
When you can see someone has ear wax in their ears.  Gives me the willies.
18.  Fears?
Besides the normal and obvious ones, I am always scared that someone is lurking behind the shower curtain and have to check the bathroom when I come home.
19.  Last thing that made you cry?
A cashier asked me why I looked so sad and told me that whatever it was, it wasn't that bad… I don't even know why I sad, but she was so sweet that it made me cry.
20. Last time you said you loved someone?
When I talked to my mom on the phone. 
21. Meaning behind your YouTube name?
It's SeeBrideRun, which was my original blog name! 
22. The relationship between you and the person you last texted?
My Dad about when I was getting home.
23. Favorite food?
Thai food, French fries, mimosas, French toast, over-easy eggs on Udi's bread.
24.  Place you want to visit?
I'd love to go to Thailand.
25.  Do you have a crush?
I seriously STILL have a crush on my husband. He's dreamy.
26. Last time you kissed someone?
Henry before I left for my work trip.  It was a sloppy watermelon kiss!
27. Last time you were insulted?
I try not to be truly offended by things that don't really matter… And most things don't matter.
28.  Favorite piece of jewelry?
If the obvious doesn't count (wedding and engagement rings), I really like my ceramic white watch.
29. Who should answer these questions next?
Just like Tina instructed… you guys!  Answer a question in the comments section, just for fun. :)  (Or do a post on your blog and link it up in the comments section for others to find!)