I thought I'd write a little update on my dear Henry.  He's going to be TWO in two months.  Can you believe it?  I cannot.  It's truly mind-blowing how fast it goes… I know that's a big cliché but it's true.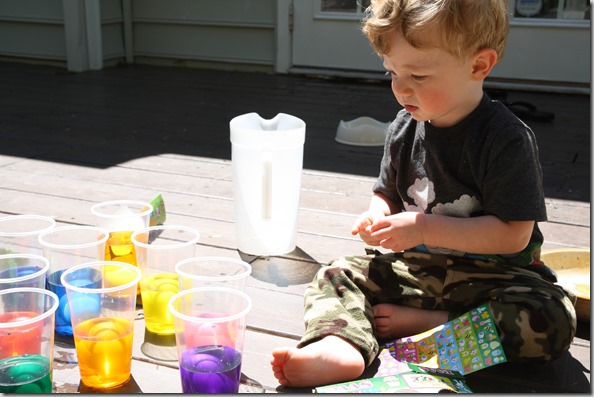 (Dying Easter eggs… That was a HUGE hit.  I had all these grand plans to do natural Easter egg dyes, but that fell to the wayside – the holiday sure snuck up on me!  Maybe next year.  Anyway, Henry thought the whole process was super fun… The only color he consistently can identify is orange, so he was super obsessed with the orange eggs.)
Henry is doing very well.  He's a seriously talkative little dude (truly – he never stops chatting) and also very friendly.  The other day, we walked up to a receptionist and he said very loudly, "This is momma.  This is Henwy" before she could even open her mouth.  I died.
Other funny sentences:  His Nana (my MIL) taught him to say, "I promise" so now he says it all the time, except he doesn't know what it means and cannot pronounce R's, so he just randomly says, "I pwomise" throughout the day.  Also, yesterday, he threw a book off the upstairs landing and it hit me in the head, and when I grabbed my head and said, "Ouch! That hurt mommy," he replied, "Oh, sowwy. It was an accident."  Hah!  He has also starting to say, "Bye bye, see you next year," and I have zero idea where he got that from… He calls every other kid (if he doesn't know their name) "friend" – as in, "Hi, friend. Slide, friend?' – which is truly epic.  Basically, we're entering the stage where totally awesome and insane things come out of his mouth, and IT'S GREAT!  I love it.  <3
He's healthy, happy, playful, and willful.  He is also very brave and adventurous – he will launch himself down twisty big kid slides without pause.  His bravery scares me sometimes!  He's tough – the other day, he tripped and bloodied up his knee and hardly even blinked – let alone cried – when I cleaned it.  As I'm sure you can imagine, his strong personality means there are quite a few temper tantrums during the day, but I'm getting better at addressing the tantrums before they really kick into high gear and/or talking him off the ledge.  I count to 10 a lot in my head.  :)  But he also has lots of sweet, gentle moments where he cuddles me or asks me to sing to him – he's the only person in the world who likes my singing voice!  The quiet moments are truly just moments, though – before I know, he's up in a flash and back to running around.  I cherish the low-key moments as they come.  🙂
He loves tumbling and jumping, chasing the new cat, smashing block castles, and taking bubble baths.  He also loves Thomas the Train (like, intensely), little Matchbox cars, fire trucks – he even got to sit in a real fire truck a week or so ago (full story here).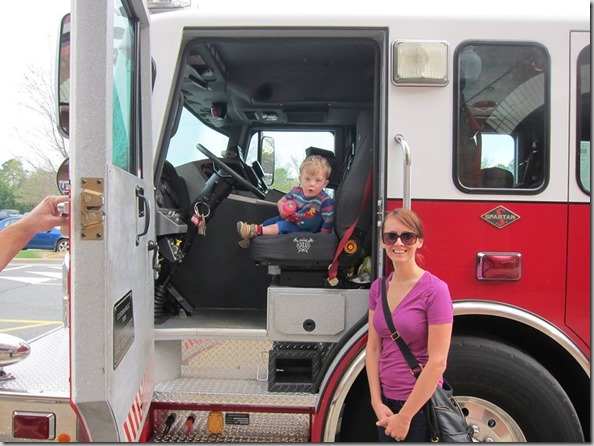 Basically, he's adorable, and we love him a lot.  I can't even remember what our lives were like before Henry.  <3  It's so fun to watch him grow and learn!
I did want to share something new that I've been doing with Henry… One of our biggest daily battles is over toothbrushing.  Henry seriously hates it when I brush his teeth, and I've tried so many things to make it better… Different toothpaste, different brushes, the fingertip method.  Everything.  But I THINK that I finally found something that works!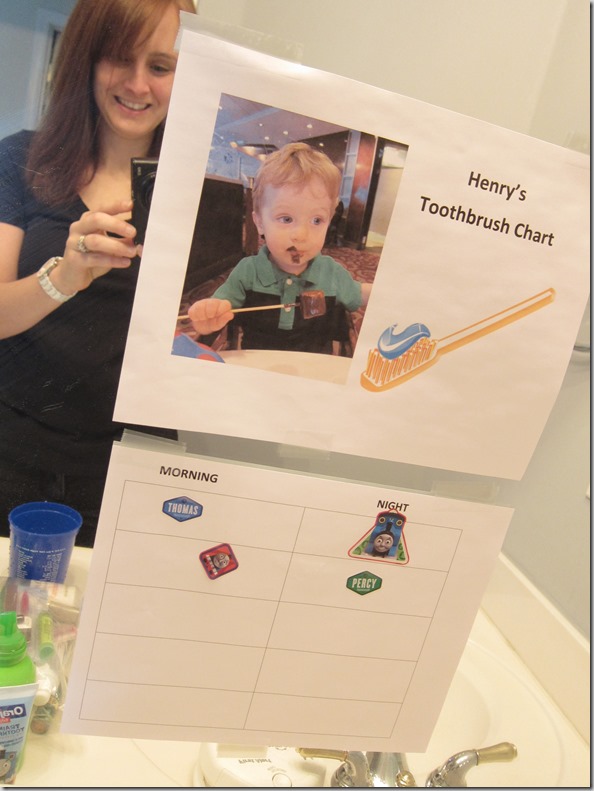 A few days back, I was thinking about positive reinforcement and realized that Henry was probably old enough to understand and appreciate a sticker chart.  You guys know that I LOVE 'STICKER' CHARTS.  It's pretty much how I motivate myself to do absolutely anything and everything, from working out to flossing my own teeth. 
So I printed up a toothbrush chart for Henry… (the photo is of him eating a melty chocolate):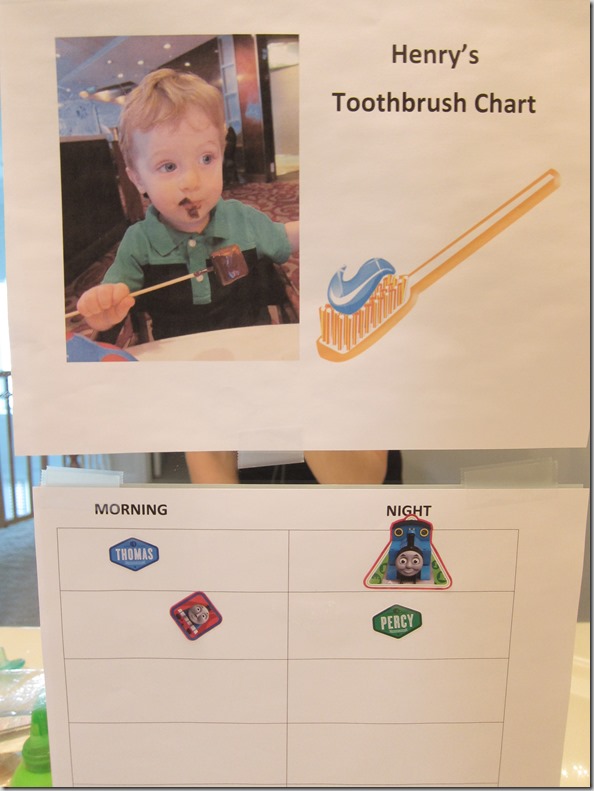 And bought some very HIGH-WANT Thomas the Train stickers: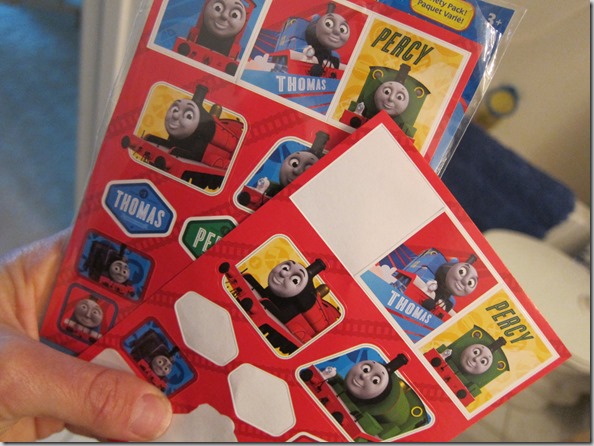 He lets me brush his teeth, he gets a sticker, and he gets to put it on his chart.  We've only been doing it for a few days, but so far, it's REALLY working!  He thinks the process is so fun.  Like mother, like son!  I can't believe it took me so long to think of this…
Question of the Day:  What television show were you really into as a kid?  I remember being OBSESSED with the Mighty Morphin Power Rangers – yay, 1990s!