Oh, nom nom nom.  This is the best recipe that I've created in a while!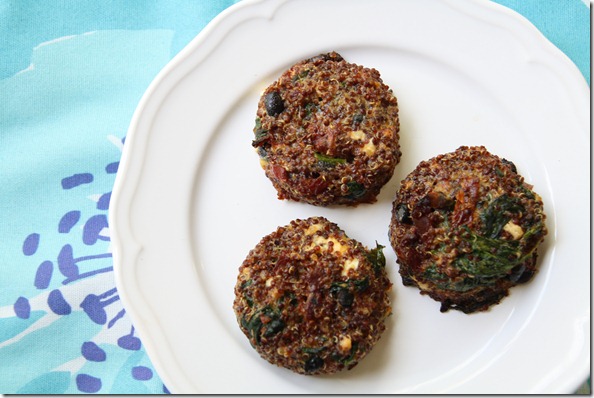 Double bonus points because this is a PERFECT make-ahead and reheat dish to eat throughout a busy work week… AND it's the kind of thing that works well for breakfast, lunch, and dinner!  These quinoa cakes are a great entrée, an awesome salad topper, and a hearty side dish.  So dig in!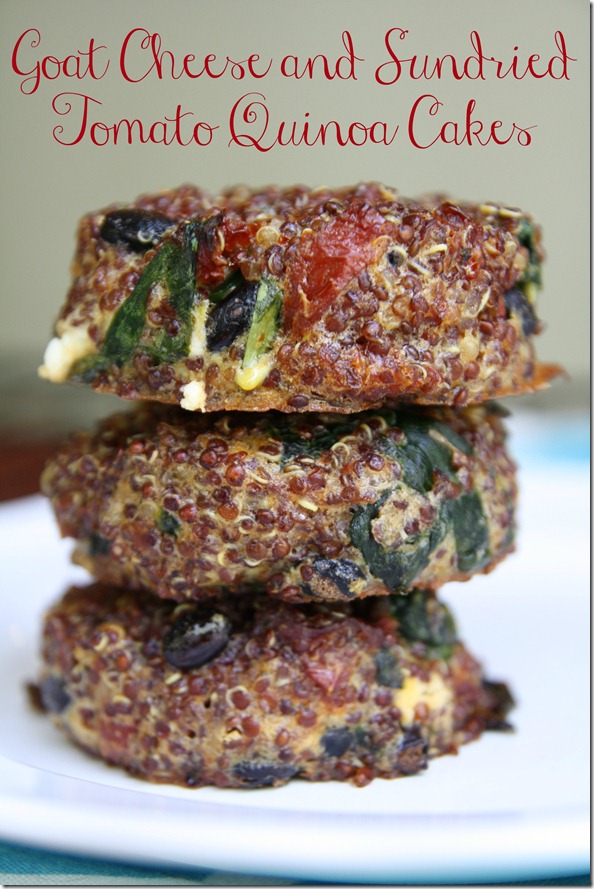 This quinoa cakes are packed with goat cheese, sundried tomatoes, black beans, and spinach.  They are super easy to make, especially if you've cooked the quinoa ahead of time (I cook big batches of quinoa every few days!).  These cakes are so good that you may want to consider doubling or tripling this recipe…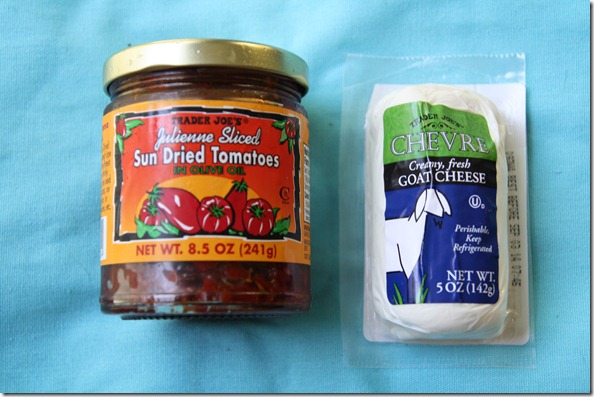 Goat Cheese  + Sundried Tomato Quinoa Cakes
Ingredients (for 8 cakes):
2 cups cooked quinoa (my quinoa was chilled, so if yours is hot, this may impact cooking times)
2 cups loosely packed raw baby spinach
1/2 cup sundried tomatoes in olive oil WITH the olive oil – very important (don't drain it, just scoop it out of the container – the recipe needs the oil)
2.5 oz goat cheese, crumbled by hand
1/4 cup black beans, drained and rinsed
2 eggs, beaten
Salt to taste
Directions:
Preheat oven to 350 degrees and grease cookie sheet.
Tear spinach by hand into small pieces.  In a pan on the stovetop, cook spinach in a tablespoon of water until spinach wilts – just a few minutes.
In a mixing bowl, combine cooked quinoa, cooked spinach, sundried tomatoes, crumbled goat cheese, black beans, beaten eggs, and salt.
Use a 1/4 measuring cup to scoop out cakes.  Press firmly into the cup before turning upside down on the cookie sheet.  Repeat with rest of the mixture.
Bake for 20 minutes, remove and let cool slightly before serving.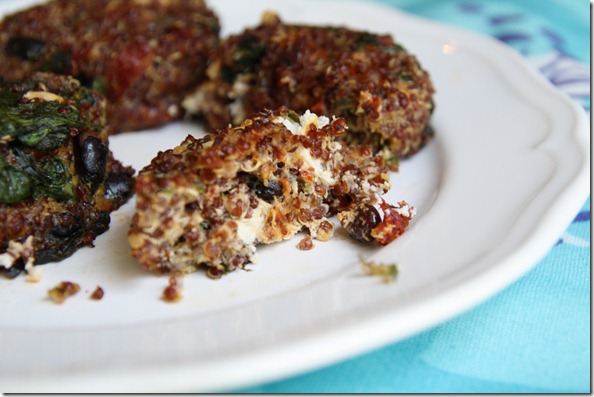 Try not to eat it all at once… It will be hard!
Giveaway Updates
There's still time to enter two giveaways that I'm currently running on the blog.  Enter here for a chance to win a $100 Reebok gift certificate and enter here to win a $75 credit to StitchFix!