Here's a peek at how we spent our morning!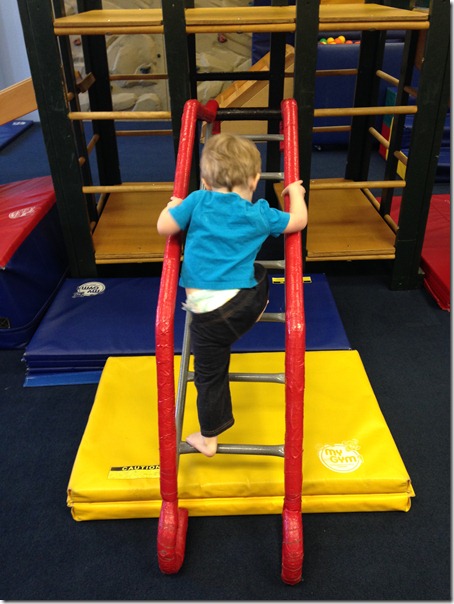 I rushed us out of the house to make Henry's gym class.  Henry has two scheduled classes a week – music class on Mondays with Dad and gym class on Thursdays with Mom.  We really like his gym class and were so excited to go.  But we arrived to discover class had been canceled because of the weather.  We're in Day 3 of the fallout from the snow/ice storm, and the public schools are still closed, so the gym was offering day camp for big kids.  However, the campers weren't scheduled to arrive for another 20 minutes, so Henry got to briefly play on the equipment.  I was so thankful!  He would've been so disappointed. 
Afterwards, we got his hair cut.  It was long and messy!  Here's the before and after. 

(As I was writing this post, I started to wonder about Henry's sweater in the car.  I've heard not to put kids in carseats with the puffy coats on – because it makes the straps too loose to be effective in a crash – but does the same rule apply to sweaters and hoodies?  The sweater isn't very thick, and the straps seem as tight as normal, but it's definitely an extra layer in between the straps and Henry…  Any advice would be appreciated!)
We headed into a few shops… I needed to get a gift for a friend who is expecting a baby girl.  BABY GIRL CLOTHES ARE SO MUCH BETTER THAN BABY BOY CLOTHES.  Jealous.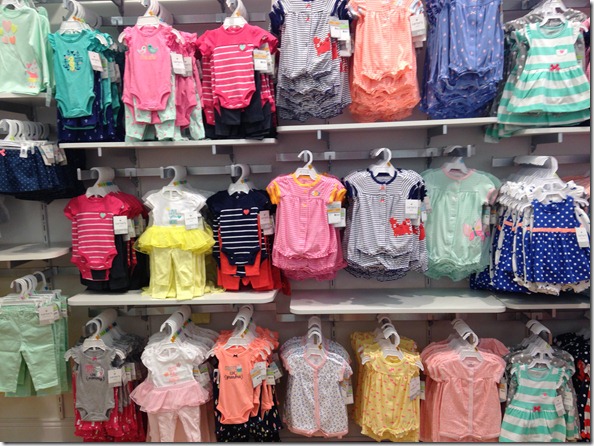 A Carter's Outlet just opened in Charlotte, and it's my favorite place.  The prices are pretty comparable to consignment stores.
Then, we went to the mall so I could get my eyebrows threaded.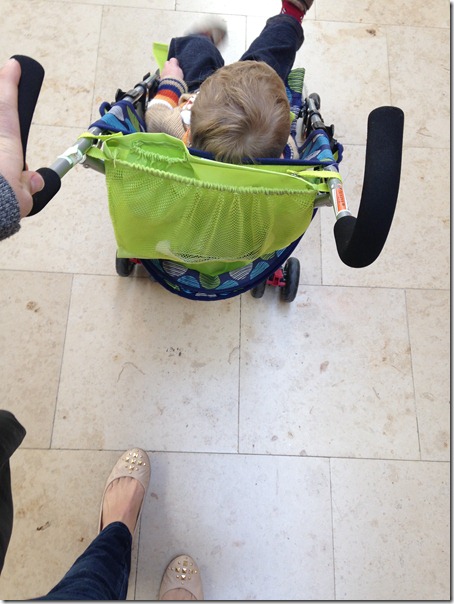 I've switched entirely over from waxing to threading.  The lady uses a cotton thread to trap each hair and pull it out.  It hurts more and takes longer than waxing, but there's no damage to your skin and it's neater.  Henry chilled in his stroller while my brows were done.  Last time, I forgot his stroller and he sat in my lap saying, "Mommy eyes OUCHIE!!! Mommy eyes OUCHIE!" the entire time.  Hah.
I was SERIOUSLY craving sushi afterwards.  I don't think I've had a food craving this strong in years!  We were close to my beloved Cowfish so I drove us over…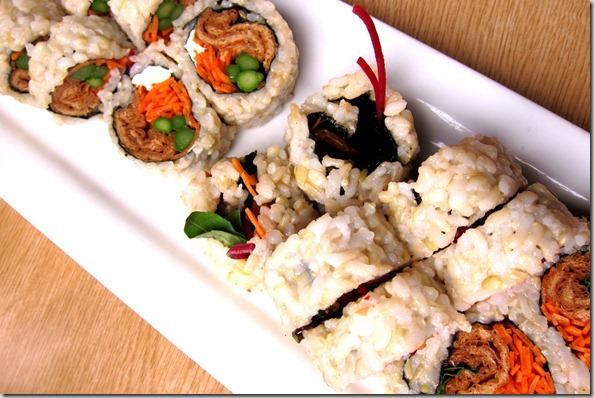 Only to find that the parking lot was half covered in ice and finding a space was impossible.  I was so sad.
Once we got home, I heated up frozen panaag curry and supplemented it with steamed veggies.   It was not the same as Cowfish sushi!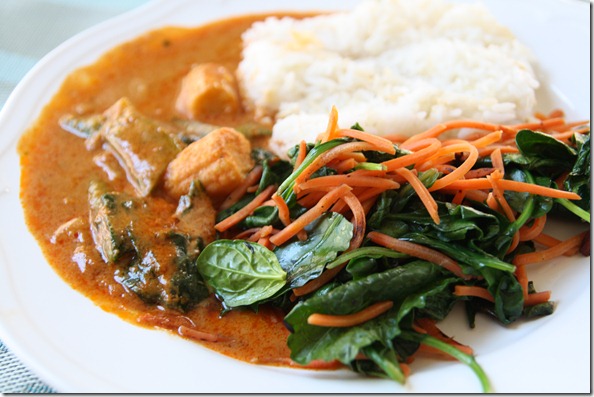 And now I'm talking to YOU. 

  I had such a nice, relaxing morning, and I hope you did, too, whether you're at home or working. 
Reader Q&A
Amy said, "I'd love to know any tips or lessons learned that you have from running/jogging with the stroller.  I read your post about the stroller you chose and why, and that was super helpful but I'd love any extra insight you have now that you've been at it for a while.  I'm likely going with the BOB Revolution, but I assume there's a lot about running with one that is similar regardless of the style."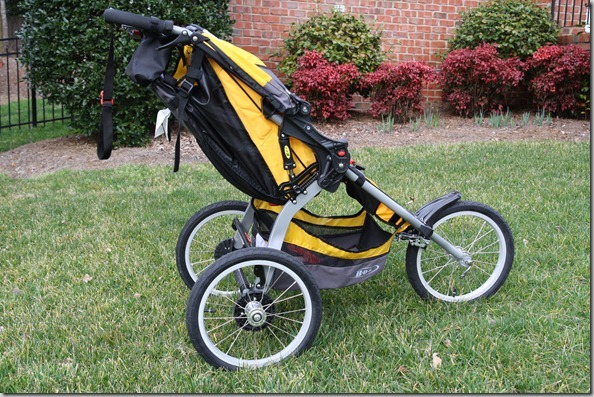 I loved this question!  There's definitely a learning curve when it comes to running with a jogging stroller.  Here are a few tips:
Move your hand position regularly; your wrists may start to ache if you don't.
Keep the tires pumped up.  Check them regularly.  The stroller is a lot harder to push when the tires are soft.
Keep the stroller stocked with a diaper and wipes, a few toys, and several non-perishable snacks.
If your stroller has a wrist strap – use it!  Strollers can go really fast, and you don't want baby to get away from you!
Be careful about hidden driveways – the stroller will enter the car's space before your body does, and the driver may not be looking for a low stroller.
Don't lean against the stroller – it's terrible form!  Stay upright and try to run in as normal of a position as possible.
Headbands of Hope
Headbands of Hope is an incredible organization.  For every headband purchased, one goes to a girl with cancer and $1 is donated to the St. Baldrick's Foundation to fund childhood cancer research.  HoH is doing a Twitter Operation Beautiful giveaway!  Here are the details: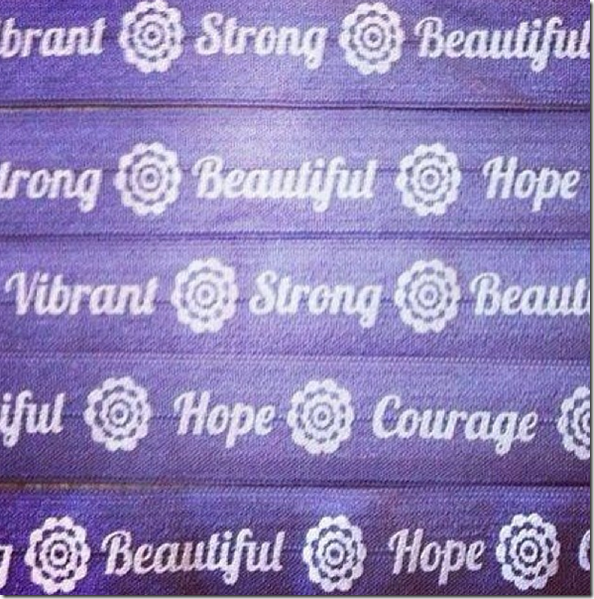 Remember the wonderful Operation Beautiful? Operation Beautiful was started in 2009 after the creator, Caitlin, had a really bad day. She posted a note that read, "You are beautiful" in a public bathroom for a stranger to find, and the rest is history. Since blogging about her note, she has received over 12,000 notes from people all over the world. The mission is to post positive messages in public places for strangers to find, and although these notes typically encourage a healthy body image, they also include messages of hope, strength, and well-wishes for any trial someone may be experiencing. We created the Operation Beautiful Twistband with words that would be found on these notes such as beautiful, vibrant, hope and courage. These headbands are no longer in stock, but we're bringing 3 back for a special Twitter giveaway! Tweet what you've done to take care of yourself this year to @headbandsofhope and @beautifulnotes for a chance to win an Operation Beautiful Twistband! Happy tweeting 🙂
What did you do today? Any fun (or not-so-fun) errands? Do you have jogging stroller tips?