I've dusted off the old crockpot to create some tasty (vegetarian!) recipes.  Here's the first one I made, which I will lovingly refer to as Mushrooms Over Everything because, well, you can put this mushroom dish over anything.  Rice, pasta, quinoa, a bed of warm kale.  Or just eat it plain!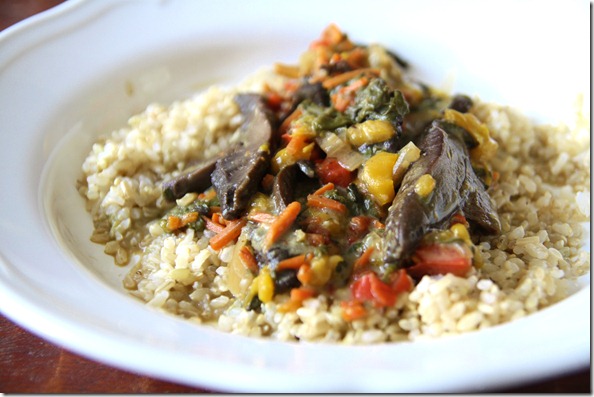 And it's super easy, too (but aren't all crockpot recipes?).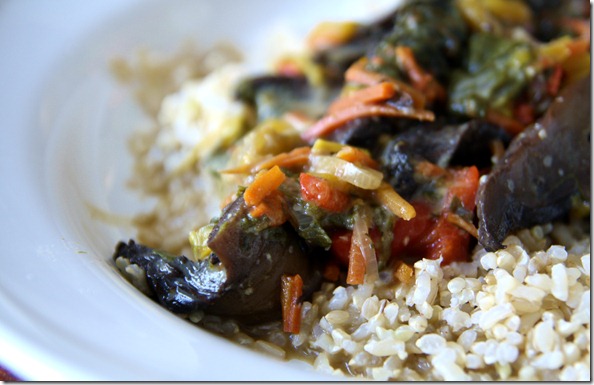 The veggies are swimming in this dreamy, creamy sauce that is created using hummus – so it's actually a vegan crockpot recipe.
Ingredients (for three servings):
4 large portabella mushroom caps
1 yellow pepper
1 red pepper
3 shallots (you could just use 1/4 a sweet onion)
1 cup shredded carrots
2 cups packed raw spinach
1/2 cup vegetable broth
1/2 tablespoon Italian seasonings (or just a mix of whatever savory, earthy spices you have in your pantry)
Salt to taste
1/2 cup hummus
Directions:
Slice mushrooms, red pepper, yellow pepper, and shallots.

In the crockpot, layer the mushrooms, the peppers, shallots, the carrots, the spinach. Add seasonings to the top. Pour broth on top.

Cook for 4 hours on low.

Strain out vegetables and retain 1/2 cup the liquid.  Toss everything else.

Mix hummus into the remaining liquid until smooth.  Add back in the veggies.

Enjoy!