Today is my first official day of half marathon training.  Super excited.  I'm doing the Corporate Cup Half Marathon here in Charlotte on March 8.  This will be my fifth half marathon.  My record is 1:58 but that was in flat, flat, flat Florida; most of my other times are under 2:05.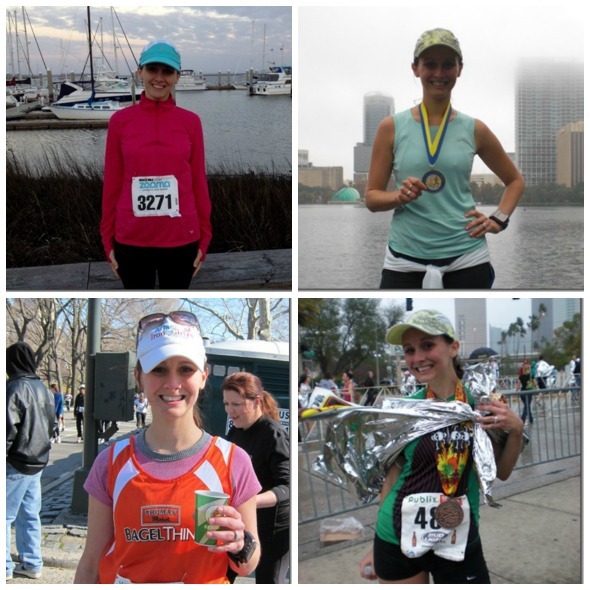 Here's everything that I'll need for my half marathon training:
A TRAINING PLAN.  But of course!  I'll be using Hal Hidgon's 12 Week Novice Plan, but I've tweaked it a lot.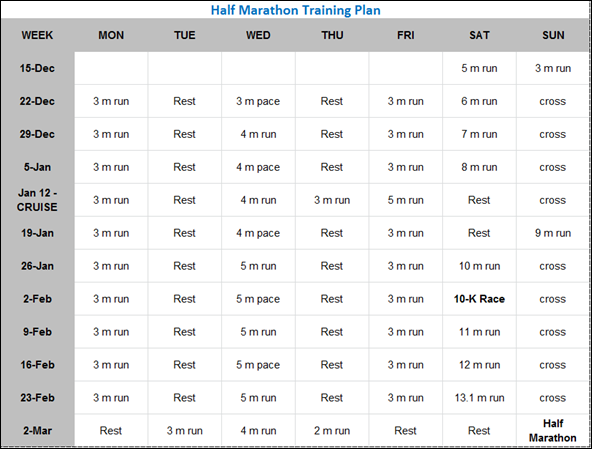 One big tweak: I added in a 13.1 mile run the week before the race.  A lot of half marathon training plans don't have you max out at race distance, but some do.  I've tried training both ways, and I just prefer to run the full distance prior to the race.  It's a nice confidence boost.
I also rearranged some of the workouts.  I prefer to work out over the weekend and have the weekdays as rest days. 

RUNNING BUDDIES.   I convinced a friend to sign up for this race with me. I'm super excited!  It's so motivating to have someone else to help hold me accountable… So we'll do a lot of our runs together, but when we can't, I always have my #1 running buddy… Henry!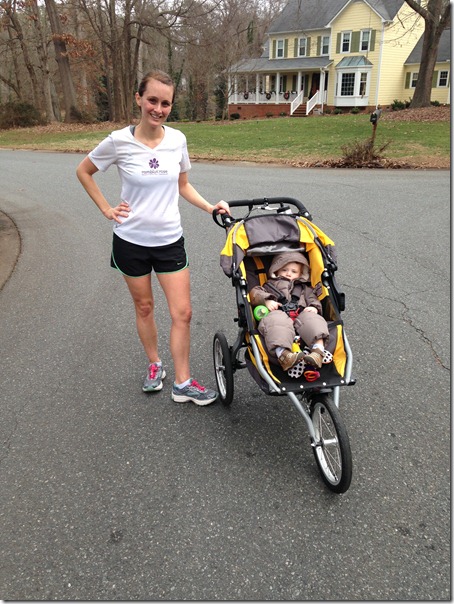 We went on a 5.0 mile run this morning and he yelled "GO MOMMY GO" for the first time ever.  As a jogging-stroller-pushing-mom, I've been dreaming about that moment forever. <3  He's the best coach!
HILL WORK.   I haven't run a half marathon in Charlotte yet, but I'm familiar with the course map (actually, it's where we used to live), and I *know* that there are a ton of hills.  So hill work is definitely going to be part of the equation.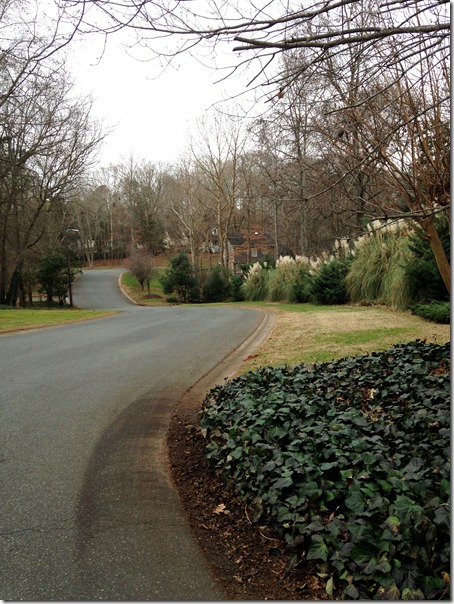 Shouldn't be hard because my house is surrounded by hills!
SPEED WORK.  I'm not going to set any time goals – yet. But I would obviously love to break my personal record, and the only way to do that is speed work. 

  I have a love/hate relationship with speedwork.
NEW SHOES.  I need new kicks so bad.  I think I've had these for almost a year!   They carried me all through Half Ironman training and back – the cushioning is definitely shot.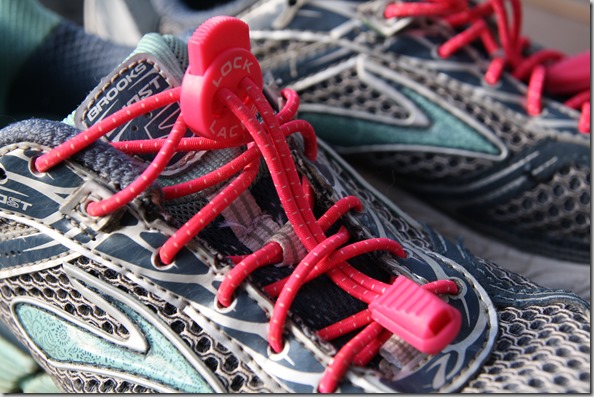 I'll probably reorder the Brooks Ghost 5s because 1) now they're an 'old' edition and thus cheaper and 2) they are really great shoes.
READY SET GO!
Anyone else training for a half marathon?  When's your race? Are you going to run 13 miles before race day or keep it shorter?