When I first approached Kristien about my plans to do a Half Ironman (because  let's be serious – taking on a HIM when you have a 16 month old is a whole family affair), I knew that I held the ace card up my sleeve. "So, I've been thinking about doing a Half Ironman… it's in Miami… and it's the same weekend as the game against Wake Forest, so we could do both…"
It took him about five seconds to think it through and say YES.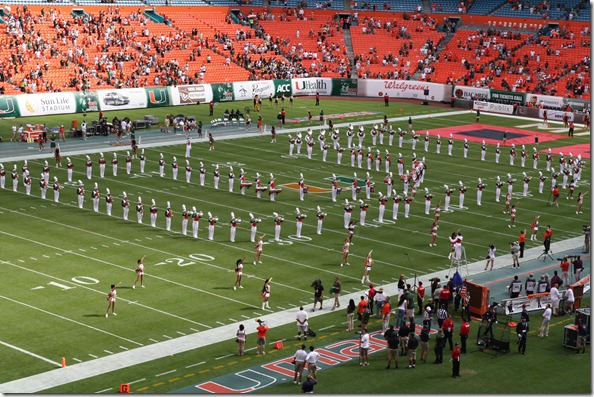 This year, we bought season tickets because they're so cheap (oh, the benefits of being a Miami fan!). We sold off the games that we wouldn't be able to attend and actually ended up making a few bucks.  Cool, huh?
So on Saturday, our alarms went off at 7 AM, and we found ourselves tailgating in the parking lot around Sun Life Stadium.  We were probably the first 250 people in the parking lot.  Again.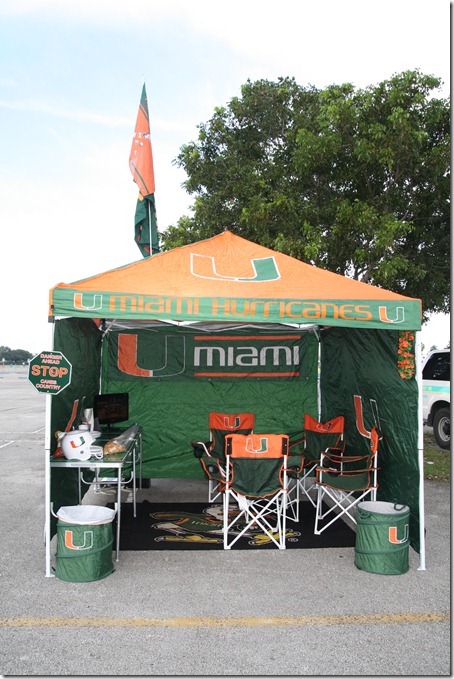 Click through to read the rest of our tailgate recap – it ends with THE.MOST.AMAZING.THING.EVER happening. If you're my husband.  Don't worry, this 'click through' feature isn't a regular thing on HTP; it's just for giveaways and reviews.
So, we didn't do a big food spread this time around (we also didn't bring the second tailgate tent because we had to fit my bike in the car, too).  The game started at noon, so we had breakfast at the hotel and stopped at the grocery store before going into the stadium.  We did chips and hummus, Gatorade (lots of Gatorade – race prep!), and other snacks.  And Chex Mix, of course!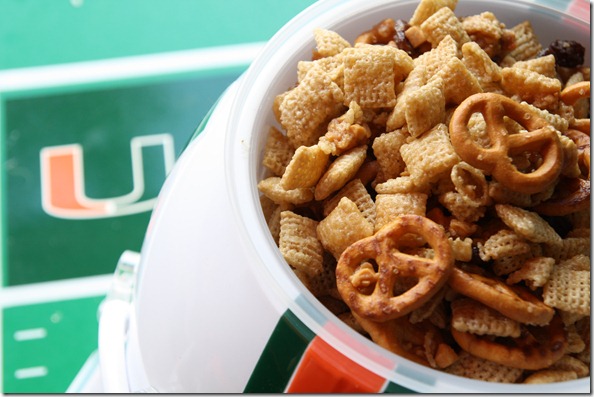 The kind folks at General Mills asked me to create a salted caramel Chex Mix. I thought it'd be fun to incorporate one of my favorite candy bars – PayDay bars – into this mix.  This recipe is very easy to make and really tasty – there's a nice blend of sweet and salty and crunchy and chewy, thanks to the caramel, peanuts, Vanilla Chex, raisins, and pretzels.
Salted Caramel Chex Mix
Ingredients:
2 cups Rice Chex
4 cups Vanilla Chex
3/4 cup butter (I used Earth Balance)
3 PayDay bars
2 tablespoons brown sugar
1 teaspoon kosher sea salt
2 cups mini pretzels (I used gluten free)
1/4 cup raisins
Directions:
In large bowl, combine cereal, salt, pretzels, and raisins.
Thoroughly chop one PayDay bar and add to cereal mix.
Using a double boiler (or a homemade one by filling a large pot with water and placing a small pot inside), melt the butter, sugar, and two thoroughly chopped PayDay bars, stirring constantly. Once the double boiler water is boiling, it should take 5 minutes to melt thePayDay bars completely.
One PayDay mixture is liquid, pour over the cereal mix, thoroughly coating.
Spread Chex Mix out on a sheet of foil or parchment paper and allow to cool before serving or storing in Tupperware.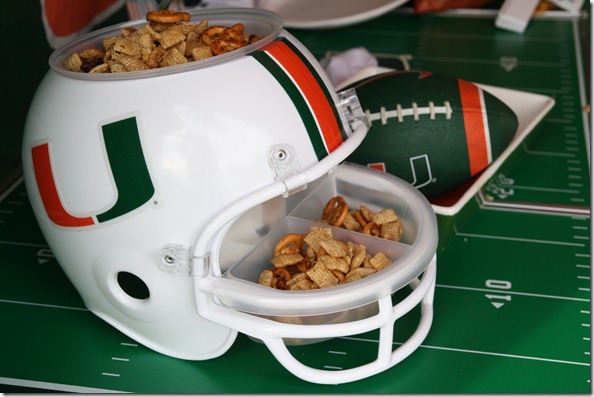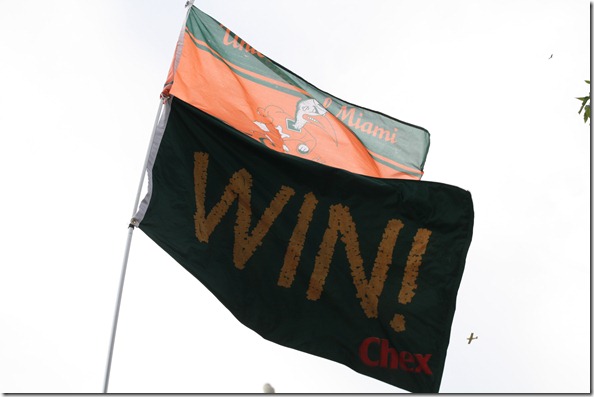 Wish I could send you all a cup of this Chex Mix through the computer screen – it was so good!
So – what was Kristien all excited about?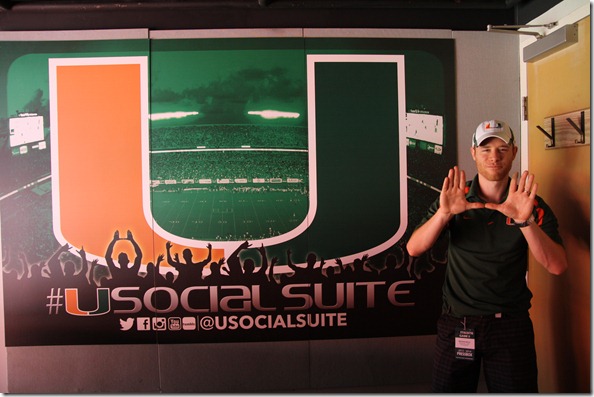 A few weeks ago, he read about the #USocialSuite on one of the Miami blogs.  The university invited fans with Twitter accounts up to the press box to watch and tweet about the game from a sanctuary of air conditioned loveliness.  Overall, about 20 fans were included in this round of #usocial.  It was fun to meet other crazy Miami fans!  The group included recent high school grads, professional sports bloggers, and older alumni.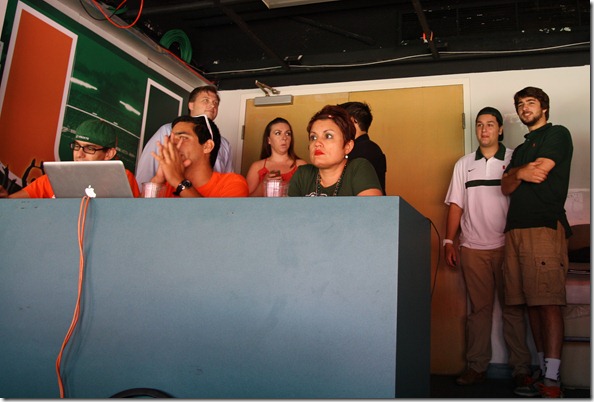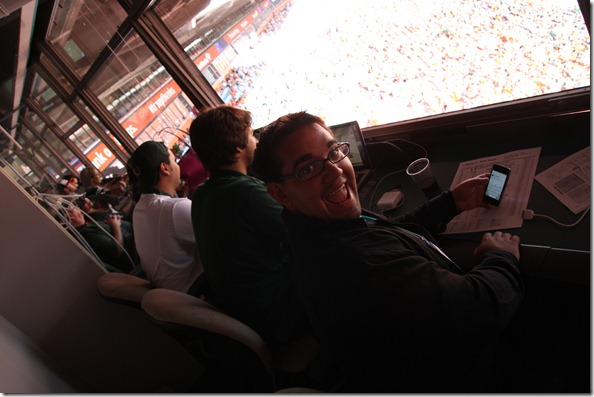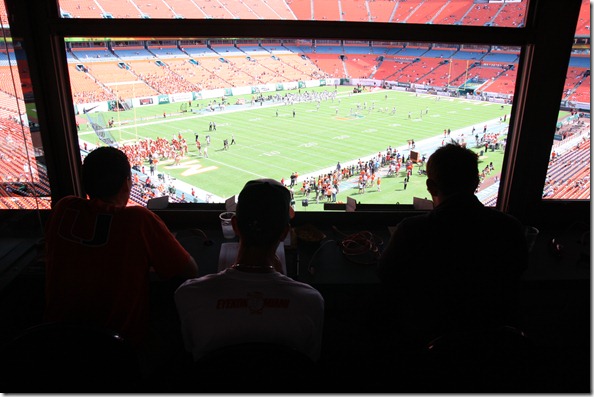 Because we were in the press section, at the end of each quarter, a student intern would come into the room and pass out sheets with every play's stats.  I've always wondered how newscasters know each and every play so perfectly.
At the end of the game (which we won – our 7th in a row!), Kristien and I tagged alone to the official press interview room.  This is when his head almost exploded from sheer joy.  We were in the same room as the coach! The quarterback!  The running back!  Squeeeeee.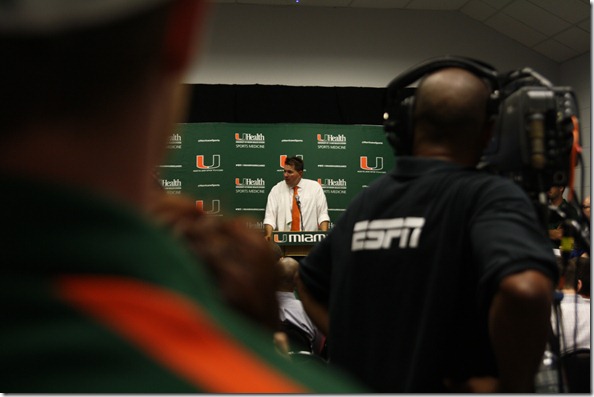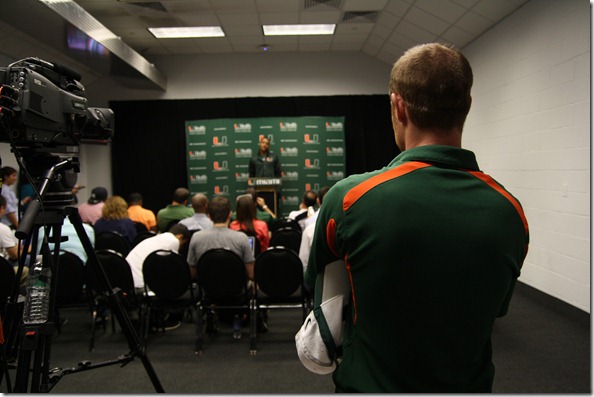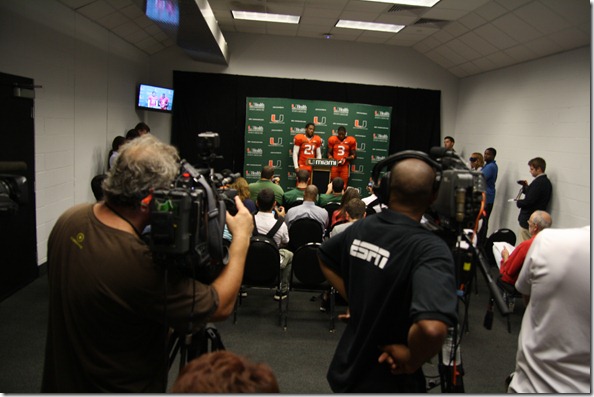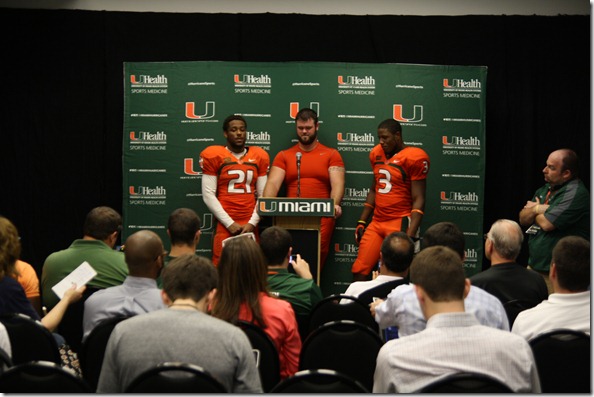 I convinced Kristien to say hello to the quarterback. I think K was nervous, but he managed to squeak out a, "We're so proud of you!" and pose for a picture.
#USocial was a very cool experience. If you're a Miami fan, e-mail me at caitlinjboyle@gmail.com and I'll put you in touch with the people in charge of it – I think they're going to do it again (and you don't have to have a huge following to participate – its more about your love of the team). And I think a bunch of college football programs are doing something similar, so if you root for someone else (hopefully not FSU, right?), you should check and see if your team is participating!
If you could go behind-the-scenes of any sports team, who would it be?   GO CANES!
This post was sponsored by General Mills, who hired me to develop some Chex Mix recipes.  Yum.