Another awesome tailgate! Another awesome game! I can't believe the Miami Hurricanes are currently 6 – 0 (a record we haven't held since, oh, the early 2000s).  It feels awesome to be a winner again.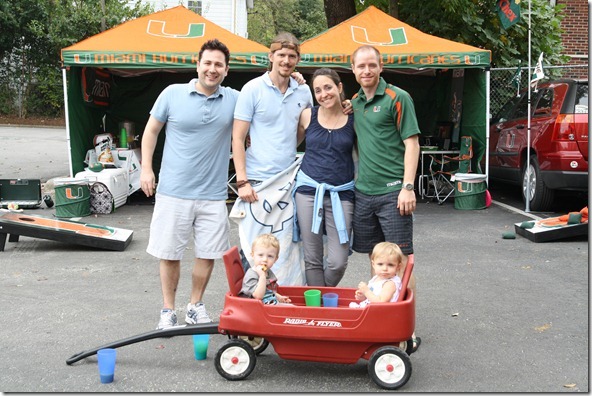 We drove to Chapel Hill with three of our friends and Henry's best friend Mirabelle.  The moms didn't go into the night game; we took the babes back to the hotel for slumber party fun.  But we squeezed in six hours of tailgating before the adults parted ways!  And you should've seen those two kiddos at the hotel. They had a blast in the hotel room. That chased each other in between the two queen beds for well over an hour, laughing and shrieking the whole time (where does this toddler energy come from?! I want some!). 
But back to the tailgate… I was REALLY concerned about tailgating with two toddlers.  I pictured utter chaos – cranky kids, worn-out parents.  BUT I'm happy to report that tailgating with toddlers was actually a HUGE success.
Some helpful hints if you plan to tailgate with a toddler, too:
Maybe we could've gone earlier without issues, but… I don't know. I think 16 months was a sweet spot.  Henry and Mirabelle both only nap once a day now and are much more flexible with bedtime. 

We did research online to find some family-friendly lot options.  We picked two lots in advance (Chapel Hill is notoriously bad for parking options), which was a good thing because we found out – as we drove down! – that our first pick wasn't going to be open early enough. 

We parked in a back corner, away from much of the chaos. This way, we didn't have to worry about drive-by traffic.  Cars (and buzzed drivers) were my biggest concern about tailgating with toddlers.  We kept eyes on the kids at all times, but I was still thankful for our quieter location because it was much, much safer than, say, a spot right at the entrance of the lot.

We separated the grill from the rest of the stuff by a good clip.  We also put it up on a table (we'd normally just keep it on the ground – much too accessible for curious fingers).

Heather brought a Radio Flyer wagon, which was so helpful for wheeling the kids around the parking lot when they needed a break.

We bought activities for them to enjoy – like sidewalk chalk – and showed them how to play the big-kid games like cornhole and football toss.

We intentionally timed the drive to the game so naps occurred in the car.  They woke up refreshed and ready to go.
I give Chapel Hill two HUGE thumbs up for their awesome University Center party, which was very, very family friendly. Our toddlers were just two of thousands of kids at the tailgate!  Heather and I took a walk through the festival a few times – there were bounce houses, a climbing wall, and lots of other activities.  I think walks away from our tailgate area helped the kiddos a lot – they got to see new stuff, relax in the wagon, and generally chill out for a bit.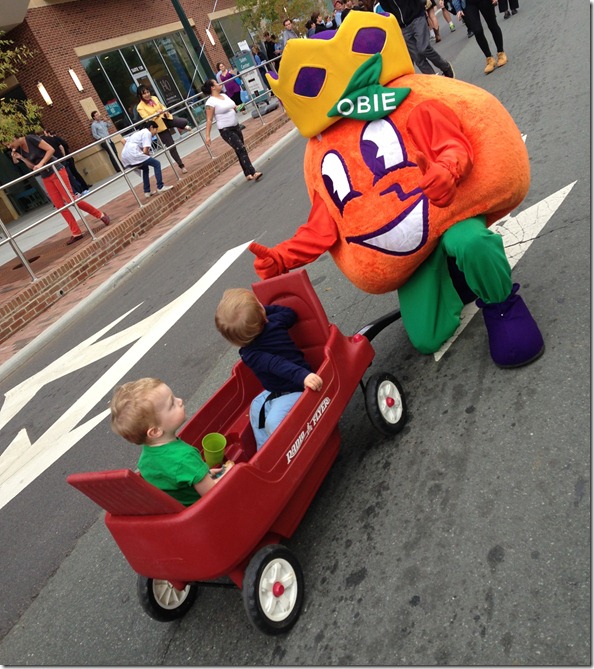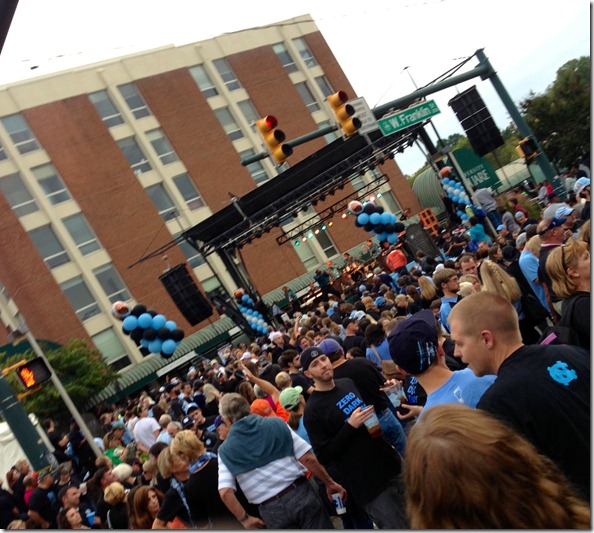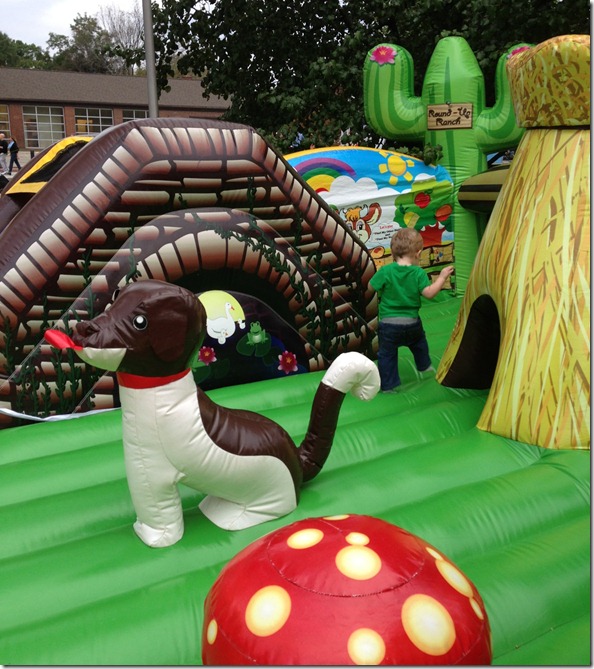 Coolest bounce house ever, right?  It was especially for toddlers.
I can't get over how much fun we all had!  I'm so happy that Henry enjoyed himself – and we're thrilled that we can share our seriously intense love of tailgating with our favorite little boy.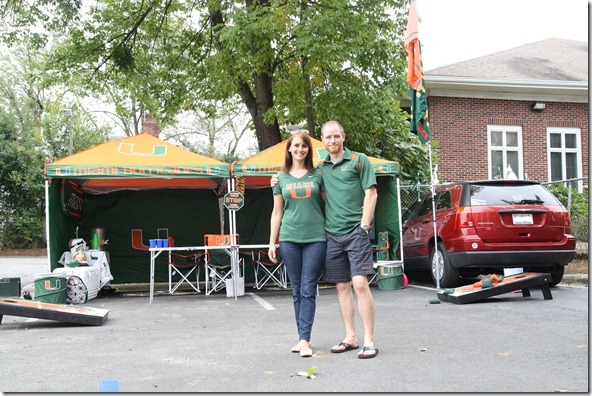 C-A-N-E-S! <3