All summer, I tried to get my butt in a lake. There are quite a few organized open water swims in Charlotte, but they always fell on a Saturday that we were out of town, entertaining guests, or I was sick.  I wish I had tried harder to do more open water swims, but to be honest, the pressing need I felt to get into a lake was seriously dampened by my fear of open water.
Hi, I'm a 12-or-so-time triathlete who is terrified of open water (OW). I have a long and storied history with OW swims that is quite well-documented in the blog archives. It started with my first triathlon, back in 2009 or so. I ended up being marked as Did Not Finish because I panicked during the swim and cut it short (I did finish the bike and run, though). My second tri was even worse in terms of freak out, although I did finish the swim. Oh, and when I say "panic," I mean hyperventilating, chest-constricting, oh-my-God-what-am-I-doing-in-this-lake-of-creepy-crawlies?!  I mean, my OW panic attacks could certainly be worse (and I'm not trying to minimize the legit land-you-in-the-hospital-panic-attacks), but freaking out in a large body of water is something special, to say the least.
But with time, commitment, and deep breathing, I managed to somewhat conquer my fears. I still think it's scary, and I still get really, really nervous, but I've had a few panic-free races where I actually enjoyed the swim overall.  My nerves are very closely related to: distance, current, and temperature.  Cold water really scares me.
Okay, anyway, a few days ago, DadHTP asked me if I wanted to do an OW swim.  He kayaks regularly and said he'd accompany me for safety purposes.  I KNEW that I really needed to do this at least once before next Sunday's race.  No more room for excuses.  I had to do this today.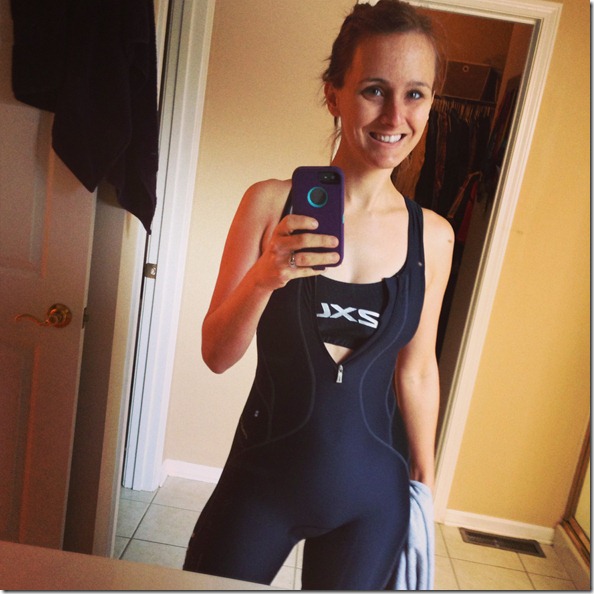 I followed Dad's car down to the lake. While waiting for him to unload his kayak, I Googled "are there alligators in North Carolina?" and read stories like this: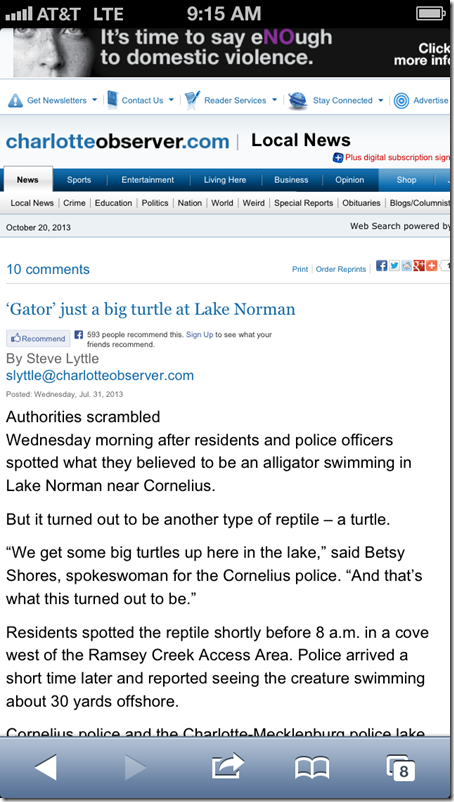 Whew.
Dad knew I was starting to freak out on the shore… It was cold (60 degrees), and I was shivering in my trisuit… pacing on the dock… talking about how much I hate OW swimming.  He started to urge me to get into the water.  Finally I said, "Coach Marni wouldn't yell at me like this!"  And he replied, "Coach Marni would be beating you with this paddle by now. GET IN."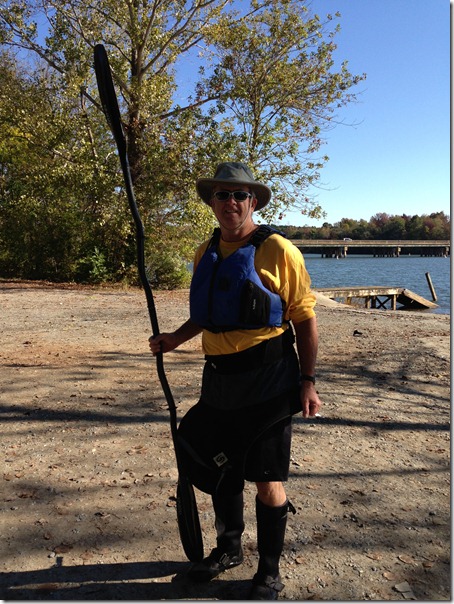 The moment my face hit the ice cold water, all those old panicky thoughts washed over me. All I could think was…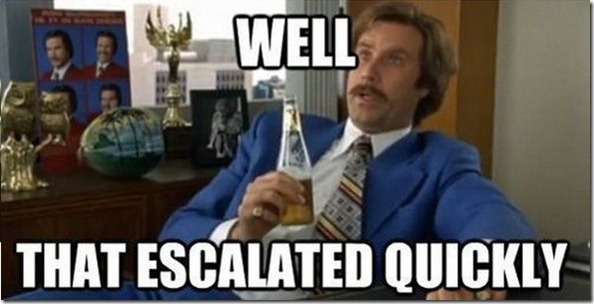 Ugh.  Total and complete FREAK OUT.  Everything was working against me – it was freezing, I didn't have a wetsuit, the current was ridiculously strong.
It took me a good five minutes to put my face into the face (that's the worst thing of all for me), and then I did a few yards of breaststroke before crying uncle.  I crawled back to the dock and sat on the shore.  I gave it a few minutes, did a really long internal pep talk about kicking ass and taking names, and then I got back in.
Attempt number two was a lot better… I was warming up, I put my face in, and I swam probably 10 minutes straight. I managed to calm down, too, which was really all that I was after from this workout.  A calm and peaceful moment in the water… not a real workout.
I left with these takeaways:
I got my panic attack out of the water today so I don't need to do it next weekend, right?

If the race is wetsuit legal, I am definitely going to wear one (I'm going to borrow Coach Marni's).  Miami is obviously really warm, but I would appreciate the extra buoyancy.

The morning of my race, I am 100% getting into the water to do a warm-up. I don't normally do this because I hate OW so much that I want to minimize my time in the water, but today's swim taught me that maybe I just need to get my nerves out of the way and acclimate.

Should've… would've… could've done more open water swims.  Craaaaaaaaaaaaaaap.
Here's to a panic-free race next Sunday….