The Miami Half Ironman was an awesome race.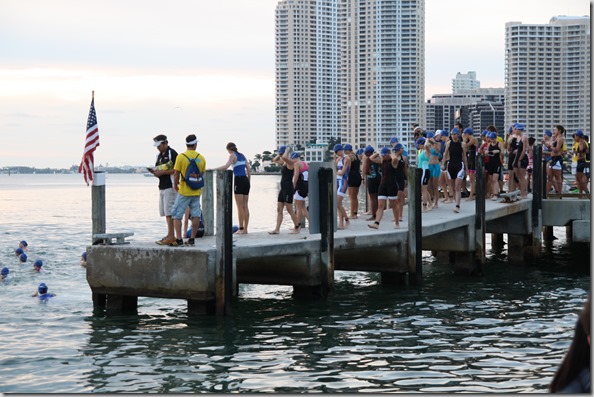 For weeks, I've been visualizing a perfect race. While I swam laps, I imagined the perfect swim. When I rode my indoor trainer, I thought about the perfect bike.  And when I pushed Henry up big hills in his jogging stroller, I dreamed of a perfect run.  My perfect Half Ironman (HIM) looked like this:  a confident swim with no freak outs; focused fueling and hydrating; running in race in my 'happy pace' to prevent burnout; and a strong finish.  Going into this race – my first 1.2 mile swim, 56 mile bike, and 13.31 mile run Half Ironman – I didn't think about my goal finishing time at all.  I didn't even wear a watch!
But, amazingly, I managed to run my version of a perfect first HIM and finish in a time that I'm proud of, too.  Picture me tossing race medal-shaped confetti in the air.
The Miami 70.3 HIM was a great event. The weather was beautiful, Brickell / Biscayne Bay location was gorgeous and chic (very Miami), and it was very well-organized.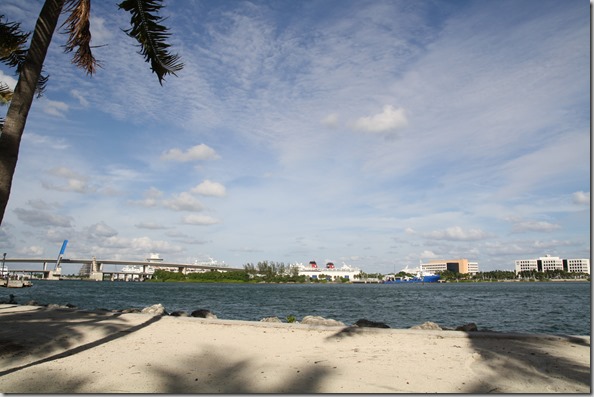 Kristien and I stayed at a hotel very close to the start line, so I didn't have to wake up too early.  We arrived about an hour before my swim wave started, and I immediately organized my transition area and got bodymarked.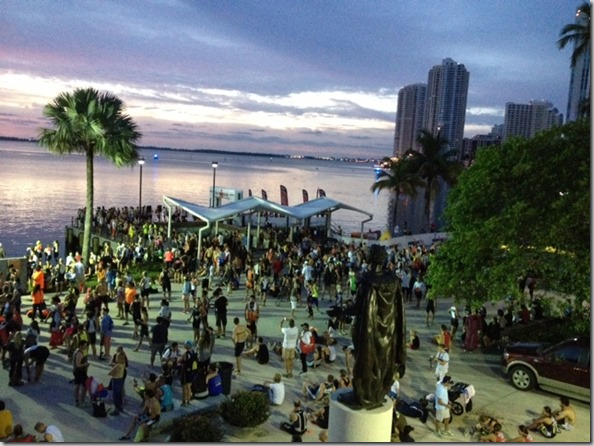 We sat on the edge of Biscayne Bay and watched the sun rise.  The sunrise was so beautiful.  Around this time, the race officials declared that the swim wouldn't be wetsuit legal because the water was too warm.  I didn't bring a wetsuit so that was fine by me.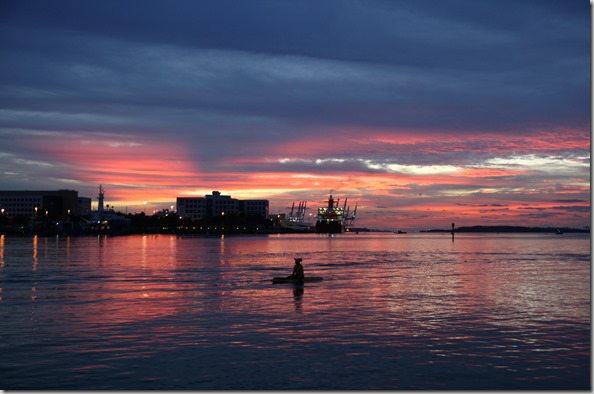 The swim itself was one 1.2 mile loop around Biscayne Bay.  The course took the athletes right next to the causeway and by a few big cruise ships.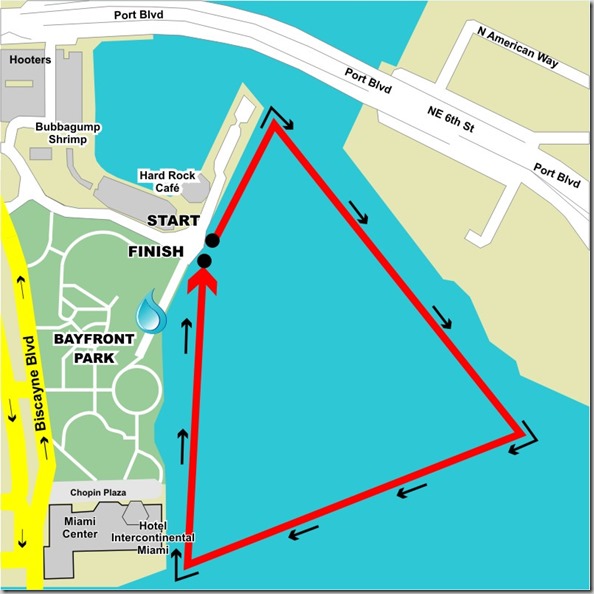 My swim wave was actually the fourth one – it was awesome to start so early – and two of the waves before mine were the professional athletes.  I stayed with Kristien and we watched the professional men and women go.  I have never JUMPED off a dock at the start of a race before!  It was very dramatic.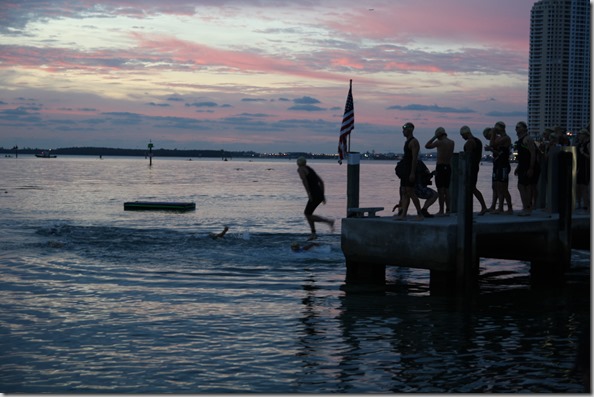 The athletes entered the water a few minutes before the start of their wave.  In the time, you could warm up by swimming back and forth behind the start line, tread water, or hang onto a pontoon.
I decided immediately that I'd use the time to warm up.  Last week's (failed) open water attempt taught me that this would calm my nerves a lot.
Coach Marni also told me to position myself to the left and rear.  When I did line up, I let everyone else get in front of me.  I wasn't feeling nervous yet, but from experience, I know how fast I go from calm to freaking out in open water.  Getting kicked in the face and crawled over does not help.
READY, SET, GO.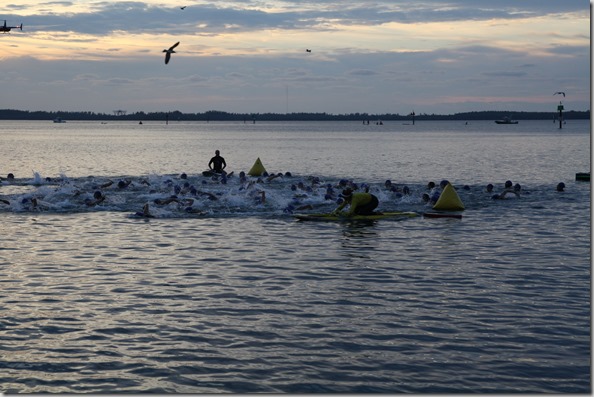 Guess what? I ended up having an amazing swim.  I never freaked out – in fact, I felt strong, confident, and capable the entire time.  I credit this to regularly doing swims over the race distance and  positive visualizations.  I focused on breathing, sighting, and pacing and tried not to think about anything else.  My sighting really paid off – I never swam off course.
My mantra during the swim was: ATTACK, ATTACK, ATTACK.
I quickly overtook a few women in the wave before mine, and it took about 750 yards for the men behind me to catch up.  I guess I got lucky – I rarely ran into other swimmers (or was ran into!).
This was one of the first triathlons that I exited the swim and didn't feel exhausted.  I had energy to spare!  I actually did the cha-cha as I come into transition, screaming, "WHOOP WHOOP!"  Kristien shouted to me, "You did the swim in 45 minutes!" and I was floored.  I hadn't thought a lot about goal times, but from training, I knew that 45 minutes was a strong swim for me.  Whoop whoop for real.
Time to transition…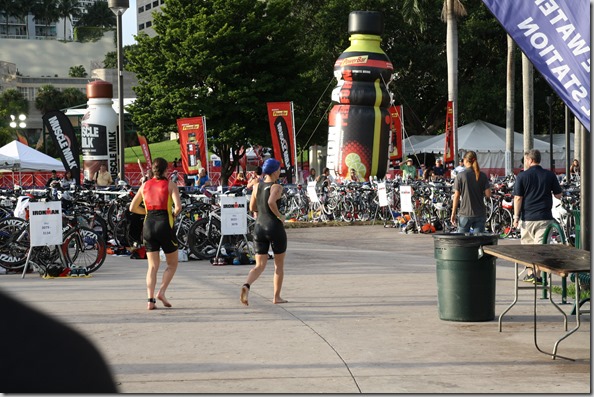 I took my time in both transitions (each one was over 5 minutes).  My rack was really far from the Bike In/Bike Out, which didn't help things, either.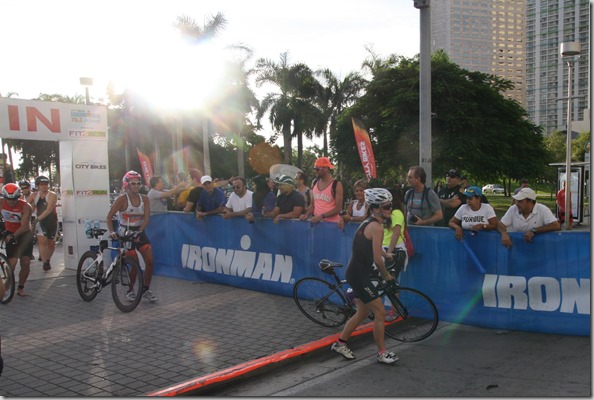 The bike was one long out-and-back loop.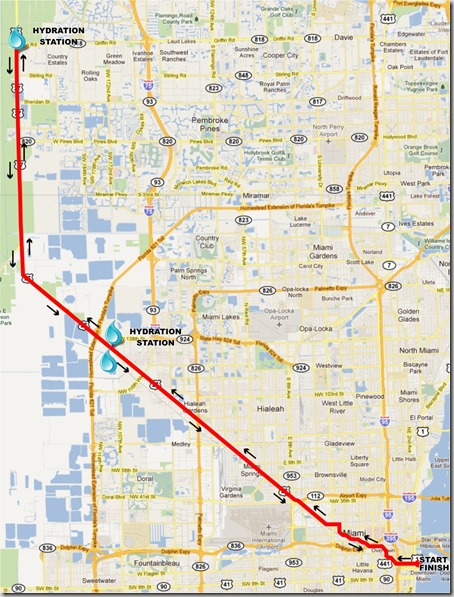 The bike was boring. It's hard to find 56 interesting miles in a big city, I know, but it was really just completely dull.  At least it was flat!
It was also windy.  I had the wind in my face on the way out, and I consoled myself with the thought that it'd be a tailwind on the way back.  But guess what?  A few miles after the turnaround, the wind shifted direction and was in my face!  Ahhh.
My plan for the bike was to:  get through it and focus on fueling.  Biking is always my weakest sport; I was totally fine with a 15 MPH pace; and Coach Marni had really drilled the importance of taking in calories.  So I didn't mind that people were passing me right and left (metaphorically of course) – for the most part, I was in my little zone.  I was careful not to accidentally draft the cyclists passing me (sitting behind another cyclist to minimize wind resistance is illegal, and if someone passes you, the onus is on you not to draft).
When I saw the Mile 40 marker, I was really pumped.  I wasn't hurting, but I was ready to be off the bike.  My feet were starting to ache, too (I don't think my cycling shoes fit me anymore – my feet got wider after pregnancy).  I was also ready for more water!
In transition, I said hello to Kristien (he was so easy to find because he made me a big, colorful sign!) and set out on the run.
That's when I ran into Coach Marni!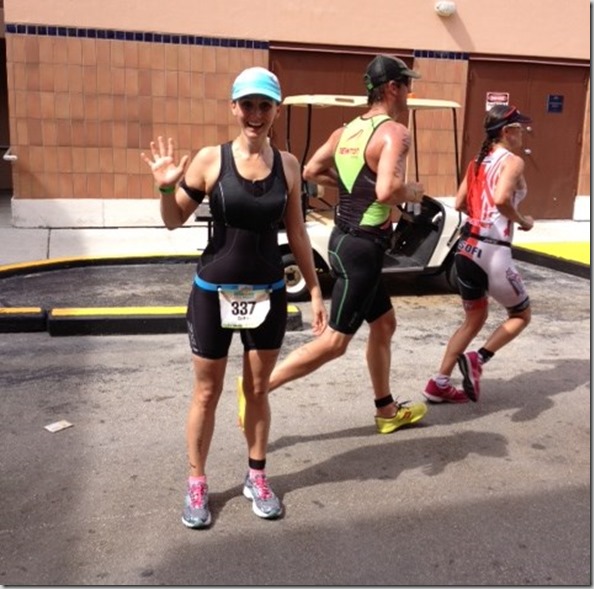 My triathlon coach, Marni, was there with her dog Campy to cheer on her husband, Karel.  I plan to dedicate an entire post to the experience of having a tri coach, but I have to say – I just don't think that I could've done this without Marni.  She gave me an excellent pre-built plan, helped me modify it for my own needs, and provided constant support.  I was also just SO inspired by Marni.  She's done SEVEN IRONMANS and been to the World Championships three times.  Incredible.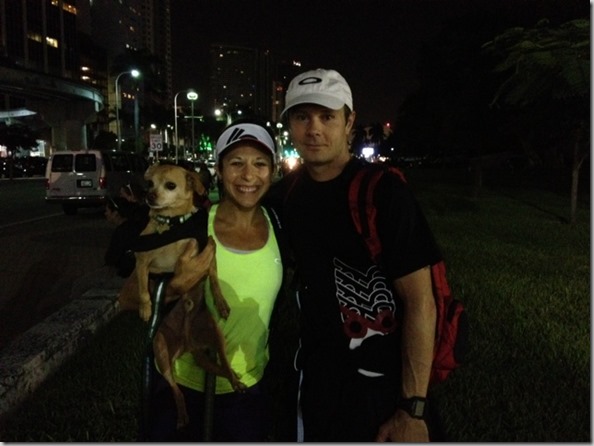 Three cheers for Karel!  Check this out:  he finished 14th in his age division with an overall time of 4:33.  He did a 35 minute swim, a 2:22 bike, and a 1:32 Half Marathon. Holy hell.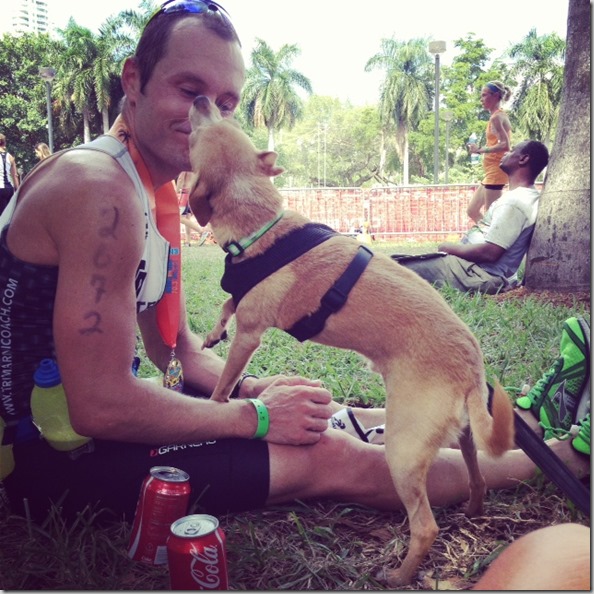 After leaving Marni, I took a bathroom break (I had seen a guy pee himself while on the bike and – although I know this is a triathlon "thing" – I could just not. make. myself. do. that).  After, I decided to focus on everything Marni taught me.  Truthfully, I was feeling pretty good coming off the bike, but I was very wary.  I just didn't know how a freaking Half Marathon would go after such a long swim and bike.  I followed Coach Marni's plan to T, which was:
Walk through every water station for 60 – 90 seconds.
Walk up the causeway (which I ran up four times).
Take in some calories every 15 minutes, for a total of 200 every hour.
Hydrate!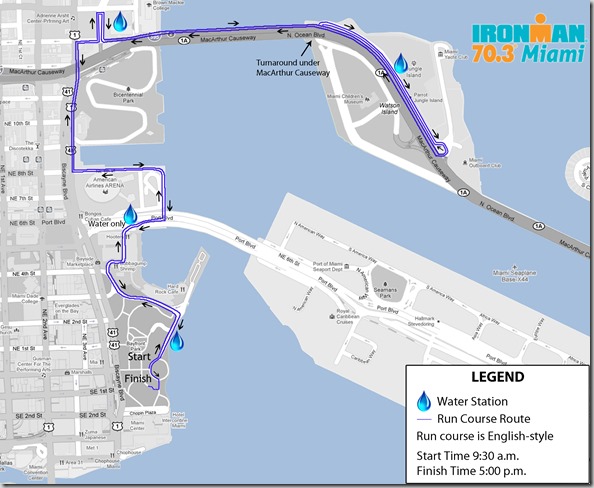 There were TONS of water stations, which was awesome.  The volunteers on this course were outstanding. I'd take two cups of icy water at each stop, drinking one and dumping the other on my head.
I thought a lot about Henry on the run – it helped keep my mind off of the pain, which was rapidly setting in!  My right IT band was achy and giving me Runner's Knee symptoms (which I struggled with a lot in the past but have pretty much beat – unless I'm doing a Half Ironman, I suppose!).  I met a few friendly runners on the course; it was fun to talk to people because the race was very international. I met people from Ireland, Argentina, and Brazil!
When I saw Mile 11, I practically kissed the sign.  And when Mile 12 came up, I started running and did not stop to walk anymore.  The finishing chute was long, windy, and completely lined with spectators.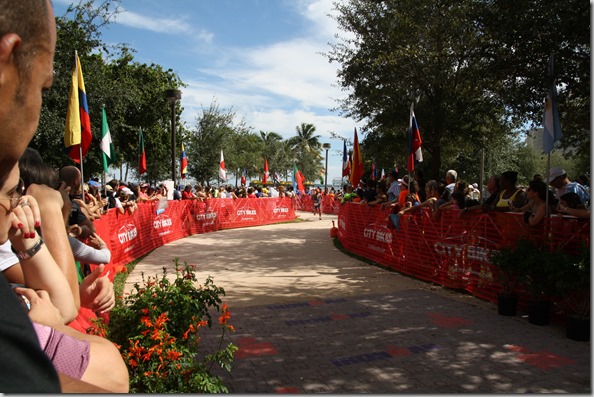 Tears sprang to my eyes as I crossed over. I was so happy!
1.2 mile swim: 45:32
56 mile bike: 3:35:11
13.1 mile run: 2:31:04
Finish: 7:03:07
Although I didn't care about my time going into the race, now that it's over, I'm very proud of that finishing time.  My goal for Sprint and Olympic tris is to finish in the 50% of my age group, and for this race, I was in the 65%.  Considering that this was my first HIM, I'm pumped!  But truthfully, I'm more proud that I ran a smart, well-paced race. I never burnt out, I never felt like I couldn't go on, and – most importantly – I don't feel like I could've gone faster.  It was the perfect medium!  The perfect race!
I love races because there's room for everyone.  Look at Coach Marni's husband – Karel KILLED it.  I'm in awe of people like Marni and Karel!  I can't imagine how much hard work and dedication Karel put into training to push out such an incredible finishing time.  But at the same time… before the race started, while I was setting up my transition area, I spoke to an older women who told me her goal was to finish within the cut off time.  "Last year, I was just a few miles from the finish line when the race officials had to yank my timing chip!" she said with a huge grin, clearly not upset by her Did Not Finish despite the fact that no one gets to the start line of a HIM without spending a lot of time and energy on training. She continued:  "This year, my goal is to beat the race officials to the finish line!"  She was so excited to simply BE THERE in that moment – her JOY rubbed off on me.
I looked around the finish line party, and I could clearly see all types of racers.  Lots of Karels, lots of people like that older lady and me.  I loved that there's room for everyone in triathlons. It makes me happy. 🙂
Crossing the finish line of a Half Ironman has been a dream of mine for a long, long time, and it was an incredible experience.  I feel very proud of myself for completing the race at this point in my life.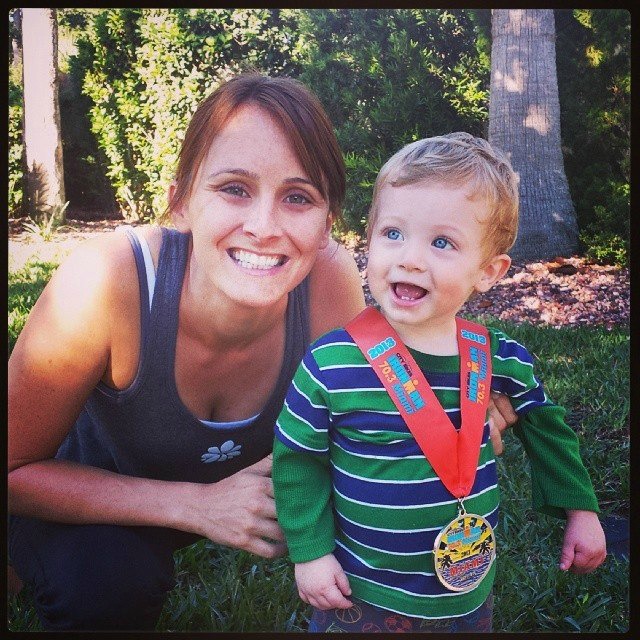 <3