Plus -  more about the Cookie Monster.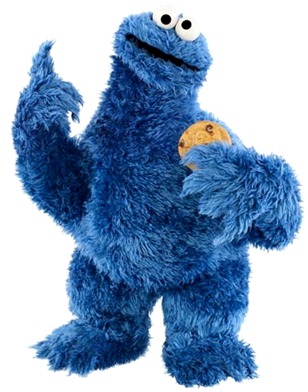 So, last week, I pulled it back a bit.  I decided to keep in the 'spirit' of Half Ironman training but not really follow my plan.  I needed a mental break,  you know?  Additionally, on Monday night, I was making macaroni and cheese and splashed hot water on my stomach – I ended up with a quarter-sized second-degree burn on my stomach and didn't want to get into the pool for fear of infection. I still got a lot done, though!
Monday: 3400 yard swim (wowza!)
Tuesday: Rest
Wednesday: 4 mile run
Thursday: 1 hour bike + 1 mile run
Friday: 5 mile run
Saturday: 1 hour bike
Sunday: 1 hour run
Total: 3400 yards of swimming, 10  miles of running, 3 hours of biking
So I was investigating this "Cookie Monster eats carrots" thing a little further.  I found this fun video of Cookie Monster and Scott Jurek, a vegan ultramaratoner, at a TedMed conference.  Cookie Monster says that vegetables are always foods and cookies are sometimes foods, although it's always sometimes.

Turns out that a few commenters who pointed out the Cookie Monster has been promoting fruits and vegetables for a while were right – Cookie has been exposing the value of a balanced diet ("three square meals and circular desserts") since the 1970s.
He also did the Healthy Foods rap:
"Me one healthy dude because I eat healthy food."
I found this fun list of other items that Cookie Monster has eaten (besides cookies and vegetables):  a safe, snow, a pencil, a Volkswagen Beetle, a suitcase, a vacuum cleaner, a grandfather clock, and more.  He also remarked once that he likes tofu stir-fry.

Other fun Cookie Monster facts:  His real name is Sid. His favorite kind of cookie is chocolate chip, followed closely by oatmeal.  And he has a Twitter account, where he says gems such as: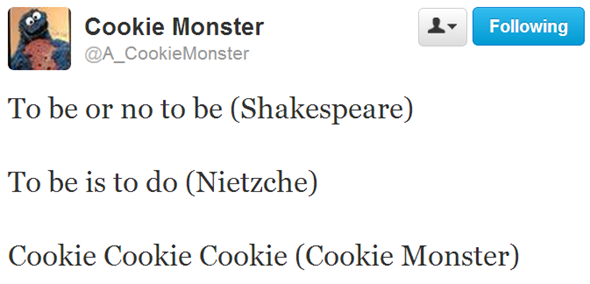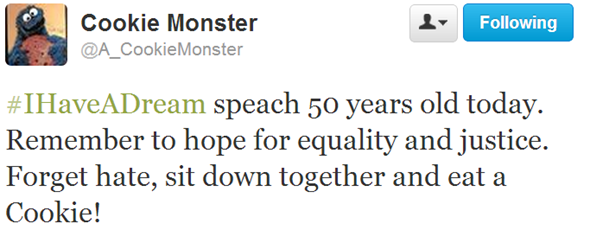 So there you have it.  Cookie Monster does eat a varied diet, although he likes cookies the most.  Obviously.
But who doesn't?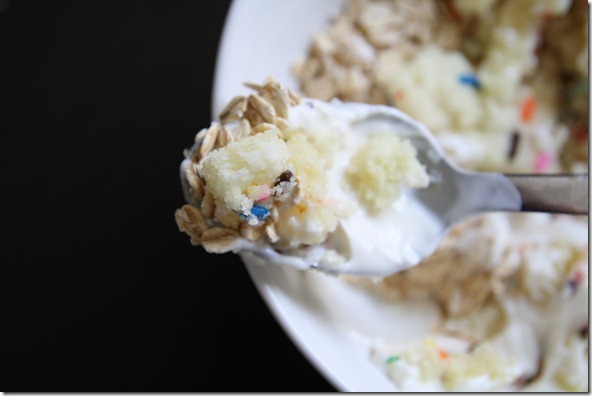 I've been so into yogurt messes lately.  So satisfying, and a great way to get protein in post-workouts, thanks to the Greek yogurt.  In addition to my chocolate yogurt mess, I've been eating this mess every now and then – when we have cookies in the house!
Greek Yogurt
Raw oats (and yes, they really do taste good!)
Sugar cookie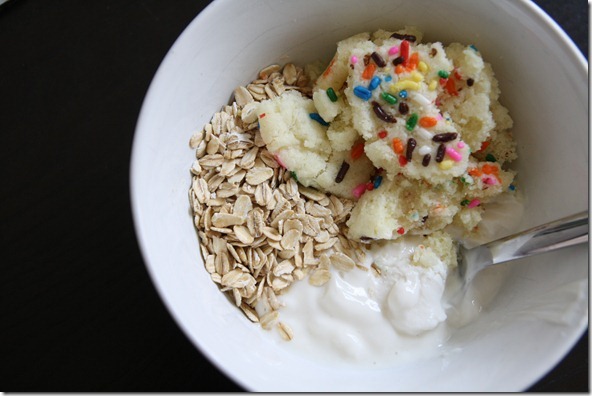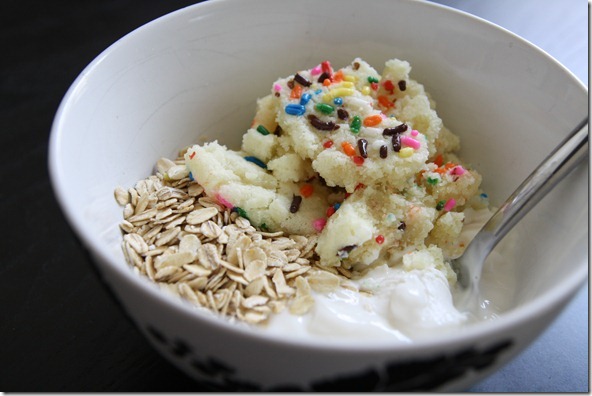 The Cookie Monster would approve!