My Maggie recently turned NINE!  Can you believe it?  Time flies when you're yapping, licking, snoozing, and refusing to get your dachshund butt off the couch and go for a walk.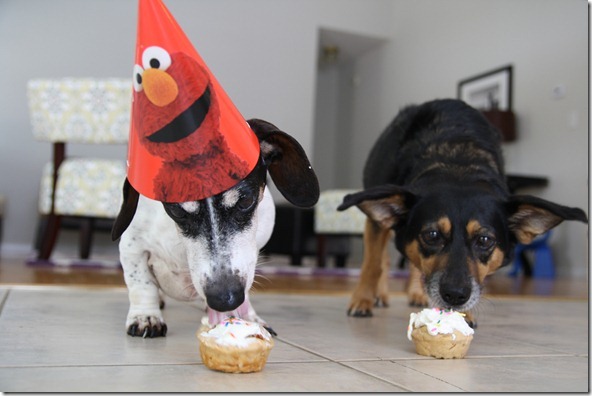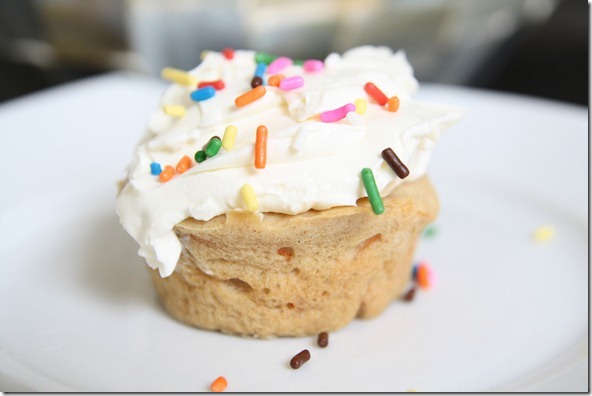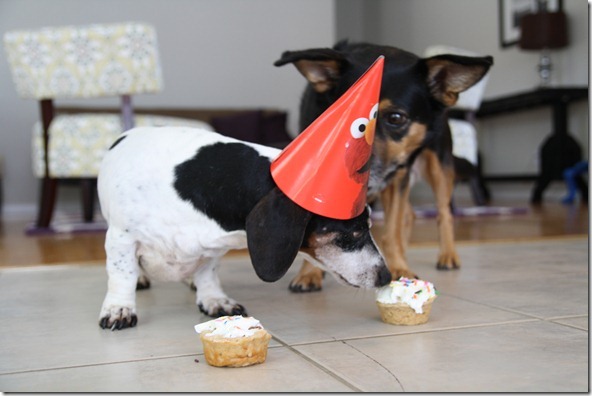 Maggie was our first pet. We got her back in 2006.  We were living in a rundown one bedroom apartment that we selected purely because it was not only within our meager rent budget, but also because it allowed pets.  I had been saving all my spare cash for a dog for months and had been browsing the shelter and classified ads for weeks.  We met many, many dogs, but none of them spoke to us like Maggie did.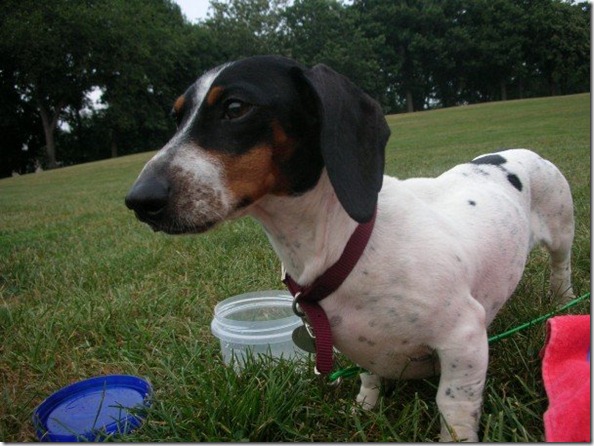 I was so proud to have Maggie.  She really felt like my "furbaby," and I took her everywhere with me.  She was young, spry, and stubborn.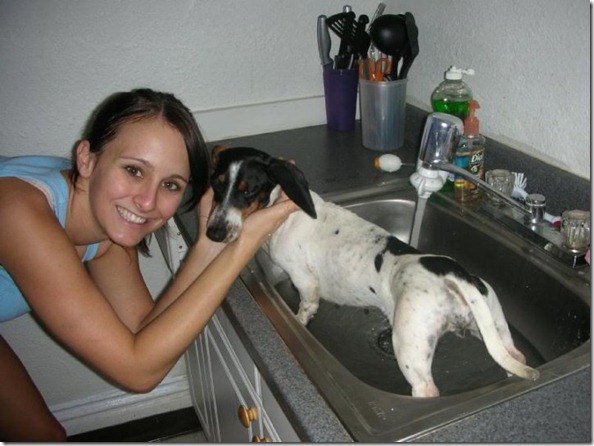 We had Maggie for six months. And then… we stumbled upon James.  James and Maggie loved each other at first sight.  Looking back, it's crazy how fast they connected and clicked because neither one is super friendly to strange dogs.  It's like they were meant to be.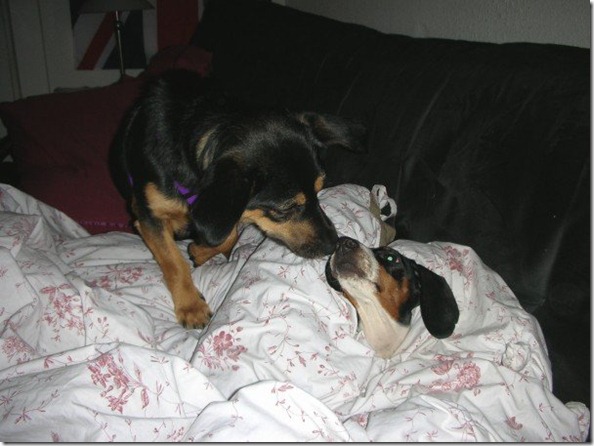 We have always said that Maggie found her perfect home because no one could love her the way we do.  She has anxiety and various behavioral issues, but we adore her anyway.  Her great qualities far surpass her bad ones.  She is loving, loyal, sweet, and cuddly.  She puts up with a lot of Henry's crap and lets him "pat" her, hug her, tug her tail… she allows it because he's part of the pack, and she knows it.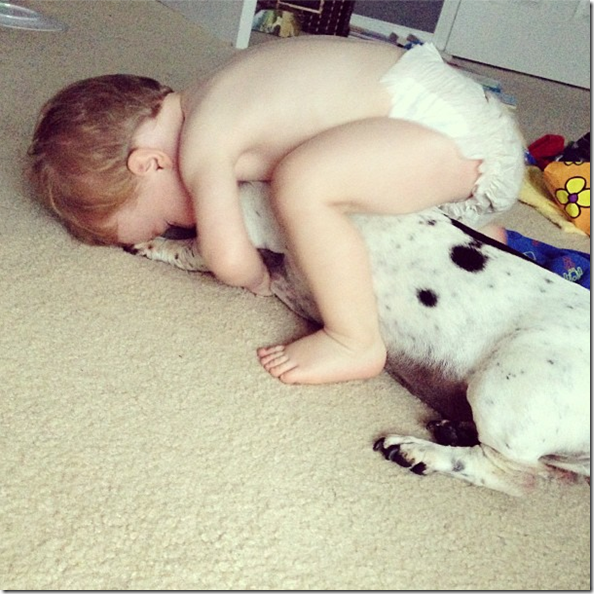 I love how much she loves us. 
Sometimes, I look at Maggie's gray little muzzle, and I get so sad. I know that she won't be with us forever.  I tear up just thinking about a life without my Maggie.  She has been part of Kristien's and my life since before we were even engaged.  I spent almost 2,500 nights in bed with Maggie!  I wish our furbabies lived as long as we did. 
But for now… I shall wish my sweet girl a HAPPY BIRTHDAY, give her a tight hug, and thank her for being a wonderful dog.  Despite all of her shortcomings (pun intended), Maggie is my number one girl.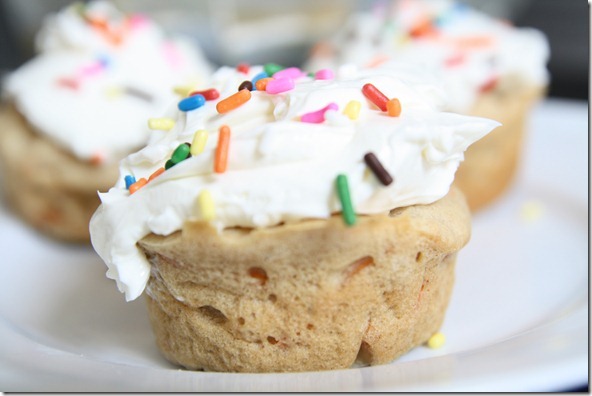 Gluten-Free Birthday Cupcake Recipe for Dogs
Ingredients (makes four cupcakes):
1/2 teaspoon baking powder

2 tablespoons crunchy peanut butter

1/4 cup finely chopped shredded carrots

1/4 cup vanilla Greek yogurt

1/2 cup water

1 egg

Cream cheese (for frosting)
Directions:
Pre-heat oven to 350 degrees and grease four cupcake tins.

Mix all ingredients together (except cream cheese).

Divide into four portions and pour into cupcake tins.

Bake for 13 minutes.

Remove from oven, cool, remove from cupcake tins, and frost.

Serve (it's safe for humans to eat, too!)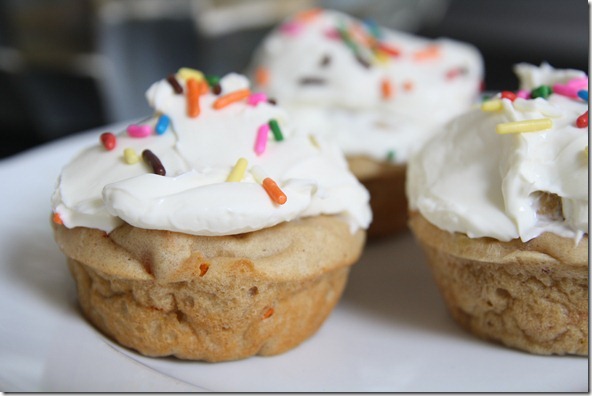 While the dogs loved this recipe… It is not cat-approved.  Maybe if you mixed in fish?  Eww.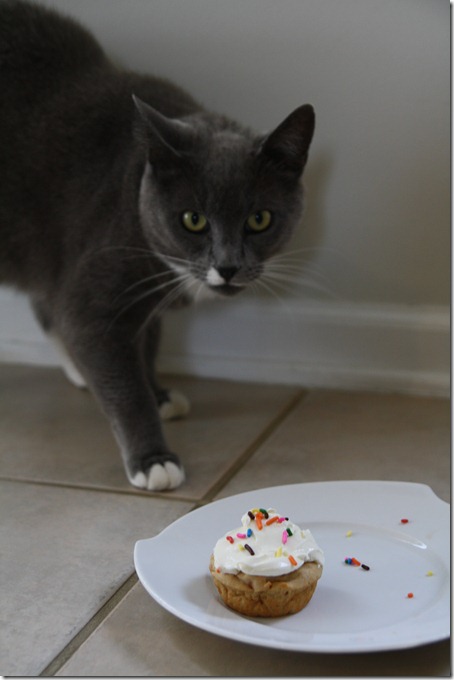 The gluten-free flour is the the rice flour mix from my friends at General Mills.  Remember back in May, when I went on a tour of the General Mills headquarters?  While I was there, I popped into the test kitchens, and they were making breadsticks with the newest gluten-free flour.  The breadsticks were amaaaaazing.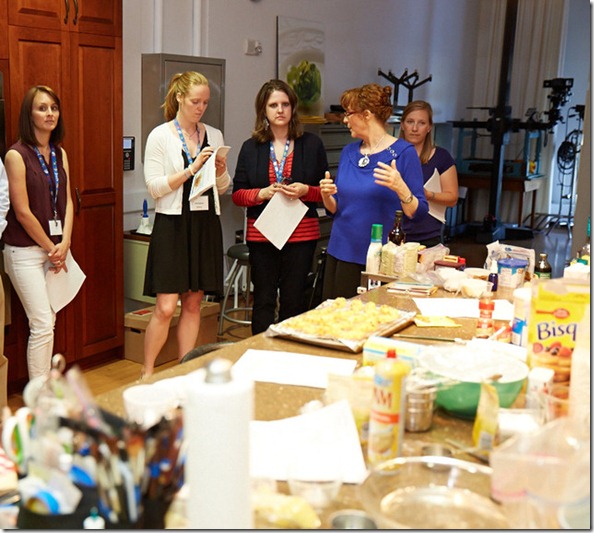 (In this picture, I am thinking: "Can I have another breadstick, pleeeeeease?")
I was so pumped to find a gluten-free flour that didn't taste like a mix of cardboard and glue, and this is my first creation with the sample box that I took home!  I'll have to make some human recipes soon, too.

Do you celebrate your pets' birthdays?