On Maintaining an Active Lifestyle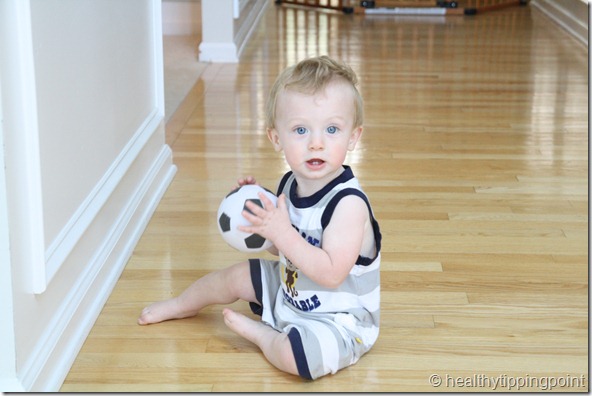 Oh, little Henry!  You are not so little anymore.  I know we have a few more weeks of official babyhood left, but you have been toddling for a while, so I consider you a toddler already.  Every time I look at you, I think, "What a BOY!"  No longer a baby – you are now a little man.  And I love it.
How things change!  Both for Henry and for my hairstyles.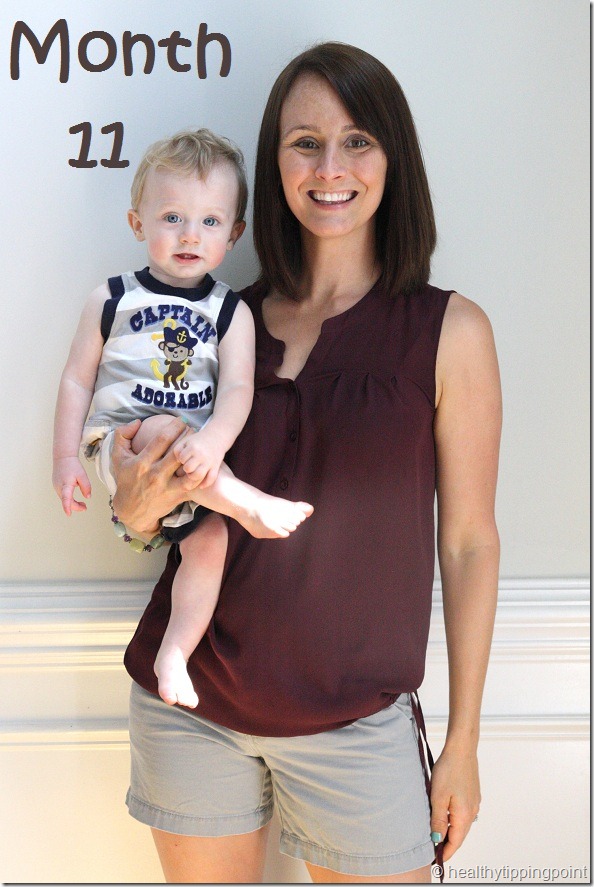 This month, I thought it would be fun to discuss how we maintained an active lifestyle after the arrival of Henry. We all have our hobbies – mine is definitely exercise and triathlons.  I worried a lot before Henry's birth that I would lose my hobby when he was born.  Not only is my hobby a fun outlet, but it's also one of the ways that I maintain physical and emotional health.  Before he was born, while on a long run or in the middle of a great swim, I'd think, "I will never be able to do this with a kid!"
But you can.  The secret is that you have to really want to – and you have to have the right gear!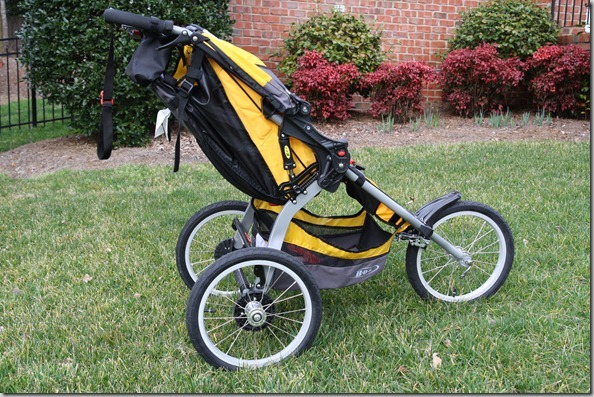 I've written before about my love affair with my jogging stroller – here's my complete review of the Bob Ironman.  Five months later, I feel the same affection towards this awesome stroller.  I used to think that I wouldn't want to run with Henry – running was, after all, 'me' time – but I really do enjoy the experience of running with him, and he is happy to be in the stroller 95% of the time.
I usually time my runs so they correspond with one of Henry's naps.  We often run together in the late afternoon, as H usually needs a cat nap, and it can be difficult to convince him to sleep in his crib late in the day.  But the stroller?  He passes out.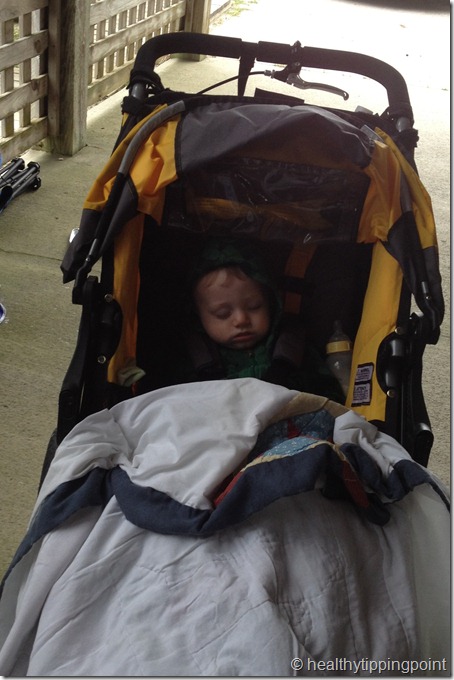 I make sure I always have extra sunscreen, a bottle, some crackers, and a diaper.  Just in case. 
Together, we've run a maximum of 8 miles.  He definitely 'hit the wall' at that point.  We usually do 3 – 5 miles or less together, and he seems to enjoy getting outside. 
One major advantage of running with the stroller is that the 45+ pounds (stroller + Henry) has made me a MUCH stronger runner.  When I run without him (pretty rare), I feel like I'm flying.  I almost ran a sub 2-hour half marathon in January (I've only managed to do that once before, way back in the pre-baby days) because I was so accustomed to pushing a heavy stroller.  My arms are always sore after a run, something that – of course – doesn't happen under normal running conditions.  The stroller has helped tone my upper body and corset muscles, which is a nice side effect.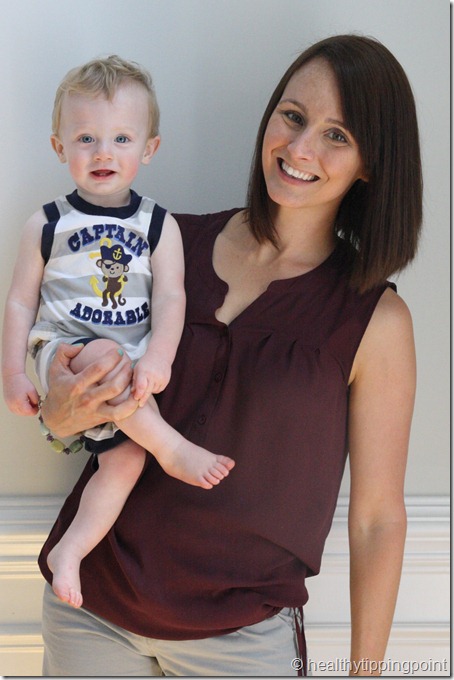 The other essential item of baby 'gear' is our gym's childcare.  The women at childcare are so sweet and love Henry so much.  In general, I do not like being away from Henry, but I feel very comfortable dropping him off at childcare while I workout.  Childcare at the gym has allowed me to continue swimming (my fav!) and going to spin class.
As I wrote about earlier this week, I've set up my indoor trainer on my back deck so I can ride my bike at home.  The indoor trainer has also been a great tool, as it allows me to exercise while Henry naps.
I recently bought two awesome exercise items on consignment.  First, I bought a baby bike seat, just like this one: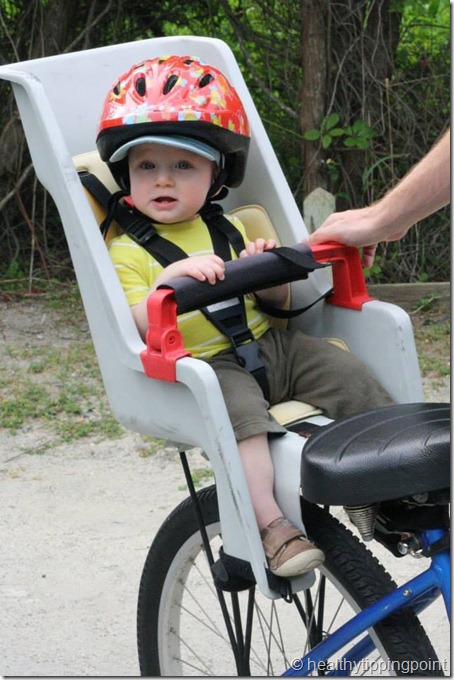 The CoPilot retails for over $100 but I snagged it on consignment for $40.  While we were in the Outer Banks, we rented bikes with the same seat on it, and Henry really enjoyed it, so when I saw it for sale, I had to buy it!  We put it on the Husband's road and plan to go on family rides on trails on the weekends.  I don't feel comfortable riding with Henry on my bike because I've crashed far too many times.  I wouldn't feel comfortable with the Husband riding fast, either.  But still – a baby seat like this is a fun way to spend time in the saddle with Henry!
I also bought a hiking backpack on consignment.  Again, this backpack retails for over $100 but I bought it for $40.  Three cheers for used stuff!
We have gone on one 'practice walk' around the neighborhood so far.  I want to make sure he'll sit in the pack for a while before we set off for a long hike in the middle of nowhere.  So far, he seems… okay… with the pack.  Generally speaking, Henry does not like to be 'contained' and started to fight the backpack after a while.  He may have just been hungry, though.  I'm going to keep introducing the backpack in small doses and hope he will arms up to it, as I think it would be a great way to go for walks around the neighborhood and – hopefully – off-road adventures in the North Carolina mountains.
So – what about the Husband's hobbies?  He's a big golfer, which seems anti-baby, but we've been taking Henry to the driving range since he was a week old, and he really enjoys the experience.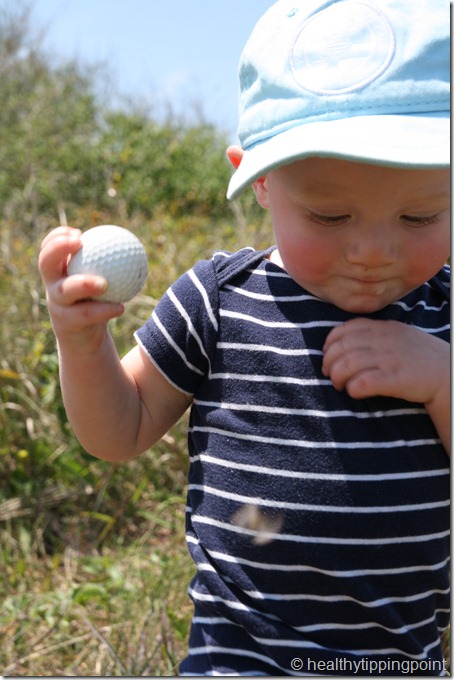 He LOVES watching Kristien hit balls.  We've ventured off the driving range and onto the course once, and Kristien didn't take the round with Henry as seriously as he normally would.  He spent more time playing with H than trying to make the perfect shot.  It ended up being a really fun family activity, and I know that Kristien enjoyed sharing his hobby with Henry.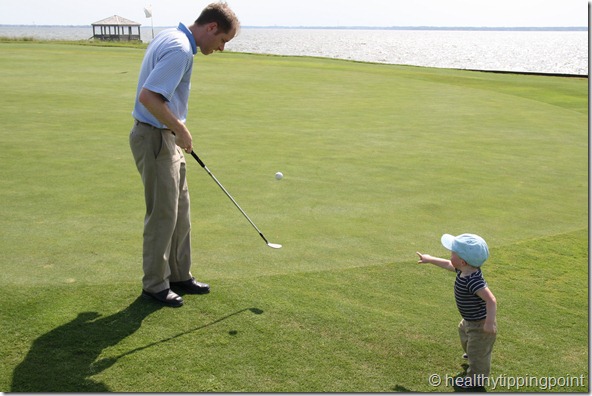 As you can see, Henry does a lot of stuff!  He is definitely not a homebaby and really loves being outside and doing active things with Mommy and Daddy.  I'm not sure if that's just how he is, or if we made him that way through the experiences we exposed him to (he's been to two triathlons and one 5K!), or a little of both.  He is definitely the type of kid who has energy to burn, and I have to get him outside everyday.  Even if he's sitting in the stroller, the bike seat, or a pack, the action seems to fulfill a need and wears him out (we spend a lot of time at the playground, too).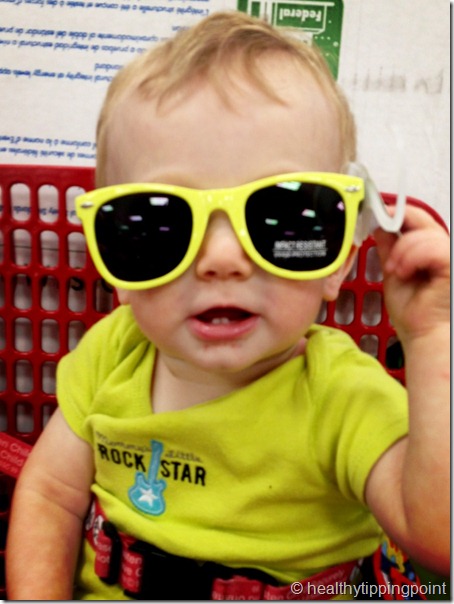 All of this translates to that fact that I have been able to maintain my hobby in a way that I never dreamed.  Exercising with a small child takes a lot of planning, and sometimes I have to exercise when I don't really feel like it because it's nap time or childcare is going to close – but that's kind of how it was before, too, when I worked more often.  Sometimes I have to blow off my workout entirely because Henry just doesn't want to sit in the stroller.  Sometimes I have to cut my laps short because I know he needs to get home and go to bed.  But we make it work.
I actually feel like I'm in better shape than I was immediately before pregnancy. I cross train a lot more and do a greater variety of workouts.  I push that dang stroller for 10 – 15 miles a week!  And, although this doesn't mean everything, I am lighter than I was before pregnancy by several pounds.  I think about how far I've come since childbirth – I gained 35 pounds in total – and I've lost that plus some more. I am really proud of myself for maintaining a healthy and active lifestyle despite having a kid.  I know that, in many ways, I have it easier than other moms because I'm a part-time-worker-stay-at-home-mom and that gives me greater flexibility, but seriously – it's still a challenge on many days regardless.
Here's a confession.  This is probably one of those "not politically correct things that CaitlinHTP is going to try to say in the nicest way possible because most of us actually think it, too."  Now that I've figured out how to maintain my hobby with one kiddo, I REALLY worry about doing it with two kids.  We have started to think about BabyHTP 2.0, and while I am oh-so-excited for the next child, I do fear that I will completely lose myself with his or her birth.  Motherhood is a great joy and honor, but it is a lot of work and responsibility, and it's hard to carve out 30 minutes each day for myself.  With two children, I wonder if it will be impossible.  I'm afraid to sacrifice the 'ease' of having just one kid (hahah! You know what I mean, though).  On one hand, I really do want two children, but on the other hand, I just worry about giving everything up, even if it's only for a few years.
If BabyHTP 2.0 is anything like Henry, I know it will be worth it, though.  He makes me so happy.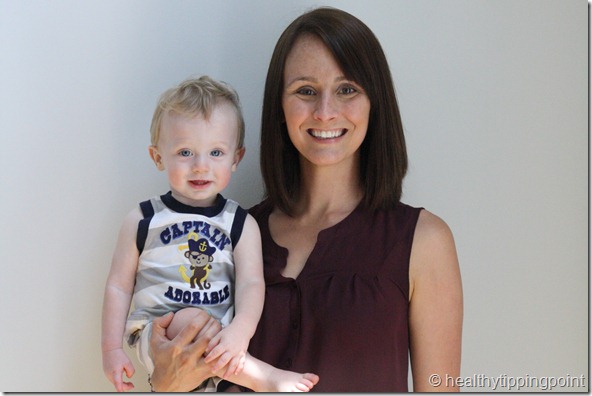 Just a few more weeks until he turns ONE!  How is that possible?  Where does the time go?  I love him so much. 
How do you maintain a healthy lifestyle as a mom?  What's the secret to making it work with two, three, or more kids?