A few weeks ago, we watched the documentary Fat, Sick, and Nearly Dead, which is about an overweight, unhealthy guy named Joe who decides to go on a 60-day juice fast to transform his life.  It's a really interesting (and inspiring!) movie, and by the time the credits rolled, I was on Amazon, browsing juicers.
I wanted to do a review of the juicer we purchased – and share my favorite juice recipe – because we really have became a juicing household.  Our juicer is ALWAYS running!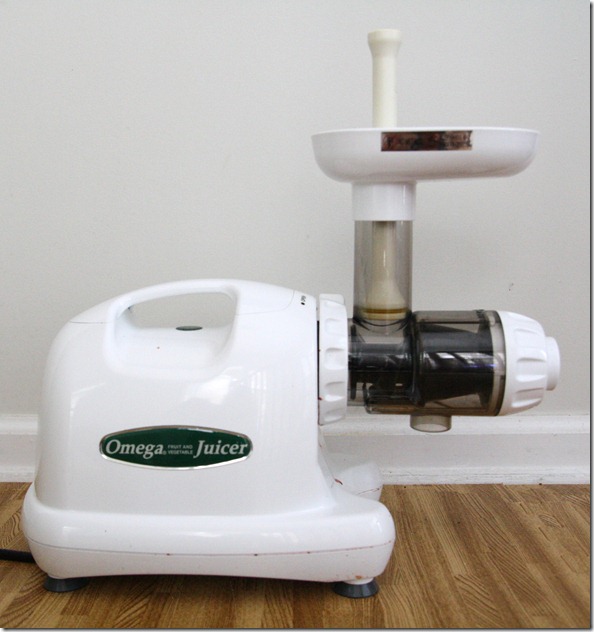 After much research, I decided to purchase the Omega J8004.  I decided to go for the Omega for several reasons.  First of all, not all juicers are created the same.  Some are centrifugal juicers and others are masticating juicers. A centrifugal juicer works by grinding the fruit and veggies to a pulp and then spinning the pulp at a very high speed, which separates the juice from the pulp.  A masticating juicer 'chews' up the fruit and veggies at a lower speed with no intense spinning motion.  Centrifugal juicers are usually louder and less efficient; they are also cheaper. 
The Omega is a masticating juicer (let the dirty jokes begin….).  See the inside of the Omega?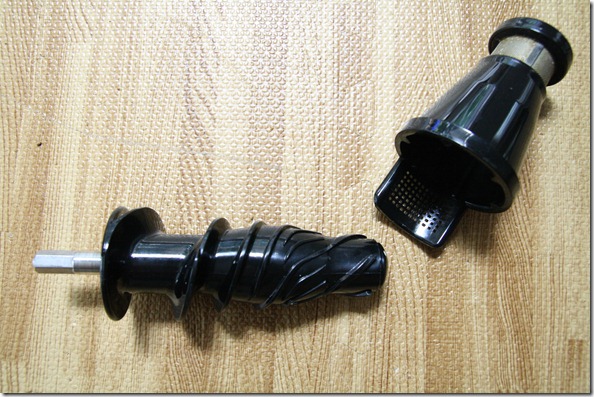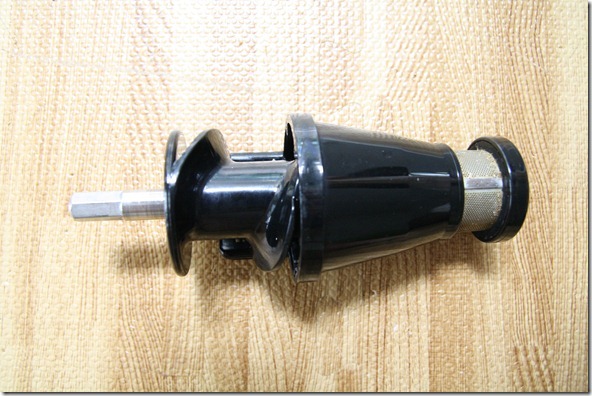 The fruit and veggies get pushed into that piece and then the juice is separated from the pulp through that screen.
The pulp comes out the end and into one bucket; the juice goes in the other.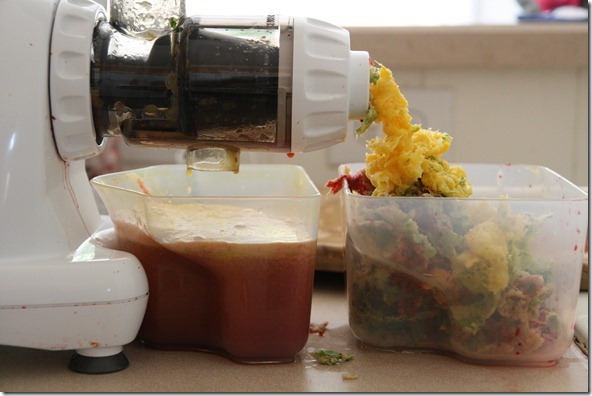 The Omega is really efficient at getting the juice out; but sometimes, I run the pulp through the machine again and get a TON of extra juice out.  But twice is all it takes.
Other bonuses about the Omega:  it comes with a TEN YEAR warranty!  Yes, it is a very pricy appliance, but with such a good, long warranty, I felt it was worth it (I feel the same way about the Vitamix blender). 
It is also extremely quiet.  It is so quiet that the first time I turned it on, the Husband said, "Turn it on!" and I was like, "I already did!"  I really like it's quietness because juicing takes a while, and if it was super noisy, I would probably be less inclined to juice.  It is very easy to take apart and clean.  I do wish it was black instead of white – as you can see in my pictures, the juicer gets dirty really fast and it's hard to keep tidy.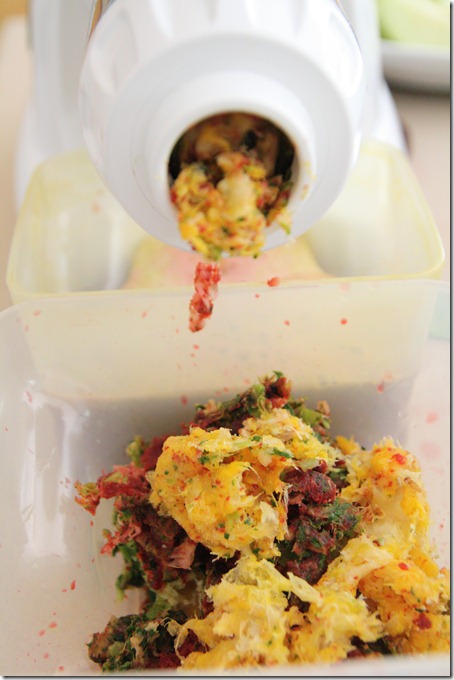 Of course, I did not go on a 60-day juice fast like Joe in Fat, Sick, and Nearly Dead.  Well, actually, out of curiosity, I attempted a 5-day fast (I've heard how people who juice fast experience this sudden surge of energy and kind of wanted to see if it was true or just a placebo effect).  I lasted all of 6 hours on juice alone before freaking out and shoving a chocolate bar in my mouth.  Will power – I lack it.  However, as an experiment, the Husband went on a 4-day juice fast, and my brother-in-law Nick did 2.5 days, and they both did say they felt better than ever on it.  In terms of whether juice fasting is healthy for a non-distorted eating individual, I really can't comment (it's definitely up for debate), but I can say that juice alone is not enough to sustain me (at least emotionally!).
While juice fasts are not for me, I have been juicing very regularly.  I have one or two juices a day five days a week, and I love it!  I do feel healthier when I juice. After all, fresh-pressed juice is an easy way to ingest a lot of nutrients, including vitamins, minerals, and antioxidants. Juicing alone wouldn't fulfill all of your nutritional needs, which is why there is so much debate on how healthy juice fasts really are in the long-term.  It depends on what you're juicing, but juicing can be very high in calories, (natural) sugars, and carbs.  And, of course, when you juice a fruit or veggie, you're getting a lot of it's goodness, but you're also taking away the fiber, which is an important part of a healthy diet.
For someone like me, who truly struggles to eat the recommended 5 fruits + veggies a day, juicing is great.  I eat many whole fruits and veggies, but juicing helps 'top'  me off.  (I recently heard on NPR that some public health officials are considering increasing the recommendation to 7 fruits and veggies a day for women and 9 for men – yikes!).
So – bottom line. I love my juicer, I think it's definitely worth the price tag, and I really enjoy daily juicing.  I think it's a great boom to my diet and helps me achieve a more balanced lifestyle.  Juicing can be expensive (all those fruits and veggies add up) but I know it's good for my body, and I feel like it's worth the time, effort, and money.  Discovering juicing feels a bit like discovering smoothies – life changing!  Or at least…. diet changing.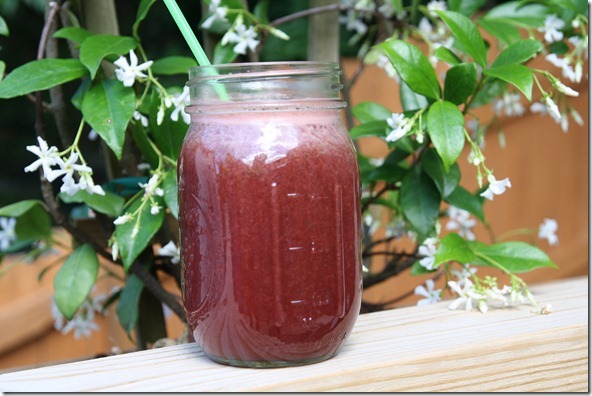 On to my favorite recipe…. All of this into one glass!  I could never, ever eat two oranges, an apple, a lemon, a bunch of spinach, and four beets in one sitting!  But I sure can drink it!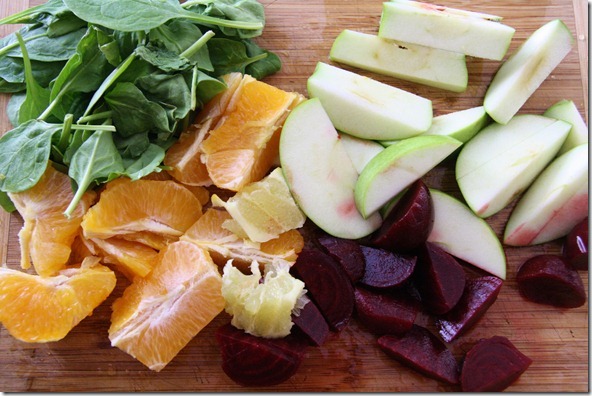 My Favorite Juice
(inspired by a recipe on RebootWithJoe.com)
Two oranges, peeled
One green apple
Big handful of baby spinach
Four small beets
One lemon
Yum.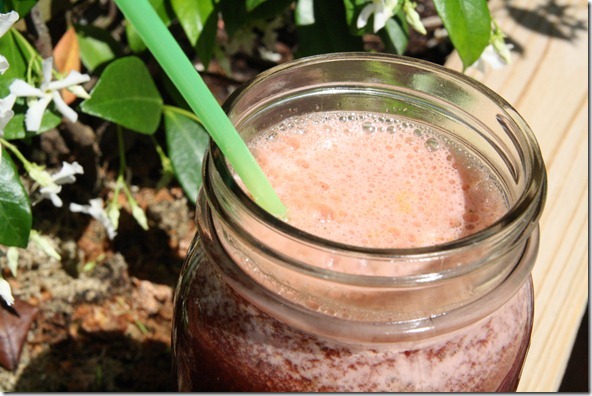 Oh, I also like to add fresh herbs from our herb garden into my juices.  I especially like adding spearmint, parsley, and basil.  It just adds a little something-something.
Do you juice? What's your favorite recipe? What juicer do you own?