I feel like I'm on HGTV.  Open your eyes and see your BRAND NEW BACKYARD!  Hurrah!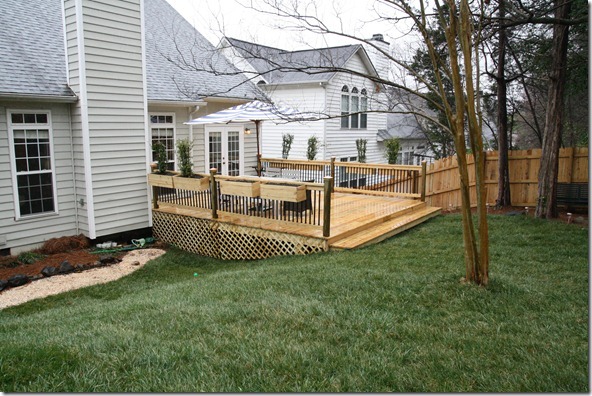 Oh.  Our backyard.  It has been quite the journey. 
You see, when we were house hunting, one of our Top 5 "wants" was a really nice backyard.  Mostly, I wanted the backyard for James.  Sounds crazy to buy a backyard for a dog, but James has lived in apartments his entire life but loves to be outdoors.  Since I was 22, I have promised James a backyard.  Unfortunately, the house we ended up buying did not have the nicest of backyards (but it did have everything else, which is why we bought it!).  After closing, we vowed to renovate the backyard as soon as possible – not just for James, but for BabyHTP (the future Henry), too.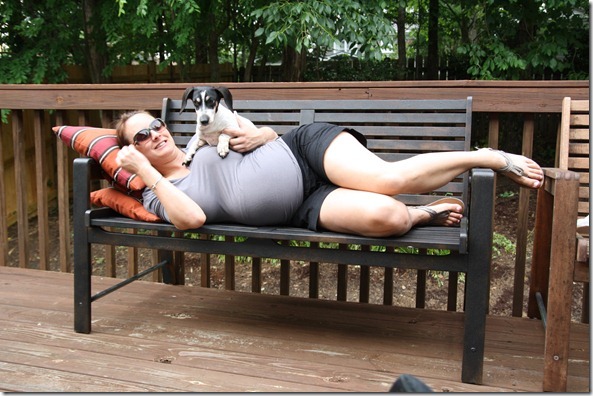 So pregnant. So uncomfortable.
But a week after we closed, our HVAC system went kaput. $5,000 later, we were out of backyard renovation money and decided to try to fix it up ourselves instead of hiring a professional (yes, I was 8 months pregnant at the time – I think I was temporarily insane).
Here's what we started with…
The deck, at closing: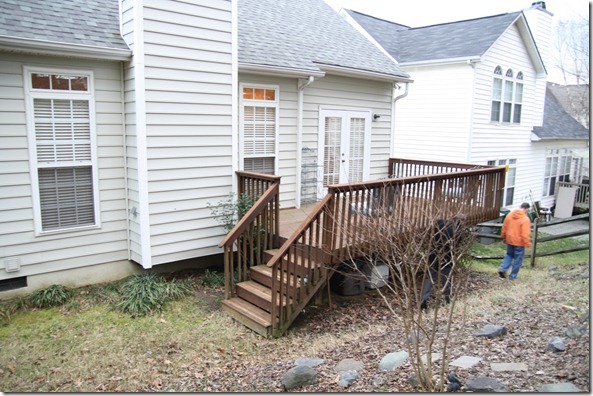 Back left corner, at closing: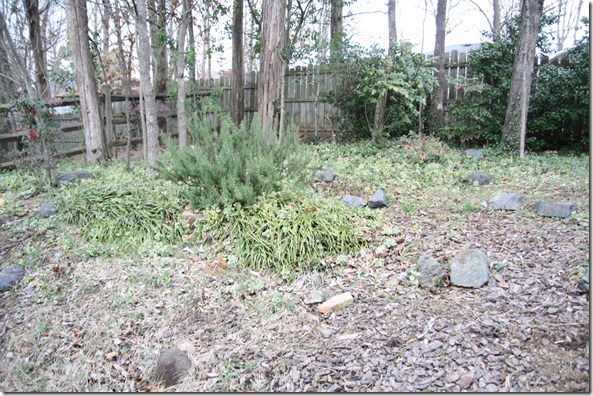 Back right corner, at closing: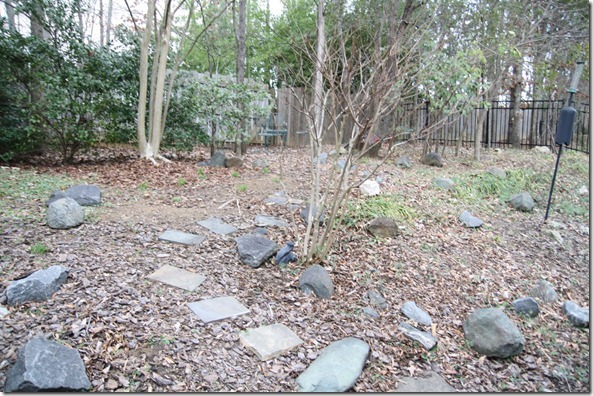 The first problem was that the fencing situation provided zero privacy (and little security for our dogs – James is named James Bond for a reason).  Furthermore, the elevation of the deck meant that we could see right into our neighbor's yard. There were over 100 rocks randomly scattered about and over 40 useless brushes and trees.  There was no grass, but a few months later, we discovered there was a lot of groundcover lurking under those leaves.  Once there was a little groundcover, James liked the yard a bit more.

The backyard was, quite frankly, a mess, and we never ventured off the crickety old deck to hang out in the yard. 
We hired someone to put up a privacy fence, which helped a bit with, well, privacy.  But to finish the rest of the yard… we were out of funds.  So we tried to DIY it.  Our first attempt at doing the yard ourselves involved moving all the rocks, raking up all the loose debris, pulling up all the plants, cutting down about eight trees, and putting down seed.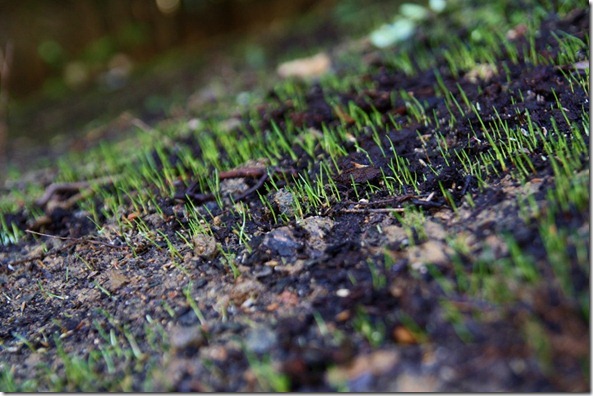 Seriously… temporarily insane.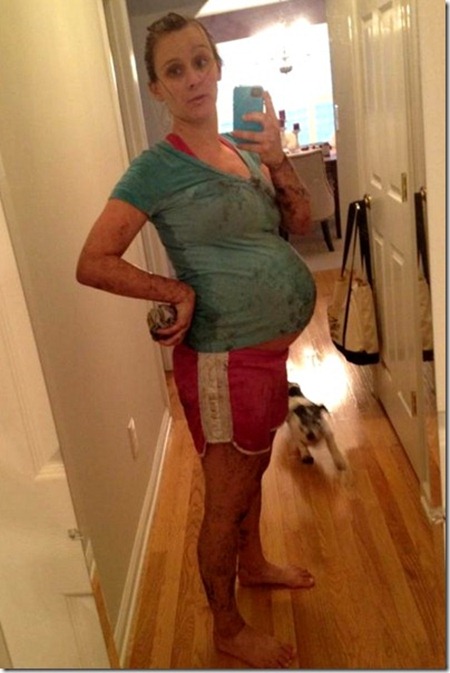 The grass sprouted, and we had a glimpse of what our yard COULD look like… And then, two weeks later, we were hit by a 100+ degree hot spell, and everything died.
Fast forward eight months or so… We decided to call in the professionals.  After attempting to fix the yard ourselves (for less than $250!) and staring at a wasteland for over a year, we knew we needed professional help.  Our bullet list of "help me, please!" items were:
Redo the top of the deck and extend it to make it more usable and functional.

Tear up groundcover and lay down sod (not seeds!).

Remove about 25 – 30 trees and shrubs.

Create privacy.
By the time our landscaper arrived, the backyard looked liked this:
The deck, one year after purchase: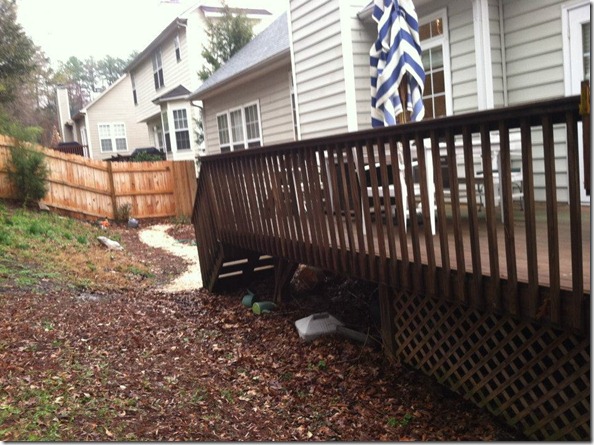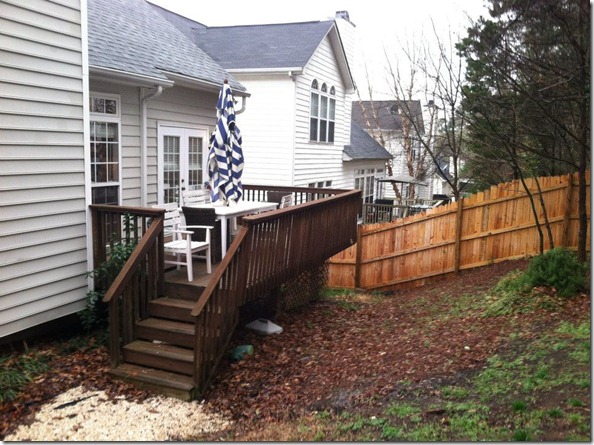 View of the 'yard,' one year after purchase: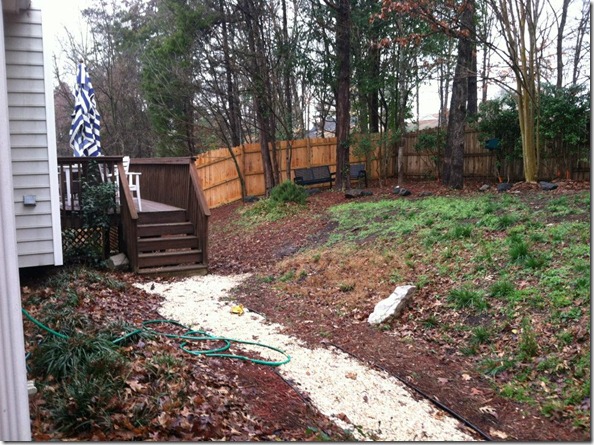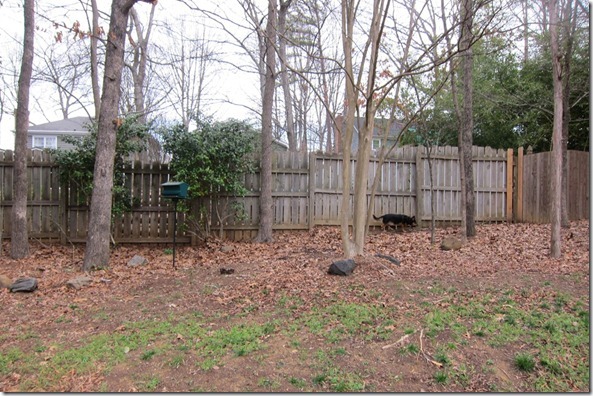 I cannot sing the praises of our landscape designer enough (I was not compensated for this mention; I really loved him and want to tell EVERYONE about him).  His name is Joe, and his company is called Artistic Hardscapes.  He was friendly, professional, and able to work within our (tight) budget.  He listened to our concerns and come up with creative solutions that we never thought of. 
Here are the fun 'after' pictures!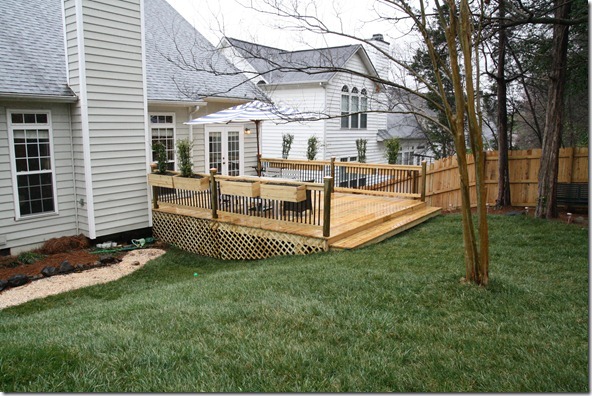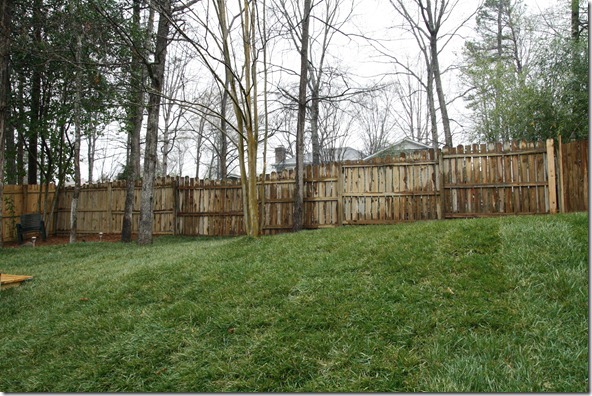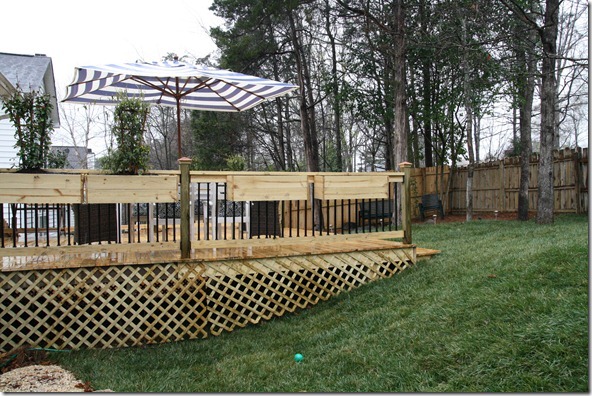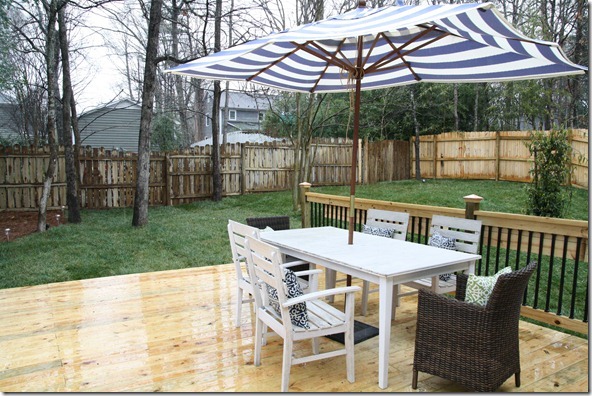 Our new deck is AMAZING.  So beautiful and functional.  We can walk right off the back into the yard.  It's much more child- and dog-friendly.  To save money, we kept the deck's foundation (which was sound), extended the foundation over the slope, and replaced all the top boards and railings. The deck will be stained in about a month.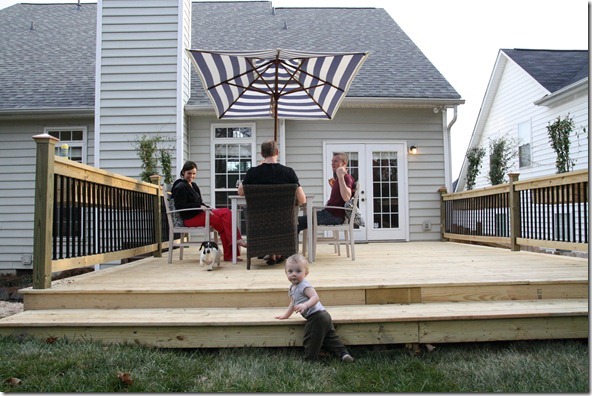 Whenever people come over, we spend lots of time outside now!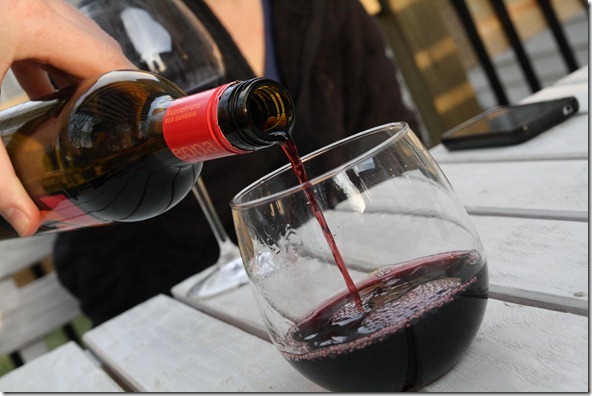 I was sent this bottle of Eppa, an organic red sangria, to try out.  Oh my goodness – so delicious.  I have never had premade sangria that was this good.  If you see it in stores – GRAB IT!  The perfect summer drink.  The bottle went fast last week.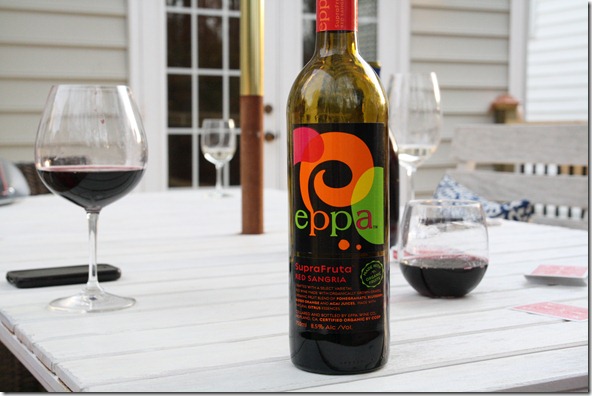 As for privacy, Joe created four huge planters that hang along the railings and contain creeping vines.  As they grow, they will come together and create a lush privacy screen that will be green year-round.  Cool, huh? So much nicer than lattice work.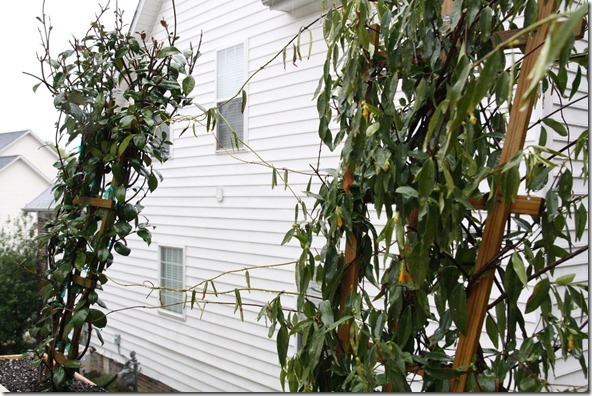 He left two of the planters on the end of the deck empty – I'm going to plant herbs.  One of these days…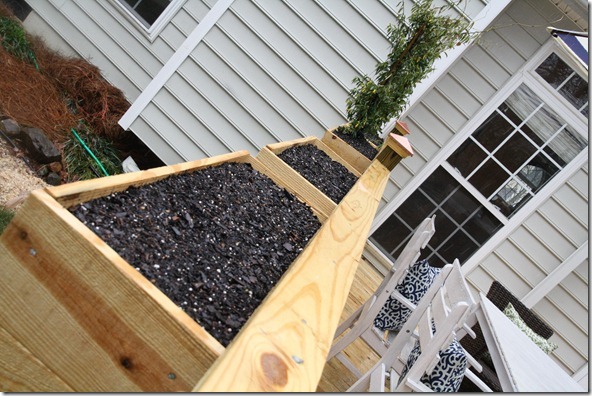 All in all – we are so pleased with our backyard.  We love it, the dogs love it, and Henry adores having grass to play in.  Artistic Hardscapes did a great job; if you live in Charlotte and need a backyard reno, please consider them!
Cheers to lots and lots of outdoor time this spring and summer!