It's still so snowy out!  It's rare for it to snow in Charlotte but even more unusual for the snow to stick to the ground.  It's so lovely out.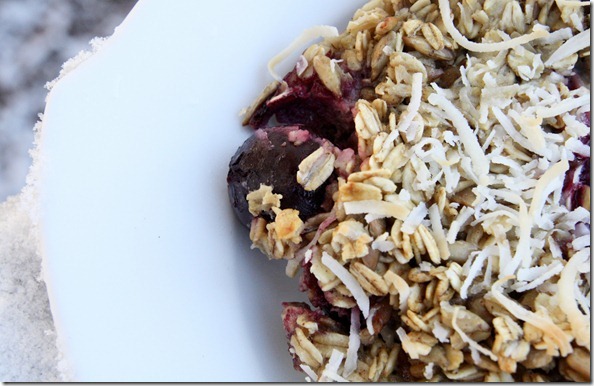 I stayed up way past my bedtime last night to watch the new James Bond movie Skyfall.  SO good.  The movie had me on the edge of my seat the entire time, and I sure am glad that I already knew the 'twist' – I would've been gnawing away my fingernails!  Anyone else out there like to spoil movies and TV shows for themselves?  I spoiled the entire first season of The Walking Dead via Wikipedia when I started to watch the show; otherwise, I would've had a heart attack.
Anyway, I think the reason why James Bond is oh-so-popular is because we all want to imagine we've got a little Bond deep inside of us (TWSS).  I know that I pretended to be a super secret agent when I crept outside to let the dogs out at midnight.  Bond. Caitlin Bond. 
I won't keep this delicious recipe top secret!
Baked Cherry Oatmeal (based on Kath's recipe)
Ingredients (for two servings):
2 cups oatmeal

1 teaspoon baking powder

Dash of salt

Dash of cinnamon

1 teaspoon vanilla extract

1 egg

1 cup milk or milk alternative

1 sliced banana

1/4 cup sunflower seeds

6 frozen cherries

1/4 cup coconut

2 tablespoons maple syrup or brown rice syrup
Directions:
Spray a 8-inch pan with cooking spray.  Preheat oven to 375.

Combine all ingredients except for coconut and maple syrup.  Pour mix into pan.

Top with coconut.

Bake for 20 minutes.

Remove and drizzle syrup on top.

Slice into two portions and serve.
My favorite part is the juxtaposition of the sweet (coconut, syrup), the tart (cherries), and the salty (sunflower seeds).  Yum.
In case you ever wonder, here's how I find time to blog with a 8-month old baby.  I trap him in a seat and hand him a bunch of roasted broccoli.  That kid loves broccoli. He can put away an adult-sized portion.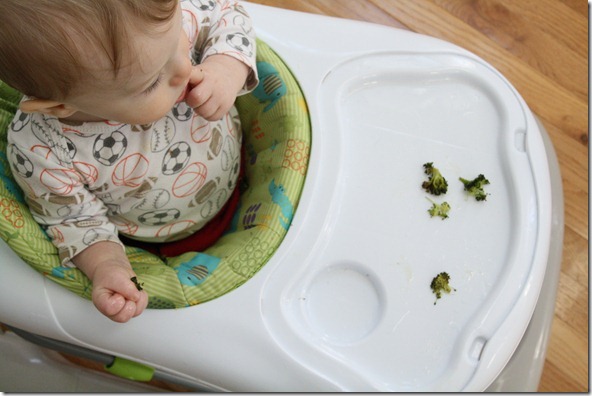 Broccoli for Breakfast!