I am so excited to write a book review of the new young adult novel, Terra, which was penned by fellow blogger (and e-friend) Gretchen Powell.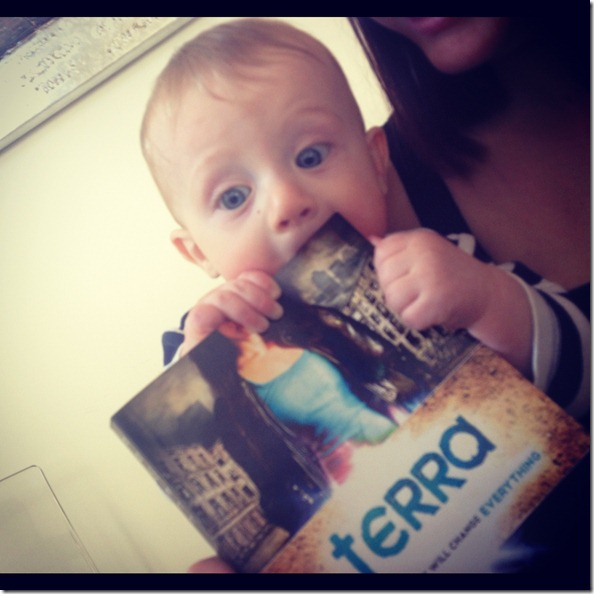 Henry gives Terra two drooly thumbs up.
I am a huge fan of YA dystopian novels (The Hunger Games is just the tip of the iceberg…. I also love these dystopian novels).  Terra is part dystopian/part science fiction and all awesomeness.
Terra opens at some point in the distant future.  The world is no longer you like and I know it.  Wealthy, privileged people live in 'skycities' that hover over a ravaged, destroyed Earth.  The unlucky and poor live in settlements on the ground, barely protected from strong UV rays and acid rain.  Many of the ground-dwellers make a living by scavenging for materials that fall from the skycities, which they turn in to be recycled. 
Terra is the book's compelling female lead.  She scavenges for materials to support her little brother, Mica; their parents and grandmother are gone, leaving the teens to fend for themselves.  I really like Terra's character.  She is relatable and realistic.  She is strong and smart, but has weakness, too.  Terra begins with the title character discovering something… special… during a scavenging trip.  When she turns the item in, she gets the largest payout in her city's history, enough to 'retire' on.  In exchange for her reward, the government instructs her to stop asking questions and essentially forget what she found.  Curiosity gets the best of her, and Terra ends up on a wild journey that leads her to the book's main lead, Adam.
Adam tells Terra that he's a researcher from the skycities; the two could not be more different.  And yet – opposites attract.  In the midst of developing feelings for own another, Terra, Adam, and Mica must grapple with the realization that they have stumbled upon something much bigger than themselves.  As the book's tagline says, Terra's discovery will change everything.
I tore through this book.  It is incredibly well-written.  The descriptions are great but not overbearing; the dialogue is realistic and engaging.  I had an inkling what the 'twist' would be, but it was still super exciting to find out all the details, and I certainly didn't see what was coming after the twist (the twist's twist?!).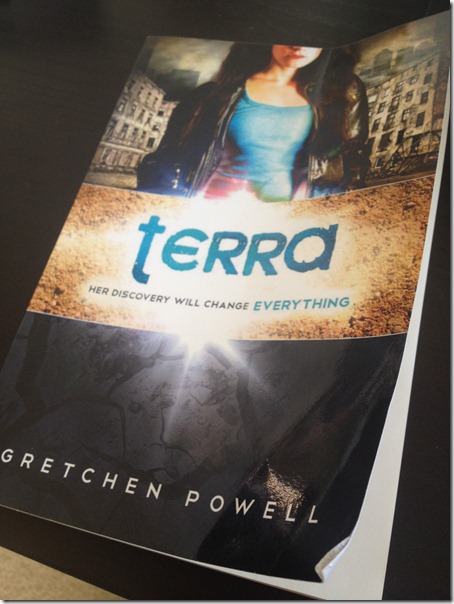 The last page promises a Terra Part II, and I know that I'll be first in line to purchase it.
You can read Chapters 1 and 2 of Terra for FREE here. Terra is available on Kindle, Nook, Kobo, and in paperback.  Congrats to my bloggy friend Gretchen for such an awesome and engaging book!
Have you heard the Terra buzz?  When this book becomes a movie, you can say you read about the phenomenon in its infancy!  Seriously – it's that good!