Wahoo!  New workout clothes.  Old Navy is having a killer sale on their workout line, Active by Old Navy.  Up to 40% off through January 16!  Also, if you use the code 24Hours, you can get 30% off everything (but just for today… I went on a baby onesie buying spree this morning.  Whoops…). 
The folks at Old Navy challenged me to go through my workout clothes drawer, toss the old stuff, and add in some Active by Old Navy gear.  Hah!  They didn't know the can of worms they were asking me to open.  And by can of worms, I mean smells-like-a-sweaty-locker-room drawers.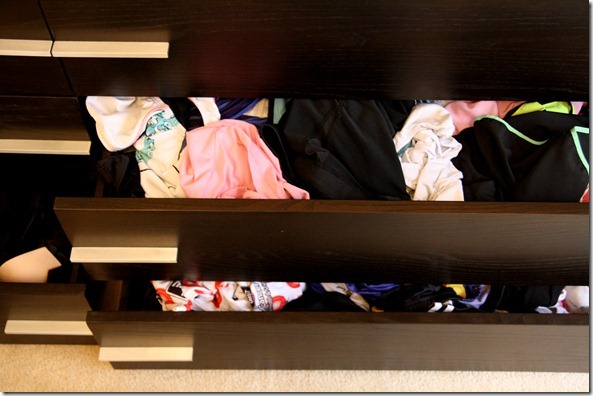 Do your workout clothes trigger lovely memories?  Mine do!  See those pink shorts?  They are actually Emily's – she gave them to me about two years ago because she didn't like the cut.  I love them.  Every time I wear them, I think of her.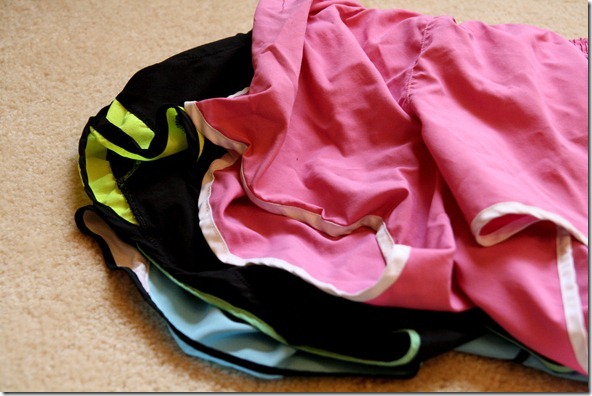 And the race shirts.  So many race shirts.  I went through my drawer a year or so ago and tossed nearly all the cotton tees, but all but a few of the tech tees made the first cut.  I'm glad I saved them.  My first half marathon tee, my Disney Marathon tee… I can't throw those away!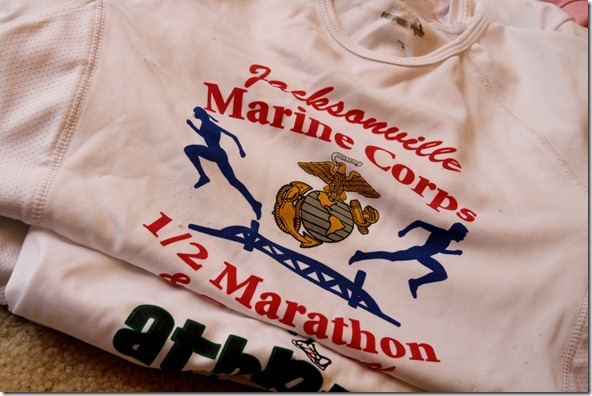 Here's one thing that I can DEFINITELY toss.  My *original* sports bra.  AKA the one that I wore all the freaking time when I was first getting healthy.  Man, I wonder how many miles this bra has seen?  It's so old that the elastic makes a crinkling sound when I stretch it.  Obviously going in the toss pile.  I'm a little sad about it, though.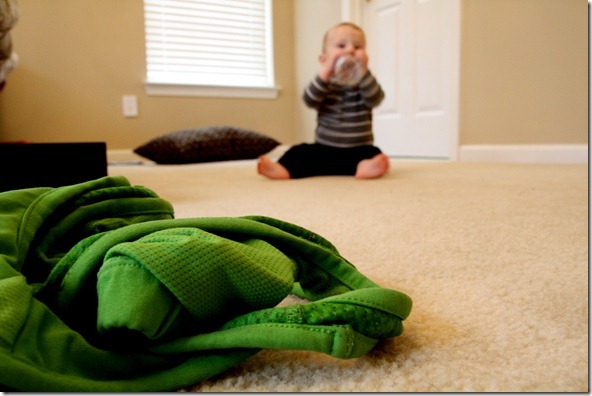 And I'm not even going to tackle my mis-matched sock bag.  One thing at a time, Caitlin.  One thing at a time.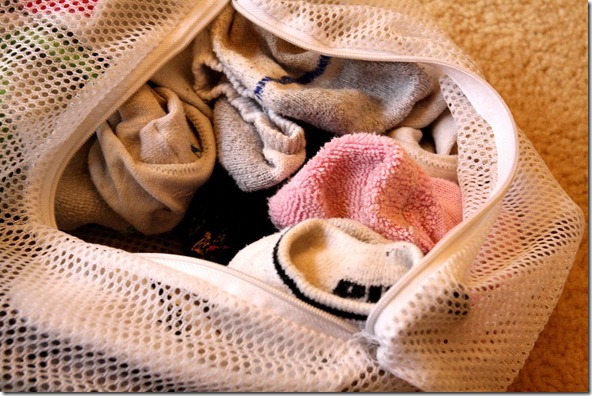 In the end, I parted with a few shorts that are too small, two cycling tops that never fit me correctly (they were hand-me-downs), capris that I ran my first 10-odd races in, a top that smells like I just sweated it in regardless of how often I wash it (gross), and a few non-sentimental race shirts.  In the trash or in the donation bag, they go!
In the with NEW!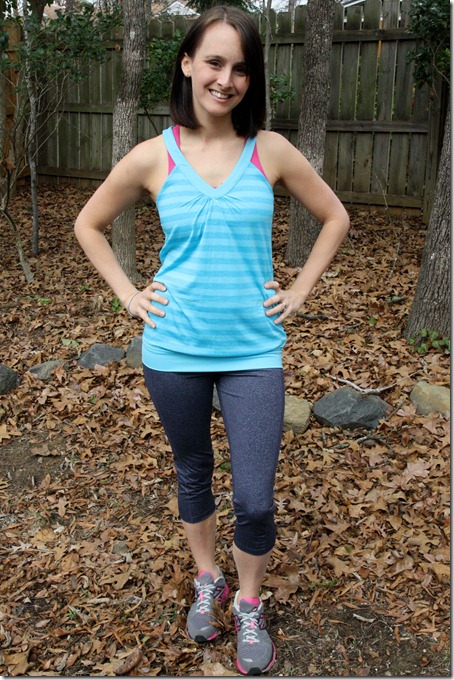 I'm wearing the Striped Bubble Active Tank in Madagascar (I'm wearing the XS; on sale for $12!) and the Compression Capris in Carbon (I'm wearing the M; on sale for $20).  
I don't usually buy tops like this, but I've been wearing cotton tees to yoga and figured it would be nice to have something cuter.  The material is sweat-wicking and the cut is super fun.  I'm wearing an old hot pink sports bra under it, but I tried on the matching Compression Bra at the store (in M; on sale for $10) and was so tempted to buy it. You guys know how uber-picky I am about sports bras, and although the Compression Bra was in no way supportive enough for me for running, it was really comfy and would've been perfect for walking or yoga.  At $10, I should've gotten it!  Gah.  I hate that. (Here are sports bras I love.)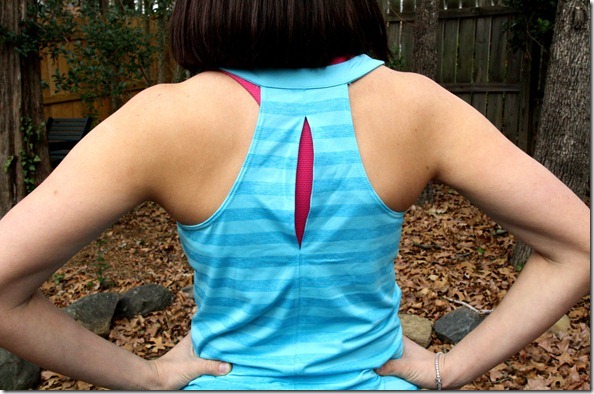 I am a HUGE fan of the Capris.  As I said, I just tossed a pair of capris so it's nice to have a replacement.  They have a wide top band, are made of an excellent sweat-wicking fabric, and come up far enough (just say no to crack, kids).  And there's a secret key pocket. I went on a walk in these and was impressed with how they don't move around – no hitching up or adjusting necessary.  The Capris also come as Leggings (on sale for $22).  I was tempted to snag the Legging as well because, seriously, when are running compression leggings only $22?  But I have a decent pair of running legging and figured that in balmy Charlotte, I don't really need two.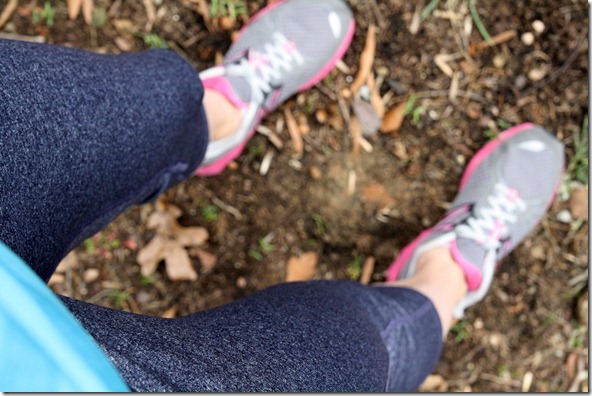 It's nice to have some new gear.  Makes me want to go exercise!  And speaking of exercise, I'm feeling mighty good from yesterday's 12.0 miler.  I love it when my last long run before a race goes really, really well.  It gives me such a confident booster!
This post is sponsored by Old Navy. Check out Old Navy's Active wear in stores or at oldnavy.com #GetYourActiveON.
Do you have a messy workout drawer, too?  Do you get sentimental about your workout gear?  Seriously, I may have never parted with that green sports bra if it hadn't made the crackling noise when I stretched it.