This dish was part of our Christmas dinner.  I was going to make plain old quinoa, but with some pretty basic veggies sides, I figured that I should spice – or should I say, sweeten – it up.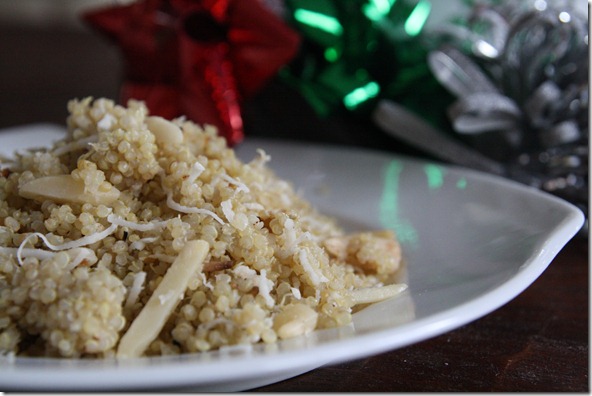 The best part about this quinoa dish is that it's not overwhelming in favor – there's just a hint of coconutty sweetness.  It's super easy to make.  Let's be real – I spent approximately two minutes planning the Christmas menu and allotted an hour to cook for six people… simple was the meal's middle name (that's Mr. Christmas Simple Dinner to you).  But everyone really enjoyed it!  The best dishes are often the easiest, I think.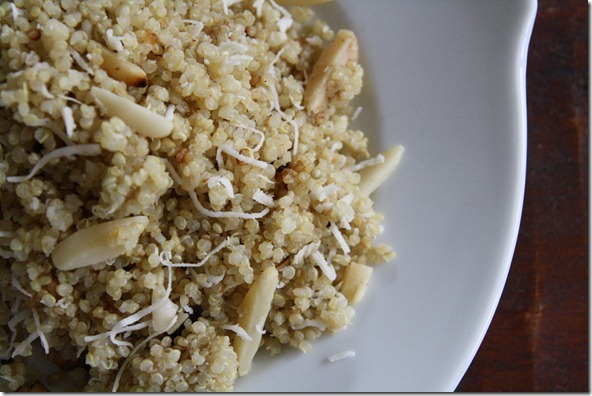 Coconut Quinoa
Ingredients (for four servings):
1 cup dry quinoa

1/3 cup sweetened coconut

2 tablespoons brown rice syrup (you could use maple syrup; I would reduce to 1 tablespoon)

1 teaspoon cinnamon

2 tablespoons Earth Balance (or butter or coconut oil)

1/4 cup almond slices

Salt to taste
Directions:
Prepare quinoa according to package directions.

In warm pot, add coconut, brown rice syrup, cinnamon, almonds, butter, and salt to taste to warm quinoa.

Serve immediately.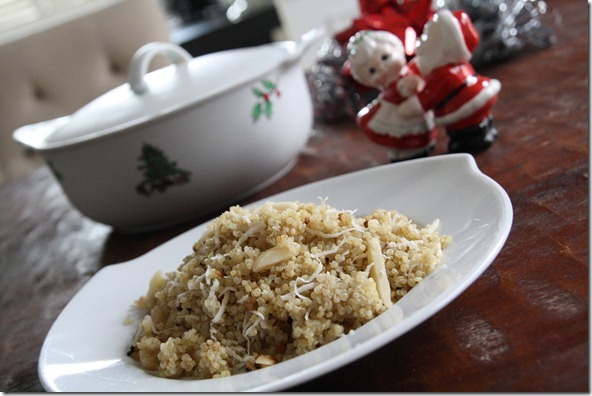 Best part… there are leftovers!