It's a quiet night in my house.  Everyone is cuddled up and asleep.  It's only 8:00 PM, guys!
The animals are tucked in; Henry is tucked in.  All that's left are the grown-ups.  I'm all played out and ready for bed already…
But first… I have a great recipe for you!
Breaded Baked Tofu.  I would say that the recipe reminds me of chicken fingers, but it's been a while since this veg has eaten chicken fingers.  My memory of what a chicken finger tastes like is probably warped, much like how you forget how dang delicious 'real' coke is when you've been drinking the diet version for too long.  So let's just say this tastes like a chicken finger if you haven't had a chicken finger in about four years.  
That's my round-about way of saying this is really, really good.  I bet kiddos would like it.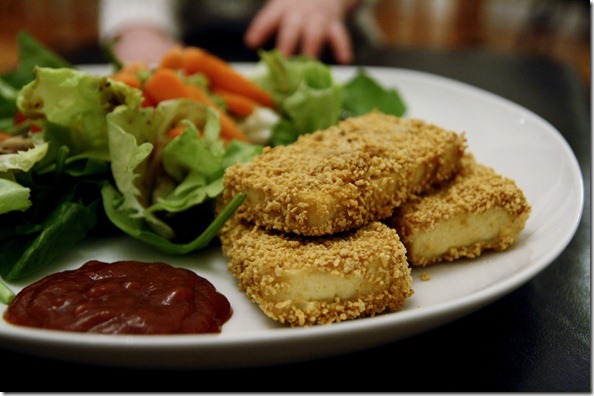 In lieu of breadcrumbs or panko crumbs, this recipe uses Rice Chex, making it gluten-free.  Depending on the firmness of your extra firm tofu, you may want to press and drain it first.  I find that Trader Joe's EF tofu does not require draining but Nasoya's does.  I use this method to press tofu.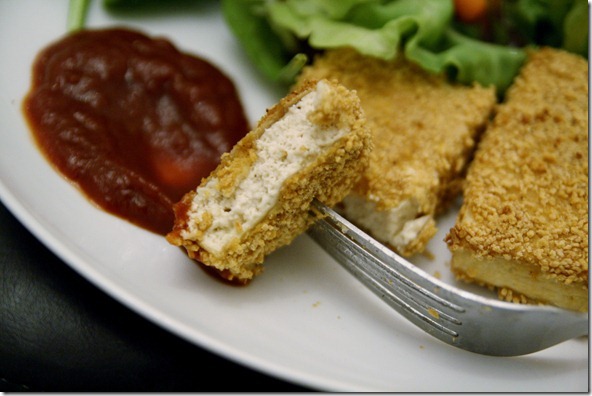 Breaded Baked Tofu
Ingredients (for two servings):
1 block of extra firm tofu

3 cups Rice Chex

1/2 tablespoon garlic salt

1/4 teaspoon chili powder

1/2 cup cornstarch

2 eggs

Ketchup or mustard for dipping
Directions:
Drain tofu, if necessary.  Slice into 1/4-inch thick pieces. 

Preheat oven to 400 degrees and grease a cookie sheet with non-stick spray.

In a food processor, blend cereal, garlic salt, and chili powder together.

Use three shallow bowls to create a dipping station:  place cornstarch in one bowl, beaten eggs in another, and cereal mix in the third.  Put the cookie sheet close by.

Dip each piece of tofu first in the cornstarch, then the beaten eggs, and then the cereal.  Be sure to coat the tofu thoroughly with the cereal.  Place on cookie sheet.  Repeat.

Bake for 28 minutes, flipping once when there are five minutes left.

Serve with dipping sauce.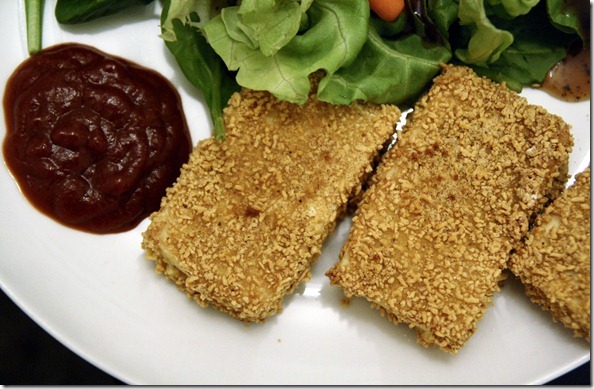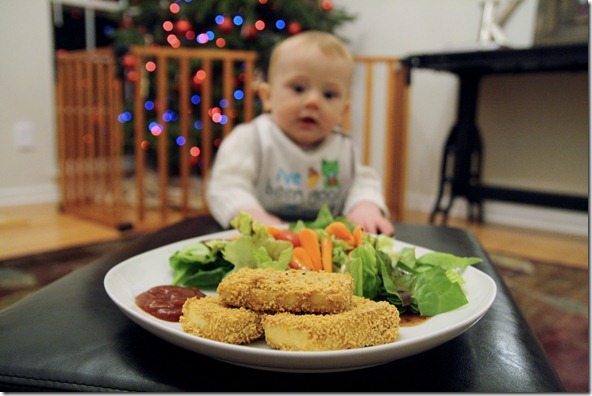 Everyone wanted a piece. 

Side note: Thank you SO MUCH for your support of the Operation Beautiful One Note at a Time book. Thank you, thank you, thank you to everyone who purchased a copy thus far.  It means the WORLD to me, and I appreciate it ever so much.
Do you always press your tofu?