It's pomegranate season!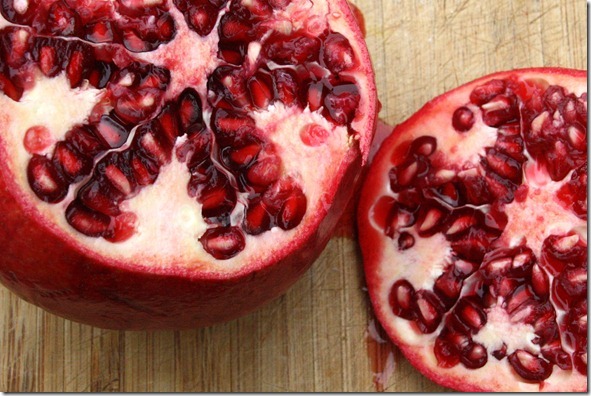 Pomegranates are one of my favorite fruits, but they sure are a pain to cut and prepare.  Almost as bad as cantaloupes!  The biggest issue with the lovely pom is the mess created by remove the arils.  But out of all the pomegranate cutting techniques that I've tried, this is definitely the best.  In fact, I was so confident that I wouldn't get sprayed, I even wore a white shirt when photographing this tutorial!
Step 1:  Gather your supplies – the pomegranate, a sharp knife, and a bowl filled with enough water that you can fully submerge the fruit.  Baby monitor not required.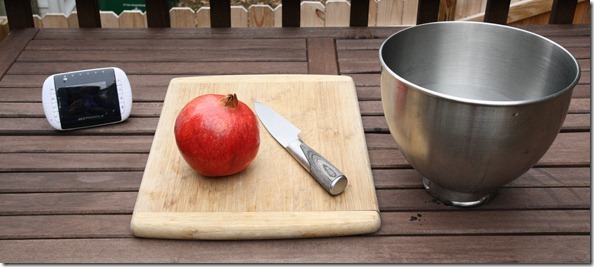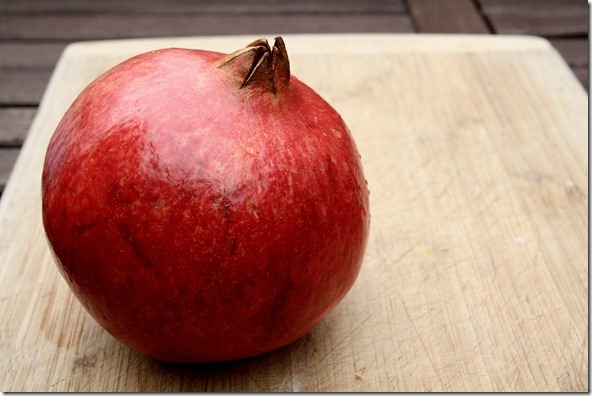 Step 2:  Remove the crown.  Then make slices along the white webbing.  You don't have the cut all the way through – just through the thick skin.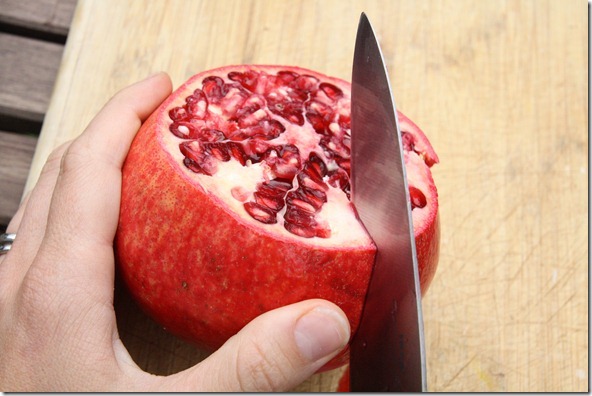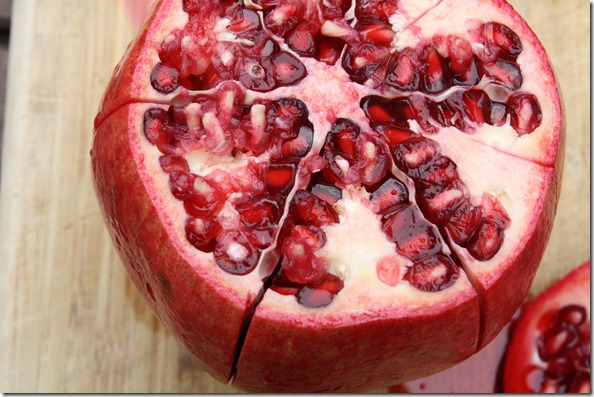 Step 3:  Place the fruit in water.  This will keep the juice from spraying everywhere as you remove the arils.  Break the sections apart.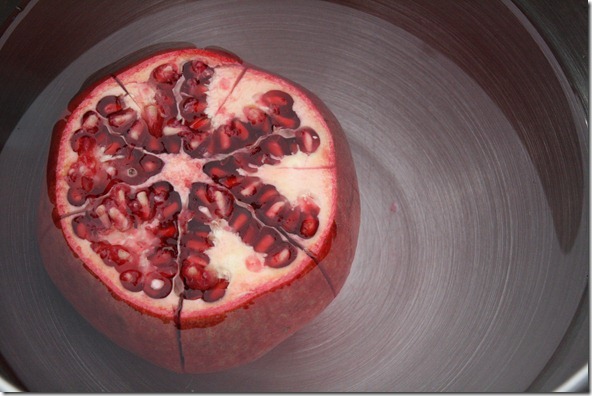 Step 4:  Use your fingers to gently loosen the arils.  The white stuff will float to the top and the arils wills ink to the bottom.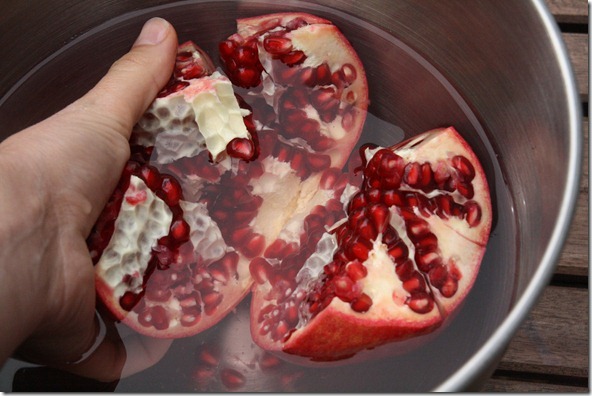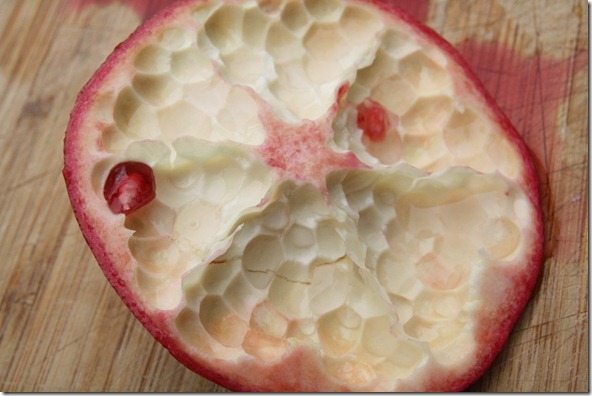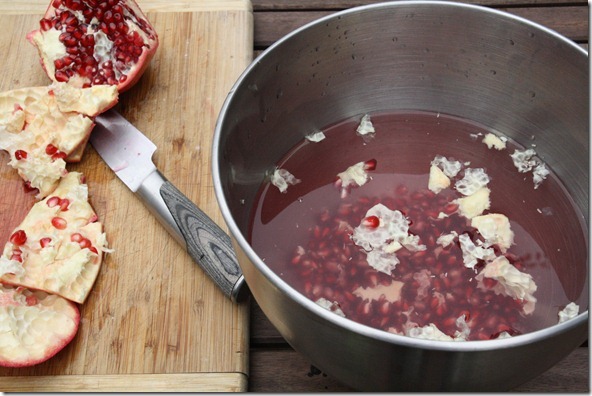 Step 5:  Skim away the white gunk and dump the water and arils into a colander.  Store in an airtight container in the fridge.
Step 6:  Try not to eat all the arils at once!  So far, I am failing at this.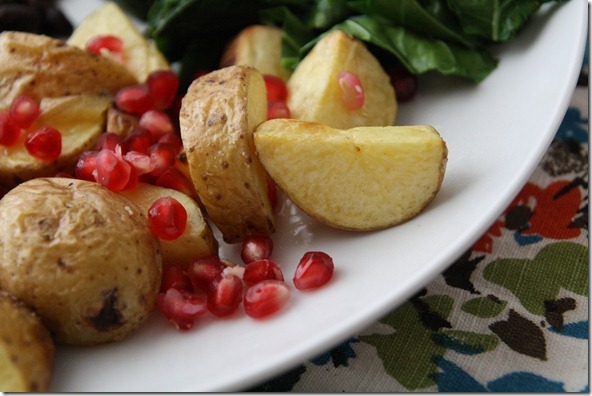 Arils vreally taste great on almost anything – even potatoes – but I especially like to put them in oatmeal or with yogurt and granola.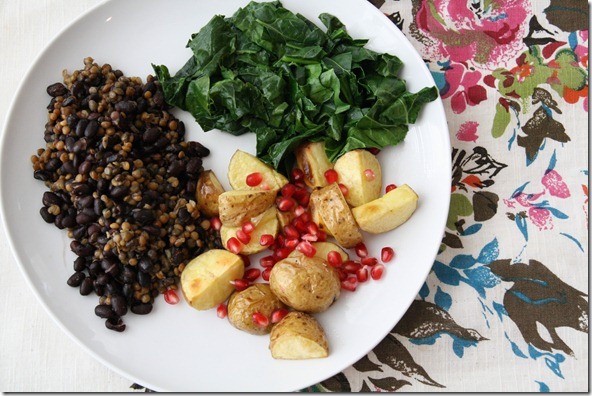 What's your most-hated fruit or vegetable to cut and prepare?  Poms are so complicated and time-consuming, but seasonally special and thus worth it.  As mentioned, I think cantaloupes are a pain but I also really dread butternut squash – so hard to slice!