If you weren't aware, there is an election coming up.  Juuust kidding.  How could you possibly miss it amidst the television ads, Facebook rants, and debate watch parties?  On that note, I thought it would be fun to share a guest post from DadHTP, who volunteers with the Democratic Party as a poll watcher.  He's been doing this for every presidential election (and then some) for more than 30 years.  In fact, remember the scandalous 'hanging chad' incident of 2000?  Yup.  My dad was one of the Florida volunteers who assisted during the recounting process.  Regardless of which party they are affiliated with (if any at all), poll watchers like DadHTP are very important because they help ensure the election process stays as fair as possible.
Take it away, DadHTP…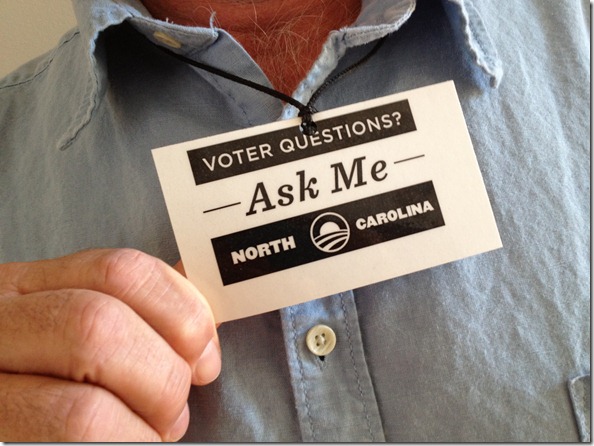 Our elections – the core of democracies – runs primarily on volunteers. True, there are elected officials at county, state, and federal levels to manage elections, but they are there to administer the laws and organize the volunteers.  In turn, volunteer citizens do much of the ground work of keeping polling places available and open.  Volunteers also serve as 'watchdogs' for the parties, providing a means for the political parties to look over the shoulder of the election process and make sure laws are followed.    So, before I get into the details, a shout out for all volunteer poll workers, judges and observers – they make the elections work.
Laws differ from state to state, but this is how things go in North Carolina. We have two classes of poll watchers – inside and outside watchers.  I volunteer with the Democratic party, and all Democratic party observers are required to attend a three hour training session.  The function of poll watchers is to ensure that everyone who is eligible to vote gets to vote; the observer just keeps an eye out for problems.
To be an inside poll watcher, your party has to submit your name for approval to the Board of Elections. This is really pro-forma; if you're registered to vote, you'll be approved.  This process ensures that there is accountability and prevents parties from putting a ton of 'observers' inside a polling place, which can create unfair pressure on voters.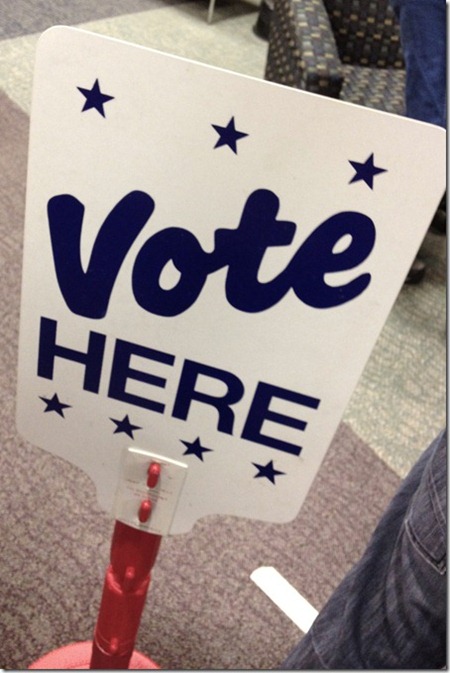 North Carolina has two volunteer Election Judges in each polling place; if there is a question about a voter's eligibility, the judge is the person that determines whether the person can vote. The insider poll observer's job is to make sure the law is followed.  Although the Election Judges receive training, sometimes a law is applied or interpreted incorrectly (as a poll observer, I've seen many times it), not from any sense of malice but because it can require a quick decision on the law by someone that's not a lawyer. 
As an inside observer, you are not allowed to talk directly to the voter – if you see a discussion between a judge and a voter, you stand next to them and listen. If you think there's a clear error, you can ask the judge why the voter isn't allowed to vote, but this gets tricky. Some judges are glad to hear you out if they've misunderstood a fact or made a error; others will have you immediately ejected. Normally, if you are polite and phrase your question in a non-confrontational manner, you'll be fine. This is one reason that it's good for poll watchers to arrive early and introduce yourself to Election Judges. 
In North Carolina, outside observers must stay 50 feet away from the polling place (you will probably see a chalk line drawn in the parking lot; poll observers and people promoting certain candidates must stay behind this line).  Outside poll watchers play a different roll that the insider observers, but their job is equally important.  Their job is to answer questions from voters and document any efforts to discourage people from voting (for instance, telling the people in line that it's illegal to vote if you've been convicted of a felony, which isn't true in North Carolina).  Outsider poll observers can also ask people exiting the polling place if everything went smoothly.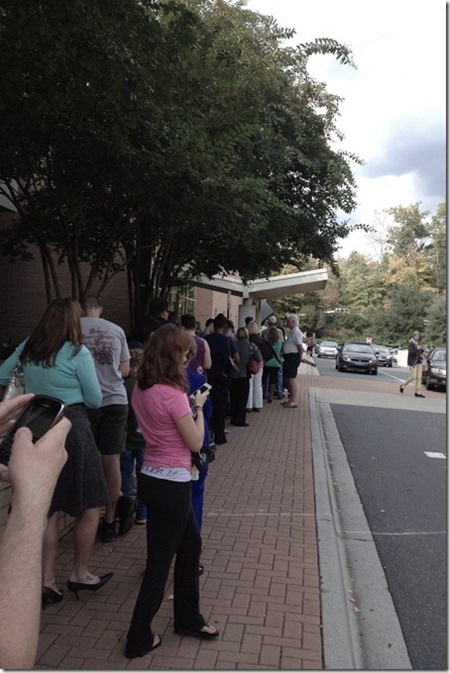 The final obligation for all poll watchers is to call your party's lawyers if there's a problem.  I had to do this yesterday, and it was resolved quickly. Our lawyer called the Supervisor of the Board of Elections, the BoE called the voting place and explained the law to the Election Judge.  It took five minutes, and everything was good.
Unfortunately, throughout our nation's history, there have been efforts from a few people on both sides of the aisle to prevent people who are eligible to vote from voting.  Although we'd like to believe this issue is a thing of the past, it still happens fairly regularly – for example, there is a major effort by some people in the Tea Party Organization to discourage voting by certain groups (check out this New York Times article).  Everyone is welcomed to participate in the process by becoming a poll watcher, but it's never a watcher's job to stop ineligible people from voting – that's the duty of the Election Judges.  The reality is that voter fraud is exceptionally rare:
A new nationwide analysis of more than 2,000 cases of alleged election fraud over the past dozen years shows that in-person voter impersonation on Election Day, which has prompted 37 state legislatures to enact or consider tougher voter ID laws, was virtually nonexistent.

The analysis of 2,068 reported fraud cases by News21, a Carnegie-Knight investigative reporting project, found 10 cases of alleged in-person voter impersonation since 2000. With 146 million registered voters in the United States, those represent about one for every 15 million prospective voters.
Thus, the big concern for poll watchers like myself is that people who are eligible to vote get to vote, and people who want to stop people from voting are prevented from doing so.  It's a very important part of our democratic process, and every election cycle, I am proud to participate. 
One final word:  If you're in North Carolina and would like to volunteer with the Democratic Party as a poll watcher, you can contact Elizabeth Goodwin at goodwin@ofanc.com.  If you're a Democrat in another state or with the Republican Party, reach out to your local party's branch for more information on poll watching.