I can't even believe it, but December is right around the corner, and that means that my third book, Operation Beautiful:  One Note at a Time, will be released very soon.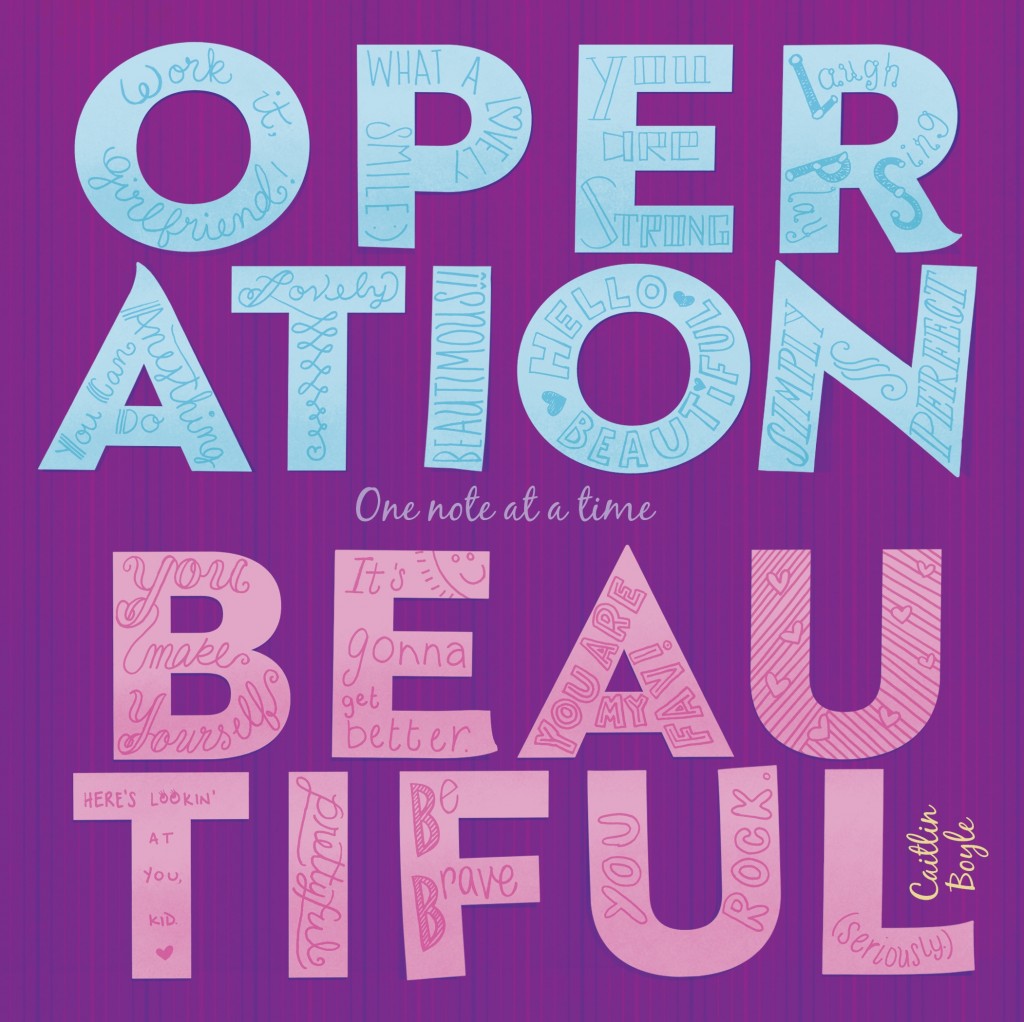 Wondering about the snazzy new cover and title?  Check out this post for more info: "Getting a Book to Print"
If you don't know about my other site, Operation Beautiful, the concept is simple:  People write positive messages on Post-Its and leave them in public places for others to find.  I started the site back in June 2009 and have since received about 12,000 notes from all over the world, in many different languages written by both women and men of all ages.  Over the last three years, the site has trended younger and younger as moms and aunts and teachers told their daughters, nieces, and students about the concept.  Now, about half of the notes that I receive are written by girls in middle and high school, which I think is absolutely wonderful.
In fact, the site has become so popular with younger girls that I regularly receive photos like this – girls love to 'bomb' their school bathrooms with dozens or even hundreds of positive messages for others to find.  In a world filled with cliques and bullying, this is pretty freaking awesome.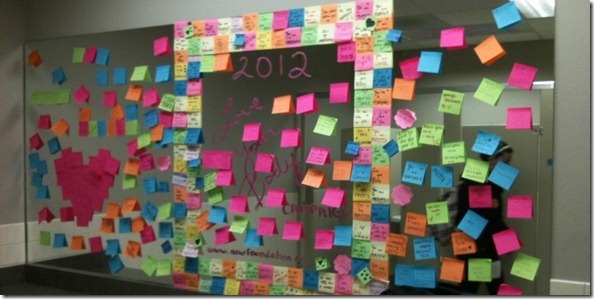 Operation Beautiful:  One Note at a Time is aimed at tweens and young teens (specifically, 8 to 14 year olds) and covers topics such as…
The True Meaning of 'Beautiful'
Identifying Toxic Beauty Concepts in Popular Media
Turning Negative Thoughts Around
Stopping Bullying
Discovering the Confidence to Be Yourself
Finding Your Passion
Dealing with Body Changes
Focusing on a Healthy Body
Like the first Operation Beautiful book (which is for adults), this book's backbone are chapters that I wrote, and the main points of each chapter are reinforced by photos of Operation Beautiful notes, which are mixed into the text scrapbook-style.  Each note was written by a young girl or written by an adult reflecting on her childhood experiences, so there's a really cool mix of "I'm living this right now and understand what you're going through" and "I lived this and have perspective on it to share with you."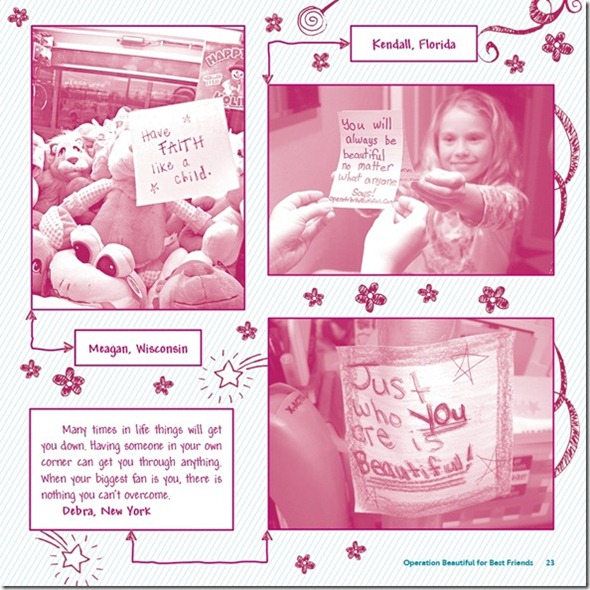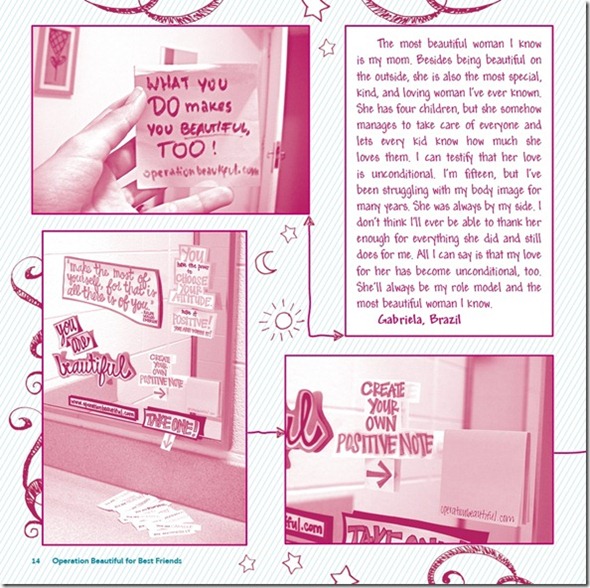 Of all of my books, I think I am most proud and excited for this book because I KNOW it will help so many young girls.  I wrote the book with my 13 year old self in mind.  My teenager years were somewhat tumultuous – I struggled with depression and self-harming, which is unfortunately way more common than most of us realize – and I hope my words resonate with tweens and teens.
The book's dedication says it far better than I can express it in a single blog post:

And, if you're a Girls on the Run supporter, you'll be happy to hear that Molly Barker, the founder of GOTR, wrote the book's forward.  So the book will be a great end-of-season gift for GOTR teams (and it's available to purchase in bulk, if any councils are interested).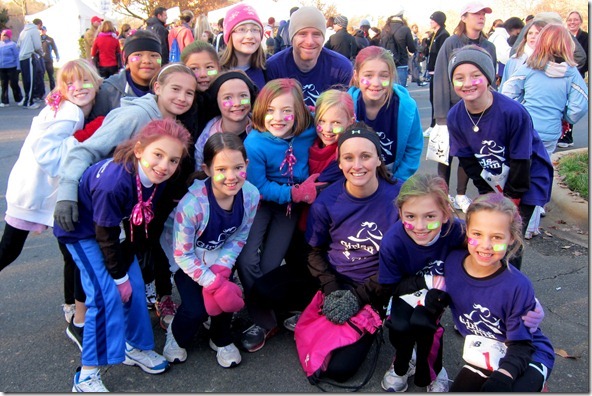 If you'd like to pre-order a copy of Operation Beautiful:  One Note at a Time, you can do so on Amazon, Barnes and Noble, and Indie Bound.  The book is available on December 27.
**BOOK CLUB OPPORTUNITY** If you mentor a group of young girls and would like to use the book to promote discussion about positive body image and self-esteem, order at least 10 copies of the book, and I'll Skype myself over to you to host a 'book club' discussion with your girls.  Just e-mail me the receipt (operationbeautiful@gmail.com), and we can set up a call.  This would be a fun activity for GOTR, Girl Scouts, church groups, and more!
As always, I really, really appreciate your support, not only of Operation Beautiful, but also of my book-writing career (you can read about all my books here).  I recognize that none of this would be possible without my incredible HTP readers; so thank you very much.