And we're in the homestretch!  Part I and Part II leads us to…
2:30 PM – Another pump session.  Henry eats a bottle and gets a diaper change.  Sensing a theme here?!
3:05 PM – I attend a conference call and simultaneously make funny faces at Henry, who is practicing crawling again.  We play-play-play until 3:48.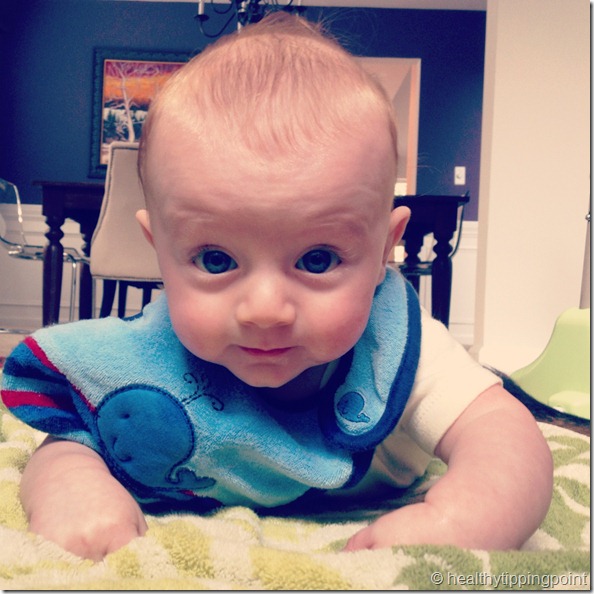 3:52 PM – I pump… again… and wash bottles and pump pieces.  I hang them up to dry on my Skip Hop drying rack, which I love.  While I am pumping, I discover that Henry really, really likes it when I roll my 'R' sounds, so I spend the entire time saying, "Henry and I are going to have a rrrrromantic evening and do the rrrrrumba and wear rrrrred!" over and over again. 
4:14 PM – Henry gets sleepy and goes to bed.  Time for chore overdrive again.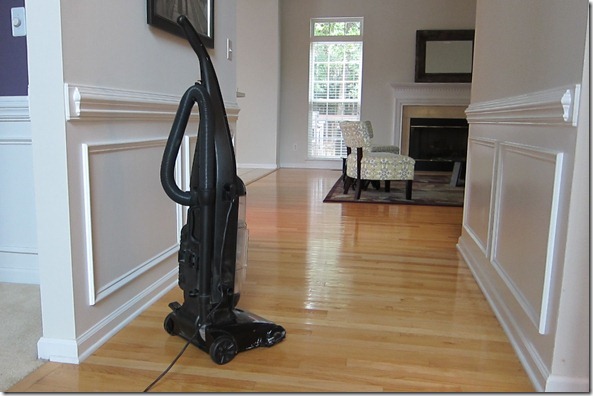 While he's napping, I make myself a banana, strawberry, and peanut butter smoothie and do laundry.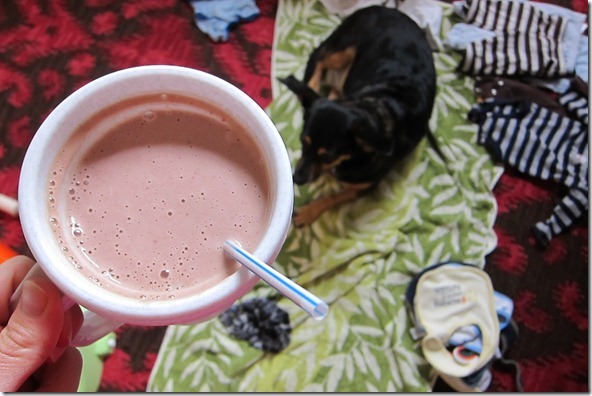 4:41 PM – Up already?!
5:05 PM – Bath time!  Henry gets a bath every other day or every two days.  I read a few articles during pregnancy that said babies are often 'too clean' and having a little bacteria on their bodies is good for building their immune system.  Fine by me – not like he's playing in the dirt yet, and I think bath time is fun but a bit of a logistical nightmare.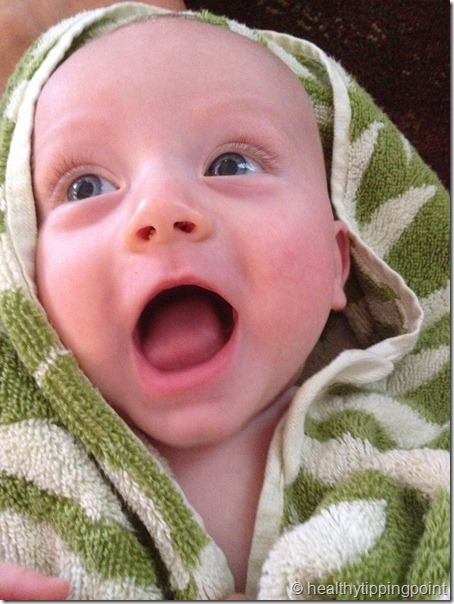 5:15 PM – We put laundry away (dragging the clothes over his face and singing makes it a fun game).  I pump yet again.
5:46 PM – I listen to NPR while I cook dinner.  On days that I'm here and the Husband works, I try to have his dinner ready before he gets home (but sometimes fail).  I do cast iron tofu and steamed greens, and I add them to the Crock Pot veggies (recipe coming soon) that I prepared earlier.  I take a picture of my meal while the lighting is good, and then I stick it in the fridge for later.  Munch on some tortilla chips to hold me over!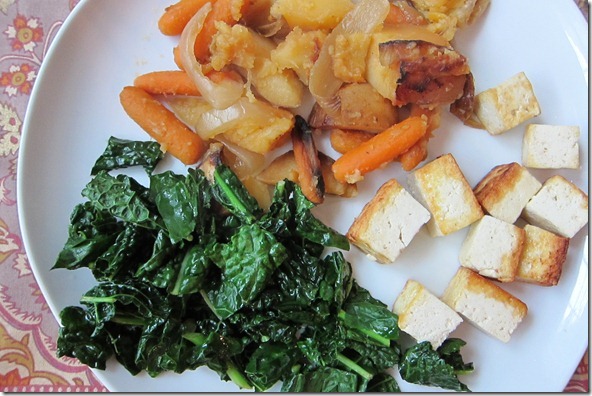 6:05 PM – It's getting close to Henry's bedtime, but not close enough to begin to put him down.  He seems a bit fussy, so we do a short walk around the block to kill some time.
6:28 PM – Bedtime routine begins.  I change his diaper and put him into a long-sleeved onesie and a sleep sack (a wearable blanket).  We snuggle up in the glider and I put on Celine Dion.  I sing to him while he eats dinner – six ounces, a new record – and after about thirty minutes, he's drowsy enough to lay down in the pack and play.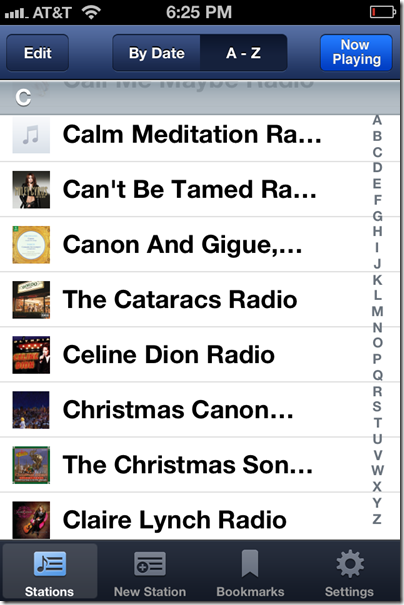 6:58 PM – I gear up for my run.  I answer some emails and keep an eye on the monitor while I wait for Kristien to get home.  Once he does (at 7:14 PM),  I kiss him hello and…
7:16 PM – I set out on a 3 mile run in the dark.  I test out my new reflective vest and headlamp hat.  Will do a review very soon!  While running, I think about potential blog topics for next week.  Any requests?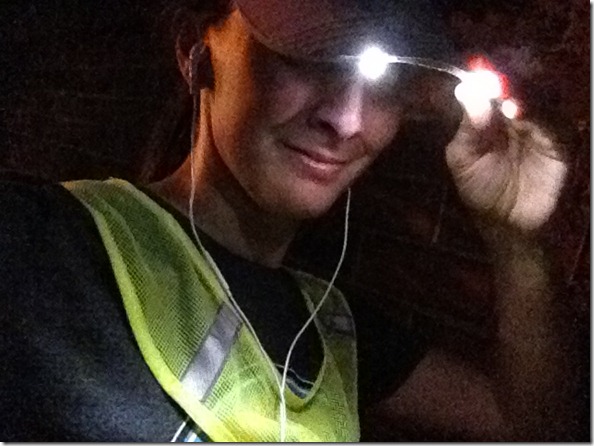 7:52 PM – I come back home and find the Husband trying to get Henry to go back to sleep.  He usually wakes up once or twice before really falling asleep.  I shower, pump, put on pajamas, and heat up dinner.
8:30 PM – We sit on the couch and eat dinner, talking about our days.  Nick comes home from kickball league and tells us all about it.
9:14 PM – I sit down to write this post because I want to start watching the Presidential Debate!  I can tell  you how the rest of the night will go:  use pieces of chocolate to eat peanut butter off a spoon (AMAZING), watch TV until 10:30 PM, pump and Dream Feed the baby, and crawl in bed by 11:15.
…And start it all over at 3:00 AM!