Did you know that the road is actually softer than the sidewalk?  Crazily enough, it's true.  If you suffer from running-related joint pain, you can find some relief from running on the shoulder of the road (running in the grass is even better… or just take a break… you know what I mean!).  Of course, if your neighborhood sidewalk-less like mine, you end up running in the road regardless.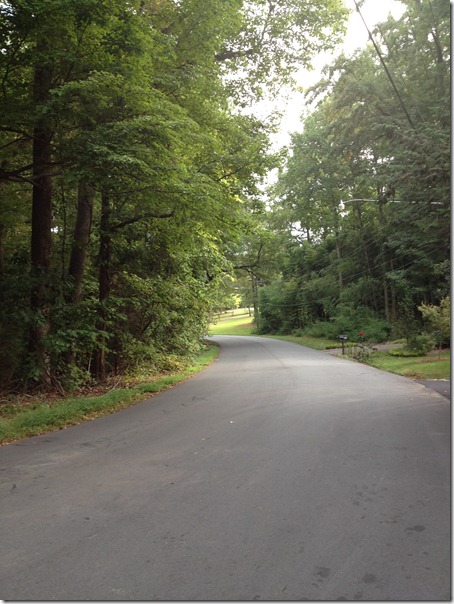 One of the things that I like most about running is how I can just zone out.  But it's not safe to completely check out while running in the street, especially when you're wearing headphones.  Here are some tips on avoiding a collision with a car.
First things first:  you want to run against traffic.  That way, you can quickly react and step aside if a car is coming your way.  However, when you're running up (or down) a hill or around a curve, you want to be aware of the drivers' line of sight.  For example: 
If you're running against traffic on the left side of the road, and the road is curving towards the left, cars in your lane will not see you as they approach the curve.  (This is one reason to run with the music turned down – you should be able to hear traffic noises over your tunes.)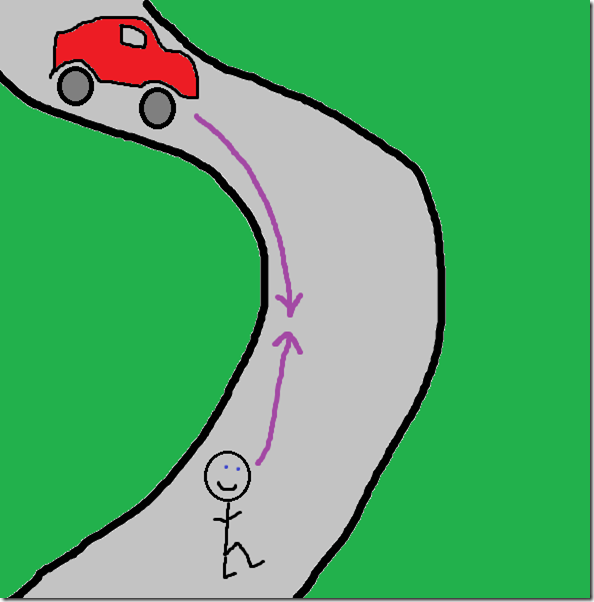 Similarly, hills create blind spots.  As you run up a hill, you won't be able to see a car approaching on the other side of the hill and they won't be able to see you. 
So, say you are running up a hill that curves to the left.  If you stay on the left side, you are blind to cars approaching you.  The best thing to do would be to run in the grass.  However, what if you can't run on the grass?  Ideally, you would switch from the left side of the road to the right side as you approach the curve.  But remember – in this scenario, the curve is also a hill.   If you stayed on the right side after the top of the hill, cars approaching from behind you wouldn't know you were there because you'd be in the hill blind spot.  It would be wisest, therefore, to switch back to the left side when safe.
Another tip:  Never, ever assume a driver has seen you unless they acknowledge you with a wave or eye contact and a head nod.  This is especially important at stop signs – drivers will often assume you are going to wait, and you're assuming they are going to let you go! 
If you are running early in the morning or late at night, wear light and reflective clothing.  I've been doing a lot of nighttime runs and am thinking about buying a reflective vest just to make sure my bases are covered – I like this one from Athleta (who is now a national sponsor for Girls on the Run!).  I like how minimalist it is – no overheating!
And last, but not least, always carry ID.  I admit – I am not great about this; I try to remember to pull on my RoadID bracelet, which has the Husband and my mother's phone numbers on it.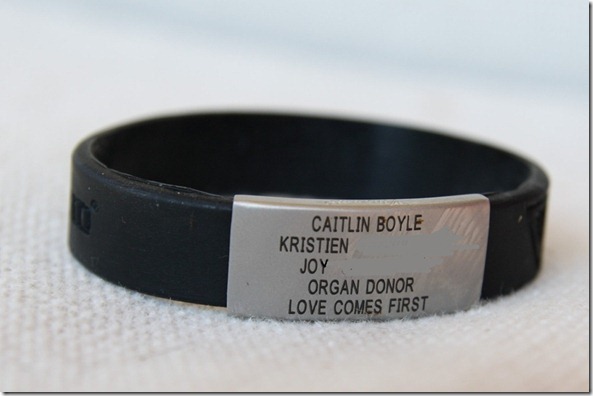 I once posted a guest post from Lindsay on why everyone should carry ID while exercising – here's a quote from her horrifying story:
After her cycling accident, Lindsay was surprised to discover that the nurses and doctors would not treat her without proof of insurance.  None of her friends who accompanied her to the hospital knew this information, and although they managed to contact her mother via cell phone, her mom also didn't have the information on hand.  Lindsay says, "I was completely shocked that I was not able to remember something as simple as my address. I was spouting off numbers from my previous addresses, but kept saying, "no, that's not it," as the nurses grew increasingly annoyed.  I had recently moved, so my friends were unaware of my new address."  As a result, Lindsay had to wait 20 minutes (in excruciating pain without any medication) before her insurance information was located.
Some interesting facts for nighttime running (source):
A driver will spot a headlamp or flashlight beam up to a 1/2 mile away.

A driver will spot a reflective vest or blinking light up to a 1/4 a mile away.

150 yards away, a driver will spot brightly colored workout gear (yellowish green or bright orange are the mostly easily seen).

If you're wearing a dark shirt and dark pants, a driver won't see you at night until they are 30 to 40 feet away… and depending on fast they are driving and how quickly they react, that could be too late.
It's important to not only pay attention, but also to assume that drivers aren't.  It is possible to safely run in the road, but like I said – don't completely zone out.  Be aware of blind spots, cresting hills, and tricky intersections.  Happy running!
Any car v. runner stories?   What are your road safety tips?