Something to ponder: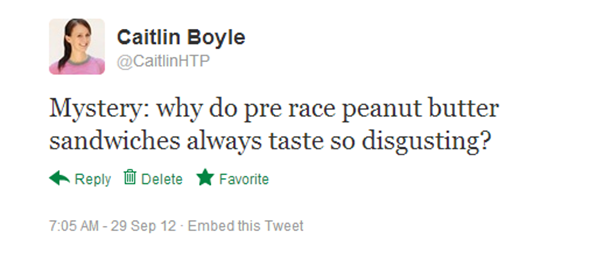 'Twas a BEAUTIFUL morning for a race (and by beautiful, I mean drizzling and chilly – perfect race weather).  I ran the Ramblin' Rose 5 Miler, a women's-only event, near Uptown Charlotte.  My buddy?  Nicole, who agreed to help pace me.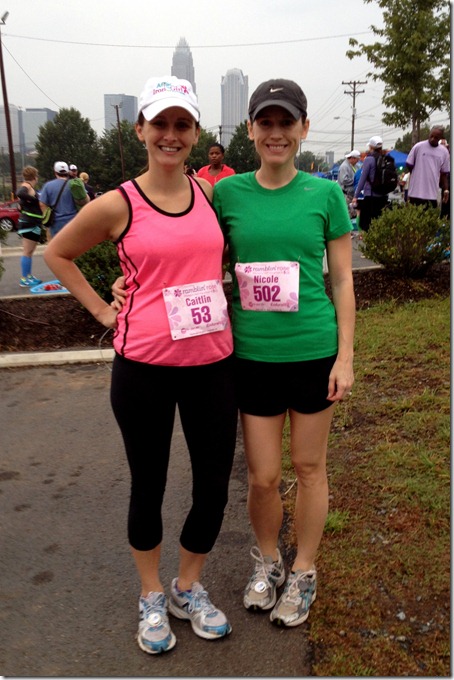 I've got to say – having baby Henry adds a whole other layer to race mornings.  Last night, I said a quick prayer to the baby gods to please, please, please let him have a good night's sleep, and he did – which was amazing.  He only woke me up at 1:30 and then again at 5:50, 20 minutes before my 'emergency' alarm.  We had enough time to play, eat, and get changed before I had to head out the door.  When I got into the car, I couldn't help but feel like I had forgotten something – it's so strange to do triathlons and then switch to a running race because you need so. much. freaking. stuff for a tri, and all you need for a road race is your sneakers!
I drove over to Nicole's and together, we headed to the start.  One thing I love about Ramblin' Rose events: the personalized bibs!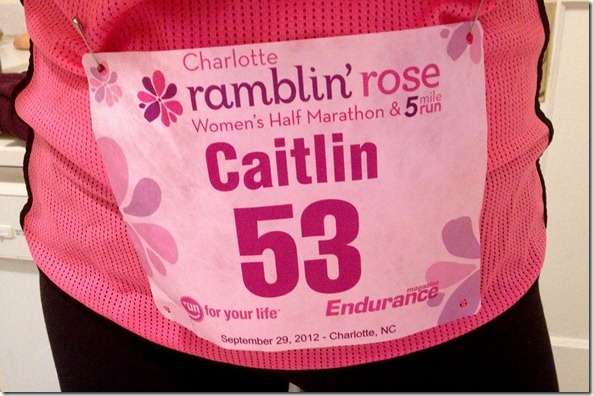 We grabbed our timing chips…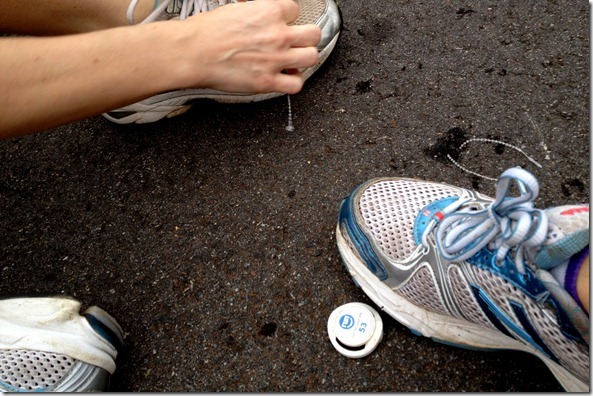 And lined up at the starting line.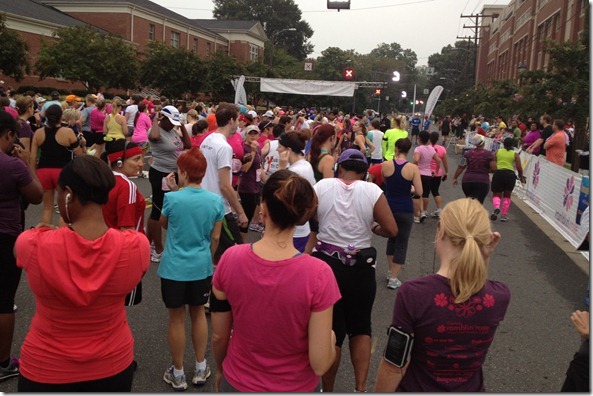 I viewed today's race as a long run for the half marathon that I'm doing in January, but I wanted to post a good time.  Running a practice 5-miler a few weeks ago was really, really good for my confidence – I finished that training run in 50:00 on the nose.  So when I stood at today's starting line, I knew I was capable of running the entire race without any significant walking breaks and finishing under 10:00/miles.  I was hoping for negative splits (running the second half faster than the first) but immediately realized that would be difficult – there were lots of long rolling hills throughout the entire course.
Instead, I just kept an eye on my watch and tried to pace anywhere from 9:15 – 10:00 per mile.  Nicole and I chatted the entire time, which was an awesome distraction, and before I knew it, we were coming up on Mile 4.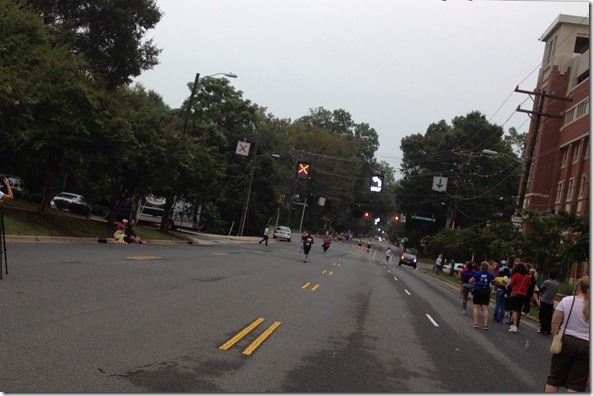 Mile 4 is when I kind of started to hurt.  I wanted it to be over!  At Mile 4.6, I told Nicole that I needed to stop talking so we could push it.  We really, really picked up the pace and dropped to a 7:00-mile – AKA absolute insanity for me.  I can't believe I held it for so long!
Hello, finish line!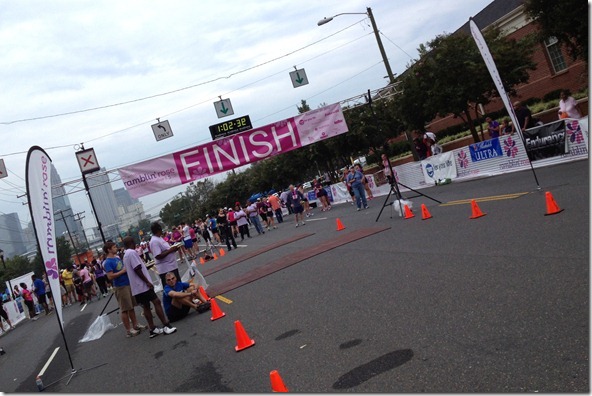 We finished in 48:28 – I was so happy!  A full minute and a half better than my training run, which was a much, much easier course.  Wahoo.
Ramblin Rose, I like how you roll.  Cute servicemen handing out the finisher's medals?  Good move.
Very pretty, right?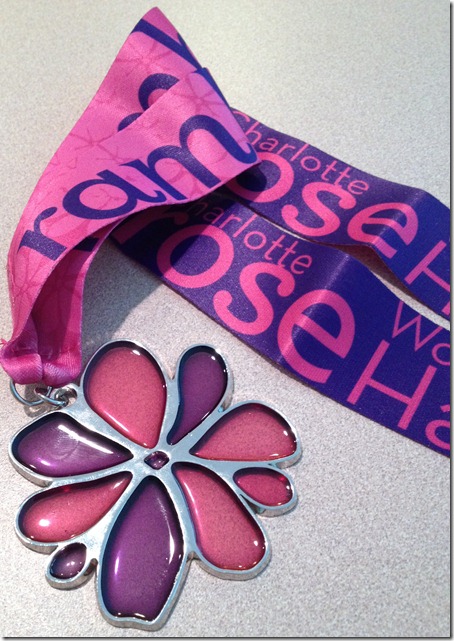 After finishing, Nicole and I checked out the freebies.  We grabbed Gatorade and stumbled upon a tent with free massage.  Um, yes please.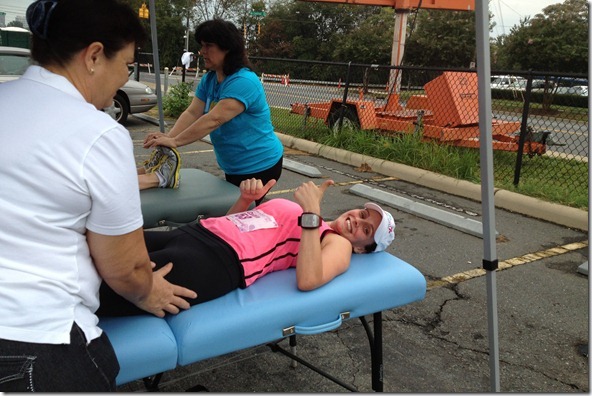 It's been a long time since I added a medal to the rack.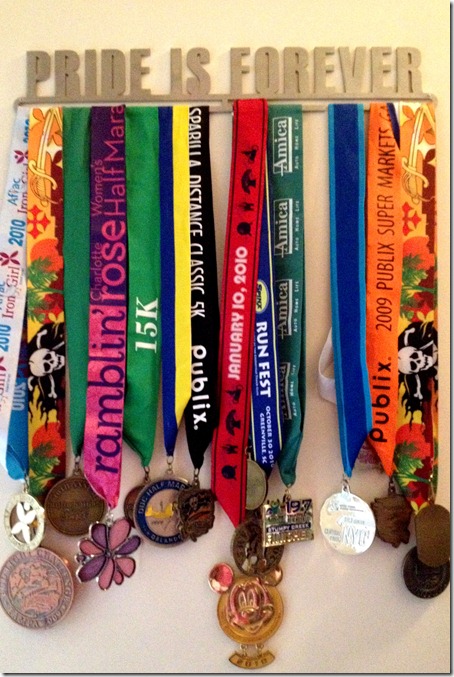 Such a fun way to spend a Saturday morning.  I was mourning the end of triathlon season, but this race really got me excited to do more road races throughout the autumn and winter.  Bring it!