Hey, hey.  I survived my first post-pregnancy triathlon and lived to tell the tale.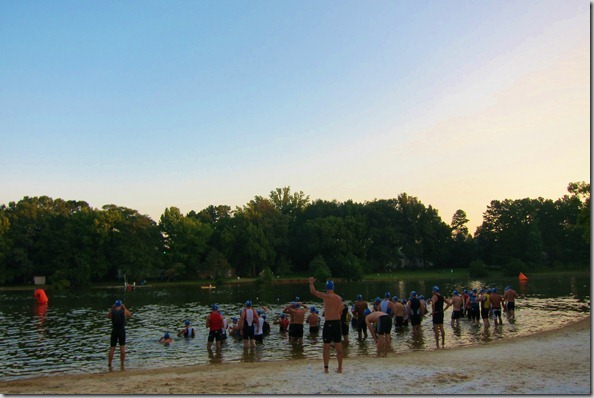 Last night, I was in bed, positively obsessing about the race.  For the first time, I felt really, really terrified.  I felt so out of practice – would I panic during the swim? Crash on the bike? Vomit on my shoes during the run?  Maybe, maybe, and most likely.  In the dark, I talked myself off the metaphorical ledge, running through the entire race in my mind.  At 11:30, I willed myself to go to sleep.
When Henry started to squirm at 3:15 AM, I realized this was not going to be like any normal triathlon.  This was my first tri as a mom.  I pulled myself out of bed and nursed Henry, rocking him back to sleep as quickly as possible.  At 4:45, my alarm went off. 
DadHTP pulled up 30 minutes later.  I was so happy that he was coming for support (I really wanted the Husband to stay at home with the baby; I was afraid Henry would be overwhelmed by the race atmosphere or get hot).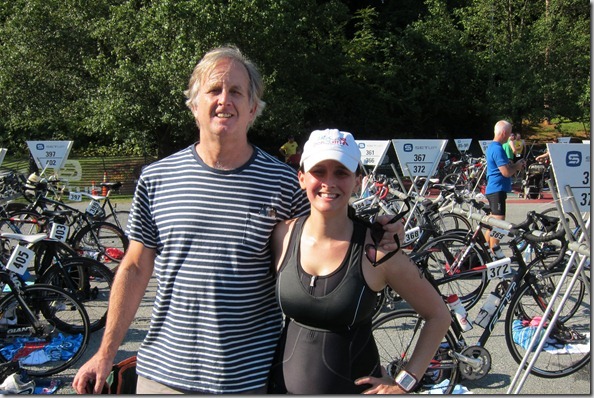 The race took place at a local YMCA that backs up to a really nice lake called Lake Norman.  In the dark, I headed over to packet pick-up, grabbed my timing chip, and got bodymarked with my race number.  Then, I set up my gear in transition.  Suddenly, it all felt like… well, riding a bike.  I remembered what it was like to tri!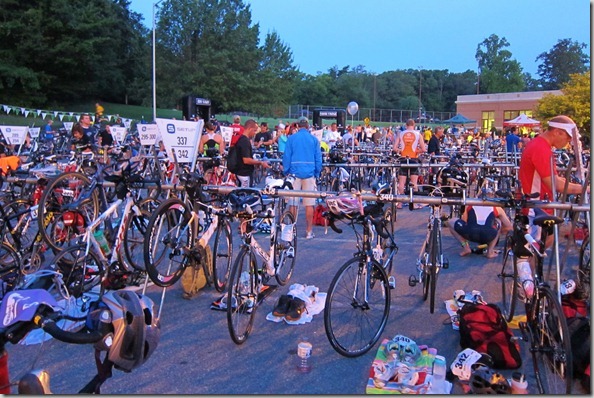 As mentioned, this was my first momma tri.  And that means there were some complications.  The first came with nursing.  Basically, the way breastfeeding works is this:  especially in the early months (and especially if you have oversupply like me), you have to nurse or pump every few hours or your breasts become painfully full.  My limit is about 4 hours.  Running is most comfortable if you can time it right after a feeding or pumping session.  Since I had last pumped at 5:00 AM and wouldn't finish the race until after 9:00 AM, I knew I had to pump before the start.  My wave didn't enter the water until 7:15, so at 6:55, I walked back to my car and pumped.  It wasn't ideal with the run being the last leg of the race, but it worked.  In terms of support, I had to double up on sports bras, but that was no big deal.
The second complication was food intake.  I ate three packets of Gu (basically easily digestible carbohydrates in gel form for quick, mid-exercise energy), which totals 240 calories.  This is what I always took in during my pre-pregnancy tris, and it was usually satisfactory.  I didn't realize until halfway through the bike that I probably needed more fuel than before – one, I'm 10 pounds heavier, and two, I'm nursing (which burns 300 – 500 calories a day).  I got a little hungry on the run, and I'm sure it didn't help my performance, but it was a short enough race that it didn't matter too much.   It was a good lesson to learn, though. 
Anyway – at 7:10 or so, I headed into the lake.  I was nervous but reminded myself that the swim would be, by far, my strongest leg.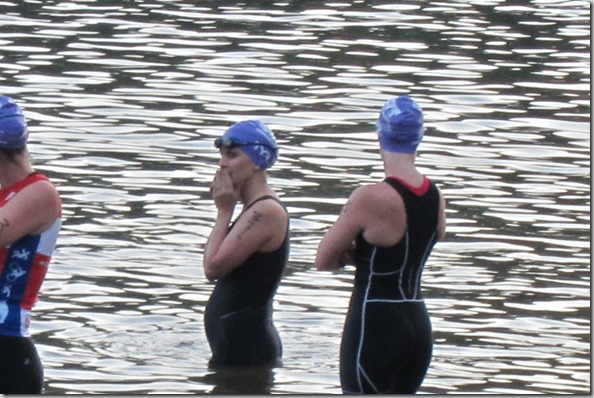 My personal goal for the swim was to swim in a straight line.  This sounds easier than it actually is in a lake.  I have been practicing my sighting technique non-stop (when you look up to spot the buoys mid-stroke), and my skill really came in handy. 
All in all, the 750 meter swim was great.  I was strong, steady, and didn't panic.  When I exited the lake, I felt like I still have gas in my tank.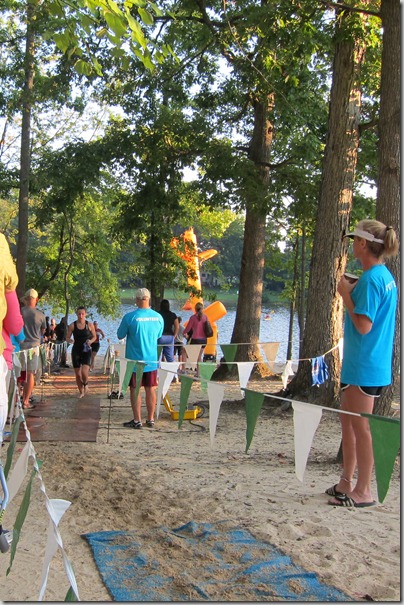 Quite honestly, my technique for transitions was to take it really, really easy.  I knew that I would place in the back of the pack in my age group regardless and didn't want to rush through transitions when I could use them to recover a bit.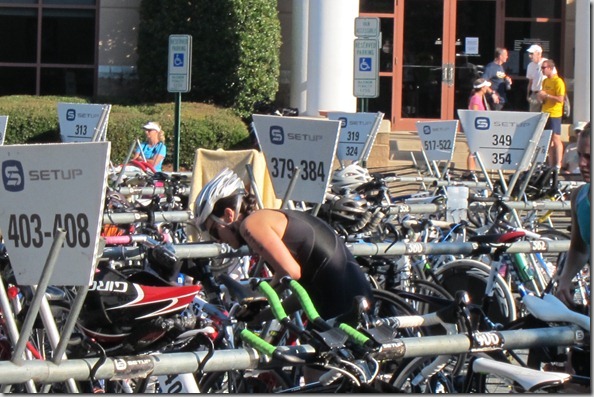 My game plan for the bike leg was similar – take it easy and don't crash.  Hah.  No, really.  I've always been weak at the bike but after only riding three times in the past year (I do NOT recommend this training 'technique'), I just wanted to get through the 17 miles.
I was passed about fifty times and didn't pass a single other racer, but I was pretty happy with my effort, especially considering the monster hills.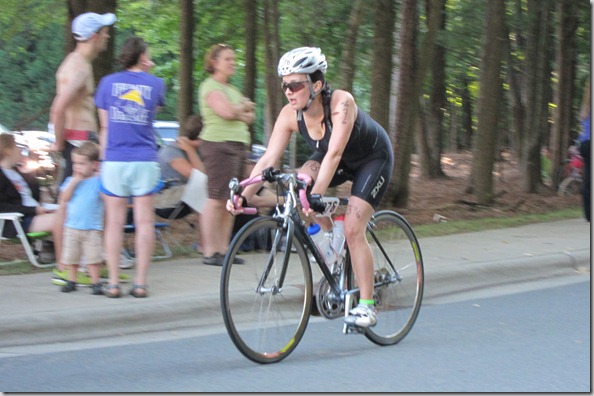 Back to transition for the run!
Oh – hey.  I forgot to mention that my trisuit did, in fact, fit.  I was so pleased when I tried it on last night and could squeeze into it.  Three cheers for spandex, every post-partum woman's favorite fabric.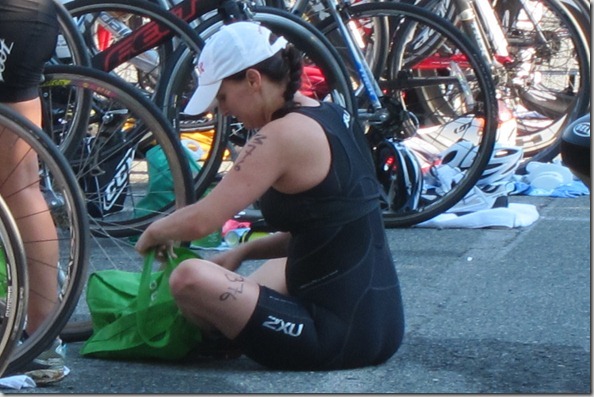 Usually, I eagerly anticipate the run leg but wasn't sure how I felt about it for this race.  I was really afraid that I would be too tired to do well; however, I came out of transition feeling confident.  The run was through a very nice residential neighborhood, and the other racers were super friendly. I found a few women to chat with, and we supported each other.  I used a walk/run method instead of trying to jog the entire distance and stayed at an even pace with a woman who ran the entire time – go figure!  Every time my watch would beep the time for each mile, I would look down and feel positively shocked that I was clocking 10:30s. 
When I crossed the finish line, I honestly didn't know whether to laugh or cry.  I was 15th out of 15 women in my age group, with a time of 2:11 (my secret goal was 2:10).  I finished the swim in 19:17, the bike in 1:12, and the 5K run in 31:55.
I came home, ran upstairs, and scooped Henry up in my arms to give him a big, sweaty momma kiss.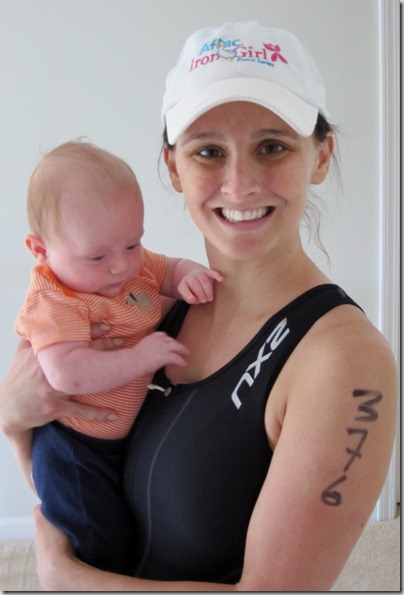 I once won a race.  I've smashed personal records.  Today, I was last. I've ran faster 5Ks, and I may have sucked on the bike. But you know what? This race is the best that I've ever done.   In so many ways, 10.5 weeks after delivery, I feel like I won first place.