I wish I could say that I miss being on vacation…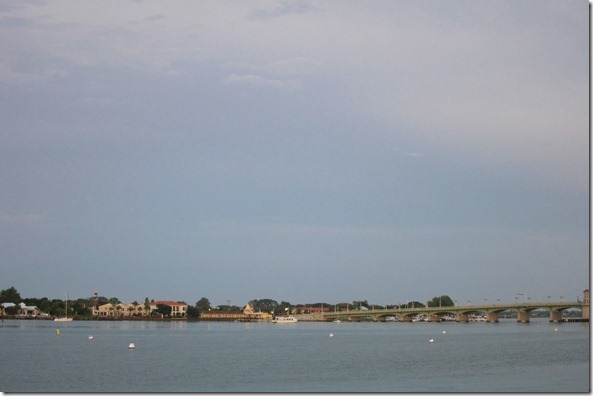 But I'm pretty thrilled to be home.  The dogs are, too – they keep running around the living room and tossing their toys in the air.  I even think Henry is pumped to be back.  Nothing as lovely as the familiar house smell!
You know that 'Our fridge is packed but I have nothing to eat' conundrum?  Yup.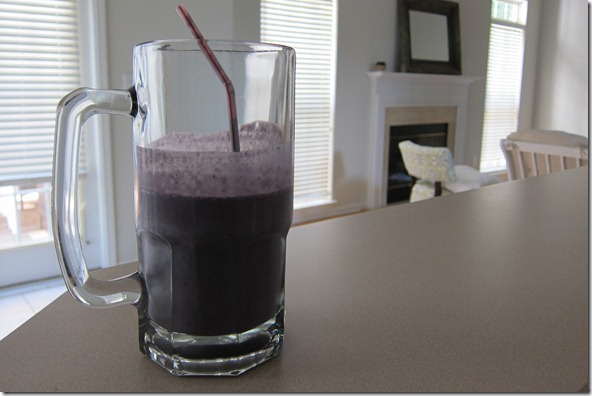 While I'm figuring out what else to eat, this smoothie will have to do:
Banana
Blueberries
Soy Milk
Huge glob of peanut butter
FAQ Monday Tuesday
A day late… but the Three Question Game is always fun, no matter what day of the week I remember to play it!  Here we go…
What are you currently reading?  I am currently reading not one but two books: The Sun Also Rises and Train Like a Mother.  I have so  much time to read because I've been spending a lot of time pumping off extra breast milk to create a stash for when I begin to travel for work in September.  Good times.  Anyway… The Sun Also Rises is as awesome as I remember it – I last read it in high school.  It's really funny to see what I thought was worthy of highlighting back in high school; I swear that every other sentence in the entire book is highlighted, and I can't tell why I thought certain things were important enough to call out.  I'm just getting into Train Like a Mother, which was sent to me by the author to review.  So far, I really like it – there are a bunch of training plans and tips on how to multi-task as a running mom.  I'm thinking about using their half marathon plan to train for the half that I'm planning to do in January.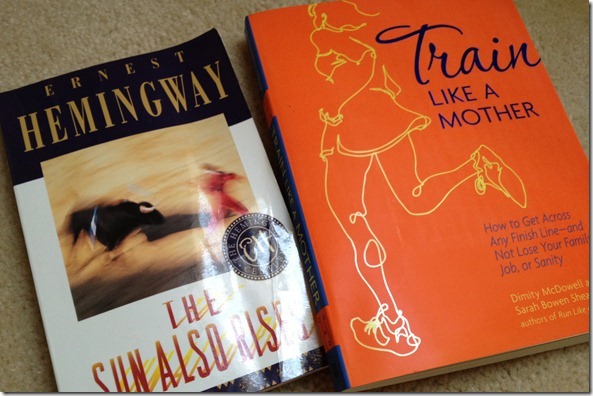 Do you and your spouse share finances?  We melded bank accounts about three months before we got married, and everything we earn goes into a joint pot.  We used to have separate 'fun money' accounts but those have slowly fallen by the wayside.  I control all the finances – keeping track of incomes and expenses and paying bills – which is probably a bad thing because 1) I'm not great at budgeting and 2) I am not great at math.   Thank goodness for Excel.  I know some couples successfully keep entirely separate accounts, but I think that if we did that, we would have a lot of silly fights about spending.
What do you think about when you exercise?  Speaking of math, I do a lot of it while I exercise.  I count swim laps or calculate how much time or mileage that I have left.  Or I just add and subtract random numbers – like counting backwards from 300 by 3's.  I also write blog posts in my head while I exercise or make lists of things to do.  I find it very hard to entirely check out while exercising – at least I'm productive!
Your turn!  What are you reading?  Who controls the cash flow in your relationship?  And what do you think about when you workout?