I can't believe it's only been two weeks since I went into labor and delivered Henry.  It feels like a lifetime has passed – but at the same time, it still feels so new.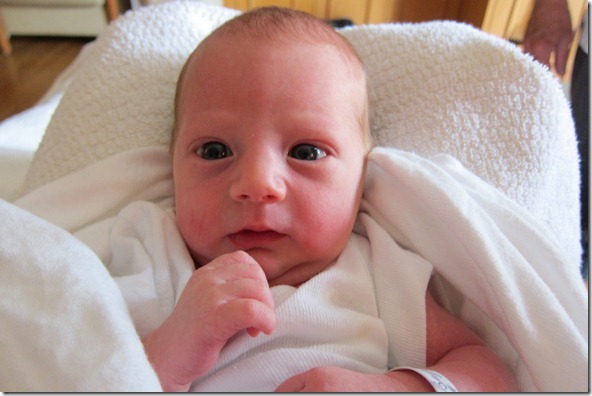 My favorite photo of Henry from the last two weeks – taken in the hospital.
After two weeks, I can say the following things about Henry:  He is a very good baby.  He hardly ever cries.  If he cries, he wants something (usually a boob).  Sometimes he has scary dreams (monster boobies, perhaps).  He prefers to sleep on someone's chest, but he'll sleep quite happily in the bassinet or his pillow.  He is beginning to vocalize more and is starting to track objects with his eyes.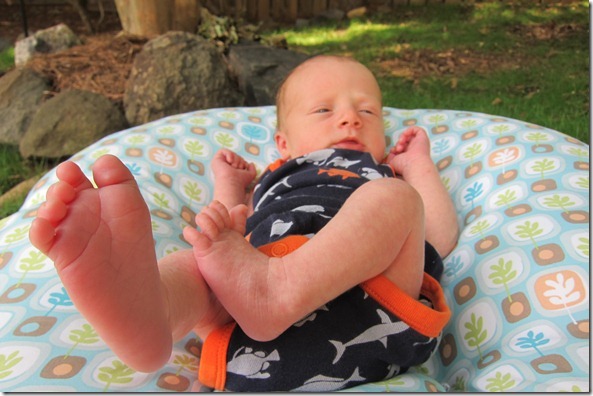 He likes it when his dad sings to him; he doesn't like it when I sing to him (but who does?).  He enjoys baby acupressure a lot.  He also likes to have his hair washed.   He hates to be naked; the only time he truly screams is during complete diaper and outfit changes.  This sounds mean, but I think he actually looks super adorable when he's naked and screaming on the changing table.  Don't worry – I still try to change him as quickly as possible. 
He looks different already -  ten days after birth, he had gained eight ounces over his birth weight.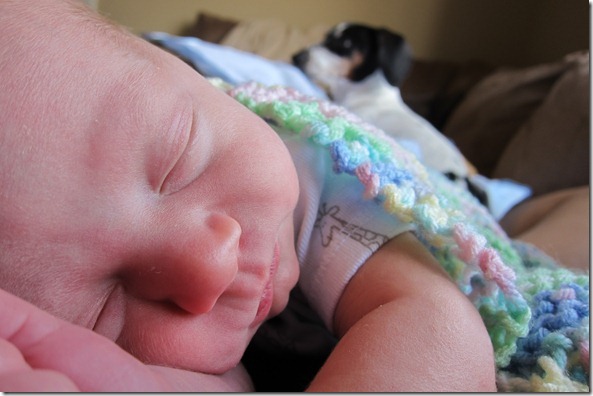 Random thoughts from the first two weeks of Mommyhood:
It's amazing what I don't mind doing for my child.
I like it when Henry falls asleep on me and I end up with baby drool all over my chest.
Showers are the best invention in the entire world.  Nursing bras run a close second.
Henry doesn't always fit the textbook example of what a baby should be doing, but that doesn't necessarily mean something is wrong.  Every baby really is different.
Despite my insistence on a choosing a name that was not 'nickname-able,' I call Henry the following gems:  H-Dawg, Hen, King Henry, and Hungry, Hungry Henry (like Hungry, Hungry Hippo).  It really, really needs to stop.
I actually knew more about childcare than I realized, thanks to reading books and blogs.  And a ton of the advice has actually translated to my real life.  I'm amazed at the random parenting stuff that I know how to do thanks to strangers on the Internet.
I should never feel bad about taking care of myself, too.  Because this is what happens when I don't.
I must point the penis down when I put on a diaper.  Visualize what occurs if I forget.
I should always be carrying a burp cloth.  Always.  Because the one time I don't have one is the time that Henry projectile vomits all over the couch.
I must refill the diaper bag when I get home.  I'll forget to do it before I leave again.
It's hard to explain, but… it feels like Henry always existed.  Henry was forever with me; I just didn't get a chance to meet him until two weeks ago.  I would say that he's stolen my heart over the last fourteen days, but that's not quite true – he was always part of my heart.  Parenthood makes me realize that time really isn't as linear as we perceive it.  Henry has always been here.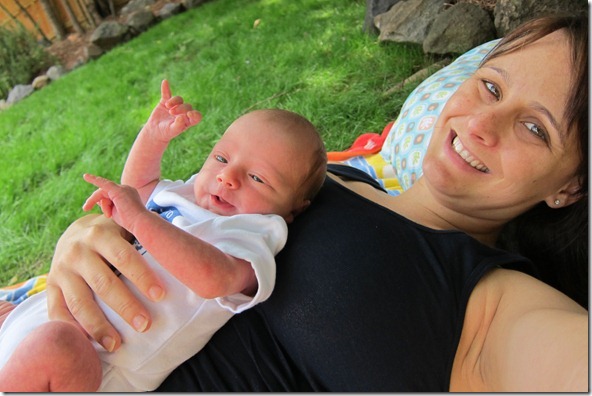 Here's to many, many more weeks of loving H-Dawg.  I mean… Henry.