Wahhhh.  I dropped the teapot this morning and broke off the top handle.  Teapot down!  I would like to say I simply screamed, "Nooooooooooooooooooooooo!" in dramatic slow motion, but it was more like a quick, harsh, and very loud epithet that I desperately need to eliminate from my vocabulary before this baby arrives.
Shut the front door.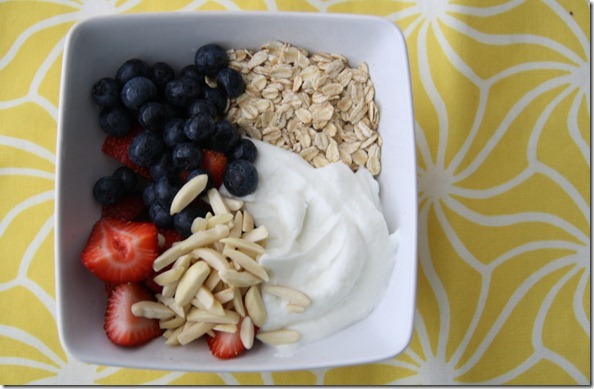 Greek yogurt
Raw oats
Almonds
Strawberries and blueberries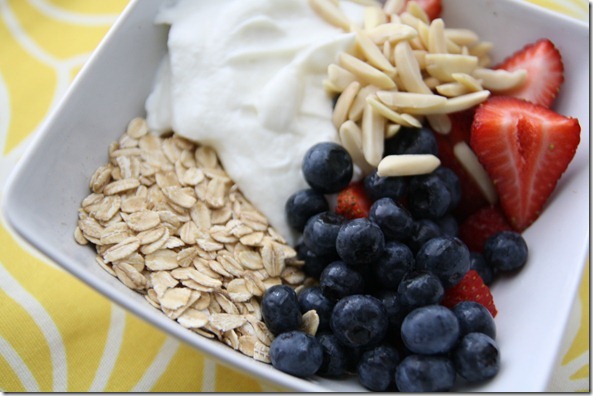 Time for a little FAQ Monday action.  I love to read your answers.

FAQ Monday
What's the last movie you watched and the last book you read?  I watched The Girl With the Dragon Tattoo on Saturday. Our choices were Dragon Tattoo or War Horse, and I'm really afraid that the horse dies at the end of War Horse so I've avoided watching it.  Anyway, Dragon Tattoo was really good even if it was scary and disturbing.  I'm currently reading Packaging Girlhood: Rescuing Our Daughters from Marketers' Schemes, which was recommended by a reader.  Plot summary: "The stereotype-laden message, delivered through clothes, music, books, and TV, is essentially a continuous plea for girls to put their energies into beauty products, shopping, fashion, and boys. This constant marketing, cheapening of relationships, absence of good women role models, and stereotyping and sexualization of girls is something that parents need to first understand before they can take action."  So far, it's good, but I wouldn't say that it's a message that is terribly different from books like Cinderella Ate My Daughter or So Sexy So Soon.  After I finish Packaging Girlhood, I want to read Packaging Boyhood: Saving Our Sons from Superheroes, Slackers, and Other Media Stereotypes.
What was the last really great purchase that you made?  I recently bought a robe!  I have never owned a comfy robe before.  Pulling on pants is a difficult feat right now, especially in the morning when my legs are stiff.  So I bought a robe from Target, and it is amazing.  Robes rule.
Do you listen to music while exercising?  Why or why not?  What kind?  I cannot run without music.  It's definitely a crutch!  I like to listen to pop.  The bouncier the better.
Your turn.  What was the last movie you watched and book your read?  Any special purchases?  Do you jam out while exercising or prefer silence?