Wheeeeeeeeew! Thank you so much for your comments on the post-baby birth control post.  People sure love to discuss birth control!  In all seriousness, your comments were – as usual – extremely helpful.  Even though many highly respected medical organizations say it works well, enough of you commented, "I am a LAM method baby" or "I was doing LAM and now I have two children 11 months apart" to totally freak me out.  I may be exploring other options.  Especially since Marissa C made me realize that I will probably be traveling a lot for work when the baby is four months or so and thus pumping (which reduces the effectiveness). 
And this is why I discuss such topics on the old bloggie.  Live and learn. 
And eat!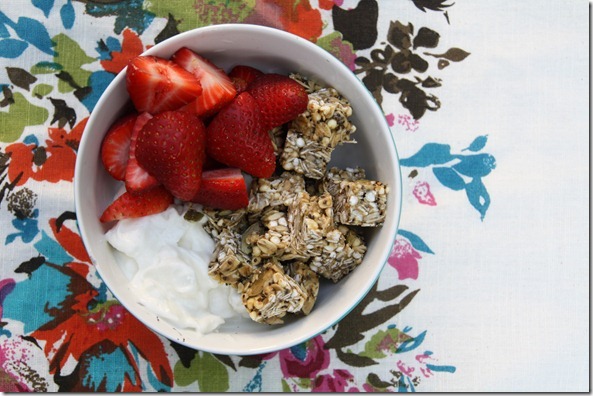 Breakfast is served.
Greek yogurt
Strawberries
Simple but delicious.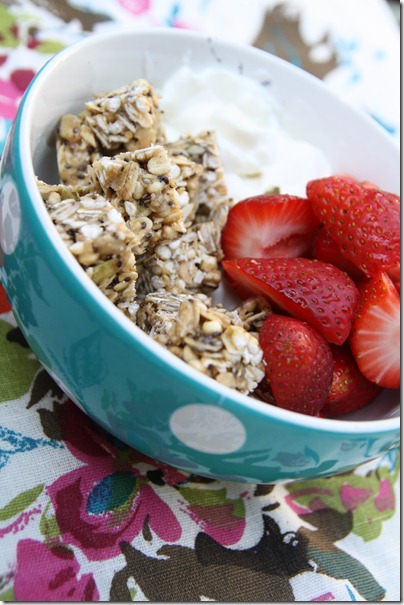 So, yesterday, I worked out extremely hard.  And by extremely hard, I mean that I swam 0.5 mile and went on a 2.0 mile walk.  It's all relative, right?  At this point in my pregnancy, that felt like an Ironman.  I was so ridiculously sore by the evening, slept like a metaphorical baby, and was stiff as a board this morning.
Do you purposefully stretch every day?  I confess – I am really bad at stretching.  I got away without stretching for years because I'm naturally freakishly flexible.
Case in point:  My stupid party trick.
Not to be confused with the Husband's stupid party trick, which is more about mad skills than stretch-ability.
File under "reasons why I married him"
Anyway, not only are my shoulders 'double-jointed', but I can put my legs behind my head (I'll spare you an image of a 9-month preggers lady doing this).  Since I'm so flexible, I've never really felt the need to regularly stretch… until now.  My hamstrings are always SO tight.  I've been making a point to stretch out for 10 minutes or so every evening – while watching TV, of course – and man… it feels so good.
Are you naturally flexible?  Do you regularly stretch?  Any cool party tricks?