It was so hot yesterday that I didn't even try to cajole the girls into running laps at Girls on the Run. Instead, we played soccer.  This was actually my first time ever playing soccer.  The girls crushed me.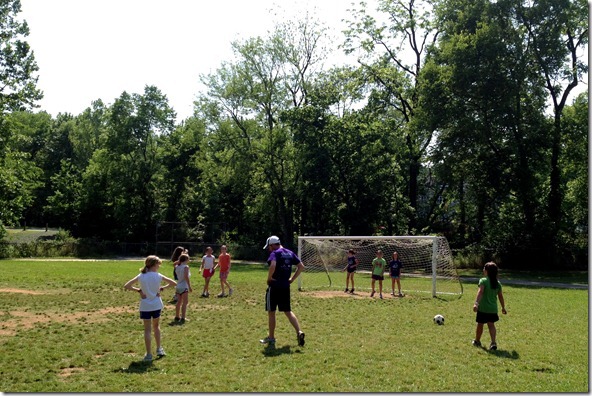 It was team Mashed Potato Sharks v. the GOTR Gators.  I was on the Gators but – I must admit – was secretly cheering for the Mashed Potato Sharks based purely on their team name. 
Our new 'thing' at GOTR is wearing our hair in high ponytails, like water fountains.  Pretty awesome.  I think the Husband is jealous that he can't do it, too.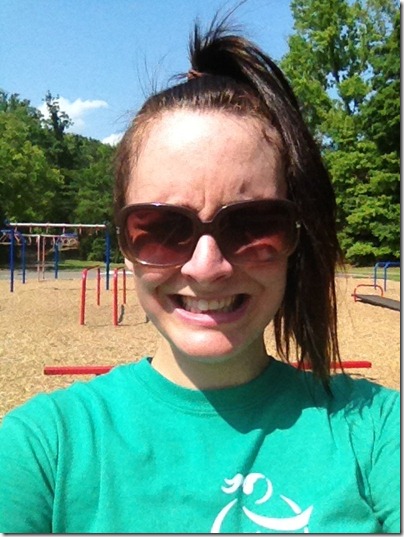 When you're a GOTR coach for a few seasons and have repeat girls, they really begin to trust you and come to you with life problems.  Usually, it's pretty easy to offer up solutions (life in 3rd grade is pretty cut-and-dry), but every now and then, I get hit with a toughie.  While "What does it mean to be gay?" and "Why don't you go to church on Sundays?" were tricky to answer (um, to say the least), I was really stumped by this question… Girl #1 wanted to know if Girl #2 was also a bully because Girl #2 was friends with a bully, and whether Girl #2 should stop being friends with the bully just because she was occasionally a bully (the bullying behavior in question was spreading rumors). 
I try really hard not to get the girls the 'politically correct' answer about stuff like bullying because, let's face it, bullying is extremely complicated and will follow them well into adulthood.  It's also a problem that occurs at home between family members.  So simply saying, "Love everyone regardless of what they do or say!" is not necessarily enough – ya know? 
So, I paused and thought about my own life.  Do I have friends who behave in ways that I don't 100% agree with?  Of course.  Do I sometimes behave in ways that my friends probably don't like?  I'm sure.  You can't control other people, and if you need friends to be perfect people, you're probably not going to have any friends.  But, of course, you should draw the line and speak up against really nasty behaviors.  There are some behaviors that I wouldn't tolerate in a friend – for example, once I stepped way back from a friendship (and eventually phased the relationship out) after I noticed the person displayed racist tendencies.  Not cool – and definitely a friendship deal breaker for me.
My preliminary answer to the girls was that Girl #1 can't tell Girl #2 who to be friends with and that trying to force her to end a friendship was a form of bullying, too.  Also, Girl #2 should think about whether she wants to be friends with someone who is occasionally mean to others (especially because her friend may turn on her one day).  I did say that I don't think it makes Girl #2 a bully-by-proxy just to be friends with a bully, but I'm not sure about that.  Is she condoning behavior by letting it slide?  That being said – let's be real – I know very, very few people who never trash talk others. 
I told the girls that I would think about my answer and get back to them with more details – which really means I wanted to take a blog poll.

What would you tell my girls?  Can you think of any real-life examples that I can share with them when I discuss it?  And would you rather be a Mashed Potato Shark or a GOTR Gator?