Howdy!  DadHTP and I took the morning off to explore potential rental options for him (he's been living with us and my in-laws' since he moved here a few weeks ago). Looking for someone else's house is so much more fun than looking for your own!
In Charlotte, it seems more effective to simply drive around the neighborhood you want to live in until you see a For Rent sign – I think a lot of homeowners are nervous about putting their properties online. Through this method, we managed to uncover one great option that's less than 3.0 miles from our new place.  Hope it works out.  Keep your fingers crossed for him!
Came home and made a quick lunch: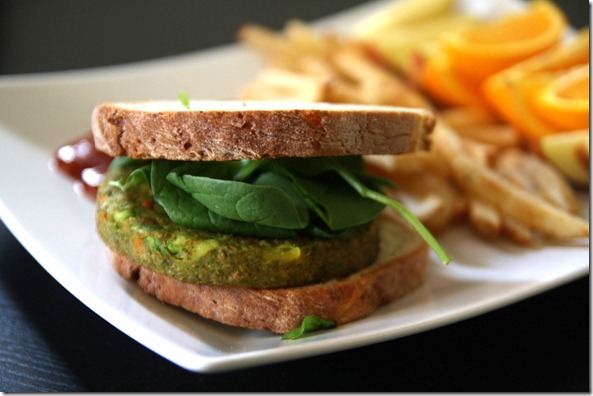 Veggie burgers.  Again.  We are totally in a food rut when it comes to two things: veggie burgers and Thai food. 
Case in point: last night's dinner.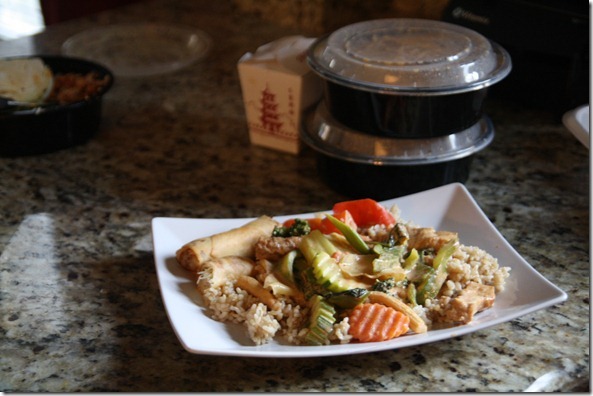 Dad has been buying us takeout as a 'thank you' for staying with us, and I feel like I am slowly going to turn into penang curry with extra veggies.  And I may sprout a spring roll from the top of my head.
Anyway – back to our food rut lunch.
It may be a rut, but it's a tasty rut.
I'm off to slice a dozen oranges… My Girls on the Run girls have been pretty unmotivated to run lately, so I'm going to bring orange slices so they can pop one in their mouth every lap.  You know, for 'fuel.'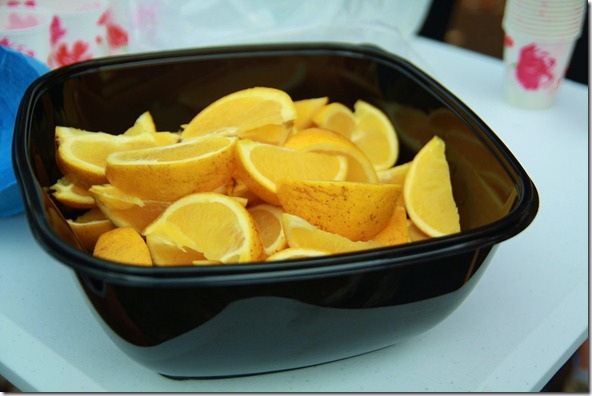 The girls LOVE this and it really makes them run-run-run around the track.  Normally, I save this special treat for the big Practice 5K event, but they have really been struggling in the heat lately.  Gotta motivate them!
What silly thing would motivate you to run 16 laps around a track in the heat?  I'd do it for: dachshund kisses, bites of ice cream, and stickers (I'm 27 and love stickers – so what).  Oh, and probably penang curry.