Ah, hello.  Happy Monday.  How's it going for you?  It's been crazy and busy in my world but really good, too.  And truthfully, that is all I can ask for on a Monday!
Today is a clinic work day, but we had a break for lunch.  It's always nice to run home for lunch!  I made the same sandwich that the Husband whipped us yesterday – this combination is SO tasty.  Grilled tempeh, mayo, cucumbers on a hamburger bun.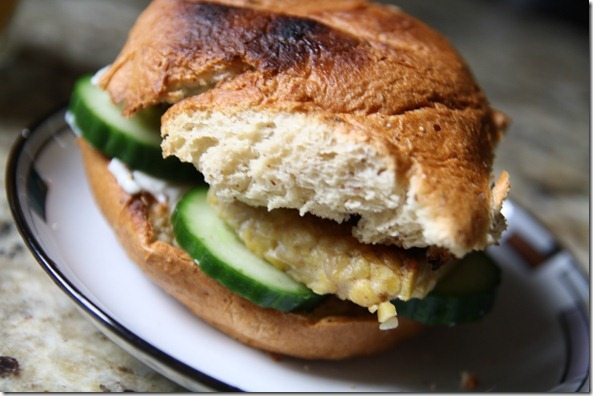 With orange juice, which gave me epic heartburn.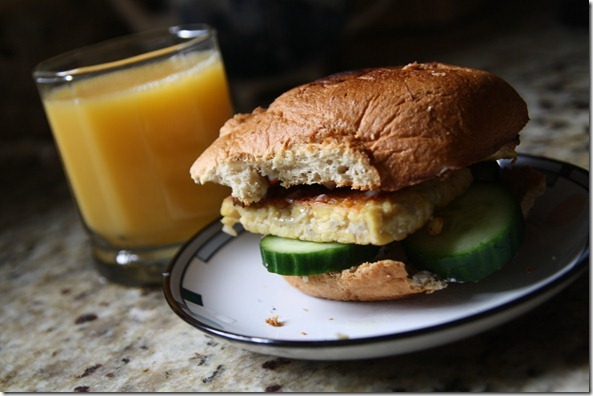 And Lunch #2 was hummus, chips, and carrots.  Mmm.  Tasty but did not relieve said heartburn.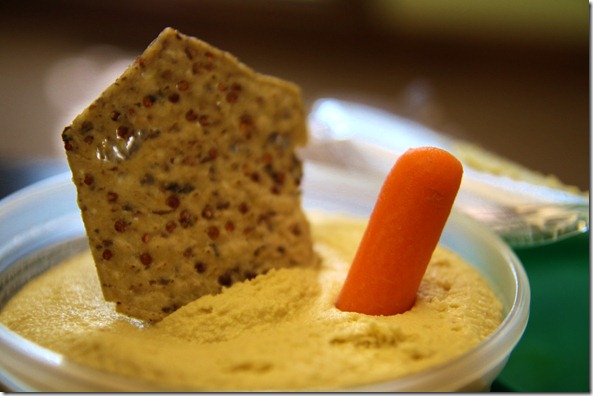 Books, Books, Books
I love to read, and one of the best perks of being a book-lovin' blogger is that authors and publishers sometimes offer to send me review copies of books.  I've been accumulating a stash of review copies that I really loved (and thought you may enjoy, too) so I could share my thoughts with you all – here you go!
Skinny Bitch Book of Vegan Swaps by Kim Barnouin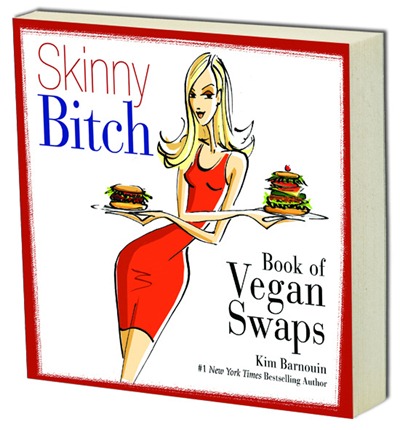 Oh, Skinny Bitch.  SB and I have a long and storied history.  You see, it was the original Skinny Bitch book that made me go vegetarian in the first place.  While I love the thrust of the original book, I don't love the attitude (and yes, I hate the title – but its just a brand).  Fortunately, this new book seems to be mostly snark and guilt-free.  Skinny Bitch Book of Vegan Swaps (more of a flip-through v. read-straight-through book) opens with a list of vegan-friendly restaurants by city, which is handy for a frequent traveler.  There's also descriptions on how to eat vegan at common chain restaurants, like Subway and Au Bon Pain.  There's also a short list of recipes to try at home. But what I liked the most was the short "Decoding the Label" chapter, which helps you understand which ingredients are actually animal by-products (like albumin – from eggs, oleic acid – from sheep or cows, or pepsin – from a pig).  Actually, I would've liked this section to be longer and include even more info.  The rest of the book is filled with "Swap This, For That" recommendations for processed foods (think vegan alternatives to cream cheese, pastas, salad dressings).  It's packed – and I do mean packed – with recommendations for every single type of food imaginable, which I think would be really helpful for a new vegan or just someone who was trying to make healthier choices at the grocery store. 
The Pioneer Woman Cooks:  Food from My Frontier by Ree Drummond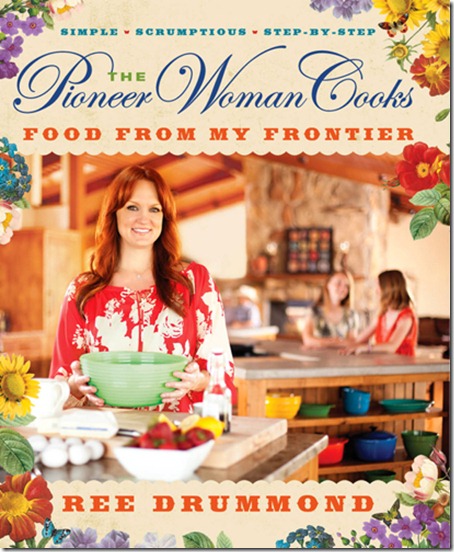 Back in 2010, I waited for over 4.5 hours to meet Ree Drummond, the blogger behind The Pioneer Woman. I then proceeded to go completely fan girl on her and embarrass myself.  (I would actually meet her again three months later on one of the best days of my life.)  My fawning was incredibly juvenile, but I've always loved her blog and photography.  She is really nice in person.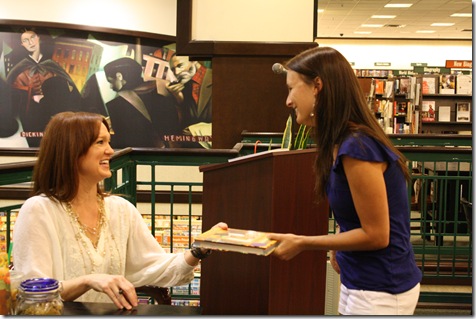 I was pretty pumped to get a copy of her second hardcover book, Food from My Frontier, just because Ree's cookbooks are so pretty to look at (and much be so expensive to print).  This cookbook does not disappoint – great, colorful photos (including step-by-step recipe instructions) and yummy recipes (filled with meat and butter – but, come on, it's the Pioneer Woman).  There does seem to be less personal anecdotes and stories in this cookbook than the first one, but I still enjoyed flipping through.  Recipes I am dying to make:  Eggs Florentine, the Best Grilled Cheese Ever, Fancy Mac and Cheese (with some modifications to make gluten-free and vegetarian), Crash Hot Potatoes, and every single thing in the dessert chapters. All in all, I think this would be an amazing gift for a foodie (or for yourself, of course).
Vegan Pregnancy Survival Guide by Sayward Rebhal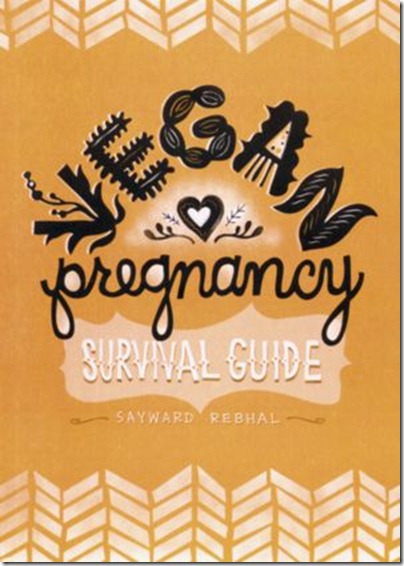 Another vegan book!  I actually have not read a lot of pregnancy books (more delivery/parenting) because they make me feel guilty and paranoid as all hell. But I really, really loved the Vegan Pregnancy Survival Guide.  Even though I'm not a vegan, there was a ton of really great information relating to diet and lifestyle that I could apply to my own experiences.  I also enjoyed the tone of the book a lot – it felt like a friend talking to you, not down to you.  Packed with info on being vegan before, during, and after pregnancy, the book covers topics like diet, handling strangers' questions about veganism (especially liked this part), breastfeeding, and more. As a side note, I also enjoyed the size of this book – it's very small (pocket-sized) so I could easily stash it in my bag and read when I was running errands.
Get a Bangin' Body by Charless LaSalle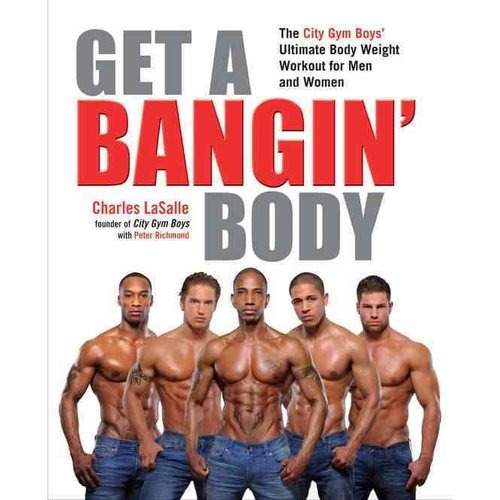 And last, but not least, Get a Bangin' Body.  I was REALLY pumped to check out this book because the cover says it's the "ultimate body weight workout for men and women." Um, awesome. We all know how much I hate lifting weights but love push-ups.  So this seemed like a strength routine that I could actually stick to – I'm going to start applying it to my life ASAP (well, what I can, being six months preggers and all).  The emphasis of this book is definitely exercise over diet, which I don't necessarily agree with, but the 90-day workout seems awesome.  The workout is divided into three phases, and while newbies tackle all three, intermediates only do the last two, and advanceds do the last one.  The workouts for each phase are clear and easy to follow, and since it's all body weight-based, you can do them right in  your living room – no gadgets required.  What I liked the most about this book is that there are HUGE, detailed photographs describing each move.  I'm definitely a visual learner so this will help me a lot. While the moves themselves aren't revolutionary (think push-ups, calf raises), I'm the type of person who 'knows' all these things but never can remember them when I'm actually doing strength exercises. 
What are you reading right now?  Got a book review to share?