Happy 28 weeks, BabyHTP!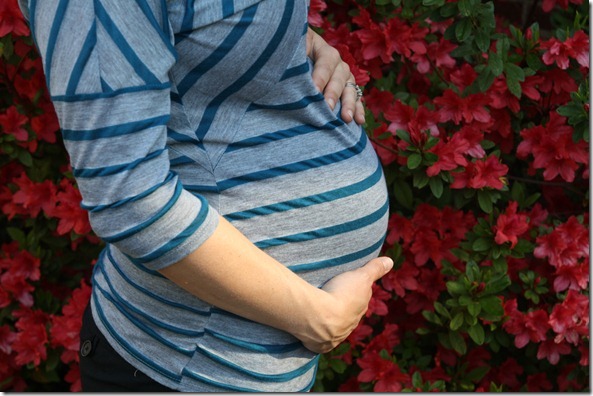 Truthfully (and I know this sounds so superficial), the most exciting baby-related part of this past week was going shopping for new maternity clothes.  It's hot as heck in Charlotte, and squeezing into my pre-pregnancy tanks, floaty tops, and shorts is just not an option.  Times (and body parts) have changed, my friends. 
Case in point:
I absolutely hate clothing shopping, but Nicole was nice enough to accompany me to Motherhood Maternity, and she made the entire experience so much more pleasant.   I walked away with 8 new tops and 3 bottoms.  It's nice to actually have clothes that fit (and I didn't blow too much cash because Motherhood Maternity has a 'value mom' section <—that's me!). 
Here's what BabyHTP is up to this week: "By this week, your baby weighs 2.25 pounds and measures 14.8 inches from the top of her head to her heels. She can blink her eyes, which now sport lashes. With her eyesight developing, she may be able to see the light that filters in through your womb. She's also developing billions of neurons in her brain and adding more body fat in preparation for life in the outside world." (Source)
The one not-so-exciting part of this past week is that I have developed constant heartburn.  That's because "during pregnancy, the placenta produces the hormone progesterone, which relaxes the smooth muscles of the uterus. This hormone also relaxes the valve that separates the esophagus from the stomach, allowing gastric acids to seep back up." (Source).  Awesome.  I can't link the heartburn back to any food in particular – so I think it's just a nasty side effect of pregnancy – but I would love a few suggestions for natural heartburn remedies.  Any ideas?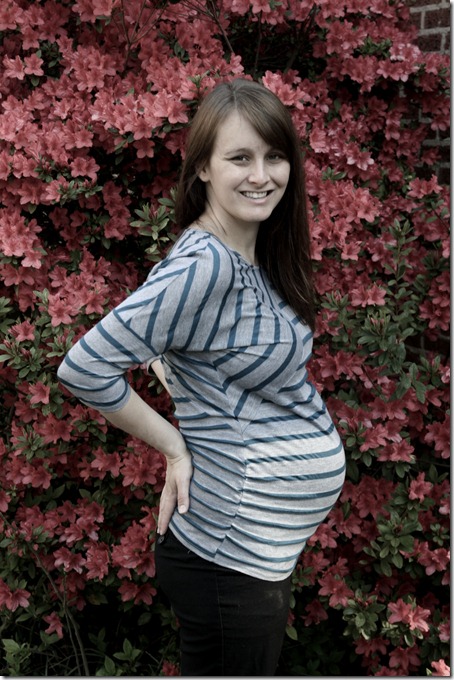 (The flowers in Charlotte are SO pretty right now but the entire city is covered in pollen – you can even see a yellow smear of pollen on the front of my trousers in that picture!)
This week, I thought it would be fun to talk a bit about parenting.  The Husband and I have both given a lot of thought – separately and together – about our planned parenting style.  More than anything, I want to teach my children to develop self-develop confidence, have respect and tolerance for others, and act with grace and good manners.  But how, exactly, I plan to do this is a mystery.  I've been thinking about what my parents did for me and the specific techniques that I play to copy.  So, I thought it would be fun to list six parenting lessons my parents taught me.
Lesson #1:  Take a deep breath before reacting.  When I was 18, my mom was moving from Miami to Knoxville, so I flew down to Miami to help her move.  The day before the move, we were driving our second car (an old Honda) to the dealership to transfer the title to a buyer.  I was driving my mom's nearly new Acura, and she was following me in the Honda.  I missed a turn, so I pulled into a totally empty Wal-Mart parked lot to pop a U-Turn.  I made a sharp turn in the lot without paying attention and slammed her car into a concrete pole.  Yes, I practically totaled her car in an empty lot.  And she saw the whole thing happen because she was right behind me!  I fell out of the car, choking on the air bag dust and sobbing hysterically – I couldn't believe I had crashed her day the day before the move.  I was so sure she was going to kill me.  Heck, I would've killed me!  But instead, she ran up to me, gave me a hug, and asked me if I was okay.  I will never forget that awesome parenting.  It really was an accident – a dumb and totally preventable accident – and my mom realized that there was no need to yell… I was already punishing myself.  I can't imagine the amount of patience she must have exerted in that moment.
Lesson #2: Share your hobby with your children but don't push it on them.  DadHTP loved to cycle.  He would often go on 200 mile rides on Sundays.  So, naturally, he was excited to get his daughter into cycling, too.  So he bought a tandem bike, and after a few shorter test rides, popped 8 year-old me on the back and set off on a 60-mile ride.  I honestly thought I was going to die of boredom.  It was torture.  I refused to get back on that bike and didn't express an interest in cycling for another 15 years.  Lesson learned!  I'd love to have children who are interested in cooking or sports, but I need to introduce these things slowly and in moderation.
Lesson #3:  Your kid might hate you for being strict, but it's for the best.  MomHTP wasn't very strict, but DadHTP sure was (my parents divorced when I was 7 so I had different rules at different houses).  When I was a teenager, I hated how strict my dad was – I had to be home at 11 PM when I was 17, I couldn't stay in a hotel the night of my senior homecoming (Dad wasn't dumb), and I couldn't get in the car when my friends were driving.  Once he realized that my peer group was 'experimenting with alcohol,' he would make me wake him up when I got home and breathe on him to prove that I hadn't been boozing!  Brushed teeth meant I was automatically grounded.  It drove me crazy as a teen, but you know what?  It really kept me out of trouble and away from the 'wrong crowd.'  I'm sure such strictness would backfire with certain children, but it worked for me… well, at least until I got to college.
Lesson #4:  Asking twice is nagging.  When I was a teen, I worked as a cashier at a grocery store.  The thing I observed most often was that parents nearly ALWAYS gave into nagging.  All the kid had to do was ask for a candy bar four or five times, and the parent would throw the treat in the cart.  My parents had a rule that "asking twice is nagging."  I never dared ask for anything twice.  The answer was either yes, no, or "I'll think about it," which meant, "I'll let you know what my answer is when I'm ready."  As I result, I never, ever nagged.  I knew better!
Lesson #5: Every moment is a learning opportunity.  The constant from my childhood was this: my parents were always teaching me.  When we were in the car, my dad would ask me to read billboards out loud to him.  We listened to National Public Radio when I was 10.  My mom created an amazing dress-up box filled with all sorts of costumes and encouraged me to act out my favorite books and songs.  MomHTP and I would watch Dawson's Creek together, and she would use the situations on the show as a springboard for discussions about premarital sex and relationships (embarrassing but helpful).  I have very, very few memories of just zoning out in front of the TV by myself as a child.  My parents really made an effort to constantly engage my brain in one way or the other, and I'm really grateful for that.
Lesson #6:  Parents can be cool.  I really thought both MomHTP and DadHTP were cool when I was growing up.  Mom took me on tons of fun outings (like thrifting!), and Dad got me certified to SCUBA dive when I was 12 (so awesome!).  Maybe it was because I was an only child and my parents were divorced, but I spent a lot of time with them doing things that we both enjoyed.  My parents weren't perfect, but I hope I can be half the parents they were to me. 
And yes… I will make my teen breathe on me when he come back from hanging out with friends.   You've been warned, BabyHTP.  Don't mess with your momma.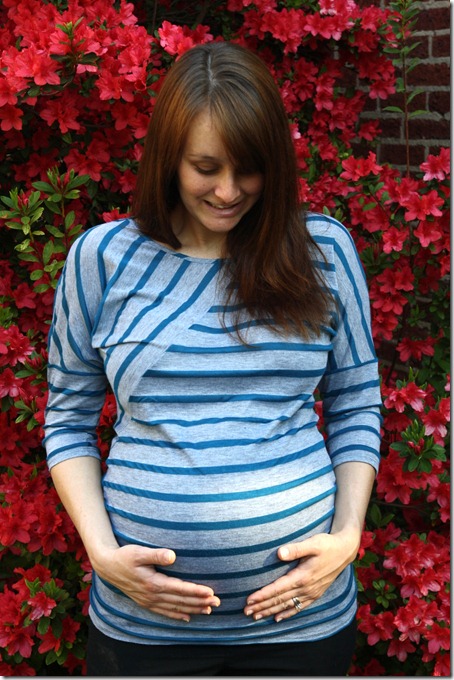 Here's Week 28 in bullet form:
Total Pounds Gained:  Up 23 pounds.

Workouts:  Lots of walking!  A 2.5, 3.5, and 2.0 mile walk.  I also hit up the pool for a swim.

Baby-related Purchases:  I bought a bra extender so I can actually breathe in my bras – my ribcage is expanding!

Eating Habits:

  Definitely gotten better about eating more protein (per

Bradley Method

recommendations).  I'm up to about 75 grams a day.  I don't notice a difference in my energy levels but I know it's doing BabyHTP all sorts of good.

Happy News: My BFF is also pregnant and only eight weeks behind me.  She found out yesterday that she is having a little girl!  I am so happy for her and her husband.

Moans and Groans:  My back and hips hurt all the time.  I feel 85 years old.
What lessons – good or bad – did your parents teach you?