I've tried to 'quit' takeout so many times. I don't even know why I bother.  No matter how diligent I am about eating in and planning ahead, we inevitably slip back into our takeout ways.  Work is just too crazy, and takeout is too convenient.  If occasional takeout is wrong, I've decided that I don't want to be right!  Takeout FO-EV-ER!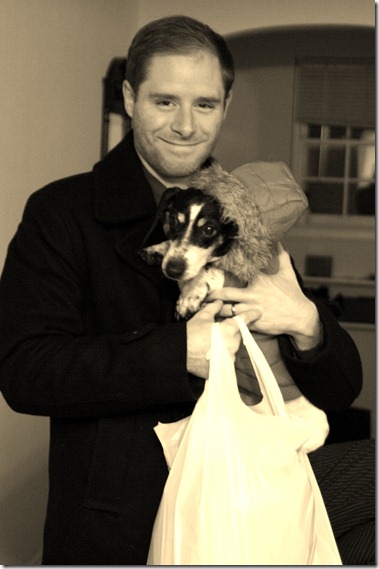 Takeout in one hand and a jacket-wearing dachshund in the other?  Sexy!
When we first moved to Charlotte, we immediately went on a hunt for great takeout restaurants.  When it comes down to it, we really just need two types of takeout:  a yummy sandwich/salad deli and a tasty Thai place.  There are far too many places that serve up soggy salads!  Thankfully, we've got a great lunch place that does really crisp and fresh salads.  And when we pick up Thai, as we did tonight, we get the sauce on the side, swap white rice for brown rice, and request extra veggies to make it a bit healthier.  I usually get my tofu steamed, not fried. 
What's your favorite takeaway order?  How do you modify it to make a bit healthier?