When I was younger, one of the primary reasons I avoided working out was that I was pretty embarrassed about how much my breasts moved during exercise.  By the time I entered high school, I was a 34D, which looked especially large on my petite frame.  Our society assumes that larger breasts are the best thing ever, but I think most larger-chested women will attest that they have disadvantages, too.  It makes buying tops and swimsuits difficult, looking modest tricky, and – worst of all – large boobies can make exercise painful and embarrassing.
Happily, when I experienced my Healthy Tipping Point "Ah Ha!" moment after college, I realized that exercise doesn't have to be painful or embarrassing just because you're a card-carrying member of the B.T.C. (Big Titty Committee).  All you need is a really great, well-fitted sports bra.  What works for a 34B does not necessarily work for a 34D, 36DD, or 40E.  B.T.C. members need extra support, coverage, and both horizontal and vertical bounce control. 
Ironically, when I began to run more regularly, my breasts shrunk from a D to a C cup.  But now I'm pregnant, and in eight short weeks, my girls went from a C to a DD.  In many ways, I feel like I'm back in high school – none of my previously supportive bras work anymore, I've got terrible bounce, and my back pain is off the charts.  That's why I headed to the the Healthy Tipping Point Facebook page to ask my fellow B.T.C. readers for sports bra recommendations.  Over 60 people responded with praises for their favorite sports bras.  Here are the best of the best for high-impact activities like running, by popular vote.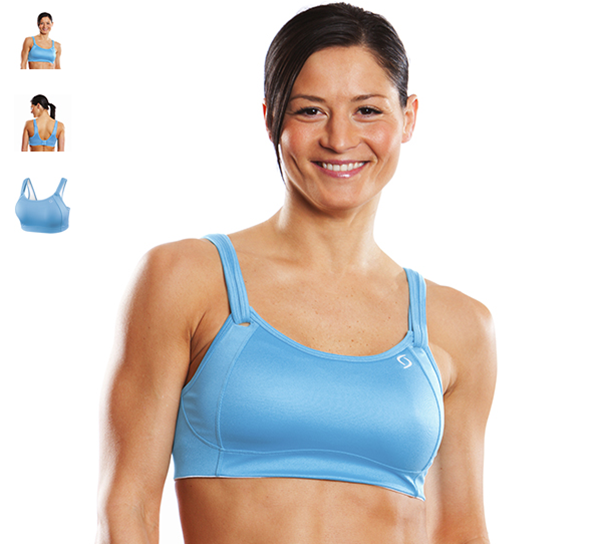 Moving Comfort Fiona Bra Comes in Sizes: 30B – 30DD, 32B – 32DD, 34B – 34DD, 36C, 36B – DD, 38B – DD, 40B – DD, 42C – 44DD
Features: Seam-free interior, molded cups, limits vertical breast movement, front adjustable straps, adjustable black closure.
Price: $44
HTP Readers Say: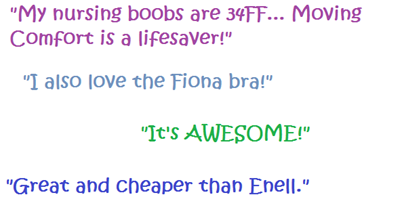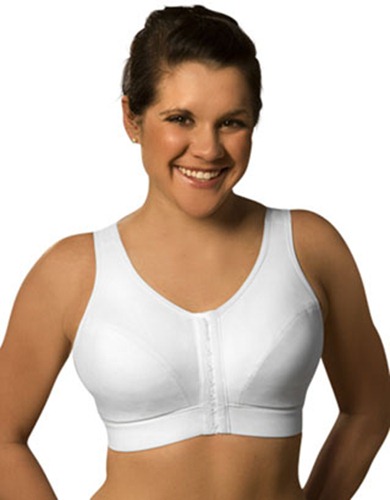 (Source)
Enell Sports Bra Comes in Sizes: Uses special 1 – 8 fitting system that supports bra sizes 32C – DDD, 34C – DDD, 36C – DDD, 38C – DDD, 40C – DDD, 42D – DDD, 44D – DDD, 46D – DDD, 48D – DDD, 50D – DDD, and 52D – DD
Features: Wide non-stretch straps evenly distribute weight of larger breasts, high necklace to stabilize breasts during high-impact activity, front hook-and-eye closure, wide band prevents chafing, full back with cross strap design, moisture-wicking fabric.
Price: $64 – $66
HTP Readers Say: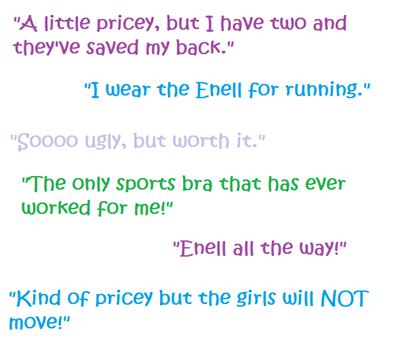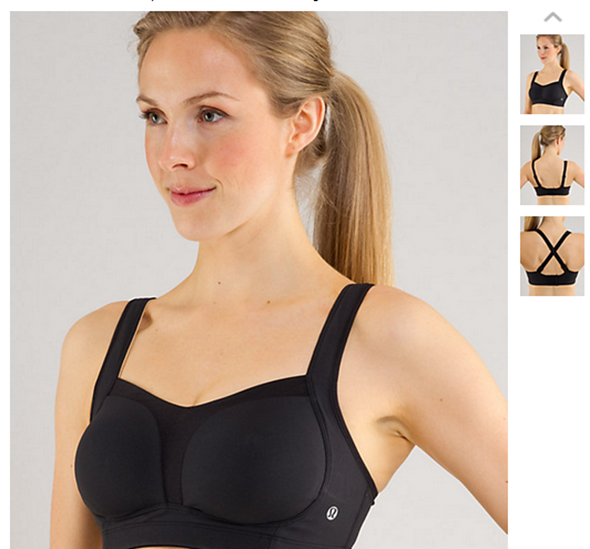 Ta Ta Tamer by Lululemon Comes in Sizes: 32C – DD, 34B – DD, 36B, 36D, 36DD, 38C – D
Features: Removable cups, hook-and-eye closure at the back, adjustable wide straps, straps can be worn straight or crossed, chafe-resistant flat seams.
Price: $58
HTP Readers Say: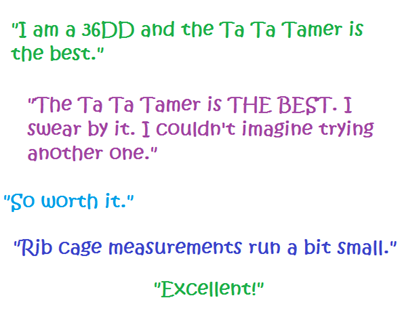 Moving Comfort Juno Sports Bra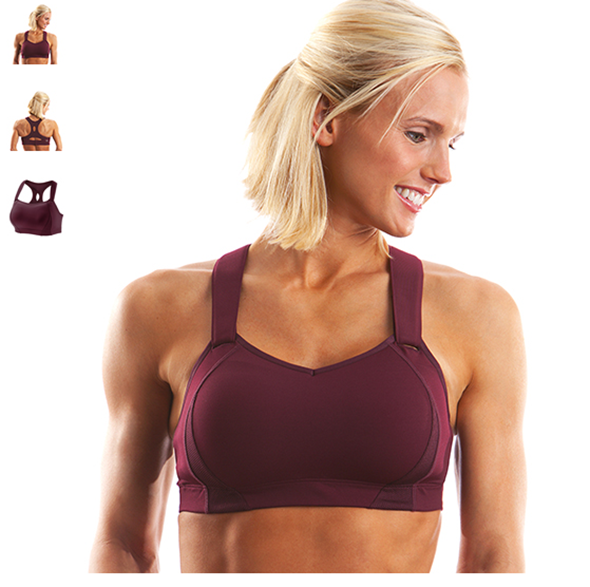 Moving Comfort Juno Sports Bra Comes in Sizes: 30C – 30DD, 32B – 32DD, 34B – 34DD, 36B – DD, 38B – DD, 40B – DD
Features: Racer-back style, molded cups, no-chafe seams, front and back mesh zones
Price: $52
HTP Readers Say: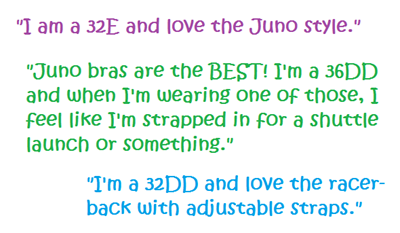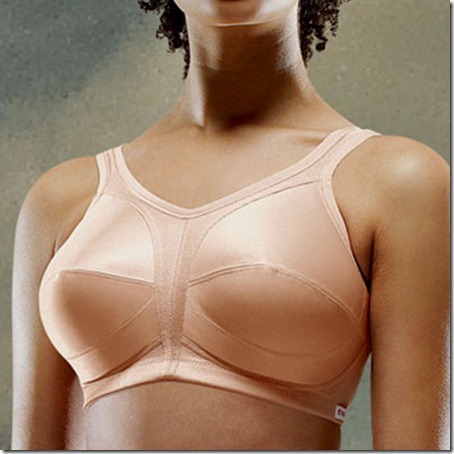 (Source)
Freya Active Comes in Sizes: 28D – H, 30D – H, 32C – H, 34C – H, 36D – H, 38C – H, 40D – H
Features: Soft cups with inner sling that extends to shoulder strap to minimize bounce, molded cups, wide straps, flat bottom band for good anchorage
Price: About $60, available at various online retailers but not company website
HTP Readers Say: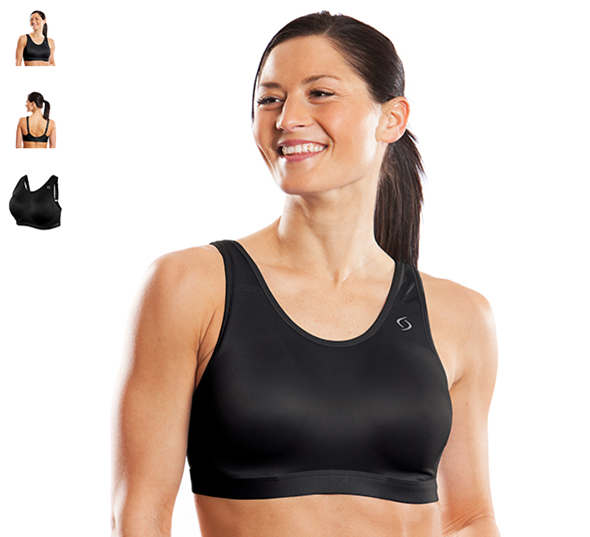 Moving Comfort Maia Bra Comes in Sizes: 32C – E, 34C – 34E, 36C – E, 38C – E, 40C – E, 42C – D, 44D
Features: Underwire, molded cups, back adjustable straps, adjustable back closure.
Price: $46
HTP Readers Say:

Others recommendations from HTP readers:
Title Nine –

"Rates bras by barbells.  More barbells = more support."

Lily of France Sports Bras – "Best for bigger girls.  When I was 250+ pounds, I used those because they give amazing support, and I still use them now.  Love those bras."

Champion

– "I wear the Target seamless bra and I'm a 34DD.  I just wear two at a time.  No chafing and they hold the girls in place."  And: "I'm a 36DD and use one from Kohl's – it's around $40 – $50, has an underwire, and is very supportive."  And: "I recommend

this Champion sports bra

."

Bali – "I'm a mama of three kids with one on the way.  I had very large boobies, nursed all my kiddos, and even had a reduction. I LIVE for my Bali underwire sports bra.  It holds those bad boys in!  I ran 5 miles yesterday and am happy to say I have no black eyes!"

Fruit of the Loom: "I'm a 34D and I've always worn the cheap 2 – 3 pack Fruit of the Loom bras from Wal-Mart.  They have an adjustable strap.  My boobs only have tiny bit of bounce, and they are only $9 for the pack.  I'm dead serious!"

Natori

:

"The Performance sports bra

is incredibly ugly (almost medical looking) but super effective/supportive (which is hard to find with my small rib size)."
I'm sure my breasts will continue to grow throughout pregnancy, but I'm ordering two new sports bras today because my underwear drawer is simply out of options.  I'll let you know how they work!
Whether you're smaller-chested or a fellow member of the B.T.C., what's your favorite sports bra?