Whoa, baby!  I cannot even believe we're at 16 weeks.
Here's what BabyHTP is up to this week (source): "Get ready for a growth spurt. In the next few weeks, your baby will double his weight and add inches to his length. Right now, he's about the size of an avocado: 4 1/2 inches long (head to rump) and 3 1/2 ounces. His legs are much more developed, his head is more erect than it has been, and his eyes have moved closer to the front of his head. His ears are close to their final position, too… He's even started growing toenails. And there's a lot happening inside as well. For example, his heart is now pumping about 25 quarts of blood each day, and this amount will continue to increase as your baby continues to develop."
I've seen a definite uptick in symptoms this week.  Admittingly, I've had a very easy pregnancy, with no vomiting or food aversions, but this week – oh man.  I've had uncomfortable round ligament pain (signs the uterus is stretching), especially when I cough or get out bed in the middle of the night.  And I'm very sensitive to hunger.  I waited until 11:00 AM to eat breakfast on Monday because I was with family and nearly fainted.  In response, I'm trying to be extra-good about eating regularly and resting, skipping all of my runs on days I have round ligament pain.  I feel SO much better now.
So – this week's discussion topic is… worrying during pregnancy.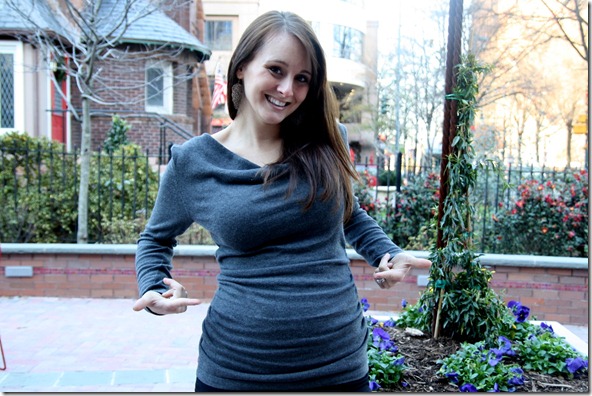 I spent the first three weeks of my pregnancy feeling absolutely obsessed with every twinge.  One of the best things about the Internet and blogs is that we get glimpses into other people's lives and learn from the experiences they choose to share. I have a much greater understanding of infertility and miscarriage because of the brave things other people are willing to write about, and I am extremely grateful for this understanding.  But at the same time, this knowledge is a bit of a curse.  Every time anything hurt, I would think, "Oh my gosh, I read a forum thread about this woman who had the same symptoms and ended up having an ectopic pregnancy!"  I'd spend hours working myself into a frenzy, trying to decide whether I should go to the hospital… and then, thankfully, I'd feel fine. 
Worrying extended to other issues, too.  Should I eat that cheese?  Should I take a hot shower?  Should I wear nail polish?  Should I stop running?  Will flying across the country radiate my baby?
After a period of scary spotting but a healthy early ultrasound, I decided that I had to take charge – I had to choose between constant worry and feeling calm and centered.  I am sure there is an in-between state that others can exist in, but I'm so all-or-nothing that it was just one or the other.  I decided that I'll always be sensible and safe (of course), but I'm not going to worry about something happening until it is actually happening. 
Reading The Panic-Free Pregnancy really helped me, too.  Although I don't agree with everything in the book, I really enjoyed the calming effect the book had on me.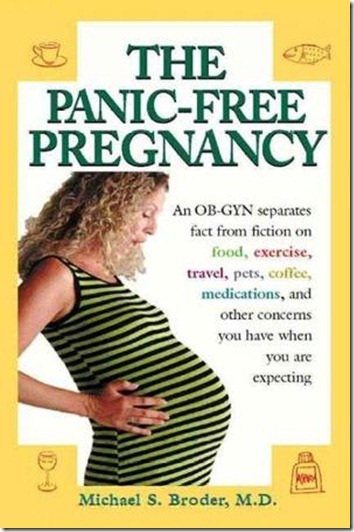 A reader e-mailed me the other day and asked what pregnancy books I recommended, and part of me wanted to say, "Don't read anything!"  Hah.  There's so much fear-mongering out there, and if you're a certain type of person, it can feel so overwhelming when you're already nervous and sensitive.  Recently, I read a sentence that really stuck with me:  "Pregnant women are in danger of knowing too much or not knowing enough."  I think we all have to decide where our line is and draw it.  After all, the stress of over-worrying is harmful for our health, too!
But recently, I've found myself worrying more and more again.  There are new issues to stress about now.  What if the baby isn't healthy?  What if something horrible happens during labor?  I'm trying to remind myself, bit by bit, day by day, that I choose what to worry about.  And that worrying never prevented anything from happening!  It's a challenge, but I think this is part of the emotional evolution of pregnancy… and eventually parenting, too.
Here are my Babble posts from this week:
Here's Week 16, neatly summarized:
Total Weight Gained:  Up 5.5 pounds

Workouts:  A 2.5-mile walk, a 2.0-mile walk, and a 1000 yard swim.

Number of Nightly Trips to the Bathroom:  One.  And I hate every step! Hah.

Baby-related Christmas Presents

:  Six (six!) maternity shirts!  A University of Miami toddler onesie.  And a

Sleep Sheep

.

Boy or Girl?:  In the last few weeks, I've really felt like it's a girl.  But I thought it was a boy before, so who knows.
Did you worry a lot during pregnancy?  How did you balance a healthy amount of worry and a happy outlook?  I realize this is VASTLY different for everyone and is impacted by their experiences, so I'm interested to hear your thoughts!