Every now and then I write about an all-natural cleaning or beauty product that I've been lovin' lately.  And lately, I cannot get enough of Dr. Bronner's Magic Soaps.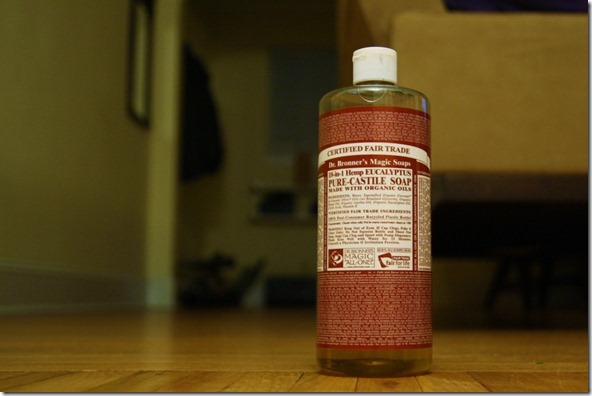 The first time I saw this product on the shelves, I assumed it was a body wash.  I liked the short, all-natural, and mainly organic ingredient list, so I snapped it up.  I tried Peppermint, Lavender, Tea Tree, and Eucalyptus.  And after using the different scents in the shower for several months, I realized what I really liked about D. Bronner's was how concentrated it was – the big bottle is a little pricey, but it lasts forever.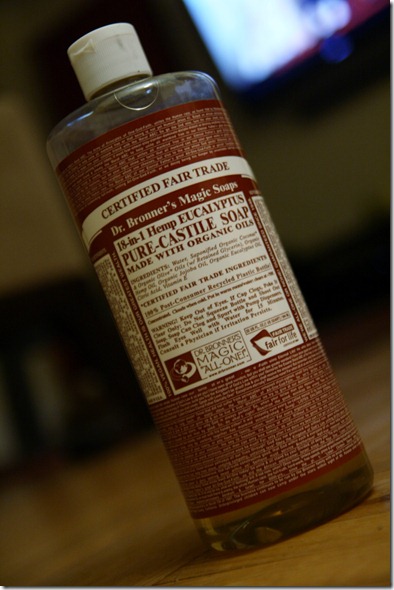 And then we ran out of dish soap.
There was a huge sink of dirty pots to be washed, so I figured I'd give Dr. Bronner's a try – after all, the label claims it's an "18-in-1" formula with multiple uses.  And it worked WONDERFULLY for dishes.  Since then, I've discovered loads of other ways to use this magic soap:
As face wash

As a shampoo

To clean the floors (heavily diluted)

For laundry – I pour in about 1/4 cup

To scrub the walls of the shower

As shaving cream
I'm sure there's many, many more ways to use the soap.  I hear you can even use it as TOOTHPASTE, but I haven't tried that yet.  It's kind of been a revelation – we've been trained to think we need 10 different cleaning products for 10 different jobs, but maybe one high-quality soap does the trick.
Are you a fan of Dr. Bronner's?  Oh, and if you're wondering about the weird label, Wikipedia has an interesting explanation about the origins of Bronner's quirky ramblings.
And of course – Happy Thanksgiving!  I hope my fellow Americans enjoy a wonderful Thanksgiving.  I'll be taking the day off to celebrate with family; catch you on Friday.