I am REALLY excited about this week's shelter pup because 1) he's super cute; 2) he has so much personality and 3) he is currently being fostered by fellow blogger, Meaghan.   Writing these Shelter Pet posts for the last month has made me realize how AMAZING foster fur-parents are – these generous people help keep so many wonderful pets off death row. 
This week's shelter dog is from the Baltimore Humane Society in Maryland. The BHS is a nonprofit organization that strives to provide a temporary home, a safe refuge, and care for stray, unwanted and homeless animals.   If you are interested in adopting Carl, please contact Meaghan at meaghan.mcdermott@gmail.com or the Baltimore Humane Society. Carl can be adopted to people living outside of Maryland.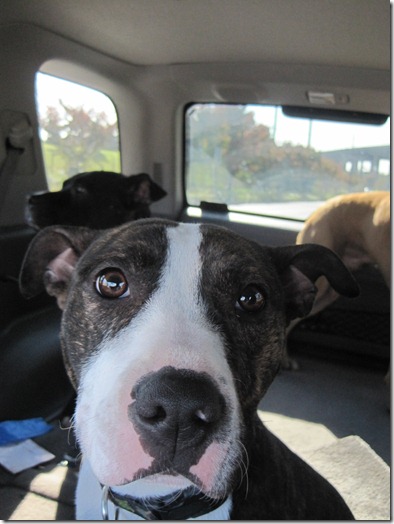 Carl says, "Hi HTPers! Carl here. I am a white and brindle, 1.5-year-old pit bull terrier mix. I weigh about 45 pounds. I had a rough start to life but you would never guess because I am so sweet and loving. My first owner abandoned me. Then, my second owner was arrested! So, I was sent to the county animal control shelter. After I arrived at county animal control, the Baltimore Humane Society (a non-kill shelter) heard how awesome I am and agreed to sponsor me. Unfortunately, the BHS shelter was full of other needy dogs and cats so I needed a foster family. After a few weeks, county animal control said I only had 24 hours to find a foster family or I was going to be euthanized. Rude!"
"So, the BHS got in touch with Meaghan, a volunteer with another animal rescue, Walter Rescue, and she agreed to be my foster mom! I have been living with my new foster family, which includes two canine foster brothers, for over a month now. I just looove my foster mom and dad. At first, they said I couldn't sleep in their bed every night, but after a few puppy stares I won them over. Now I sleep in between them every night, even under the covers! Humans rule. I am very protective of my foster mom and I follow her everywhere. She's kind of mean and won't let me into the bathroom with her but I don't hold that against her. I lay right outside the door standing guard while she showers. I also love meeting new people and am happy to play and snuggle with my foster parents' friends when they come by."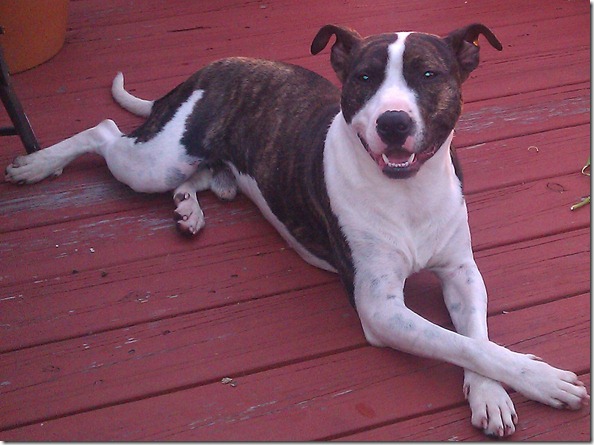 "I also get along really well with other dogs. I love to roughhouse with my foster brothers! I think cats are awesome too….for chasing. My foster mom doesn't think I should go to a home with cats."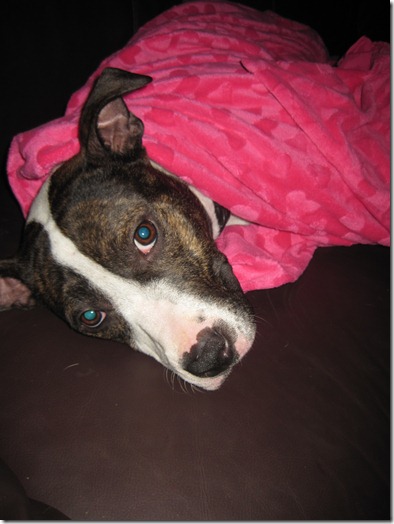 "I've heard you HTPers are really active. I'd be an awesome training partner for a long distance race. My foster mom and her friend took me on a 7 mile run the other night and I wasn't even tired afterwards! Those slowpokes could barely keep up with me. I've also been on lots of hikes in the state park. Pit bull  mixes like me are high energy so I need to go to a home where I can go for lots of runs and walks or where I will have access to a fenced backyard."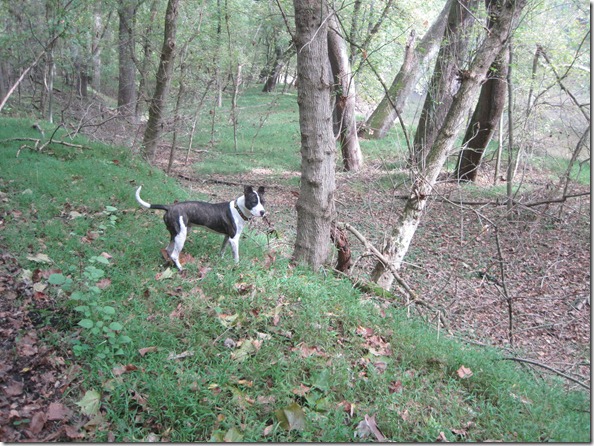 "I'm all ready to find my forever home! I've got my microchip and I've been neutered and vaccinated. I am housebroken and my foster family is working on crate training me. Because I've been abandoned so much, I do have some separation anxiety when my foster parents leave the house, but I am doing well in my crate during the day. I also had never been on a leash before I came to my foster family, so I am still working on my leash manners. My foster mom says I am very, very, very eager to please and I just need a patient, loving person to teach me. I also really like the kids in my neighborhood, mostly because they let me lick them as much as I want! But, because of my high energy, I should probably go to a home with older kids."
Carl would LOVE to be your forever pet!
PS – Some readers have asked that I feature smaller dogs on these posts – I will!  I just have a backlog of dogs and cats already lined up, and I asked the shelters or foster parents write about their most 'in-need' dog, which very often is an larger or older dog, as they are more difficult to place.  Even more pups are coming, though – stay tuned!