I am very, very excited for the changing season.  Not because I love the cold (I don't – brr!) but because I love the FOOD.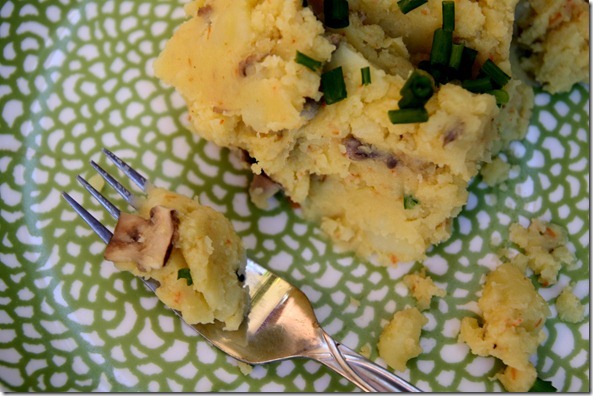 This post kicks off a returning series on Healthy Tipping Point – Vegetarian Thanksgiving.  And for the initial post, I'm doing a fun 'giveaway'; see the end of the post! 
Every year, right before November, I try out a bunch of yummy recipes in preparation of one of my most beloved holidays.  Even before I went veg, my absolute favorite part of Thanksgiving has always been the delicious side dishes… Who has room for turkey when there's mashed potatoes, sweet potato casserole, green bean casserole, stuffing, cranberries, and PIE (lots and lots of pie) to be eaten?!  Not me. 
Bring on the mashed potatoes.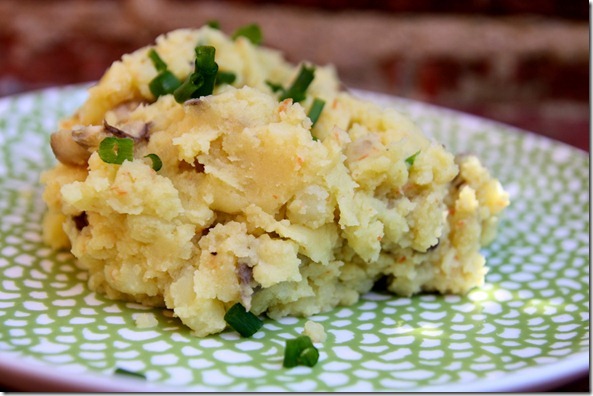 There are three secrets to great mashed potatoes:
1) The type of potato
2) The seasonings
3) Not overcooking the potatoes
This recipe relies on 'shrooms, carrots, and chives for the flavor.  And for the potato?  My favorite type is, without a doubt, Yukon Gold.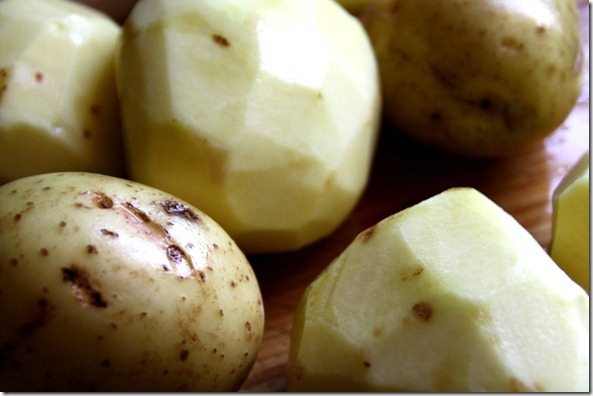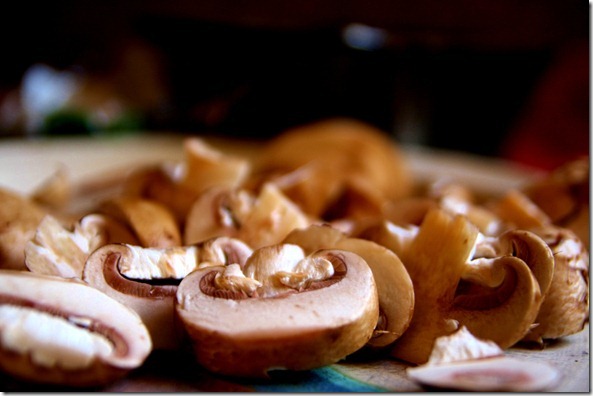 Shroomy Mashed Potatoes
Ingredients (for 5 servings):
7 yukon gold potatoes

8 cremini mushrooms

1 small carrot

3 tablespoon chives (separated in 2 and 1 tablespoons)

1 tablespoon plus 1/4 cup Earth Balance (or butter)

1/4 cup rice milk (or milk)

1 teaspoon kosher salt

Several pinches of pepper
Directions:
Bring large, covered pot of water to boil (enough to completely cover the potatoes).

Peel 4 of the 7 potatoes – I like to leave some skin on for texture and taste – and slice all 7 potatoes equally.

Add potatoes to boiling water and cook for 20 minutes.  No more!

Meanwhile, thinly slice mushrooms and grate carrots.  In a small wok, cook mushrooms, carrots, and Earth Balance until mushrooms brown. 

Drain potatoes.

In a mixing bowl with a masher (or a Kitchen Aid stand mixer), combine potatoes, mushrooms, carrots, 2 tablespoons chives, milk, Earth Balance, salt, and pepper until all the potato lumps are gone.

Serve and top with remaining chives.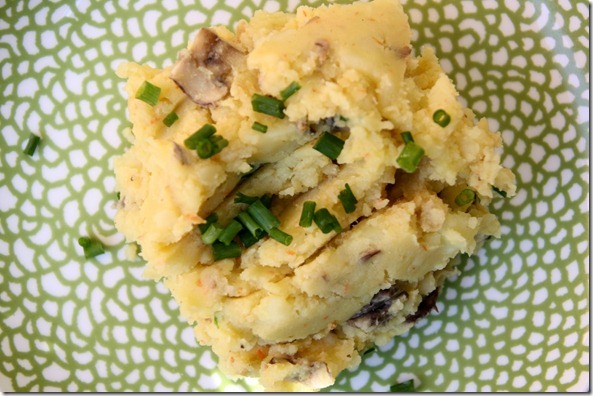 These potatoes won't last long.  Both the Husband and I are currently eyeing the fridge and considering another buttery serving. 
What's your favorite Thanksgiving side dish?  Any great recipes you can link to?  I'll randomly select one commenter and donate $20 in their name to Feeding America.  So please – wax poetic about mashed potatoes!