I've said it once, and I'll say it again – I am not a fan of the dreadmill treadmill.  As someone who is very used to running outside, it seems like slow torture to be stuck on a treadmill inside a gym.  There's only one thing that makes it bearable – an interval workout.
This workout combines speedwork and hill work.  It's a doozy, I promise!  After 3.8 miles in 37 minutes, you will be sweaty and exhausted, just like this: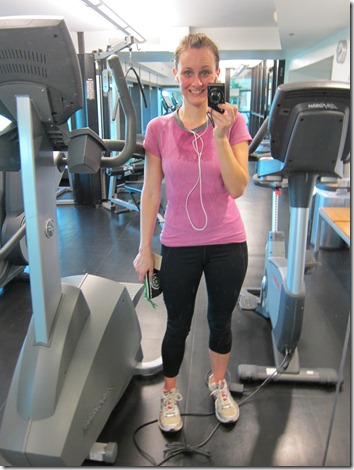 And, if you packed thermal running tights instead of regular shorts, you'll also be completely overheating…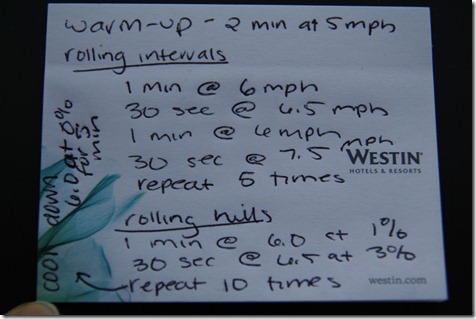 Rolling Intervals Treadmill Workout
Warm-up:
2 minutes at 5 MPH
Rolling Intervals:
1 minute at 6 MPH
30 seconds at 6.5 MPH
1 minute at 6 MPH
30 seconds at 7.5 MPH
(Repeat 5 times)
Rolling hills:
1 minute at 6.0 MPH at 1% incline
30 seconds at 6.5 MPH at 3.0% incline
(Repeat 10 times)
Cool-down:
6.0 MPH at 0% incline for 5 minutes
Side note: You can alter this workout however you like to accommodate for your current abilities.  Maybe your speedwork will be at 5.0 MPH… or 8.5 MPH.  These are just the speeds that worked for me!
I know it can be confusing to count intervals when you're working so hard.  Here's a tip:  Put something in the cupholder of the treadmill and rotate it every repeat.  It makes it MUCH easier to keep track.
Normally, I'm scroungin' for breakfast in the hotel room, but my friend Amanda gave me a bag of fruit as a gift last night at dinner.  How sweet is that?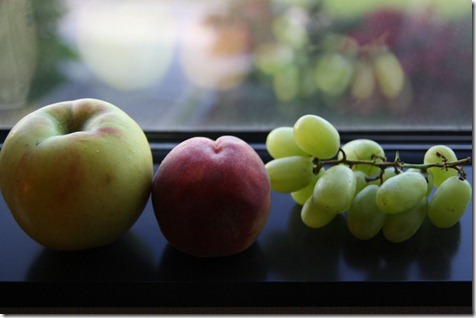 I had a peach before the workout, and afterwards, a Clif bar and grapes.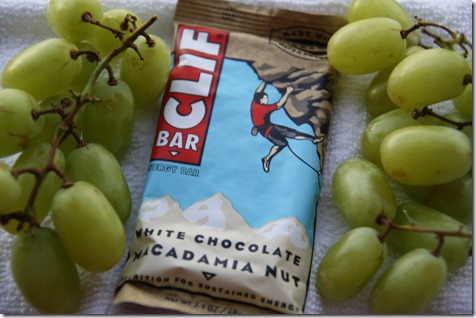 How do you make the treadmill more bearable?  Or do you happen to enjoy running indoors?  I'm jealous of those with a natural affinity for it!