After my grocery store raid for canned pumpkin, you knew this was coming!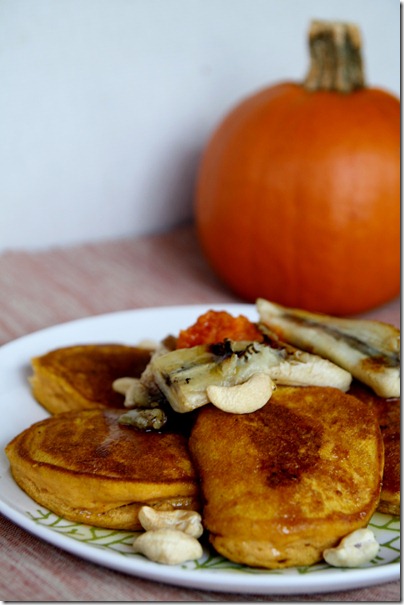 I was so looking forward to Pumpkin Pancakes.  One of my favorite things to eat during the Fall and Winter!  This morning, I tried this 1-2-3 Gluten Free Buckwheat Pancake mix.  I've only tried one other GF pancake mix and it was horrible – so I was very impressed at how tasty this brand was!  Wahoo!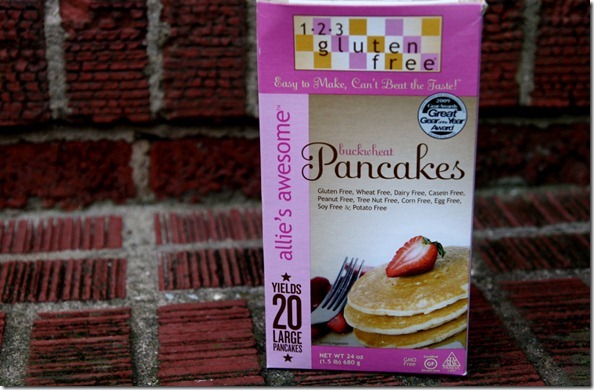 I figure this is a good time to address my forays into going gluten-free, since many people have asked in the comments section if I'm still trying to eat a GF diet.
If you missed the original post on why I went GF (or tried to), here it is.  Basically, back in June, I took an Adrenal Stress Index test to see if my adrenal glands were functioning properly (they weren't, as evidenced by my crushing fatigue) and one of the surprising results of the ASI test was that I was also gluten sensitive.  I would've NEVER guessed that I was gluten sensitive, as I had no physical symptoms.  Although I never blogged about it, I followed up with a stool analysis that revealed massive inflammation (like, IBS IBD levels – thanks for the correction, guys!) in my gut and reconfirmed my gluten sensitivity.  I could also do a blood test but that seems a little pointless now.
(Side note:  Sorry that the word 'stool' was just included in my breakfast post.  Heh.)
Anyway – I've really, really tried hard to avoid gluten in my diet since then, but let me tell you – it's challenging, especially when you don't have significant symptoms to 'motivate' you to stay on track.  It's pretty easy to be GF when I eat at home.  All the bread you see on the blog is GF (I love Udi's brand) and I've been filling up on millet and quinoa.  Knowing how much inflammation I have in my system really scares me and generally helps me stay on the straight and narrow; if I fall off the wagon even once a week, I realize that I'm doing damage to my body on the inside.   Eating GF at home really isn't hard and is actually quite yummy and tasty – I never feel deprived at home – but eating out is a whole other story.  It's hard to stick with it when I travel, go on vacation, or eat out.  I make an effort… but sometimes I just feel frustrated and eat that bread, wedding cake, or tortilla.  Basically, I'm trying but I could (and should) be trying harder. 
On a side note, the Husband (a Chinese medical doctor) gave me all sorts of adrenal support supplements – I'm not going to link to them because these are medications and need to be prescribed by a physician – and, as far as my fatigue goes, I feel better than EVER!  No more crushing fatigue.
Okay – back to breakfast.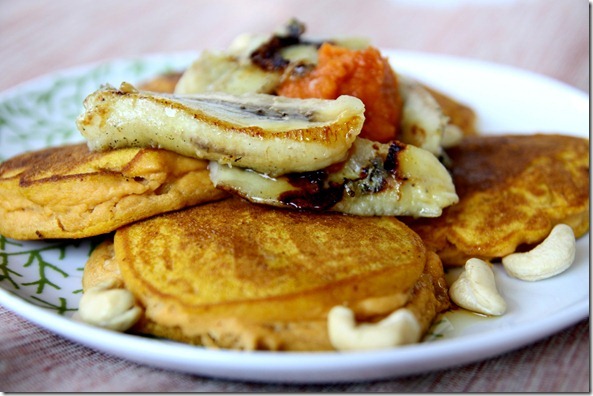 I added a big scoop of canned pumpkin to the pancake mix and then topped the pancakes with grilled banana, canned pumpkin, agave nectar, and cashews.  So delicious.  I am so full.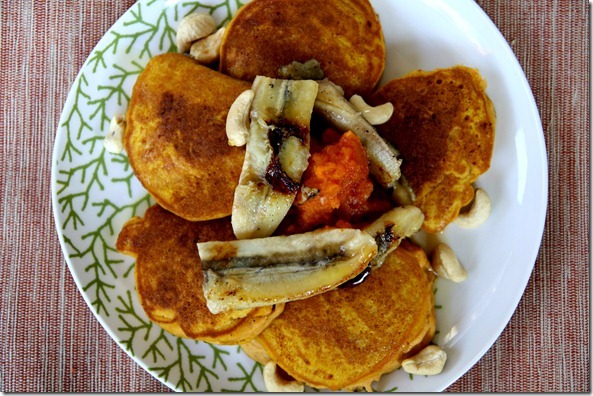 Time to get my work on!